We knew going into this weekend's D23 Expo 2013 that that first series of Disney Vinylmation Marvel figures wasn't going to be until fall, so there were zero expectations for an early release at the convention or anything like that. But sometimes it's nice to have the bar set low, because then you can be pleasantly surprised! No, Disney didn't sell the series at the show, but they did give out free promotional trading cards showing off photos of the Vinylmation Marvel Series 1 figures for the very first time!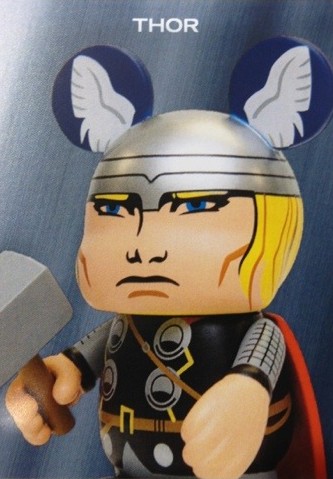 Disney handed out 16 free promotional Marvel Vinylmation Series 1 trading cards throughout the weekend at the 2013 D23 Expo. One of the sixteen cards is a checklist that gives us a few vital pieces of new information.
First of all, these trading cards give us our first official confirmation that Marvel Vinylmation Series 1 will be released in October 2013. Disney has hard release dates set for their Vinylmation series, so don't bother hitting your stores before the official release date: the figures are not allowed to be put out onto the floor and sold, even if they should happen to ship out to the Disney Stores early.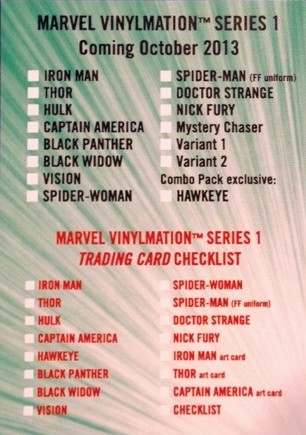 The trading cards also confirm for the very first time that a Hawkeye Vinylmation figure will be included as part of Disney Vinylmation Marvel Series 1, as the exclusive combo topper. Hawkeye is based on his "Avengers" movie appearance and also his current look in the award-winning "Hawkeye" comic book. For the non-Vinylmation fans, don't be freaked out about the terminology of the phrase "exclusive combo topper".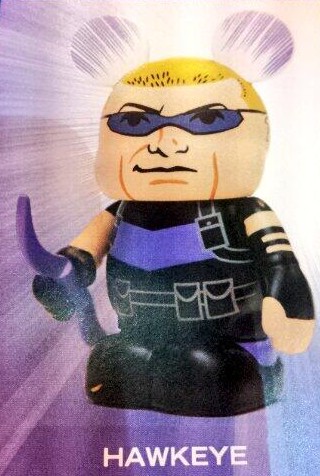 Basically, what "exclusive combo topper" means is that the Vinylmation Hawkeye figure will be the only figure that isn't blind-boxed in the Marvel Vinylmation Series: he'll be sold paired with a blindbox for $25-$27 at the Disney Stores and Disney Parks when the set is released. So, while Hawkeye is technically an "Exclusive", he will be (by far) the easiest figure to obtain in the whole set and likely also the cheapest on the aftermarket.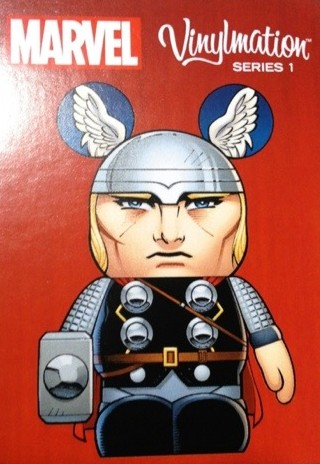 Every case of 24 Disney Vinylmation Marvel Series 1 figures will contain one blind box with a "Mystery Chaser" figure that won't be officially revealed until the set is released (although usually that information leaks a little beforehand).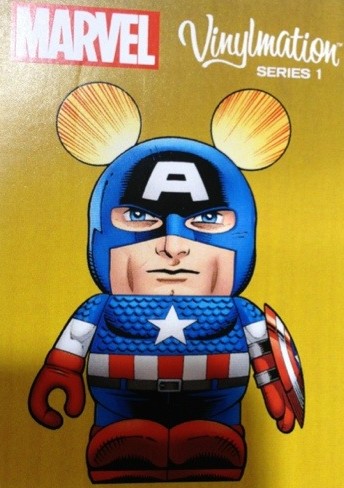 In the case of this particular series, I would be absolutely flabbergasted if the Vinylmation Marvel Chaser wasn't Loki. Disney often likes to make the chasers of their sets villains, and there's no more high-profile or beloved Avengers villain today than Loki. (I can't see Disney selling crazy Nazi Red Skull in the parks ever, though–sorry Red Skull.)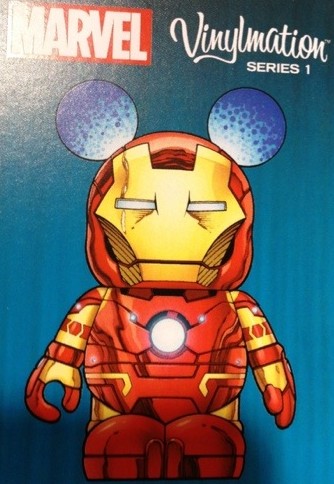 The designs in Marvel Vinylmation Series 1 are based upon the comics, so Disney doesn't have to worry about getting actor likeness approval on these figures (thankfully–I suspect no actor would ever approve a likeness on a Vinylmation figure canvas!).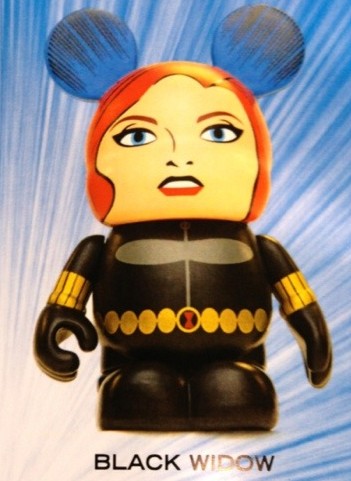 I was rather concerned about poor Black Widow and how she was going to look on the pudgy Disney Vinylmation mouse mold, but I think Disney managed to pull her off about as well as was possible. Her face still has a slender, attractive look to it, and the black of her costume hides some of the mold's chunkiness.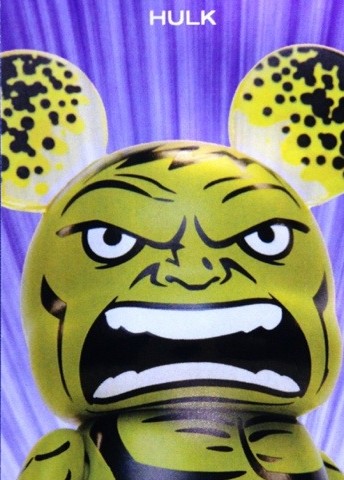 The trading card only lets us see the head and a tiny piece of the Hulk Vinylmation figure, so I'm curious to see what the rest of the figure is going to look like. He's using the same mold as all the other Vinylmation Avengers, so the artists will have to be clever to make Hulk look monstrous and powerful next to his comrades.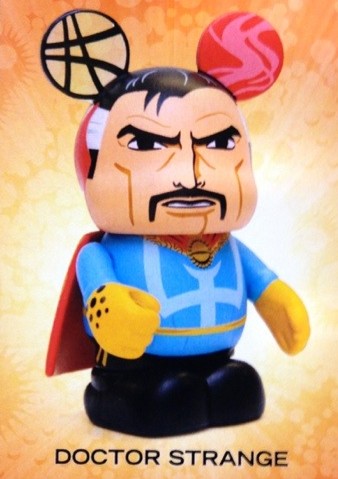 As the movie Avengers lineup consists of only six members (seven if you count Nick Fury), Disney had to add a few Avengers figures from the Marvel comics to flesh out the series. They chose Spider-Woman, Future Foundation Spider-Man, Doctor Strange and Black Panther. Great choices as you get a headliner in Spider-Man, another female in Spider-Woman, and some obscure favorites in Black Panther and Dr. Strange Vinylmations.
The trading card checklist confirms that there will be two figure variants released as part of Disney Vinylmation Marvel Series 1 (unfortunately). Variants in the various Disney Vinylmation series are a huge pain, as they're not in every case and tend to be packed at one per several cases.
My best guesses for the variants–which won't be known until someone finds them–are a clear/phasing Vision Variant (Disney just loves translucent variant figures), a red Hulk (this is probably a good bet) and a variant Spider-Man (probably in an obscure costume like Black Costume Spider-Man instead of the traditional red-and-blue). I know Disney pretty well, so I think these are easily the best bets as far as the Marvel Vinylmation variant identities are concerned.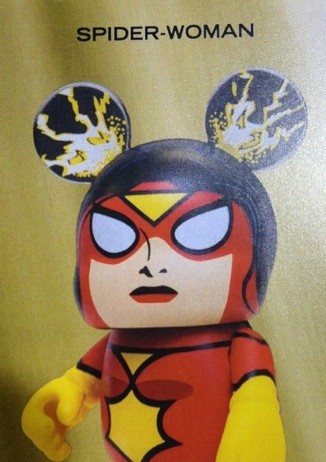 I'll be reporting on future Marvel Vinylmation news on this site (and oddly enough, not my Vinylmation site–Vinylmation Park), and you can 'Like' Marvel Toys News on Facebook to have future news, photos and updates sent straight to your Facebook Newsfeed.
What do you think of Disney Vinylmation Marvel Series 1, Marvel fans? Is this a line that you can see yourself investing in, or are these vinyl figures just not your thing?