Last week Hot Toys shocked the Marvel Hot Toys collecting world by announcing that the first Iron Man 3 Movie Masterpiece Series figure to be released would be a previously unannounced Hot Toys Midas Mark 21 Iron Man figure–and that he was going to be released first at the Hot Toys exhibition in Taiwan this week! It turns out Hot Toys was telling the truth (what, you thought they weren't?), as the Mark XXI Iron Man Midas Hot Toys figure has now been released overseas!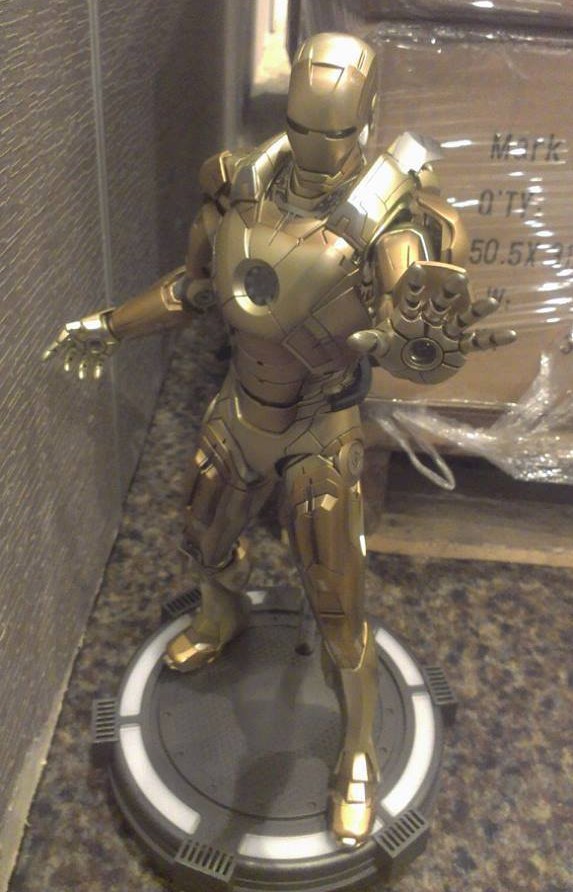 Though the Hot Toys Iron Man Mark 21 Midas Movie Masterpiece Series figure was only formally announced last week (in fact, it wasn't even rumored before that), the figure is now on display in Taiwan and the first lucky collectors were able to get their grubby little hands on the all-gold Iron Man Midas armor today!
We knew pretty much exactly what to expect from this figure: a complete repaint of the Avengers Hot Toys Iron Man Mark VII MMS figure–except in 100% gold paint. And we are not disappointed, because that is exactly what this figure is (and should be!).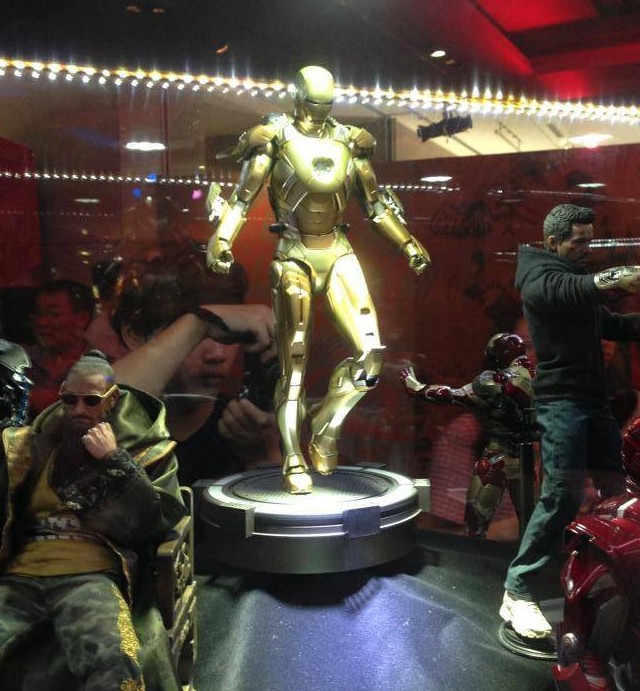 The poor Iron Man 3 Hot Toys Midas Mark XXI summer exclusive figure has more than its fair share of naysayers out there, but I'm really hoping that some folks change their mind and give the Midas a second glance once people start to see how resplendent this Iron Man armor looks on display with other figures from the Iron Man 3 collection. It may not do a lot (or anything) in the Iron Man 3 movie, but denying the allure of this figure's gorgeous golden aesthetic is just plain unfair.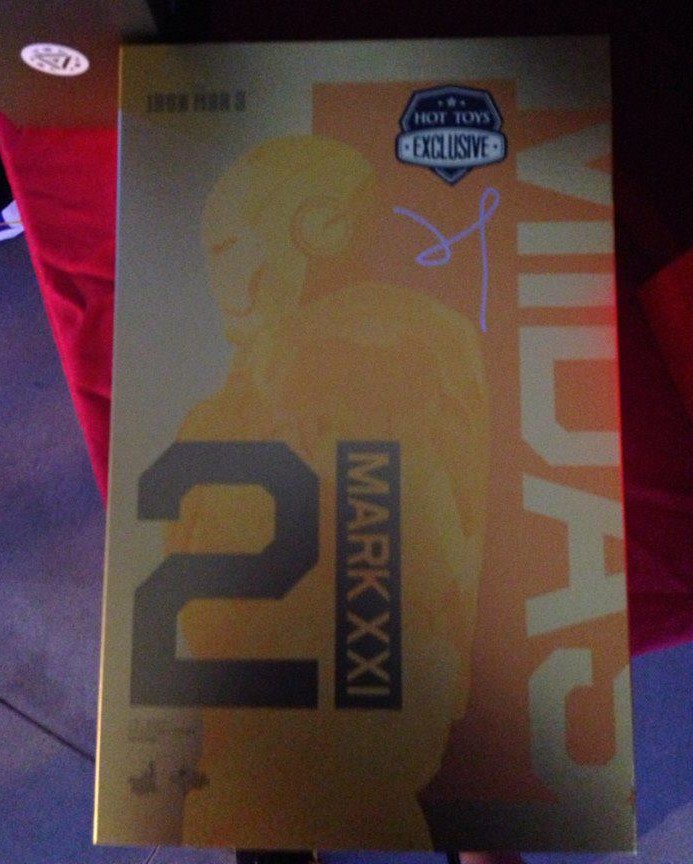 The box for the Hot Toys Mark XXI Midas Iron Man is a little bit plain looking, but then again, the figure itself is a little plain too, since it's essentially an all-gold figure. I don't much care about the boxes once I open my Movie Masterpiece Series figures anyway, so I can live with this box.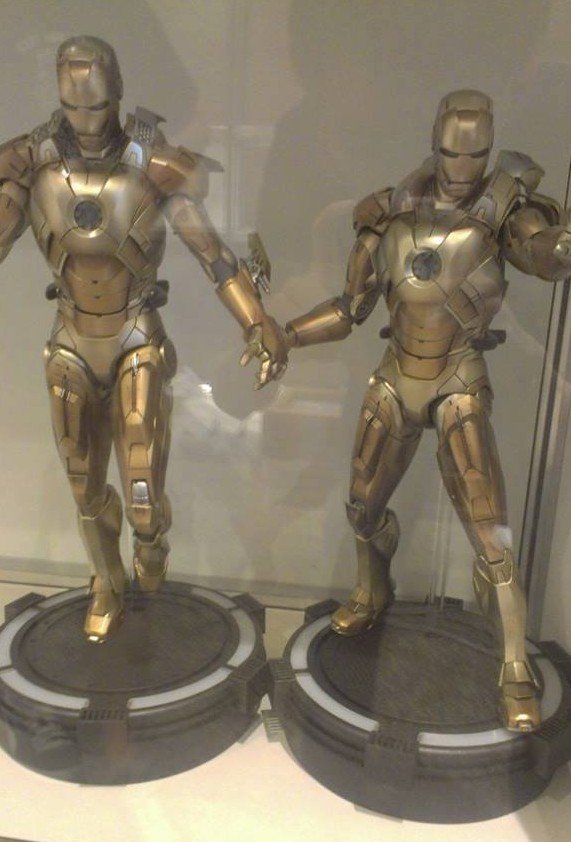 It's absolutely anybody's guess when this particular Iron Man 3 Midas Hot Toys Iron Man figure will go up for sale in America. It will absolutely be an exclusive on the Sideshow Collectibles website, so keep checking their site to see if it pops up.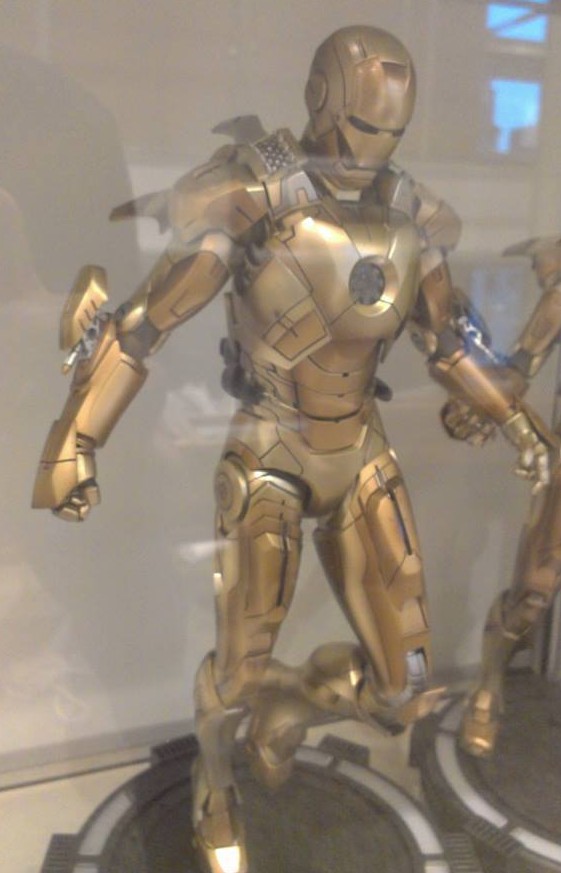 It's possible that we could see Sideshow list the Mark 21 Midas Hot Toys figure for order as early as today (since it's been released overseas now), or as late as October (when the Midas is sold at Ani-Com in China). I'll send pre-order links via the Marvel Toy News Facebook page as soon as the Midas Iron Man figure goes up for order.
I know "some" collectors were a little bit down on this figure the moment it was announced, citing Iron Man overkill and the fact that this Hot Toys Iron Man Midas Armor figure is a complete repaint–but what do you think now? Do the in-hand images change your mind about the Iron Man Mark XXI Hot Toys figure, or solidify your decision not to bring this one home?