I've fallen behind a bit while I've been sick this week (though I did rouse myself out of bed long enough to talk about Funko), so I've got a lot to catch up on today. First and most importantly is a major new figure from my favorite Marvel movie. That's right, get out your pitchforks: I mean "Iron Man 3". But while that movie isn't exactly popular (for some reason), I suspect the topic of this post will be: the SH Figuarts Tony Stark figure is now up for order! And Bandai also announced another figure some folks are gonna wait: the Figuarts Iron Man Mark 3…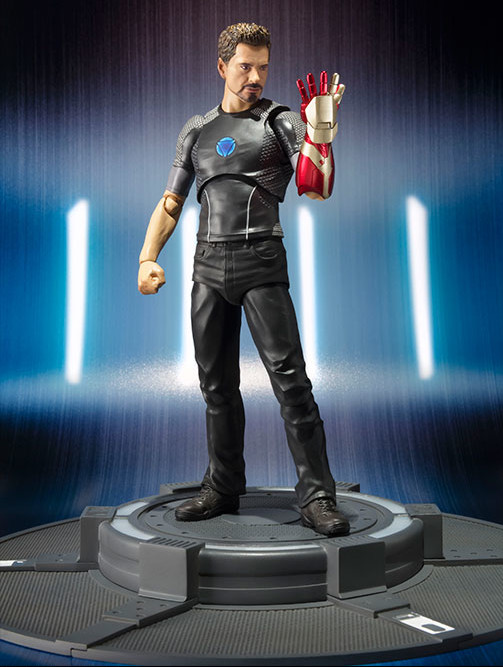 But that's not all the Iron Man news from Bandai Japan this week! Alongside the official specs and photos of their Tony Stark action figure, Bandai also posted a teaser image for another new 6″ Iron Man action figure coming our way in November: Iron Man Mark 3!
Although there are literally dozens upon dozens of Iron Man toys released each and every year, very few figures of the man inside the armor, Tony Stark, get released (and when they do, it's primarily from Hot Toys and Minimates).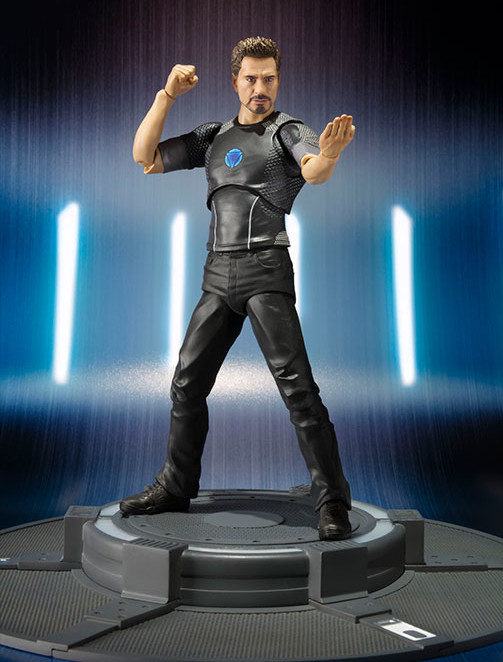 As such, a glaring omission many collectors have from their collections is a 6″ Marvel Legends Tony Stark scaled figure. But Bandai Japan has seen that need and is going to fill it later this year with their S.H. Figuarts Tony Stark 6″ figure!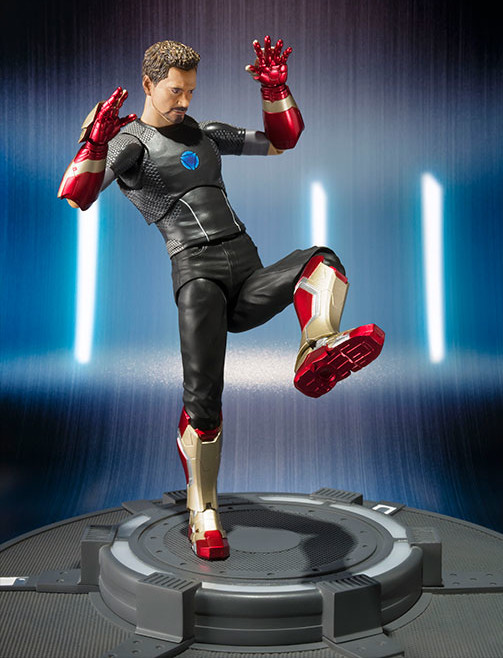 Now, this isn't the flashiest figure around, since it's basically just a civilian guy in a shirt and pants. Even so, I'm very pleased with the Robert Downey Jr. likeness on this figure–which, by the way, is the first-ever Figuarts Robert Downey Jr. Tony Stark head released. Crazy, huh?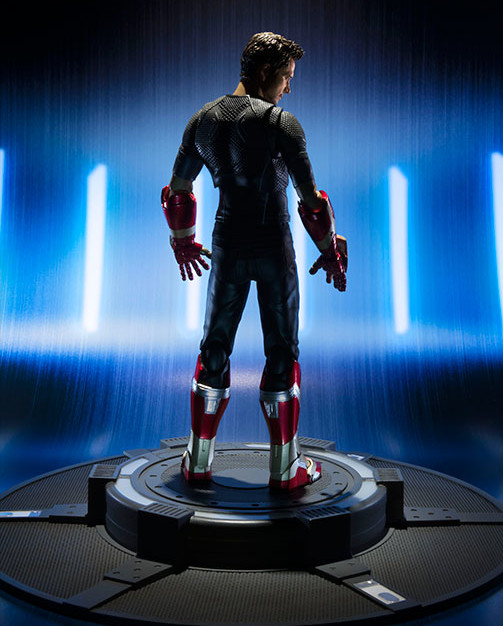 While the figure only comes with two pairs of interchangeable human hands (open palms and fists), you also get a pair of Iron Man Mark 42 hands and a pair of Mark 42 feet. I'm surprised to see no relaxed hands included here, but I'll make due with the options available I suppose.
Tony Stark is carrying a Japanese price-point of 6,480 yen (about $59 US). That's almost the cost of three Hasbro Marvel Legends 6″ figures, but given the high quality of Bandai Figuarts and the 100% new sculpt of this Tony Stark SH Figuarts figure, I'm not about to complain. I consider Figuarts to be the Hot Toys of 1/12 scale figures for a reason, after all.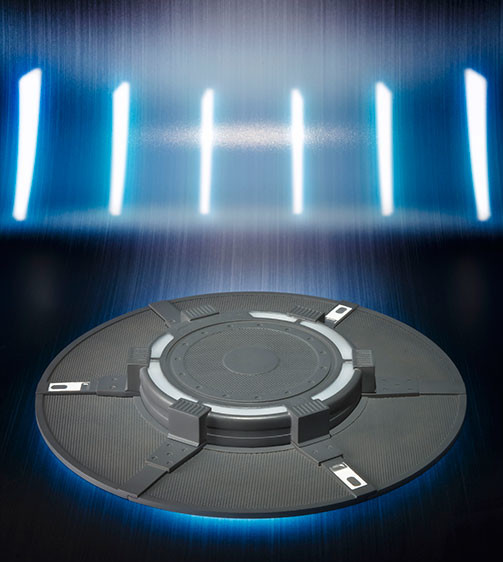 As an extra bonus for those who purchase the Tony Stark SH Figuarts figure early, the first production run of this toy will come with an awesome bonus accessory: the Power Stage from the opening workshop scene in the Iron Man 3 movie. I love this base with my Hot Toys Tony Stark, and I'm excited to get a 6″ version of it!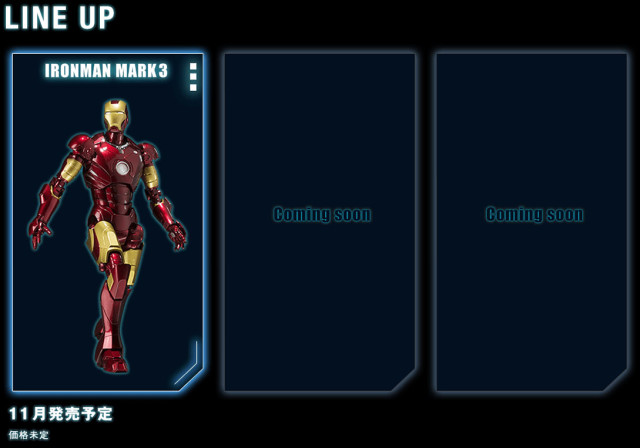 But wait–there's more! Along with the announcement and official photos and specs for Tony Stark, Bandai Japan also went ahead and posted a teaser photo of the next figure in their Iron Man lineup–and it's a classic! Coming from the original "Iron Man" movie–before Bandai ever made a Marvel figure–it's the SH Figuarts Iron Man Mark 3!
Although we've seen 43 more armor permutations since, the Iron Man Mark 3 armor is an all-time favorite of many fans. Going back and filling in this huge gap in the lineup with the S.H. Figuarts Iron Man Mark 3 figure is gonna make a lot of collectors happy this fall.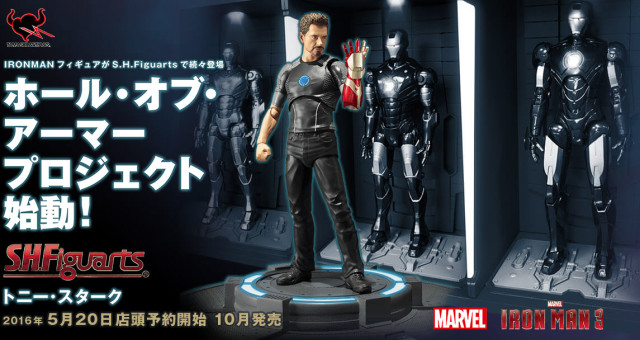 The Bandai S.H. Figuarts Tony Stark figure goes up for order today, and is scheduled to be released in October 2016. The SH Figuarts Iron Man Mark 3 should be up for order next month, with an arrival in November 2016.
Tony Stark will be available via U.S. importers like BBTS and Japanese import stores such as HLJ and Amiami, although the latter two stores sold out in just 3 hours between 3AM and 6AM this morning. He's not a Japanese web exclusive (thank God), so he should be slightly less difficult to acquire than the Black Widow and Black Panther Figuarts that went up for order recently.
The Tony Stark Figuarts figure was an instant buy on sight for me (in fact, I got up at 3AM just to order him), but what about you, Marvel collectors? Is this the best Tony Stark six inch figure ever made, and will it be joining your collection this fall?