I would love to start off this review recounting my decades of love for the Marvel comic books featuring the Black Panther, but, well… I've always been pretty ambivalent toward T'Challa. I've read all of his first appearances in the classic stories, but he's just never struck a chord with me. That said, for the second time he's been released in a series of Marvel Legends figures with a Build-A-Figure that I want, which means I just purchased my second Marvel Legends Black Panther figure–from the 2013 Marvel Legends Wave 5 Rocket Raccoon Series…

The Right:

Based off the introduction, you might think that I don't care for this Marvel Legends 2013 Black Panther figure, but that's actually completely wrong. I think that the Black Panther is a little flat/boring as a character, but this is still a great Black Panther action figure.

While I was surprised to see Hasbro announce another Marvel Legends Black Panther figure, the difference between this one and the Toybiz Marvel Legends series 9 Black Panther is like night and day. While that old Black Panther is heavily based off of the 1990's Marvel Knights Black Panther appearance, this new Black Panther is classic all the way.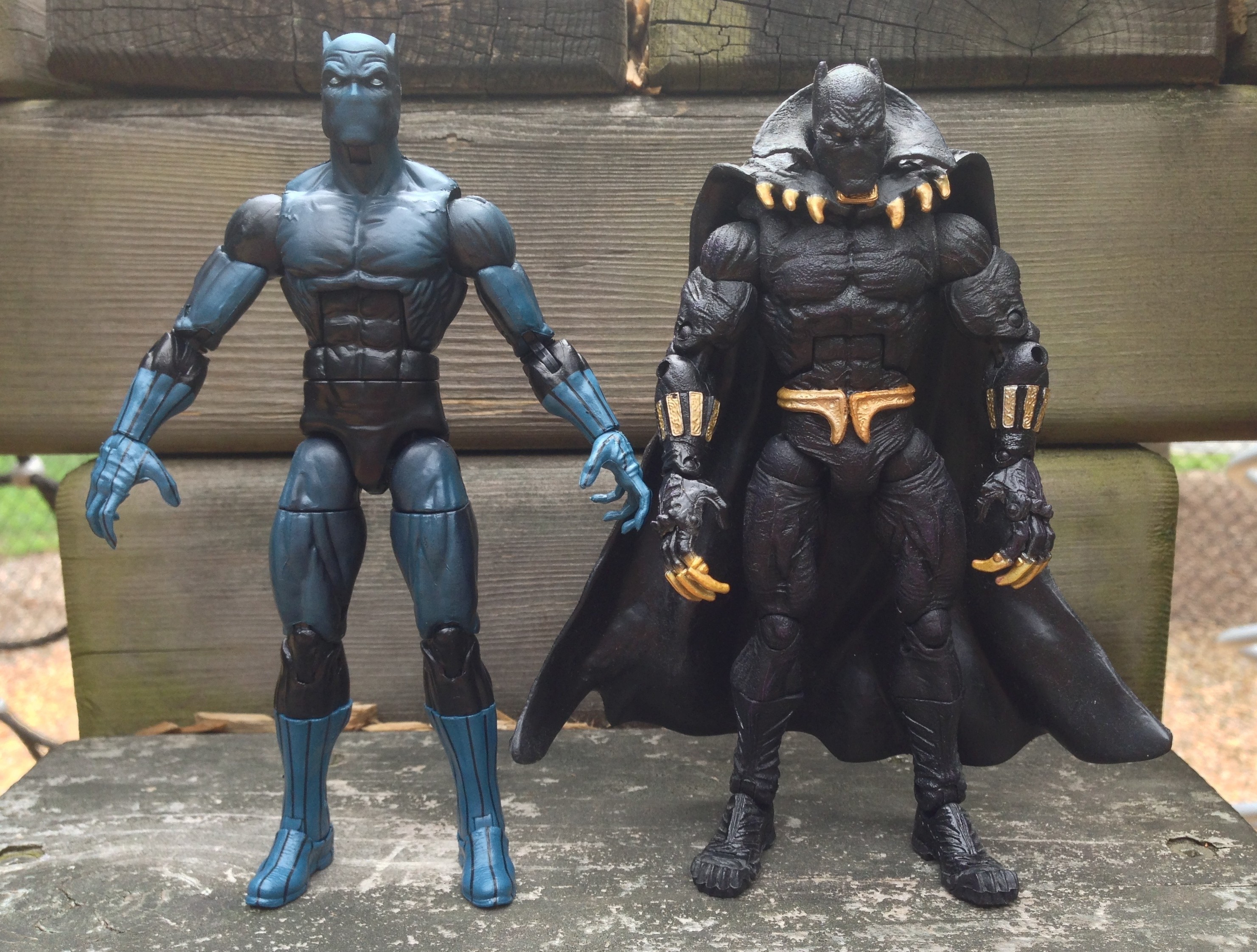 Whereas the Toybiz Marvel Legends Black Panther has smaller proportions and less articulation than the modern figures put out by Hasbro, the new Black Panther figure is perfectly proportioned to fit in seamlessly with the current line. There's no cape, necklace or golden claws on this Marvel Legends Black Panther–it's the slimmed down, classical look that's been around for the better part of a century.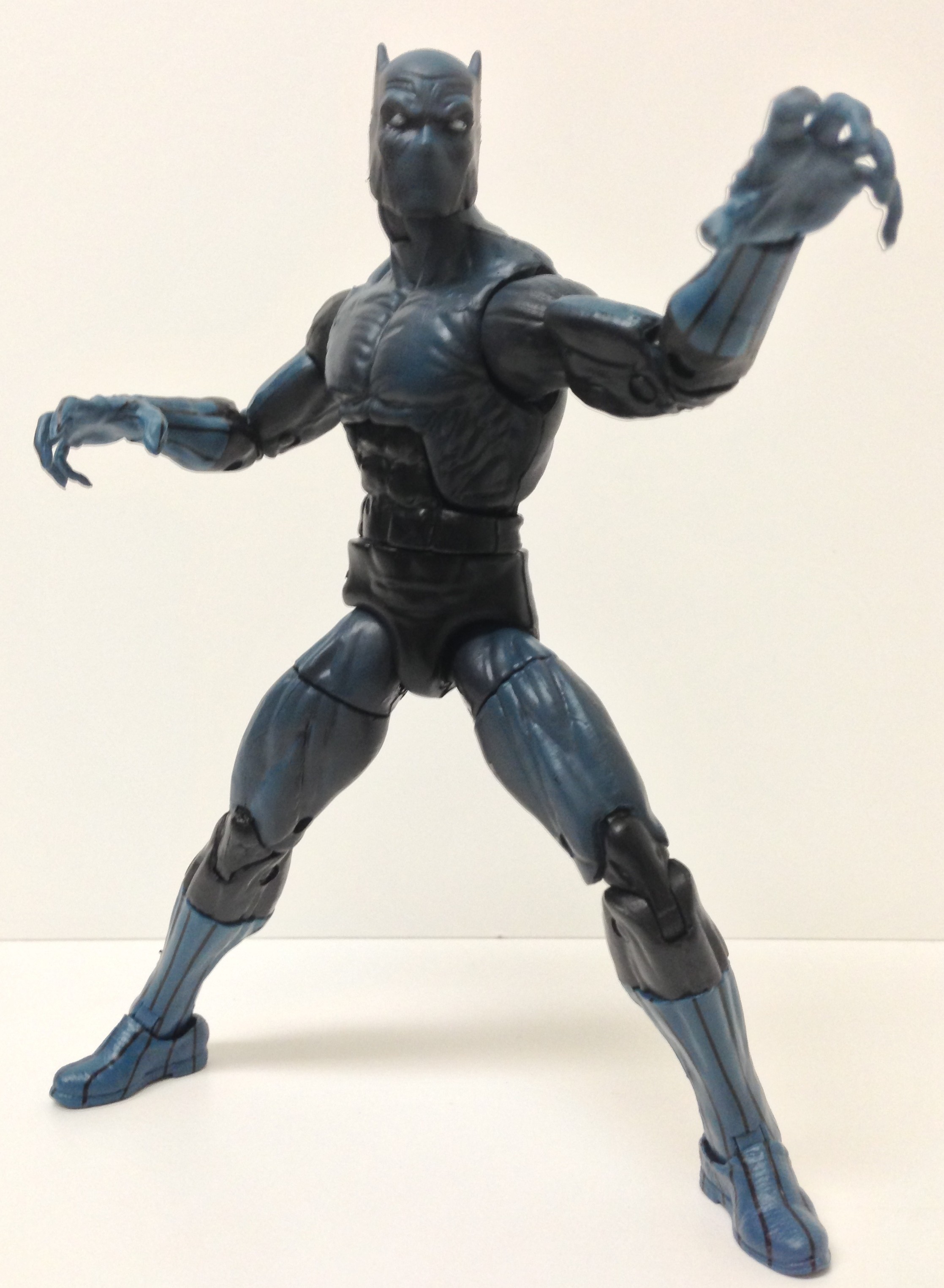 The articulation on the Rocket Raccon Series Marvel Legends Black Panther is absolutely everything I look for in an action figure of this scale: ball-hinge neck, ball-hinge elbows, swivel biceps, double-jointed elbows, swivel-hinge wrists, upper torso ab crunch, swivel waist, ball-jointed hips, swivel thighs, double-jointed knees, swivel calves, and swivel ankles with ankle rockers.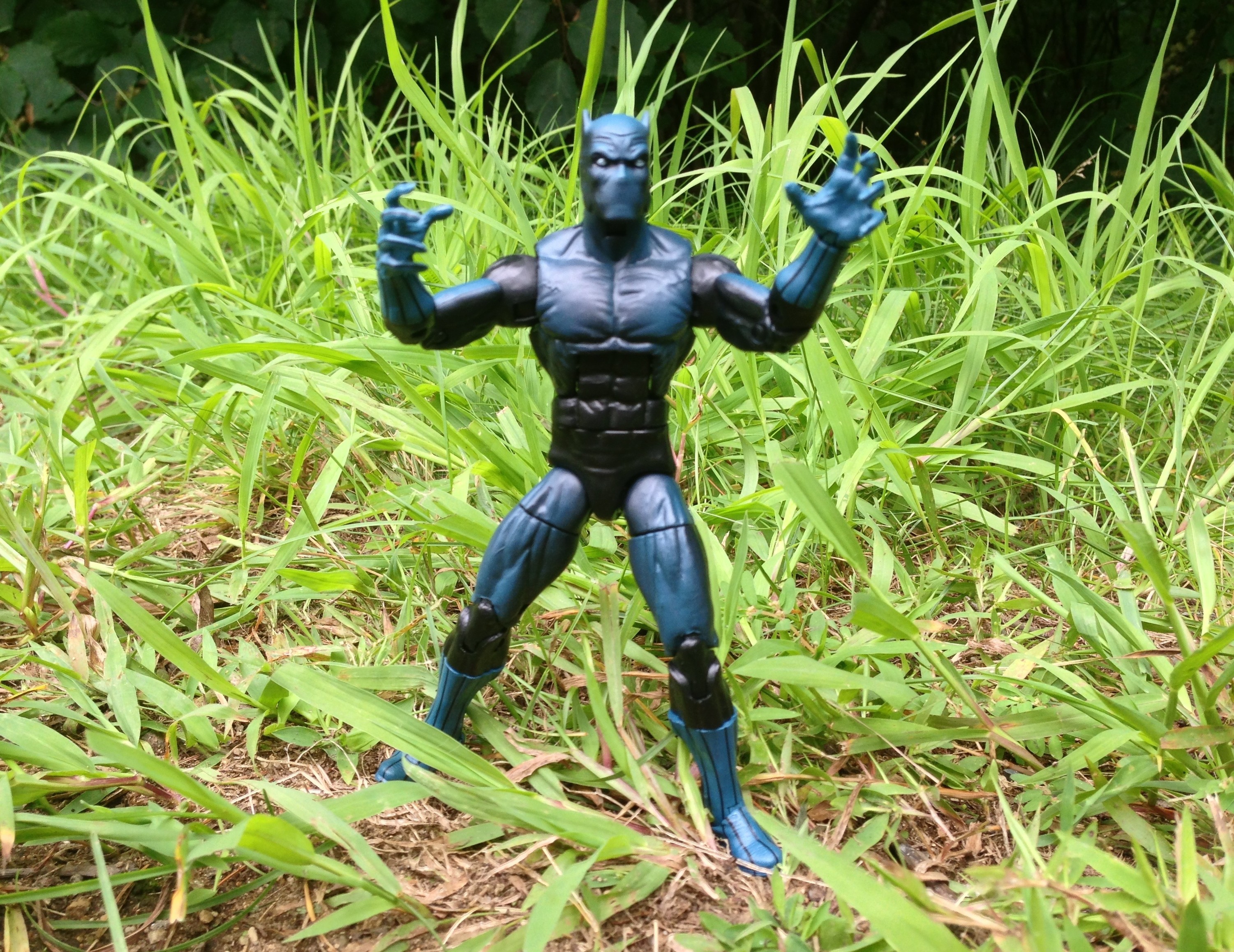 All of Black Panther's body parts have a tremendous range of motion, and there's really nothing in the sculpt to get in the way and block articulation anywhere on T'Challa. Black Panther's head can look up and down and all around without restriction, and the ankle rockers allow you to get Black Panther standing stably in most whatever pose you want to put him in.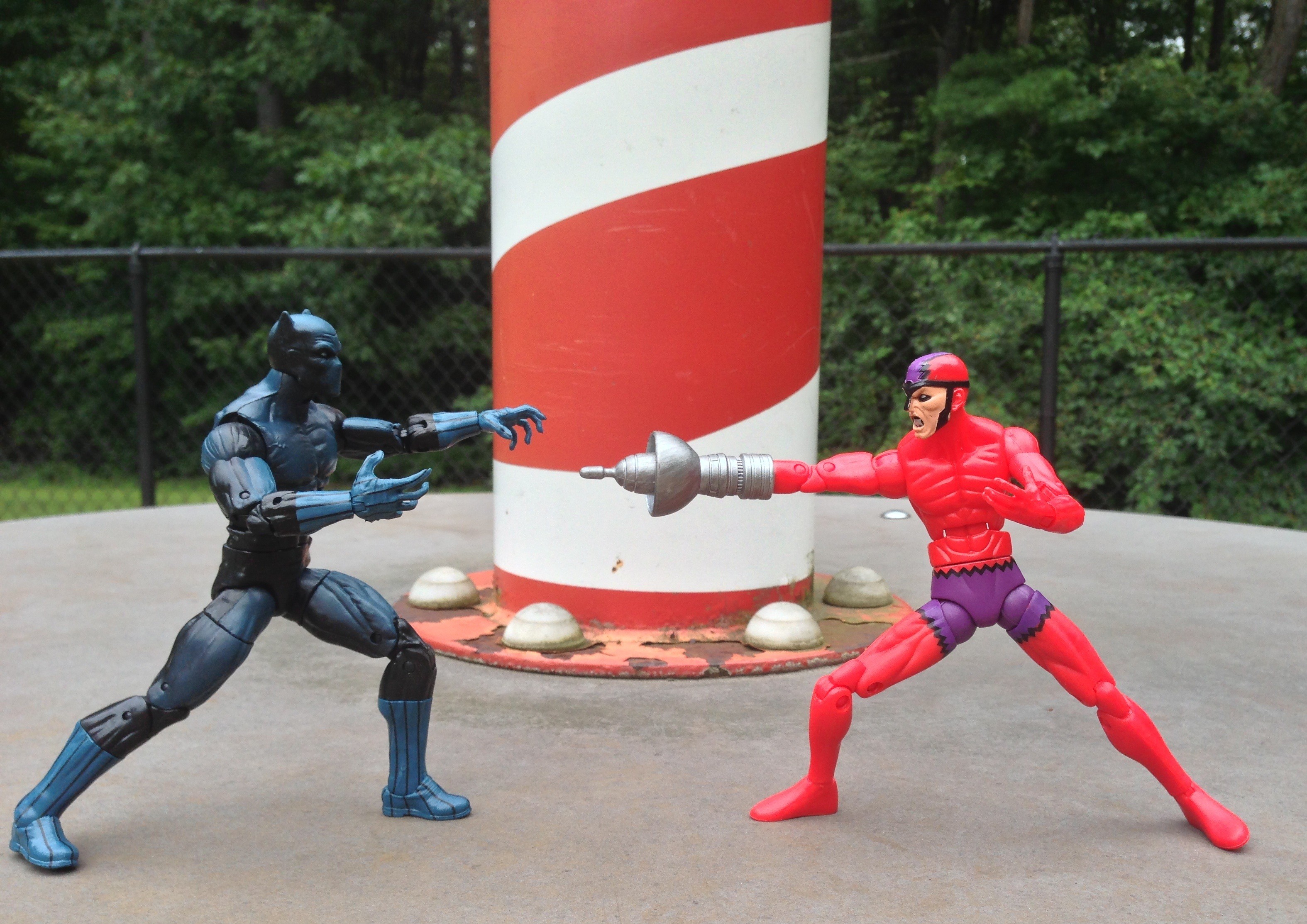 You might be anticipating this 2013 Marvel Legends Black Panther being almost entirely black, but Hasbro actually put a ton of effort into making the deco on this figure really pop. Most of ML Black Panther is molded in black, but there are varying amounts of blue-grey paint wash on different parts of the Black Panther's body, while his boots and gloves are painted blue-grey with perfectly applied straight black stripes on them. The result is that the figure looks fantastic, with loads more depth on him than I had expected.
Both of Marvel Legends T'Challa's hands are molded in a grasping or slashing pose, with his fingers spread like claws. It's really the perfect pose for the Black Panther Marvel Legends figure to take on to look like he's preparing to stalk an enemy or attack.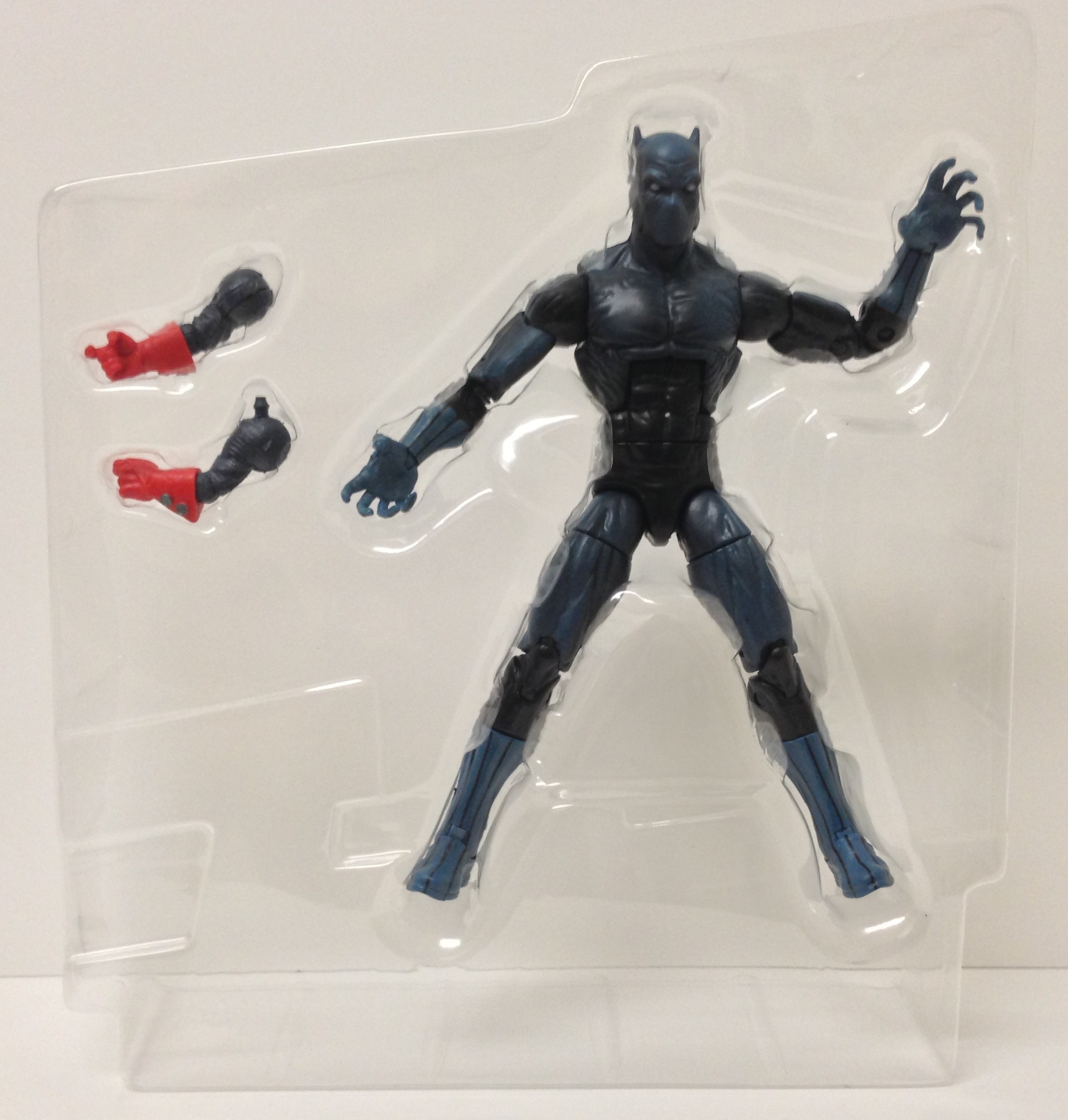 As Black Panther is easily the most obscure heroic character in Marvel Legends Wave 5 (The Wrecker is obviously the most obscure overall), Hasbro wisely chose to make Black Panther one of the three figures that include the parts necessary to build the Rocket Raccoon Build-A-Figure. So unless a lot of people want to have Rocket Raccoon bodies without arms, there's little chance we need to worry about Black Panthers gathering dust on the shelves at retail.
The Wrong:
I wish that Hasbro would find a way to plug the hole on this particular mold's back when it's used for a character that doesn't have wings or a backpack, such as the Black Panther. It really damages the overall appearance of the figure from behind, although it's not as jarring as it would be if Black Panther's back wasn't already all black.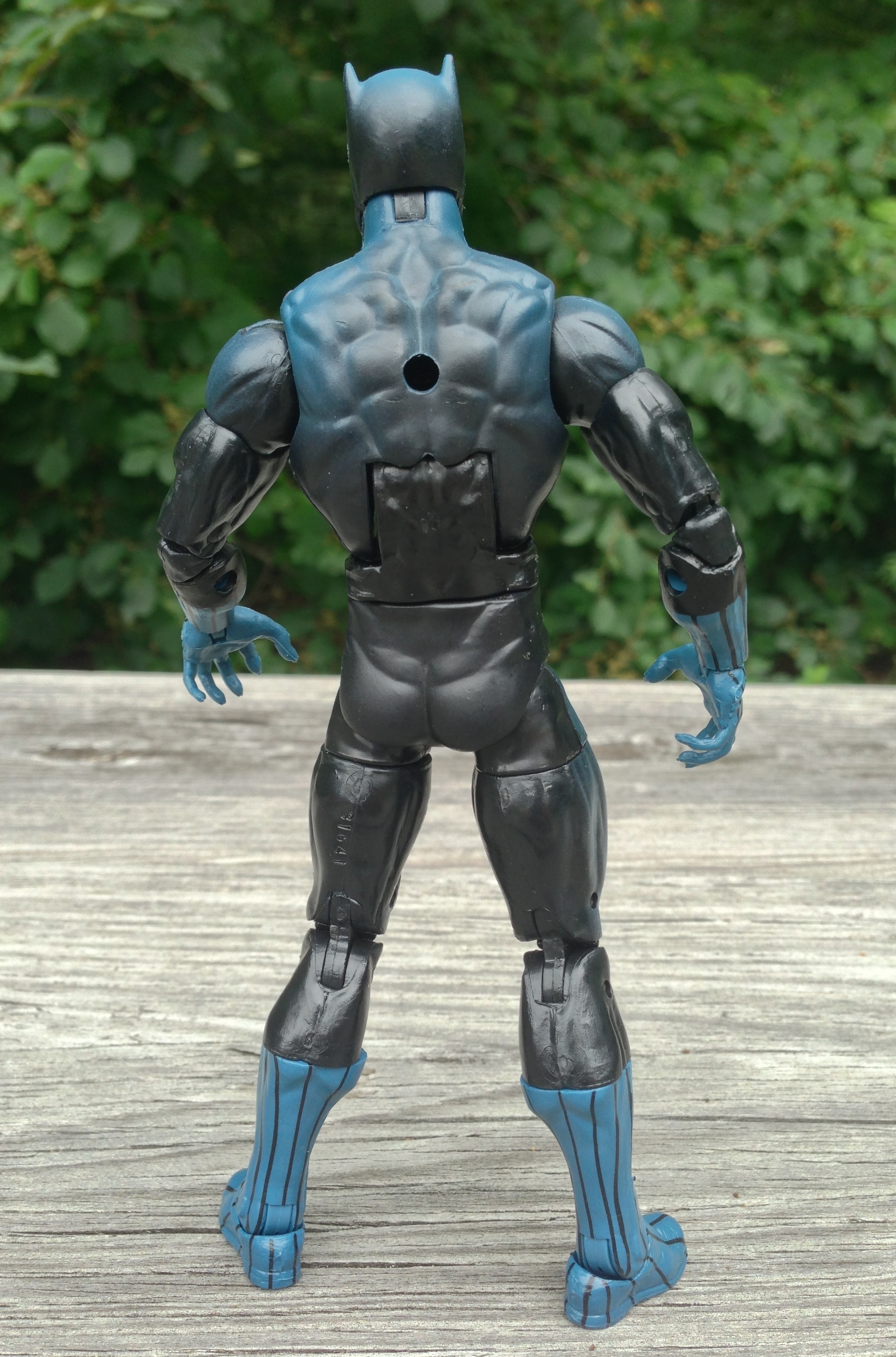 In addition, I really wish Hasbro would consider implementing alternate hands sometime in the near future for the Marvel Legends line. While I really like the slashing, clawed hands on the Black Panther Marvel Legends figure, it would be nice if I could switch out fists on him.
"Where Can I Buy It?!"
Black Panther is shipping at one-per-case in the Marvel Legends 2013 Series 2 cases just now reaching online retailers. I got my whole case from BigBadToyStore, but you can easily pick up Black Panther on eBay for as cheap as 17 bucks now.
Overall: The classic Black Panther may have a simple design, but this Marvel Legends Wave 5 Black Panther figure is basic done right. Superb articulation, paint application perfection, and great sculpting. The method of paint deco that Hasbro chose for the 2013 Marvel Legends Black Panther action figure is pure genius, and I'm grateful for the bonus Rocket Raccoon Build-A-Figure pieces. I doubt I'll ever be a fan of Black Panther the character, but this Black Panther Marvel Legends figure is a worthy addition to my Hasbro Marvel Legends collection.
GRADE: A-