If you've looked at the header for Marvel Toy News (or the Facebook cover, or the Twitter icon or the Facebook avatar), then you might have some suspicions that I have a 'thing' for the Scarlet Spider. And you would be absolutely right. I am a huge fan of the current Marvel Comics ongoing "Scarlet Spider" book by Christoper Yost, and as such this was my most-anticipated Marvel Legends figure of 2013 (after the raccoon). Though this Marvel Legends Scarlet Spider figure ends up feeling like a rehash (because it is), I like it all the same anyway….

The Right:

When I heard that the new Scarlet Spider comic book wasn't going to star a somehow-resurrected Ben Reilly Spider-Man, I just about flipped. And when I heard the series would feature a reformed Kaine Parker, superhero-ing in Houston, I was convinced that there was no way that this concept could possibly work. But somehow it did, and I own every issue of the nearly two years worth of story now (and all the Scarlet Spider TPBs as well).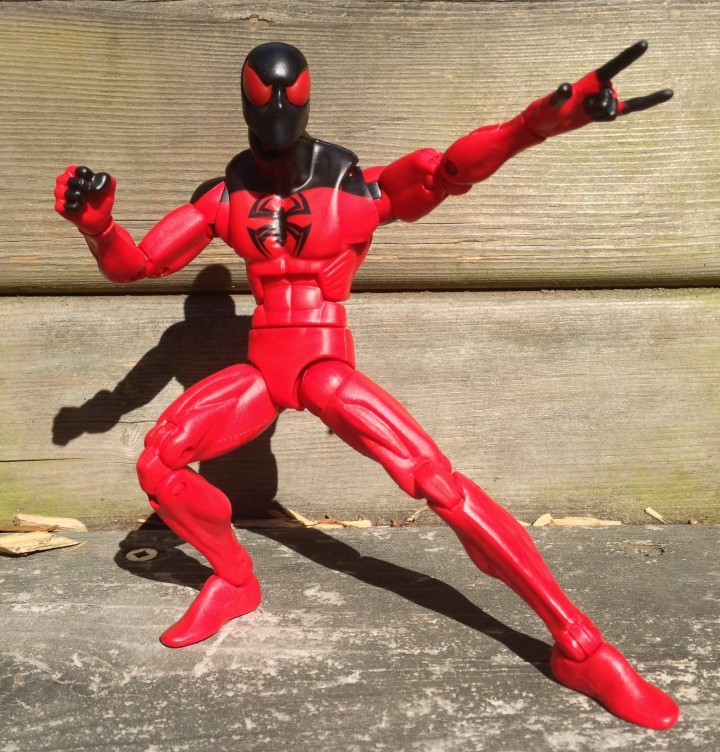 For a change it wasn't Diamond Select Toys bringing the new series-starring headliner to market first in their Marvel Minimates line, but instead Hasbro in their beloved 6″ Marvel Legends line. So was I stoked for this Scarlet Spider figure to be immortalized in Marvel Legends form, just a year after the comic debuted? Yes I was. I know some people don't love modern designs showing up quickly in the Marvel Legends line, but I'm a huge fan of promoting new and upcoming characters in this manner.
The paint deco on this figure is dead on–Hasbro chose the perfect pure red and black paint colors to emulate Kaine Parker's appearance in the Scarlet Spider comics. And whereas a lesser company would probably have uneven lines or paint slop somewhere on the figure that would be very noticeable (seeing as how the figure is a mix of bright red and dark black paint), Hasbro has managed expert paint applications with zero problems whatsoever.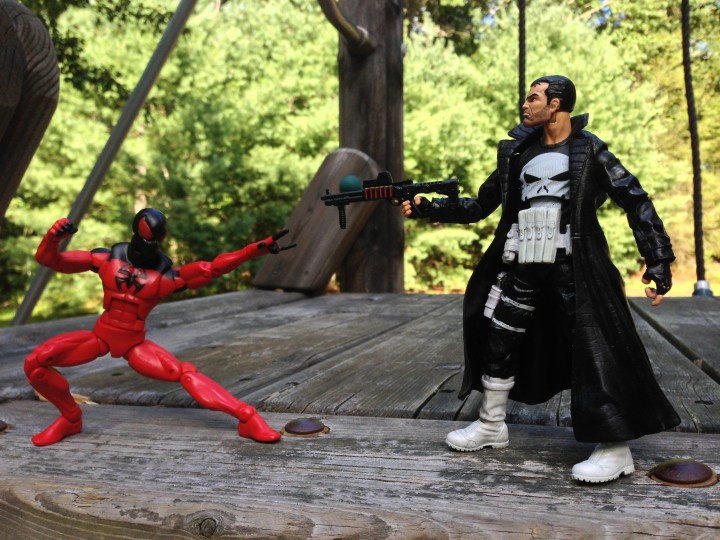 From an articulation standpoint, Scarlet Spider is equally impressive. I'm not real thrilled to have yet another Spider-Man figure with web-sling left hand–the one thing that really limited what kind of poses you can do with him–but it's still a thrill to have a Scarlet Spider figure with a ball-hinge head, ball-hinge shoulders, swivel biceps, double-jointed elbows, double-jointed wrists, upper torso ab crunch, swivel waist, ball-jointed hips, swivel thighs, double-jointed knees, and double-jointed ankles with ankle rockers. There's really very little else that could be added to this figure so far as articulation goes!
The Wrong:
If there's one thing that's kind of a letdown about this Scarlet Spider Marvel Legends action figure, it's the fact that it feel like a complete and total rehash–because it is. Hasbro has used this exact Spider-Man mold over and over now, most recently for last year's Marvel Legends Future Foundation Spider-Man and Big-Time Spider-Man figures. Other than the paint scheme (which I do love), there's nothing new at all about this figure.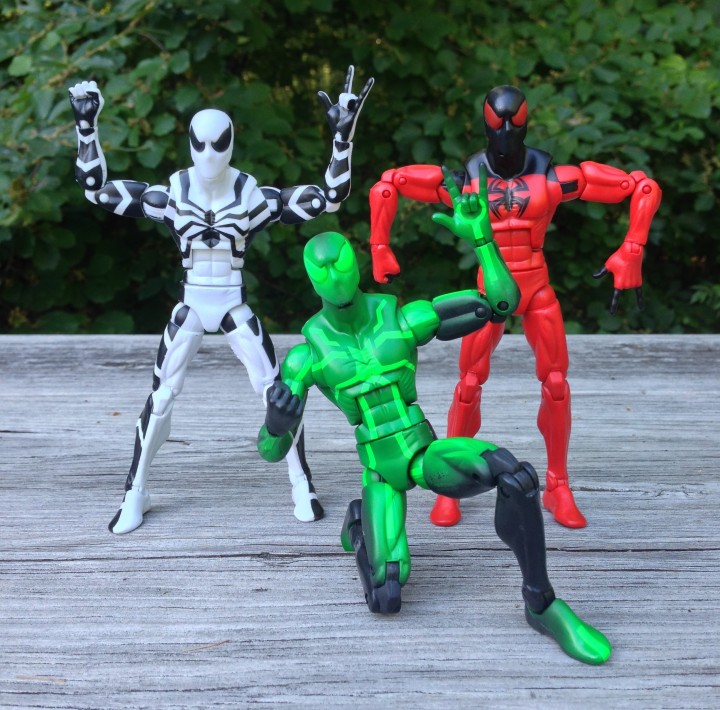 Now I'm not saying that this is a bad mold–it isn't. It's one of my favorite Spider-Man molds ever. But, well–it's getting old and tired. As much as I love the Scarlet Spider as a character, I didn't have all that much fun posing the figure and playing with it, because I've done it all before over and over. Hasbro could have changed up the hands or added an accessory or done anything at all to make this figure feel fresh–but as it is, Marvel Legends Wave 5 Scarlet Spider is the most stale figure in the whole series (besides that dopey red Thunderbolts Punisher figure).
Scarlet Spider is easily the cheapest figure to pick up from Marvel Legends 2013 Series 2. BigBadToyStore has Scarlet Spider in-stock for $13.99 plus shipping, whereas you can get the new Scarlet Spider action figure for under 20 bucks including shipping from Amazon right now.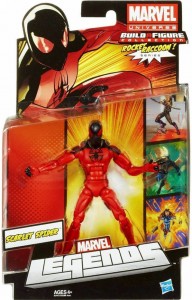 Overall: I can see where a lot of fans are kind of iffy on this Marvel Legends Rocket Raccoon Series Scarlet Spider action figure, as it's basically just a repaint of a Spider-Man mold that's been used quite a few times already. That said, he doesn't include any Rocket Raccoon pieces (so you can skip him if you like), and the paint deco on the figure is wonderfully done and definitely makes this feel like an authentic Marvel Legends Scarlet Spider figure. With copious amounts of articulation and a great character design to work from, this is a worthwhile figure to add to your Marvel Legends collection that just happens to feel a teensy bit stale.
GRADE: B