Marvel collectors got an unexpected early Christmas present tonight, when the great Dan Curto posted a scan from this week's new Diamond Comics Previews Magazine, fully revealing the first wave of Hasbro Marvel Universe 2014 figures: the Avengers Infinite Series Wave 1! Along with a couple "headliners" most collectors already have, we'll also be getting Avengers Infinite Series Wasp, Hyperion, The Grim Reaper and the Indestructible Hulk!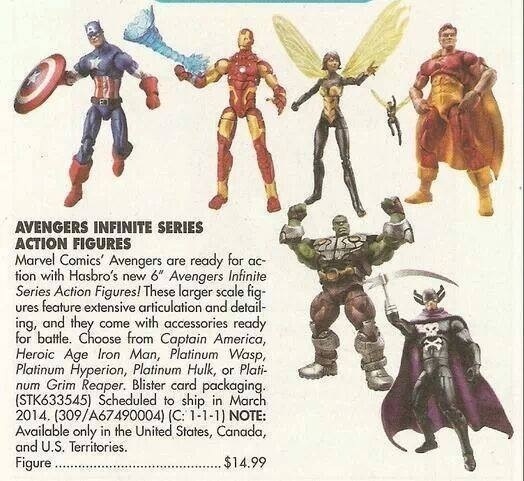 A couple months back there was a huge leak of Hasbro toys listings for 2014, which revealed many new figures for the 2014 Avengers Infinite Series of 3 3/4″ Marvel Universe action figures. We weren't absolutely certain that the leak was correct until now, but the just-released issue of Previews Magazine now confirms both that the Hasbro Marvel Universe live will be officially rebranded as "Avengers Infinite Series" in 2014, as well as premiering the first six action figures in the toy line!
The big winner for me from this assortment is definitely the newest version of the Hulk (dubbed "Platinum Hulk"), appearing for one of the first times ever in toy form with his SHIELD armor! We got a Marvel Minimate of this Hulk in 2013, but it'll be nice to see him in proper action figure form. I'm a huge fan of the Marvel NOW! Indestructible Hulk comic book, so this will be a much-appreciated addition to my 4″ Marvel collection.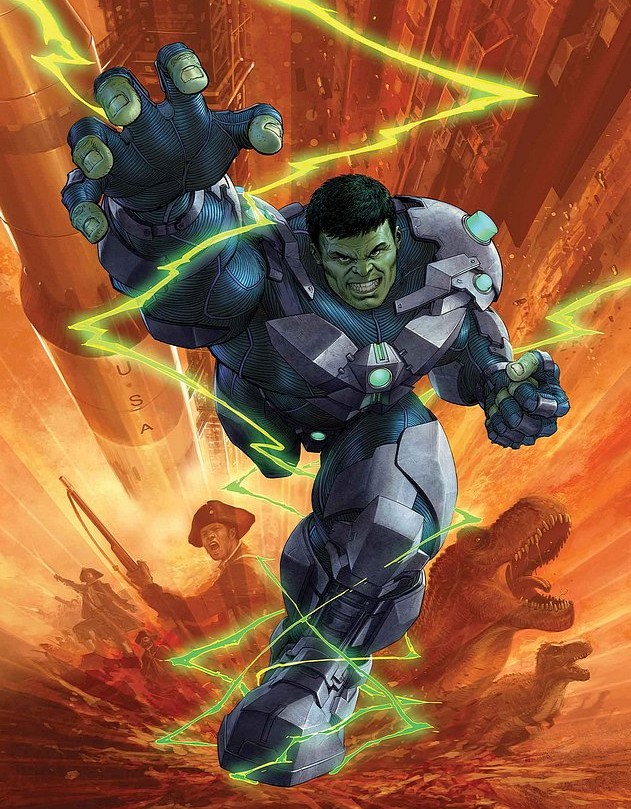 The other major new characters in the line are The Grim Reaper, The Wasp, and Hyperion. We already saw previews of Marvel Universe Grim Reaper and Hyperion at SDCC 2013 during the summer, so seeing those characters pop up here is no huge surprise.
Platinum Hyperion and Platinum Grim Reaper will be popular with diehard fans wanting obscure characters never-before-done in 4″ scale, while The Wasp will finally complete the original Avengers team. As a bonus, a mini Wasp figure is included with the Avengers Infinite Series Platinum Wasp–a terrific accessory that I'm glad Hasbro decided to include.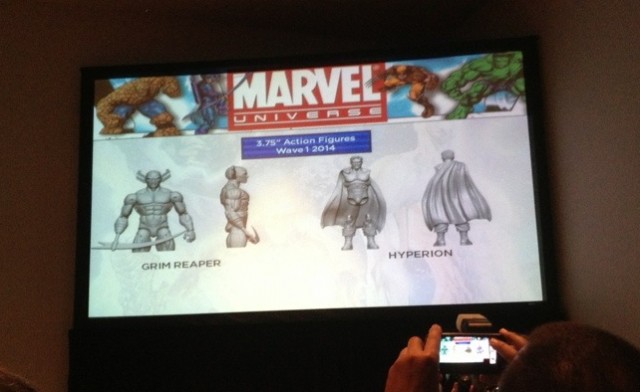 Finally, Avengers Infinite Series Wave 1 will be rounded out by Heroic Age Iron Man and Captain America figures. I can easily foresee both these figures warming shelves for the better part of 2014, so let's hope Hasbro doesn't feel the need to heavily pack Cap and Iron Man in early cases–that would be disastrous.
The Previews catalog listing has a suggested retail price listed of $14.99 per figure, but that price is the specialty store MSRP and not the price mass retailers like Target and such will be charging. Mass retail chains will most likely retain the $9.99 price-point that Hasbro Marvel Universe figures have been going for. The catalog also claims these are 6″ Marvel figures, but you can easily tell from the photos that they're actually Marvel Universe-style figures.
Are you happy with this first assortment of Avengers Infinite Series 3 3/4″ figures, Marvel collectors? What figures (if any) will you be bringing home from this wave?