Up until now, it's been a pretty peachy-keen world that the Mezco ONE:12 Collective Marvel heroes live in, with not a single villain up for sale yet to threaten the peace. But all good things must come to an end, and the first nefarious foe has now been solcited for release in Spring 2017! Enjoy the quiet life while you can, Captain America–the Mezco ONE:12 Collective Red Skull figure is now up for order!
Mezco kicked off the Marvel ONE:12 Collective six-inch figures line with various versions of Captain America earlier this year, so it seems only fitting that the first villain to join the series is Cap's greatest foe: the Red Skull!
Two Red Skull 6″ figure prototypes were debuted at San Diego Comic-Con 2016 in July, with one version being a classic Red Skull in green fatigues and the other being a modern Red Skull in trench coat.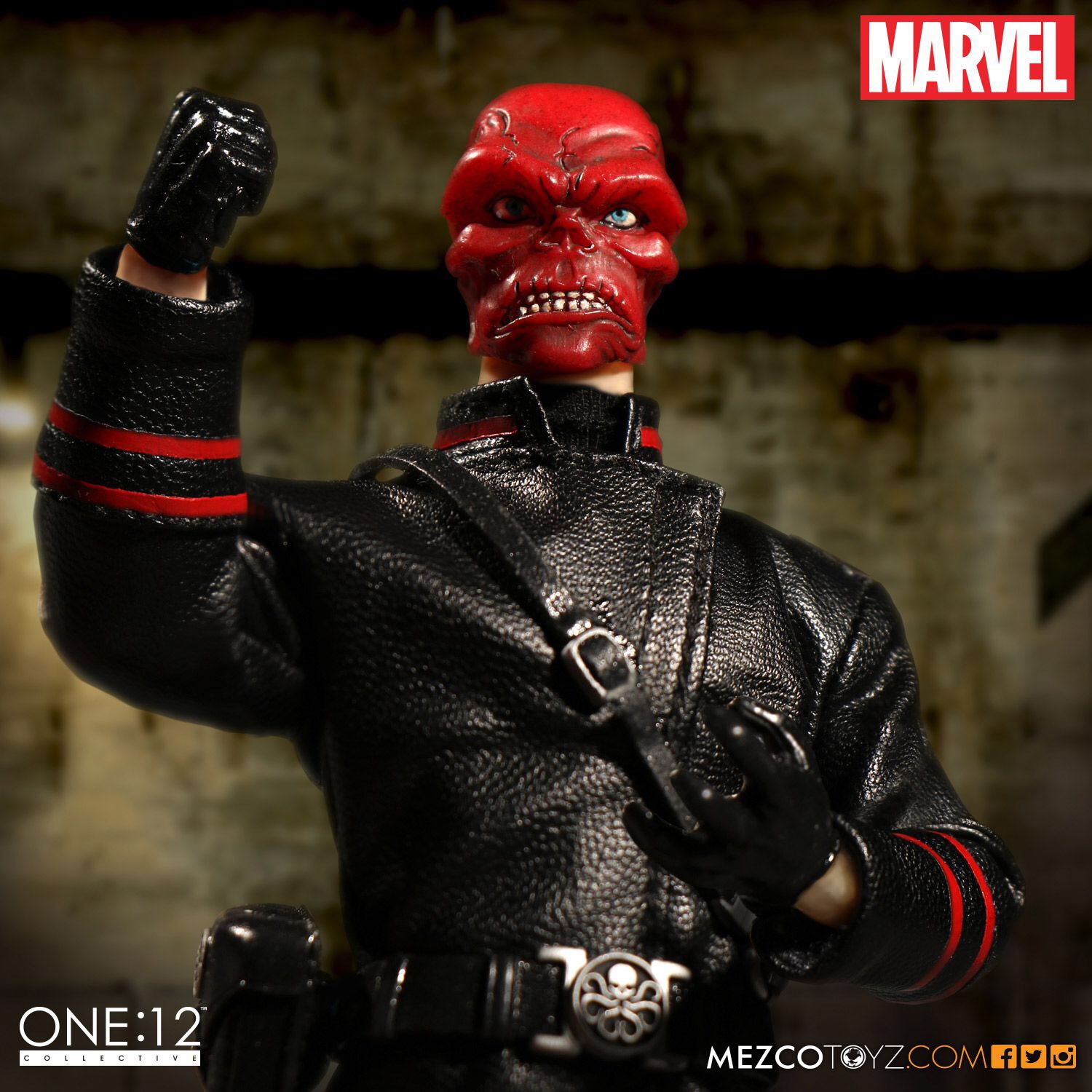 Mezco Toyz couldn't confirm at SDCC which version was going to be released first–but, well… I guess we know now!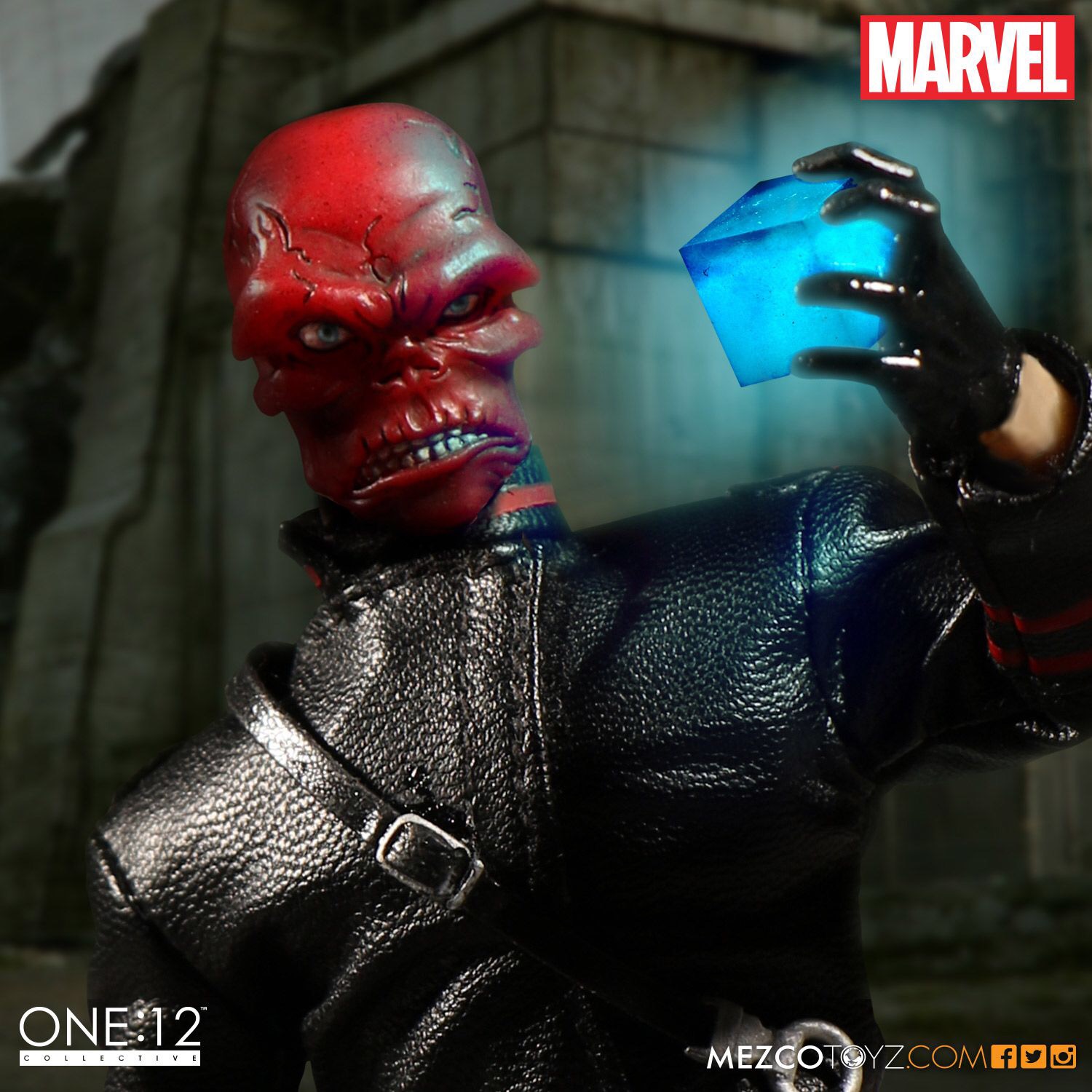 I know that the classic version of Red Skull has its fans, but I'm glad to see the modern trench coat Red Skull getting a mass release first. This is the version of Red Skull that I think most collectors are going to be more drawn to, and a limited release for the classic version is probably much better for the line's future health.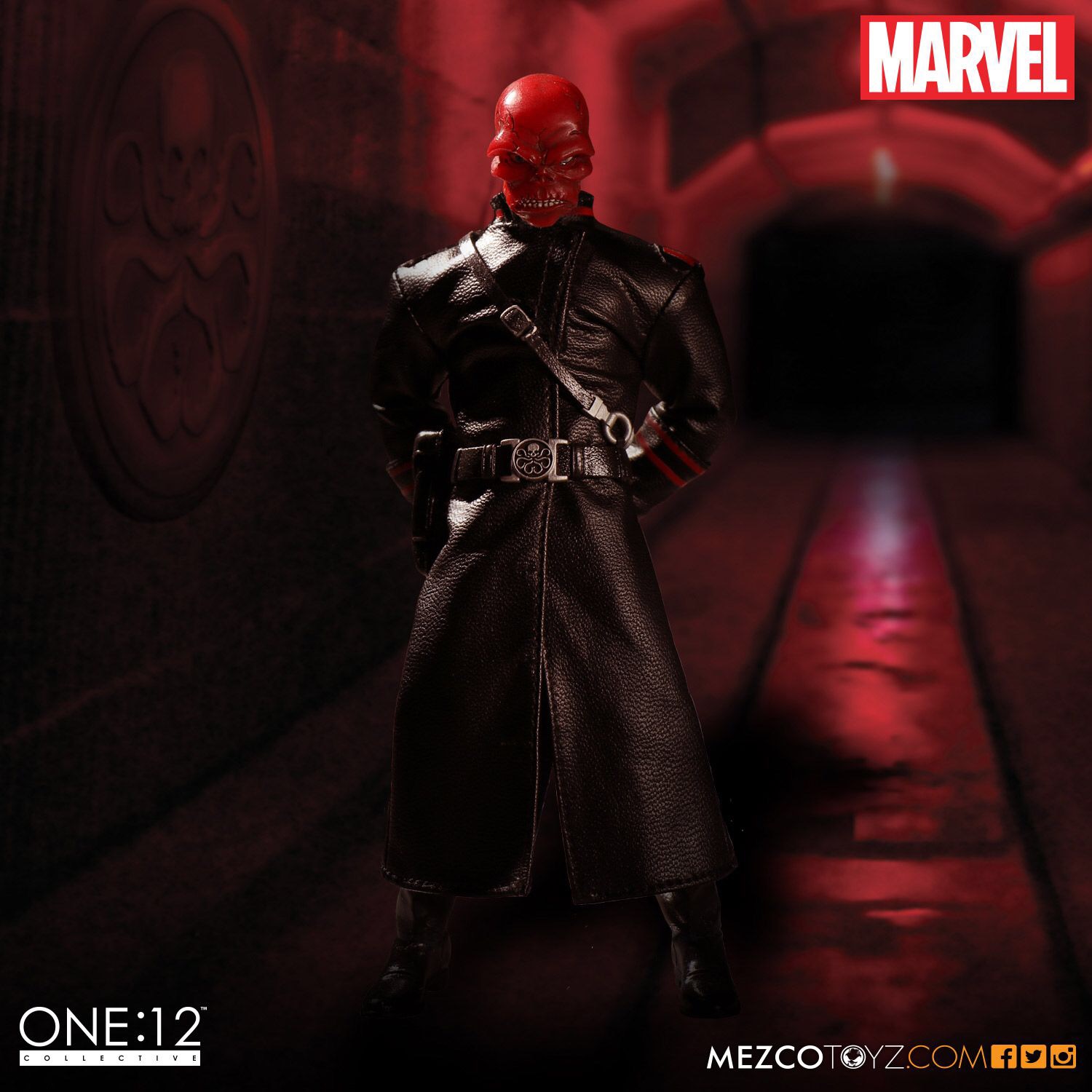 Like the rest of the standard ONE:12 Collective Marvel figures, Red Skull will carry a price-point of $80. That's a scary amount for a 6″ figure, but when you consider that these are basically half-sized Hot Toys figures at a third of the cost, it really doesn't seem all that bad.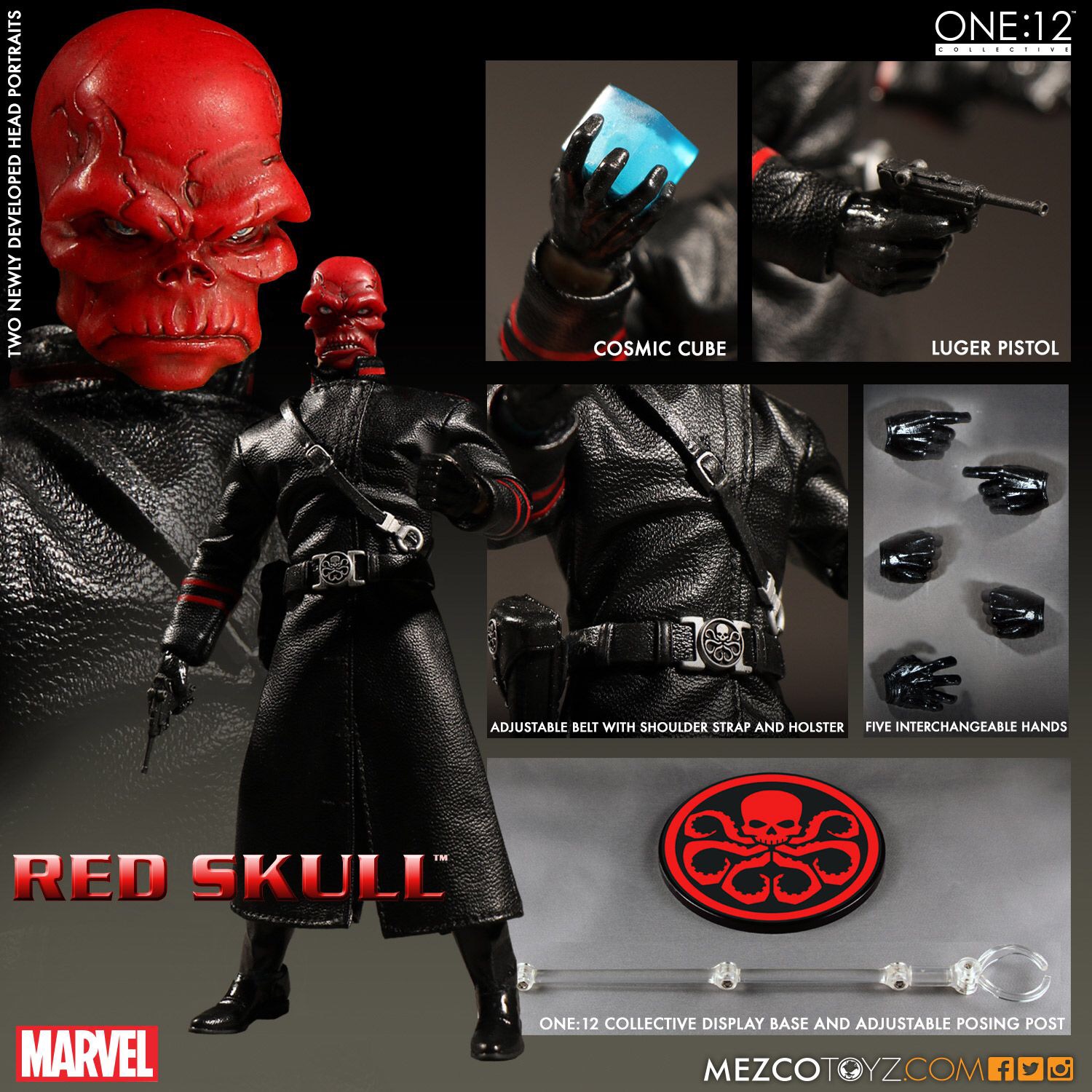 And hey, never let it be said that Mezco Toyz doesn't believe in giving us value for our money! There's a sizable list of accessories for this figure, including all of the following:
Two (2) newly-developed, hand-painted portraits
One (1) faux leather black trench with red detailing and Hydra logo
One (1) black knit detailed turtleneck shirt
One (1) black woven pair of pants
One (1) pair of articulated black boots
One (1) pair of fists (L&R)
One (1) pair of open hands (L&R)
One (1) pair of holding hands (L&R)
One (1) scaled Cosmic Cube
One (1) adjustable belt with shoulder strap & holster, featuring Hydra buckle
One (1) scaled German Luger pistol
One (1) One:12 Collective display base with Hydra logo
One (1) One:12 Collective adjustable display post
That's not bad for a figure in the Marvel Legends scale! Not bad at all!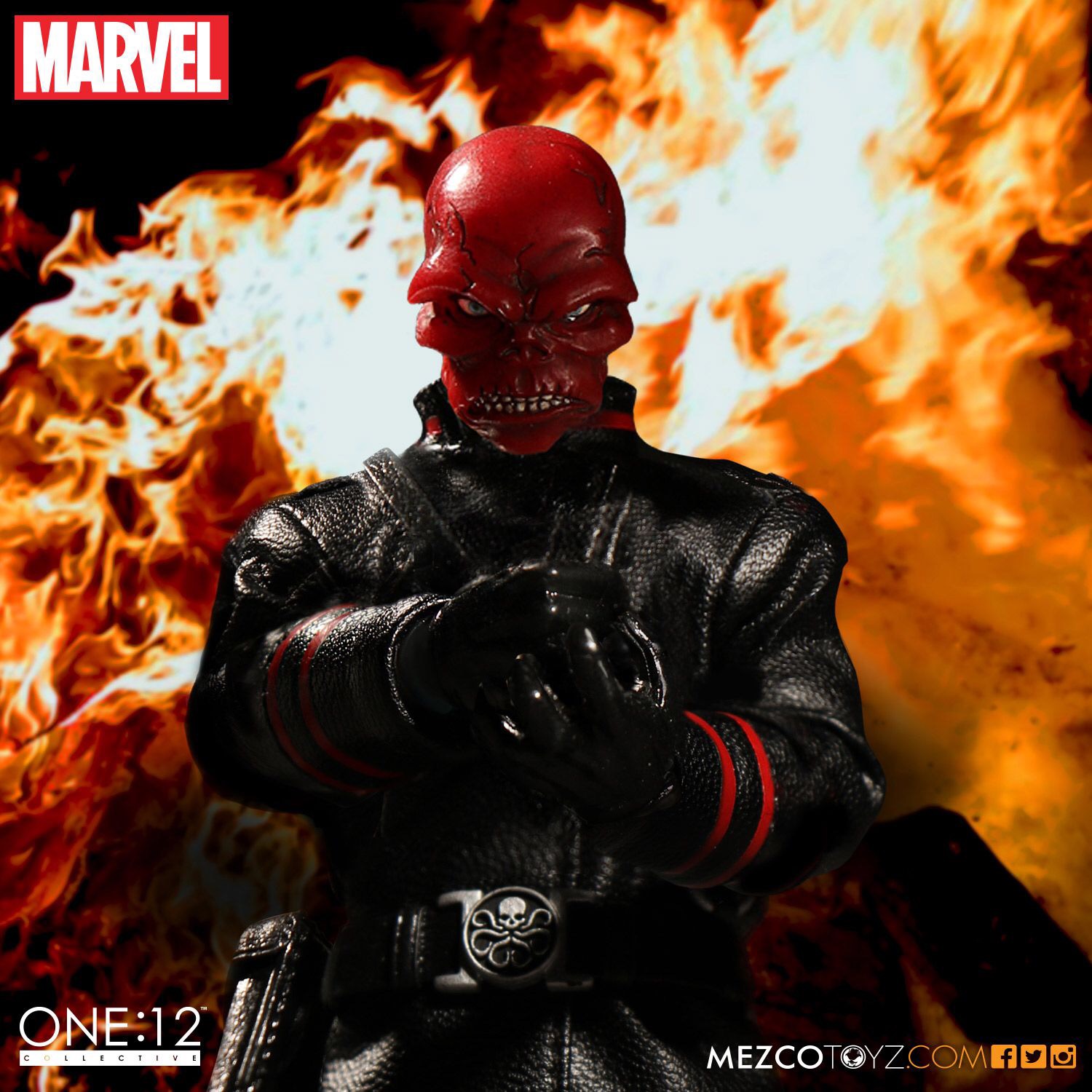 The Mezco Red Skull ONE:12 Collective figure is now up for order, and is scheduled to be released between April and June 2017. None of the Marvel 1:12 Collective figures have sold out yet, so you may have a chance to wait and ponder if you really want this evil Hydra mastermind or not before committing.
Does this Red Skull figure meet your expectations for the first Marvel ONE:12 Collective villain, Marvel collectors? If you're planning to pick up a Red Skull, are you aiming for this version, the classic version… or both?