Before I even got my set of Spider-Man Marvel Legends Infinite Series 1 figures in the mail this week, I already had preconceived notions of which were going to be the figures I adored and which would be the ones that I liked… less. The 2014 Marvel Legends Ultimate Beetle figure fit into the latter category. To my surprise, though, I was so impressed with the Ultimate Beetle figure after opening it, I decided to lead off my Marvel Legends 2014 Spider-Man reviews with him…

The Right:

Of all the the characters Hasbro chose for the 2014 Marvel Legends Infinite Series thus far, Ultimate Beetle is easily the most obscure and unexpected character selection. That said, I'm glad that Hasbro is reaching out and giving us a wide range of characters from a variety of sources. From movies to classic comic books to modern comic books to Ultimate Spider-Man, there's a little bit of representation here for fans of all sorts of different eras of Spider-Man.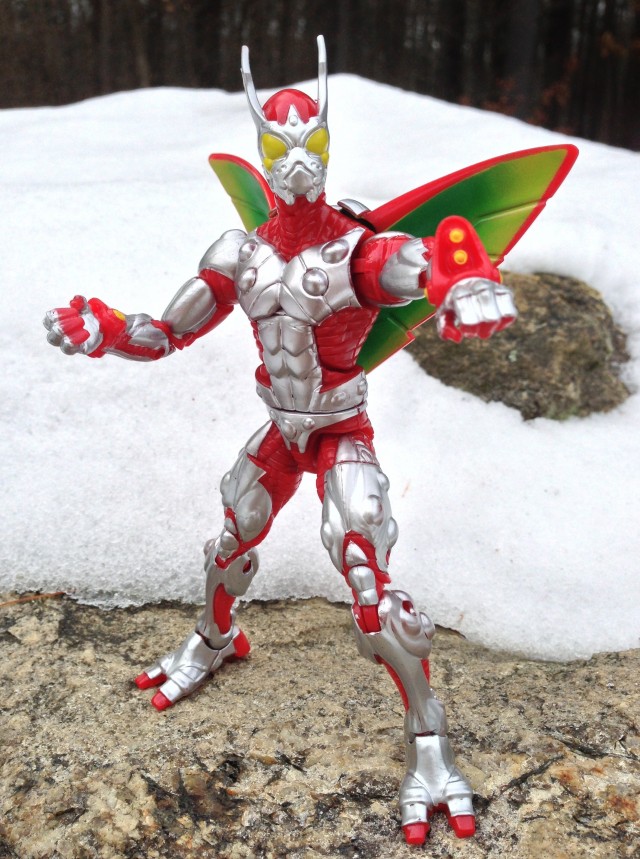 Not being familiar with this incarnation of the Beetle, I thought the Marvel Legends Ultimate Beetle action figure looked kind of dopey from the prototype images. Having him in-hand, though, I don't feel that way at all. The sculpting on the Beetle armor is actually very nicely detailed, and I like how atypical for figure's anatomy and design are as a whole. Ultimate Beetle feels unique and interesting in a lineup full of mostly familiar characters.
I'm also a fan of the built-in blasters on Ultimate Beetle's hands, giving him some much-needed firepower.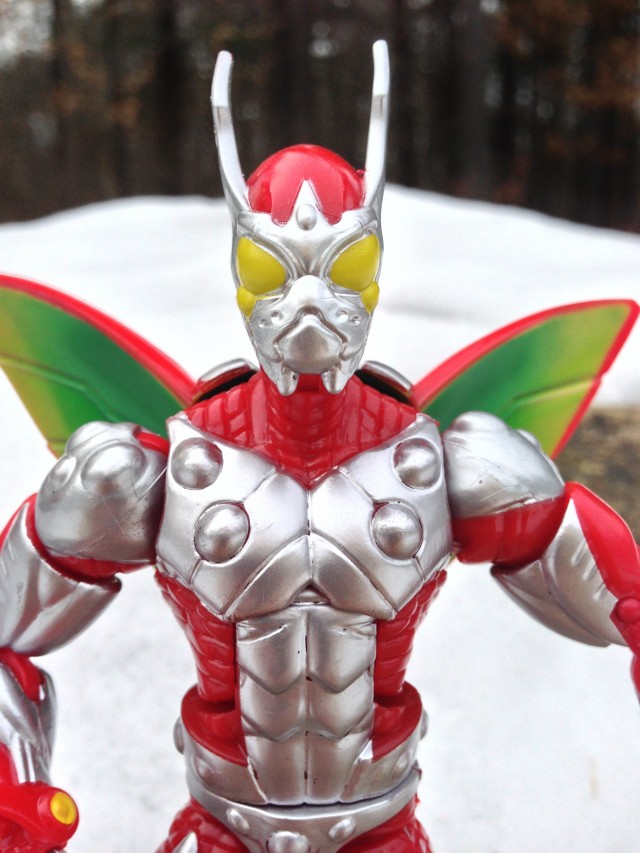 The paintwork on the Spider-Man Marvel Legends Ultimate Beetle figure is fantastic and brings the figure to life. The metallic silver armor painted onto the vibrant red plastic is much more compelling in person than in photographs, and the yellow eyes give Ultimate Beetle an intimidating, alien look and feel.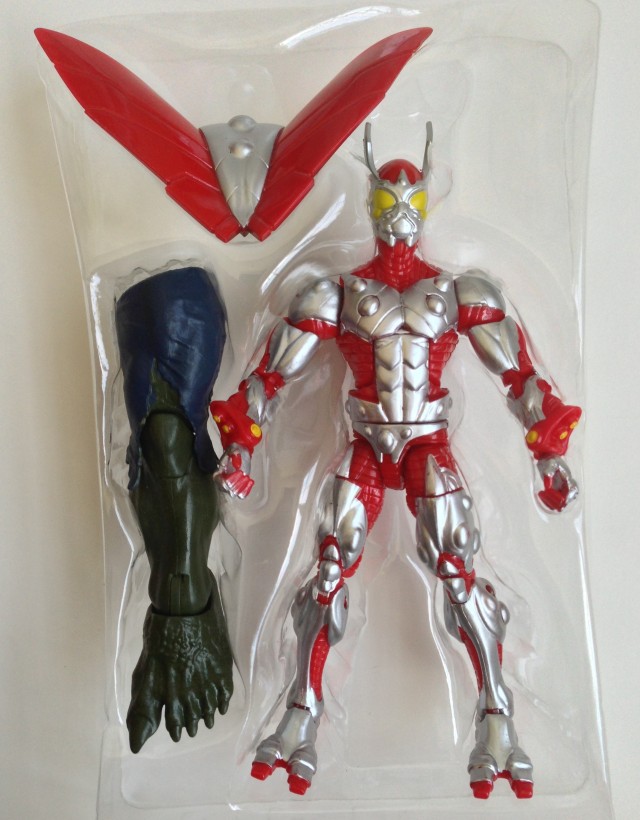 The Marvel Legends Beetle figure comes with one accessory (besides his Marvel Legends Ultimate Green Goblin Build-A-Figure piece): his removable wings. The Ultimate Beetle wings are actually one of my favorite parts of the figure, as they feature a terrific green paint gradient running across them. The green of the wings is really eye-catching and ties the Ultimate Beetle Marvel Legends figure's color scheme together nicely.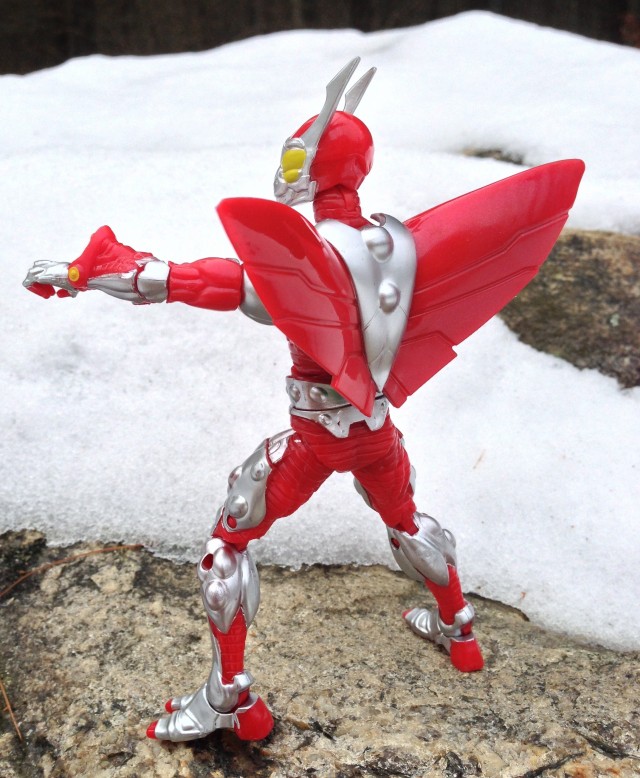 Ultimate Beetle's wings plug into a hole in the figure's back, where they fit snugly and stay on well. If you want to remove the wings, you can still tug them out with minimal effort, however.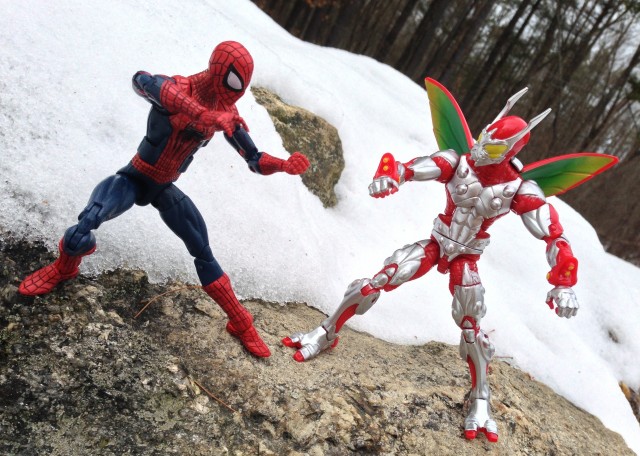 As with most Hasbro 6″ Marvel Legends action figures, Ultimate Beetle is a pretty flexible guy with a healthy amount of articulation engineered into him. Some of his joints don't have the range of motion that I'd like (and I'll discuss that shortly), but he still has a respectable multitude of articulation points, including ankle rockers, double-jointed elbows, double-jointed knees, upper torso ab-crunch and ball-hinge shoulders.
The Wrong:
The main thing that makes me crazy about this Spider-Man Legends Ultimate Beetle action figure is the head. While the Beetle's head fits onto a big ball-joint, the actual head/helmet pops off the joint constantly every time I try to position his head. Ultimate Beetle's head is just too loose–it won't fit firmly onto the ball-joint at all. It's really rather annoying to have his head continuously falling off when trying to pose this figure.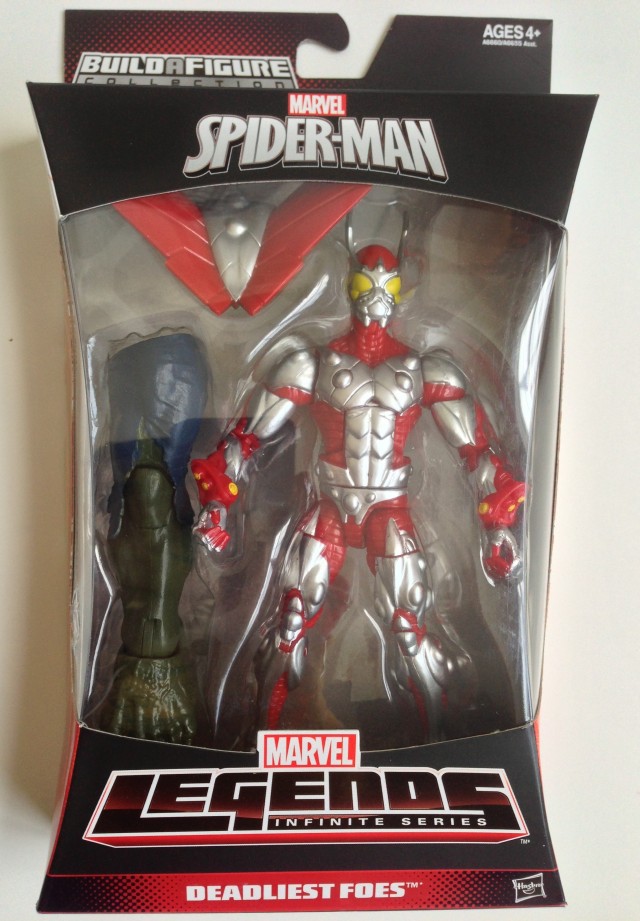 I'm also dismayed by the limited range of motion of Marvel Legends Ultimate Beetle's hips. While Beetle's legs can each move forward with no difficulties, the side-to-side flexibility of the legs is essentially non-existent. Ultimate Beetle isn't the type of character who'd be doing yoga poses or anything like that anyway, but I still would have liked to seen better leg articulation implemented on his action figure.
Finally, I've heard some talk of the plastic quality on this figure. While the plastic used for the Marvel Legends 2014 Ultimate Beetle figure definitely does feel a mite more rubbery than the other figures in this assortment, I haven't had any problems with stability or breakage or what-not with Beetle. I don't expect the plastic quality of the Ultimate Beetle action figure to cause any real issues, but be aware that his QC isn't quite as high as the other figures in this series.
"Where Can I Buy It?!"
I got my Ultimate Beetle figure from BBTS as part of a set of all six Spider-Man Marvel Legends Wave 1 figures. He's still tough to track down at retail at one-per-case, but Ultimate Beetle is actually usually selling individually for at or below retail price online right now.
Overall: The 2014 Marvel Legends Spider-Man Ultimate Beetle figure isn't a figure I was anticipating at all, but the more I posed and played with him and photographed him, the more I liked him. Even without my zero attachment to the character, the Hasbro Ultimate Beetle figure is a fun and well-executed toy. If Beetle's lower-body articulation was slightly improved and his head stayed on better he'd easily earn an 'A' from me, but even with those problems, he's a solid 'B+' and a recommended purchase.
GRADE: B+