While there's no doubt that Spider-Gwen is the most popular female Spider-Man character created in the new millennium (and perhaps ever), there's another new "Spider-Woman" on the  block who has a circle of fans of her own: Cindy Moon—Silk! After debuting at the Sideshow Collectibles booth at New York Comic Con 2017 last month, we knew she'd be coming up soon, and here she is: the Sideshow Exclusive Silk Statue is now up for order!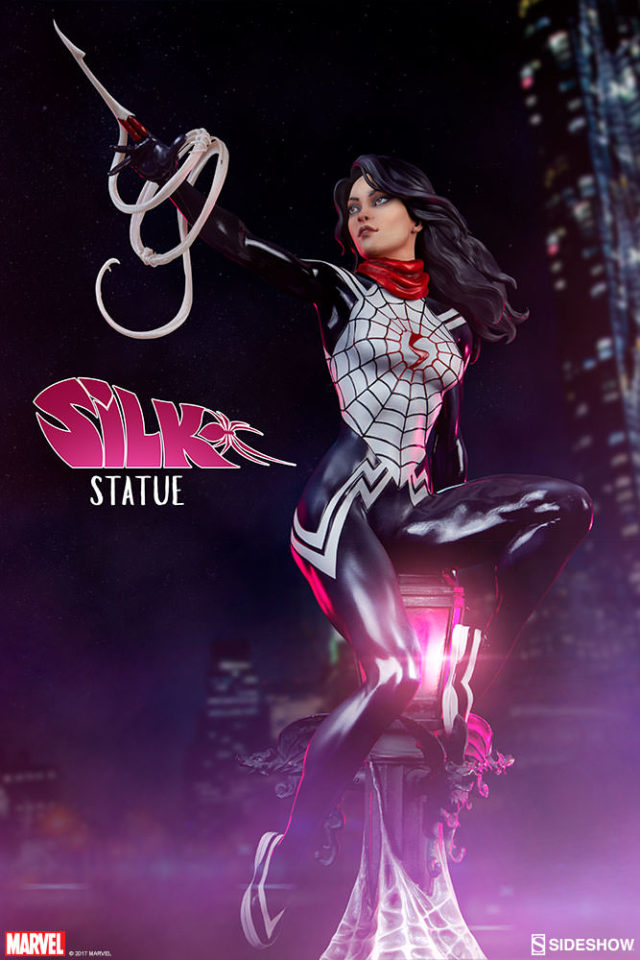 Not only did the Spider-Verse mega-crossover feature "every Spider-Man ever", but it also gave a featured role to the girl who got bit by the same radioactive spider as Peter Parker: Silk.
With that in mind, it wasn't a huge shock to see a 1:5 scale Sideshow Silk Statue announces as one of the first three statues in that series. We saw her at NYCC, and now all the details (including the exclusive) have been revealed. Let's take a look at the Mark Brooks Collection Spider-Verse Silk Statue…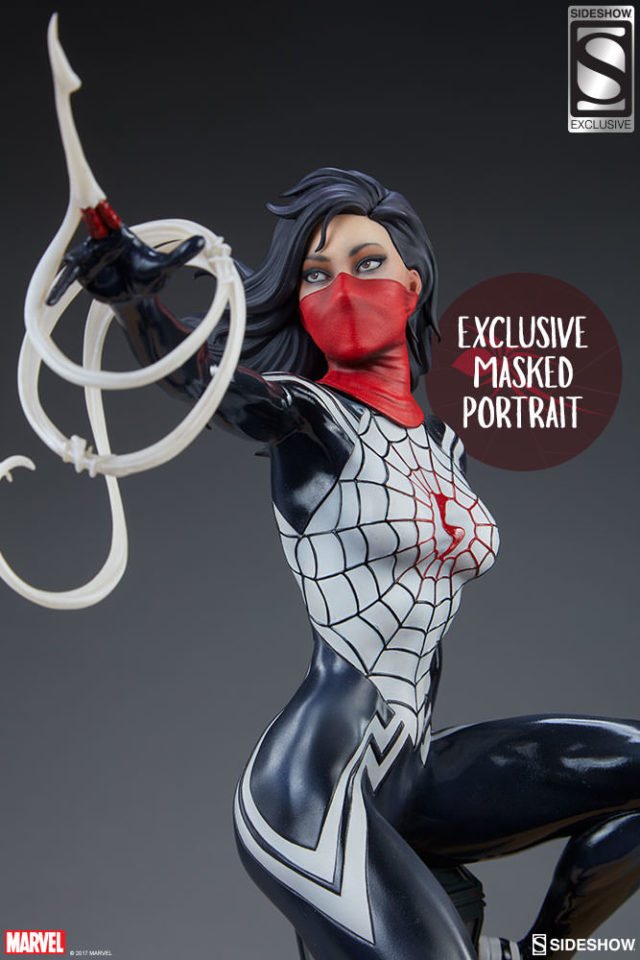 After the Spider-Gwen Exclusive turned out to be the masked portrait for Spider-Gwen—a genuinely shocking move—we probably should have expected the same treatment for the Exclusive Silk Statue. I didn't–but I should have–because that's exactly what's happened here.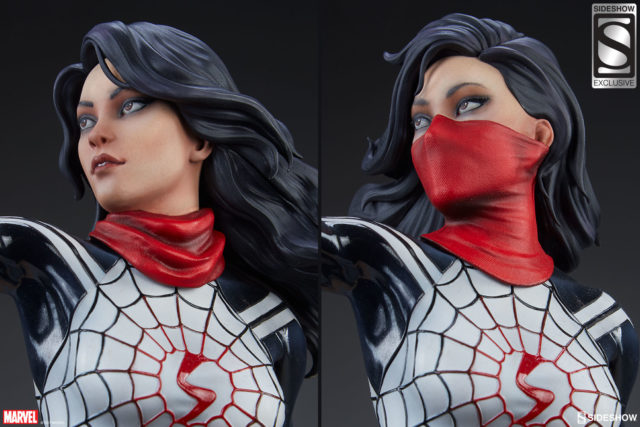 As bizarre as it may be, the costumed/masked Silk head is only available with the Exclusive Edition, whereas the unmasked head comes with both the regular and the exclusive. This is a strange trend I don't like at all.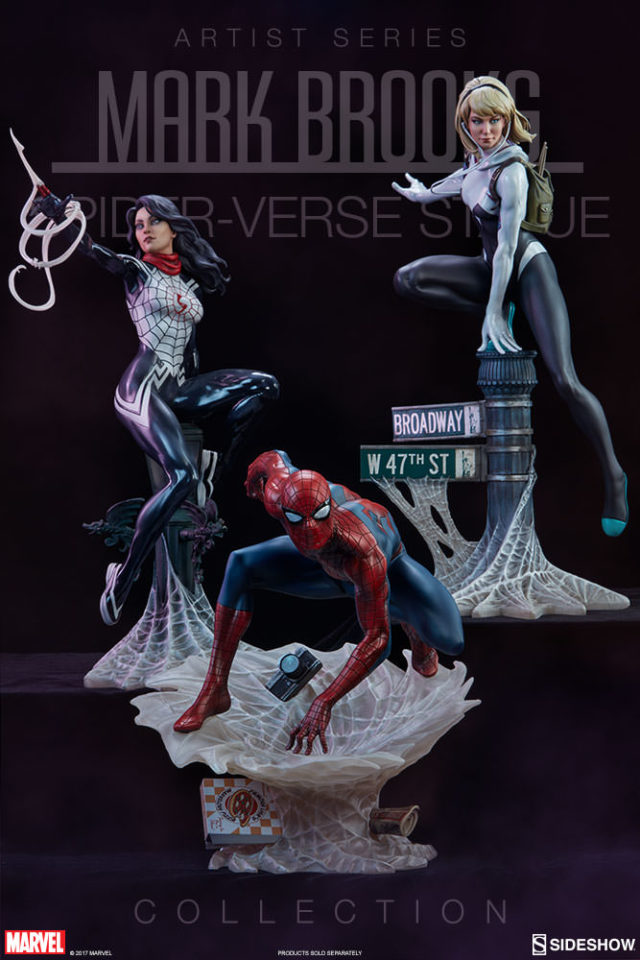 Beyond the choice of exclusive version, however, I think this Mark Brooks Silk Statue is downright beautiful. While Spider-Gwen is my preference character-wise, the Silk Statue just looks a tad nicer than her (and a ton better than the weird Mark Brooks Spider-Man).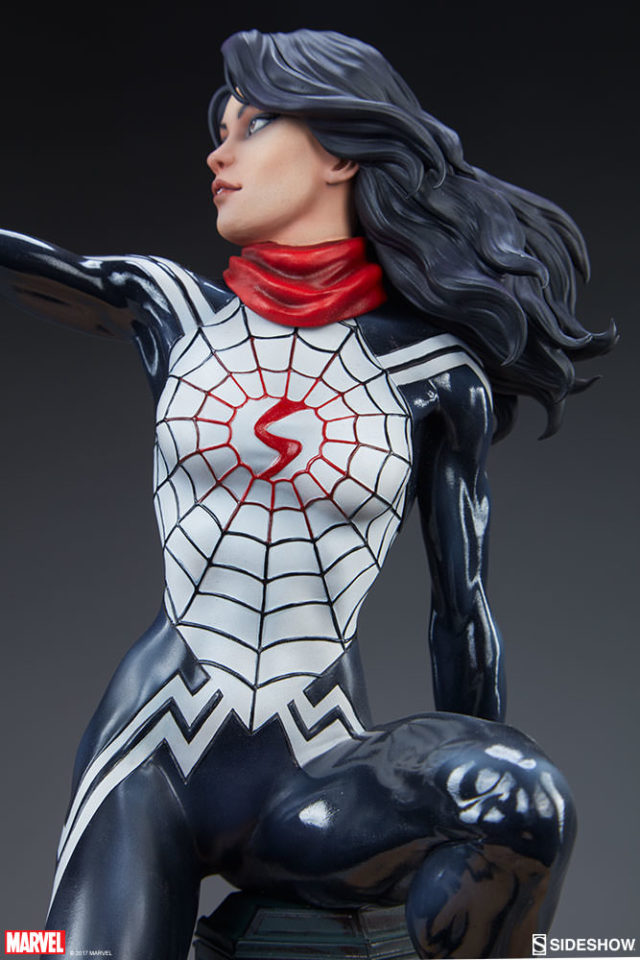 While her character isn't exactly the most iconic in the Spider-Verse, there's no denying that Silk has an awesome costume that looks great in polystone resin form.
The lamppost base is classy, and the web lines wrapped around Silk's arm look terrific. This was one of the biggest hits of NYCC 2017 for me, even though Silk isn't in my top 100 (or 500) Marvel characters.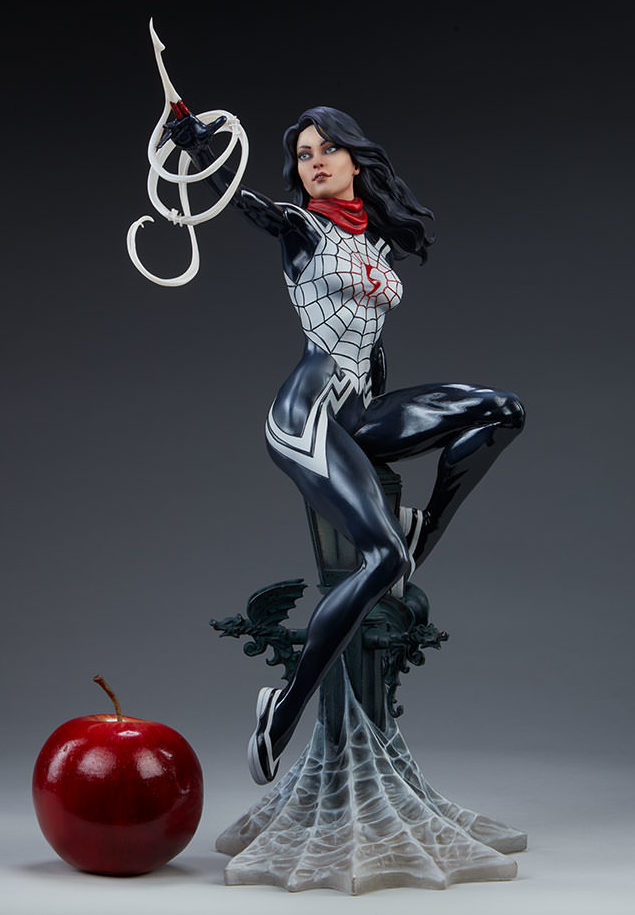 The major downside here—besides the exclusivity of what should be the default head—is the price. The exclusive version of Silk is running $425, with the non-exclusive at $415.
I don't have to tell anyone that $400+ for a 1:5 Statue that's 15.5" tall is a lot of money for a statue that's smaller than the standard size of most peoples' collections these days. With the regular edition not even including the masked head and Silk not exactly being a big name to begin with, I think there's a real possibility of the non-exclusive for this piece really bombing.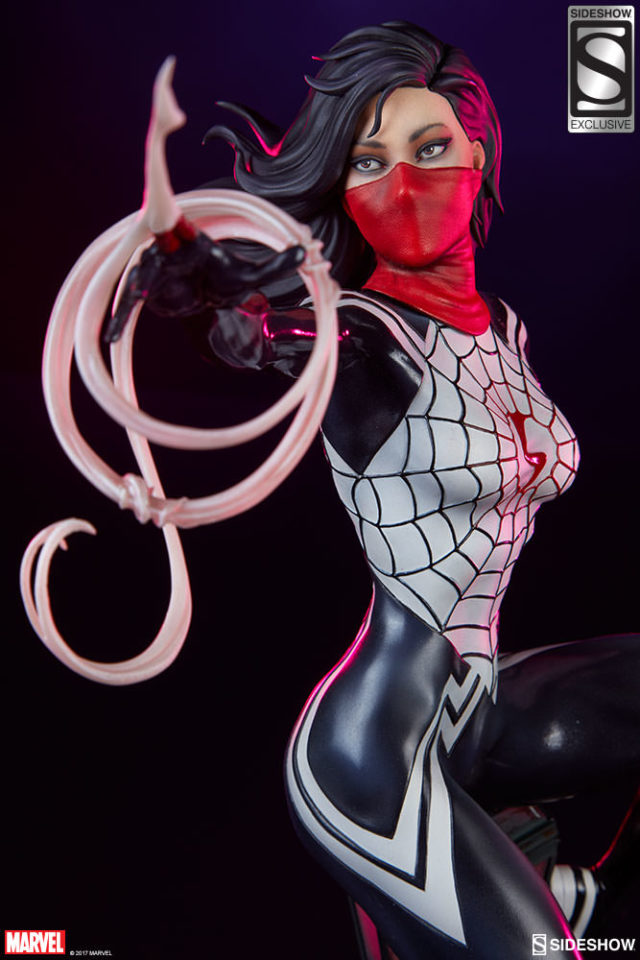 The Sideshow Spider-Verse Silk Exclusive Statue is now up for order, and is expected to be released in fall 2018. As this is a $425 statue of a character who's far, far from mainstream recognizable, I'll be really curious to see how this sells—particularly the regular edition, which doesn't even include Silk's costumed head.
Silk fans, sound off! What do you think of the first-ever resin statue of Cindy Moon? What do you think about the pricing thus far for this 1/5th scale Spider-Verse series? Are you planning on picking this beauty up, and if so, are you opting for the Exclusive Edition with extra masked head or not?