Before I got sidetracked by the maelstrom of Marvel toy news that was New York Toy Fair 2015, I had begun reviewing the 2015 Marvel Legends Avengers Infinite Series. Now that the flood of new info has subsided, it's time to get back to business. So let's pick things back up with one of the figures that keeps selling out online–the Carol Danvers Avengers Marvel Legends Captain Marvel figure!
The Right:
Marvel has been trying to make Carol Danvers their own "Wonder Woman" (ie top female character) for years now, and with the upcoming solo Captain Marvel movie on the way, it appears that they may have finally achieved that feat!
And what better way to celebrate Carol Danvers' ascension than with an all-new Marvel Legends Avengers Captain Marvel action figure, right?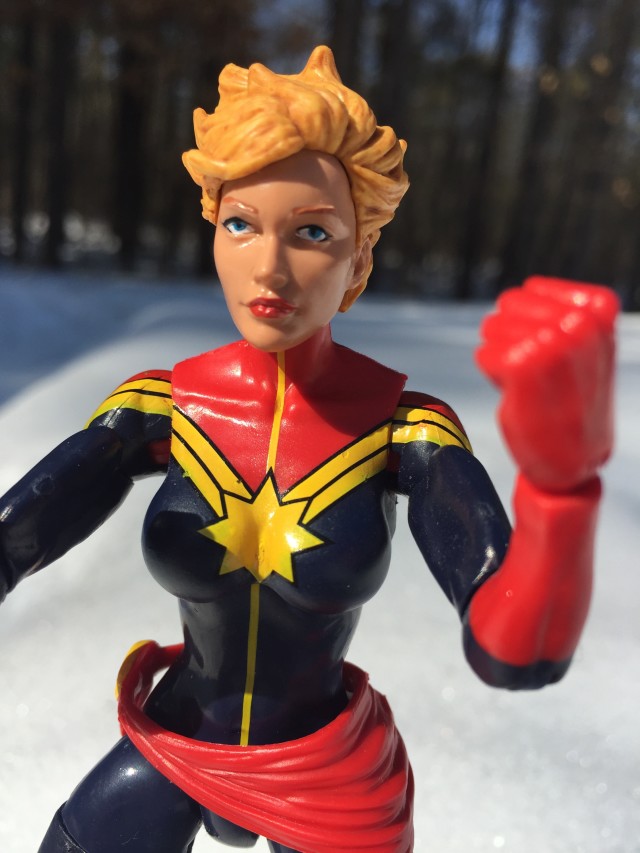 When Carol Danvers became Captain Marvel, her short-haired look became an iconic style that swept through media. And so, even though Captain Marvel no longer has the super-cool short hair (for some reason), Hasbro is treating fans and collectors to the first short-haired Carol Danvers action figure ever!
Now, while the paint deco on the head falters (and I'll be talking about that shortly), the Hasbro Captain Marvel head-sculpt is right on. Carol Danvers' short, spiky hair and face have been captured beautifully for this figure, which I am delighted by.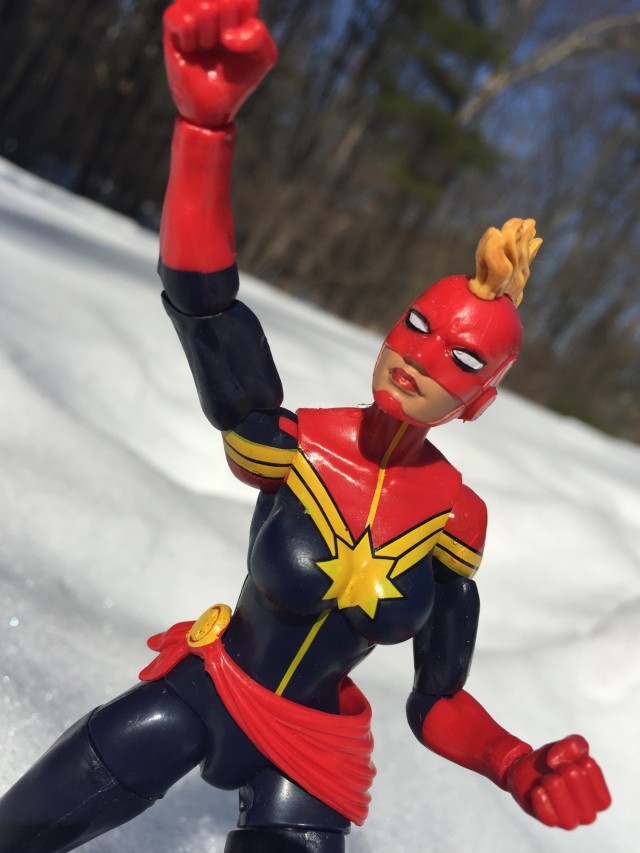 But wait–there's more! While Captain Marvel's current unmasked, long-haired head isn't included with this figure, we do get an alternate masked head for Carol Danvers Captain Marvel–with mohawk!
Although I don't love the outer space mohawk Captain Marvel look in the current Marvel comics, I can't deny that Hasbro has authentically captured the look of the design right here–and it looks great! Alternate heads are one of my absolute favorite free bonus accessories to have packed-in, and this masked Captain Marvel Mohawk head sculpt is no exception.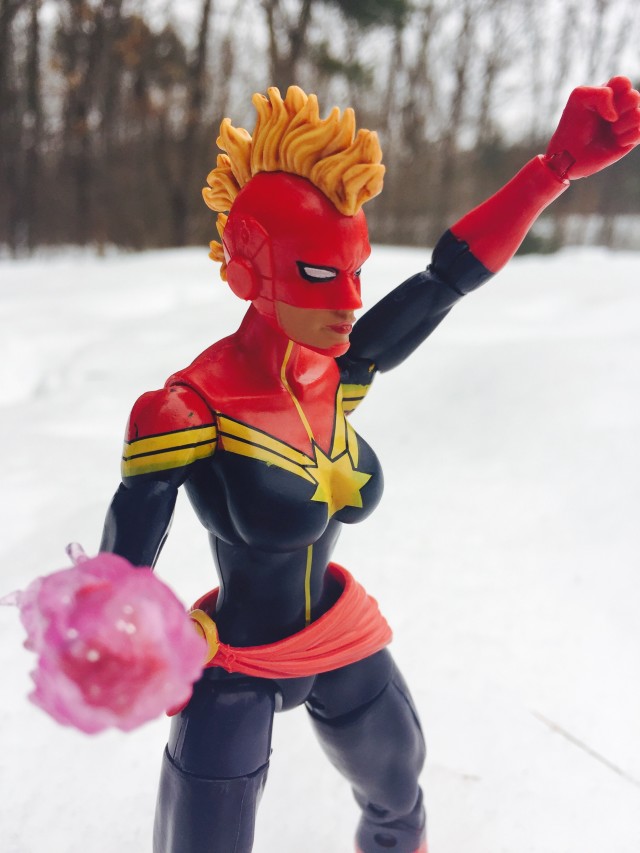 In addition to the extra head, Carol also gets a pink energy effects piece that can be attached to her fist. This is the same one that came with Jubilee–and would have made a lot more sense to include with Iron Fist–but I'm always happy to get an effects piece.
I half-expected Hasbro to forget to put the yellow circles on Captain Marvel's boots and forearms, but they surprised me and came through. As small as they are, any time I look at Carol in a pose where the yellow dots are visible, that detail really shines and brings up my overall opinion of the Captain Marvel 6″ figure and its aesthetic.
The Wrong:
I've heard a lot of negativity regarding Hasbro's paint applications in the past year, but I've had great luck with the paint apps on my Marvel Legends figures–up until now. While the Marvel Legends Avengers Wave 1 Captain Marvel figure looks fine from a distance, her upper-body is a real mess up-close.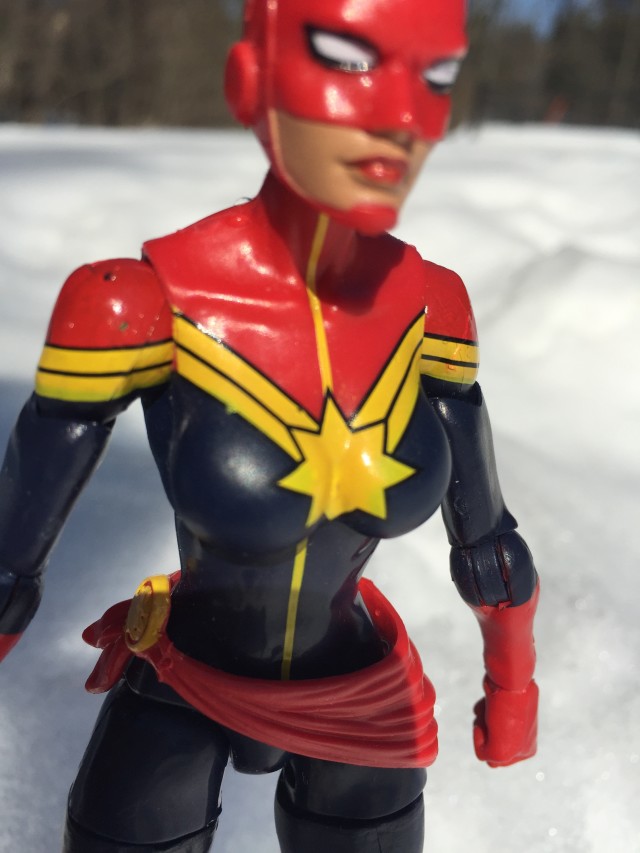 The yellow paint paint on her stripes bleeds onto the blue, the black stripes bleed onto the yellow, there are large black, there are areas on Carol's shoulders where black paint is smudged and where Hasbro's factories failed to paint some areas of the shoulder red at all. Even the yellow paint suffers from not having enough coats, as you can easily see the blue plastic peeking through the yellow (like on the much-maligned All-New X-Men box set).
Hoping to snag a better Captain Marvel, I've hunted down this figure three different times at retail– but every one has had similarly messy paint deco. I really want to have a Carol Danvers Captain Marvel action figure on my shelf, so I'm going to cope with the sloppy upper-body paint apps, but the paint apps on this action figure are a poor effort overall on Hasbro's part.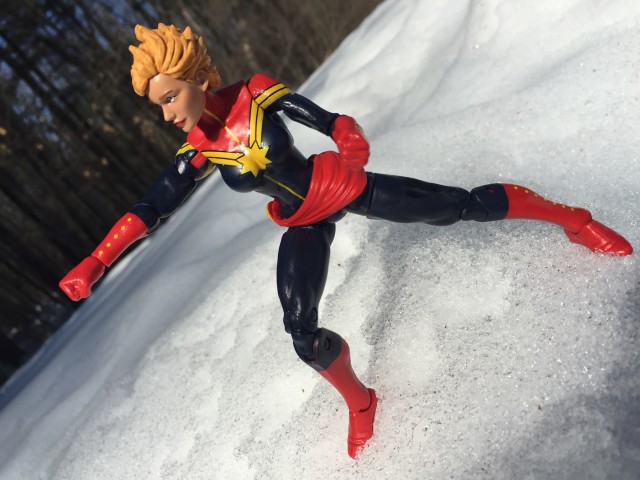 Next up–articulation. Like all Marvel Legends, the Captain Marvel Marvel Legends 2015 figure has a healthy smattering of articulation. Unlike most 6″ Marvel Legends figures, however, Carol's articulation is a lot more limited than what we're used to. She has ball-jointed hips–but their range of motion extends only to a 'V'-Shape, making wide stances, karate kicks and extreme flying poses are near-impossible to achieve.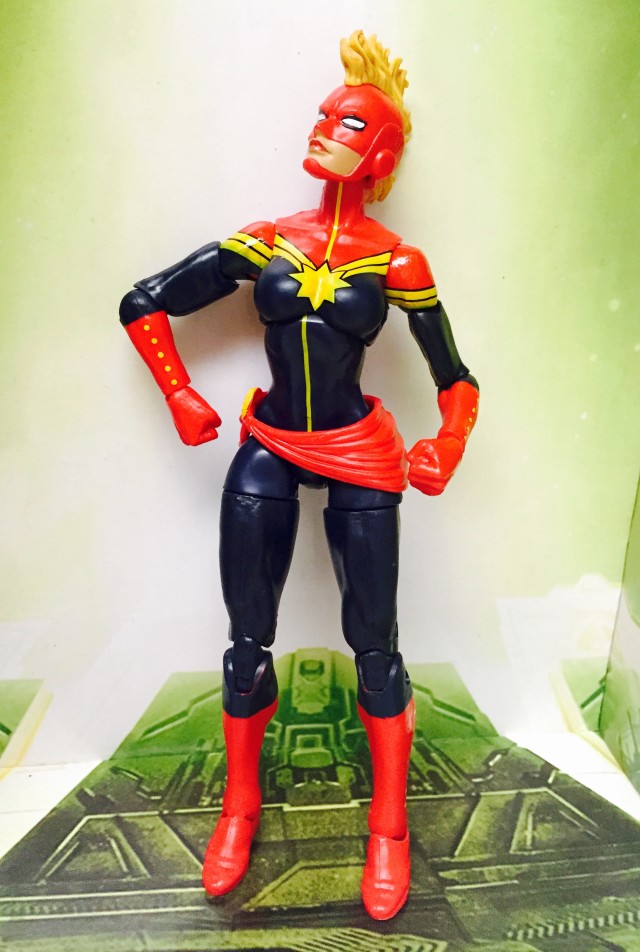 In addition, the 6″ Captain Marvel features only single-jointed elbows (not the double-hinge elbows that have become so commonplace), and the hinges on her ankles don't bend quite far enough to compensate for her limited hip articulation.
All of these factors together cause this Avengers Legends Captain Marvel figure to fall short of being able to take on a large portion of the poses I want to put her into–making many of the poses I can get Carol into static or awkward.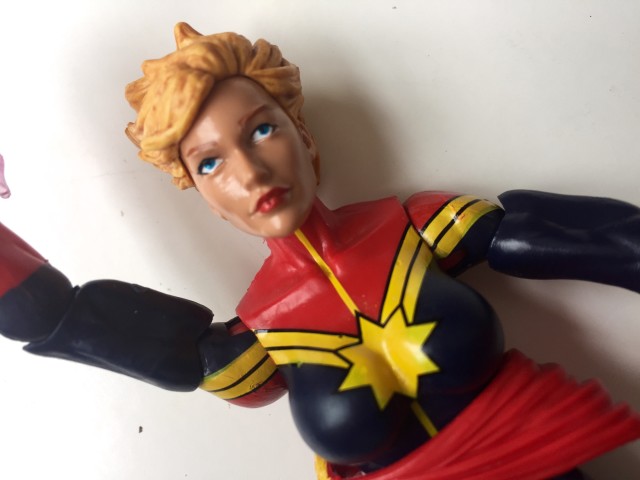 One of the defining characteristics of Carol Danvers' Captain Marvel costume is the sash around her waist. Since Hasbro wasn't going to invest in a fresh body mold that would have such limited usage, they opted to add an extra plastic sash over an existing mold instead.
I'm totally fine with overlaying a new accessory on an old mold, but the sash Hasbro put on Carol is too large. As a result, it flops all over the place when you move her around, and can slide way up her torso. It's cumbersome and a real pain (as are all belts and sashes that do this)–I would have much preferred Hasbro glued it into place or made it smaller instead.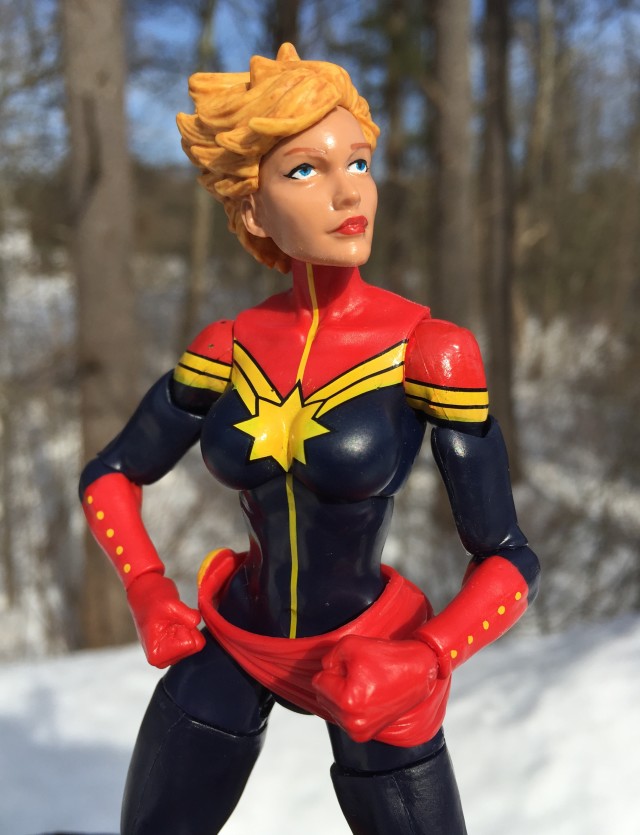 Finally, we've got the unmasked Captain Marvel head. I adore the short-haired Captain Marvel look in the comics, but the paint on this head is leaving me cold. I'm not sure if it's the eerie, vacant expression Carol has or the eyes that aren't quite aligned, but this head just doesn't look right to me on the Marvel Legends Avengers Captain Marvel figure at all.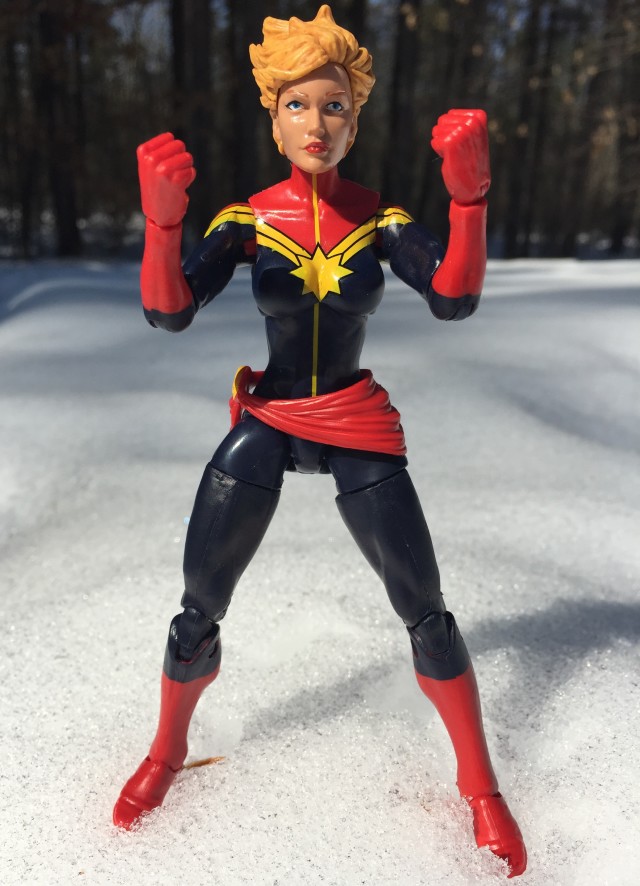 Overall: As ecstatic as I am that Hasbro decided to grace us with a Carol Danvers Captain Marvel figure this year, the Marvel Legends Captain Marvel figure is riddled with problems. From poor quality control on the paint deco to restricted articulation, a floppy sash and a face that looks high, I'm disappointed with this Marvel Legends Carol Danvers figure overall. I love the character selection and the extra masked head, but this figure is merely average, especially compared to some of the terrific other figures in this wave.
GRADE: C