I had a thoroughly invigorating New Year's Eve last night, full of playing LEGO video games and then getting to bed soon after midnight. Why? Because I wanted to be well-rested, as today is one of my favorite holidays–the first LEGO new release day of the year! And though the Mighty Micros won't show up for a while, the rest of the Winter 2016 LEGO Marvel (and DC!) sets are now available online and at the LEGO Store!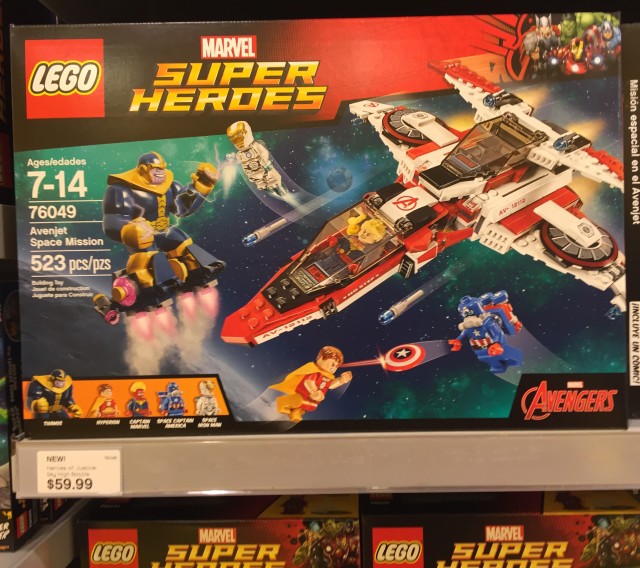 I miss the days of living near Boston where every street date is gleefully broken by the local Toys R Us stores, as my nearest Toys R Us stores in New Hampshire are real sticklers for the rules. As such, there were no early-bird LEGO Marvel 2016 sets for me this year.
But hey–at least I wasn't spoiled for New LEGO's Day (or is it New Year's Day?), as I finally got to scope out and scoop up all of the newest Super Heroes sets at my closest LEGO Store this morning!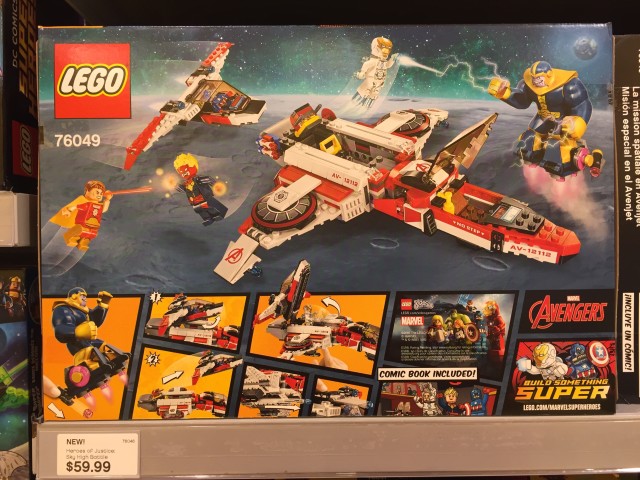 The headliner for the Marvel Winter 2016 LEGO sets is the 523-piece $59.99 LEGO Avenjet Space Mission 76049. The Avenjet itself is a neat vehicle that I don't particularly care about, but I love the Minifigure selection with this set.
Not only are we treated to the first-ever LEGO Thanos figure (as an oversized figure, of course), but we also get a Starboost Iron Man minifig and exclusive LEGO Captain Marvel and Hyperion Minifigures (plus a Space Captain America Minifigure I'm sure no one cares about).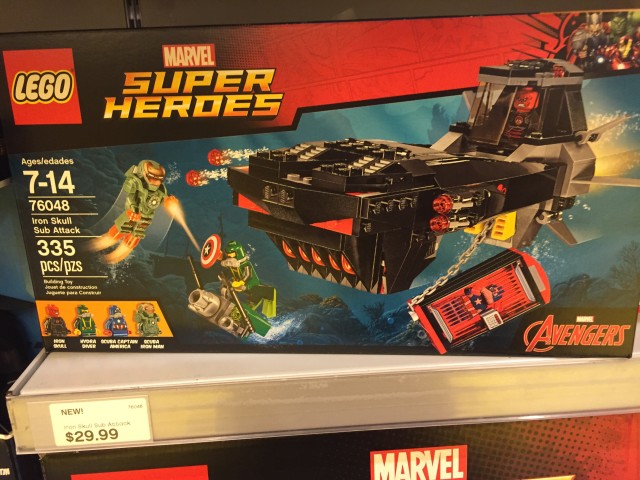 Meanwhile, the other LEGO 2016 Marvel set released today is the 76048 Iron Skull Sub Attack. This set seems to be really aimed at kids (I mean, more than usual), as it includes a rather goofy-looking Red Skull submarine and no characters that haven't been released before in brick form.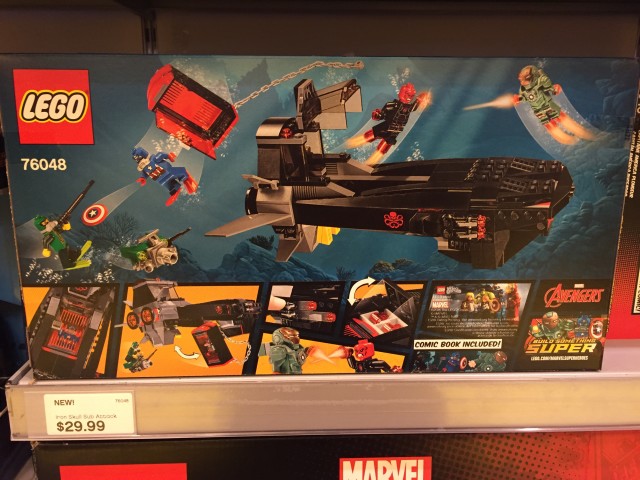 Still, at 335 pieces for $29.99, the LEGO Iron Skull Sub Attack 76048 is very fairly priced for a licensed set, and I definitely wanted that Scuba Iron Man Minifigure (AKA Hammerhead Iron Man), even if I didn't have much use for a Scuba Captain America figure or Hydra Diver.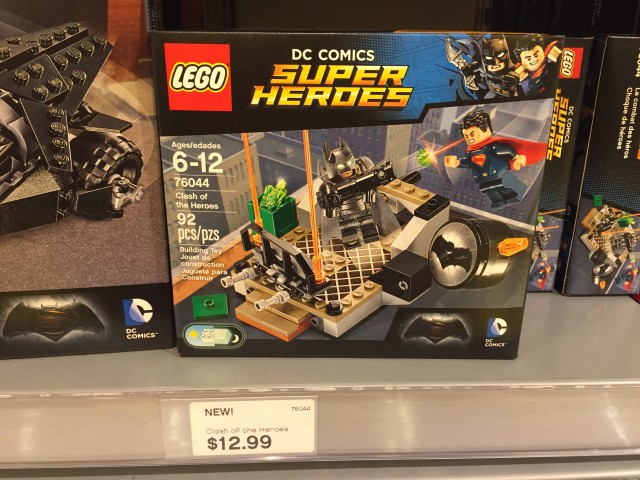 But that's not all on the Super Heroes front! It doesn't happen very often, but the winter LEGO DC 2016 sets actually outnumber the Marvel ones this time around! Three new LEGO DC Super Heroes sets officially hit shelves today, and all three are based on the Batman v Superman: Dawn of Justice movie.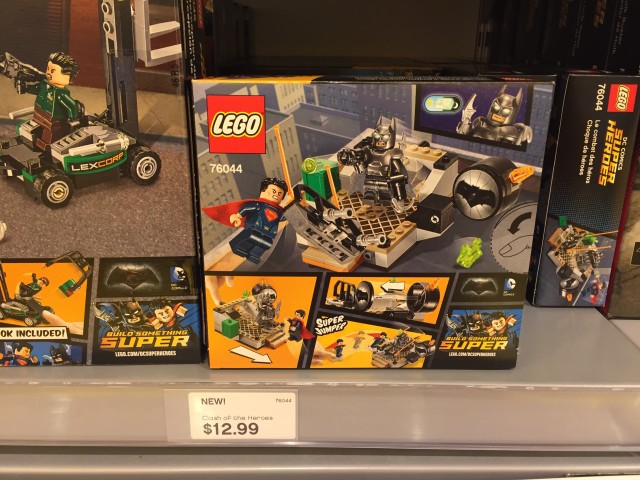 I have a bad feeling about BvS, but for $12.99, I figured I couldn't pass up the little Clash of the Heroes set that includes the movie Armored Batman and Heat Vision Superman minifigs.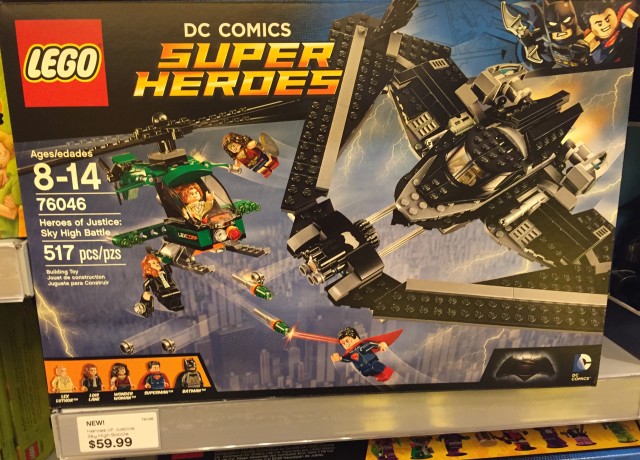 I sort of want a Jesse Eisenberg Lex Luthor Minifigure, but as he's only included in the $59.99 76046 Heroes of Justice Sky High Battle set for right now, I ended up passing on him for the moment.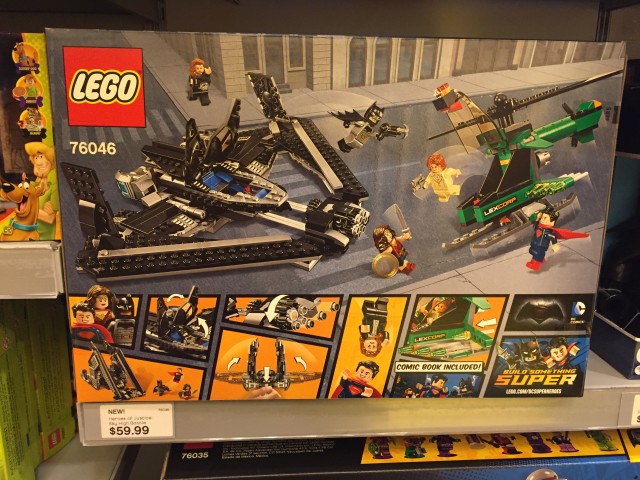 The Sky High Battle set is also the only set with the new movie Wonder Woman and Lois Lane figures, though, so it's not impossible my resolve will crumple soon enough.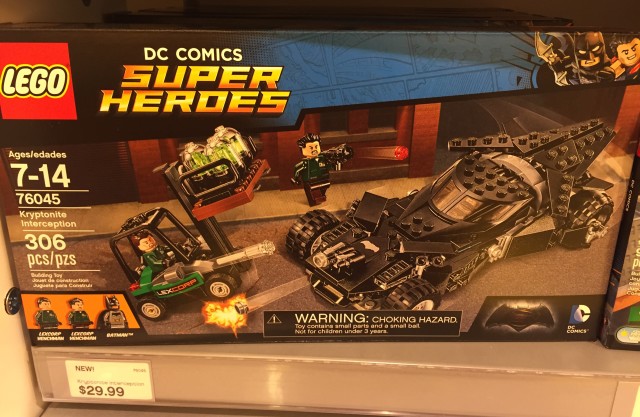 Finally we've got the Kryptonite Interception 76045 set. I didn't fall in love at first sight with the Batman vs. Superman Batmobile (and I really don't expect to do so when I actually see the movie, for that matter), so this set wasn't terribly interesting to me (beyond the awesome LexCorp forklift, anyway).
I do really like the inclusion of the LexCorp Henchman figures, but without a Lex, I don't really need his henchmen. Some Oscorp Henchmen are Hand Ninjas in the Marvel theme would be swell some day, though!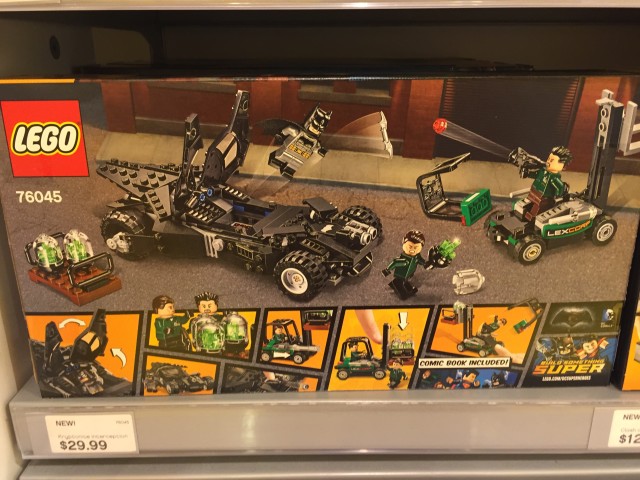 All of these LEGO Super Heroes 2016 sets are now available online with free shipping, and should also be starting to hit most retail shelves over the course of the next few days.  I've spent my fill on LEGOs today by purchasing three of these superheroes sets (and a ton of new sets from other themes), and will be building happily for the rest of the holiday.
Are you planning on picking up any of these new LEGO Avengers or Batman v Superman sets, or are you holding out for the LEGO Civil War sets, Marvel collectors?