Although Hasbro has long reigned supreme in the realm of 6″ Marvel figures with the legendary Marvel Legends line, the brand faced its first major rival last year in the form of Bandai's SH Figuarts Avengers Age of Ultron figures. And in 2016, Bandai is back for another super-articulated figure lineup for this summer's hottest upcoming movie, kicked off with the titular character: the SH Figuarts Captain America Civil War figure goes up for sale next week!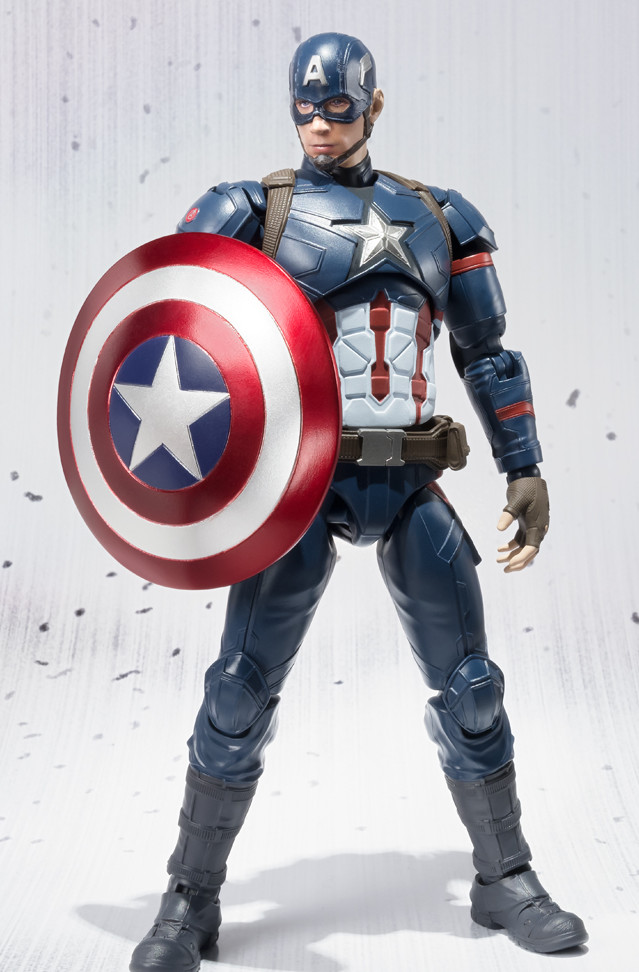 After years of only tackling Iron Man armors, Bandai Japan finally began to expand to the rest of the MCU in 2015 with their Avengers: Age of Ultron collection, which was turned out to be a blockbuster success for the company.
And so, it's no surprise that Bandai is going back to the Marvel Cinematic Universe once again this year for the Captain America: Civil War movie, with the SH Figuarts Civil War Captain America figure now scheduled to arrive in May 2016!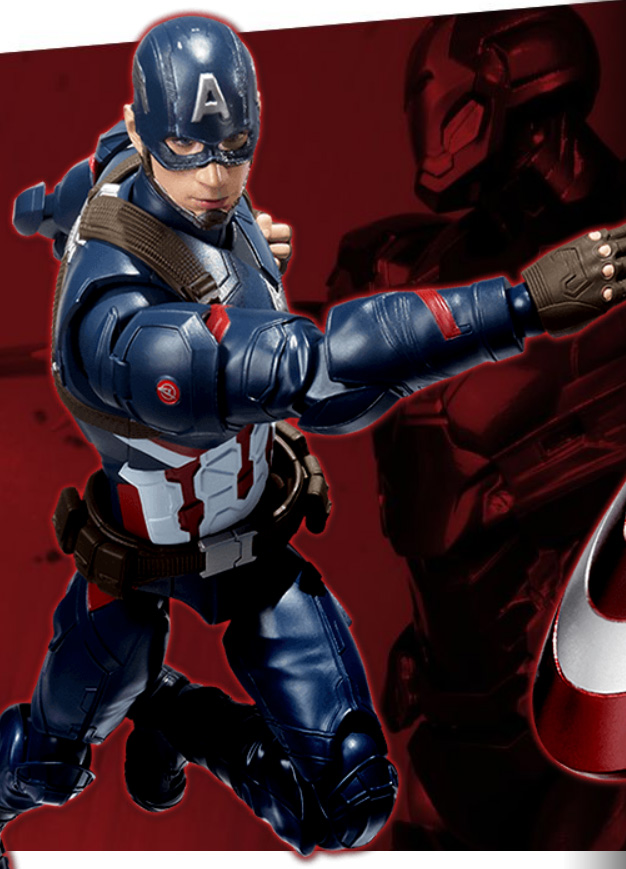 At a glance, this is basically just an updated version of the Captain America SH Figuarts figure that sold out like lightning in 2015 (with newly-molded boots, kneepads and uniform lining). And that's fine–that was one of the best Cap action figures ever made, and there are plenty of collectors who never had the opportunity to add it to their collections last year.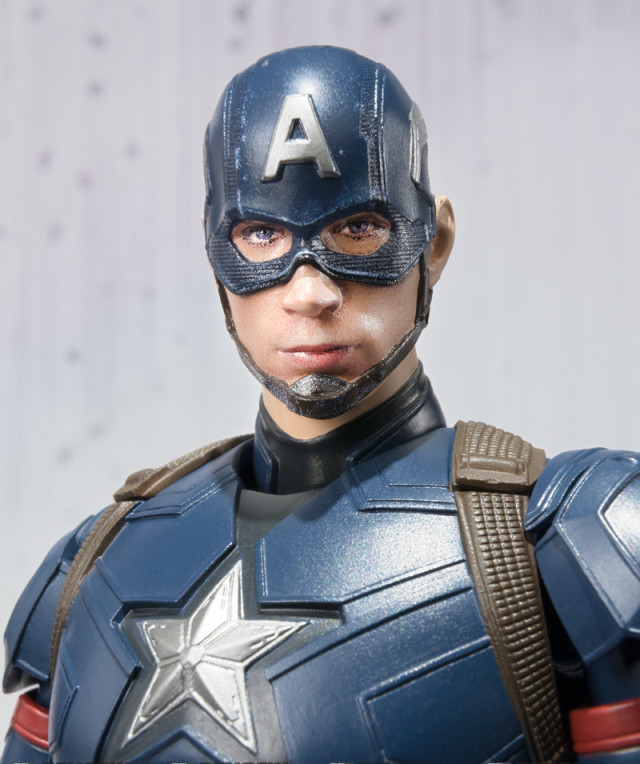 Along with the usual interchangeable hands and back-mountable shield, Bandai is including one all-new and totally exciting accessory with this new iteration of SH Figuarts Captain America: an interchangeable unmasked Captain America Steve Rogers head!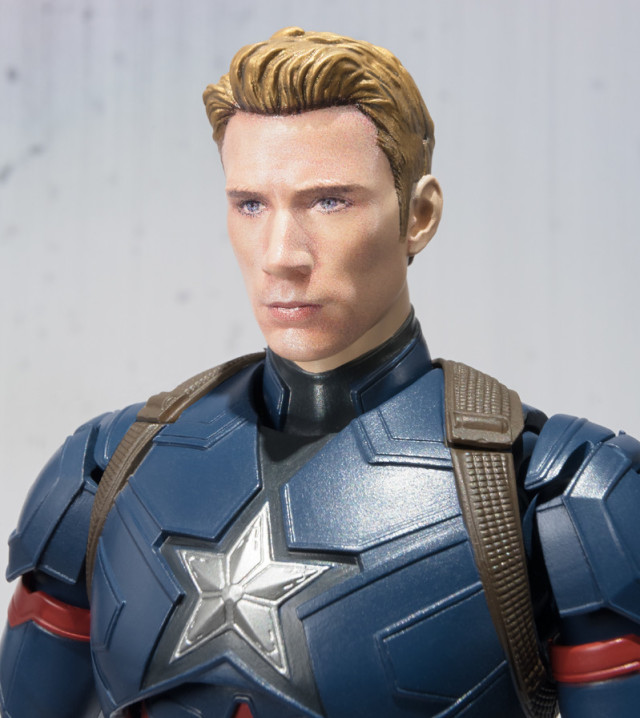 Now, Hasbro has given us a few Steve Rogers heads themselves, but let's be honest here: those heads always end up looking like Duke from G.I. Joe. The Bandai Steve Rogers head isn't the spitting image of Chris Evans, but it's definitely a better resemblance and I'll be happy to have it.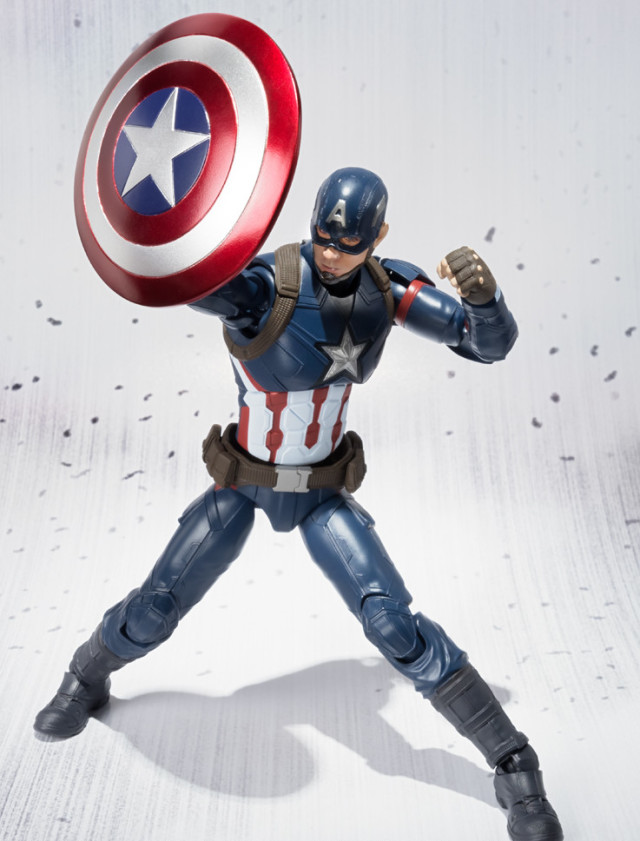 One area where Bandai has zero advantage over Hasbro, however, is price. While a typical Marvel Legends 6 inch figure retails for about 20 bucks, the Civil War Captain America Figuarts is carrying an MSRP of 5,800 jpy–about $48 U.S.
Add in shipping costs and import fees, and this Cap will be costing easily more than triple what a ML Cap does. Collecting Marvel Figuarts figures in the United States is definitely now for the light of wallet (or credit).
If this turns out to be an expansive line with a lot of characters, the Civil War S.H. Figuarts could definitely end up being a strain on folks' finances. At the moment, however, only Captain America has been confirmed for an official release, with a Figuarts Iron Man Mark 46 being the only other character to be hinted at for release (via a silhouette on the Tamashii website).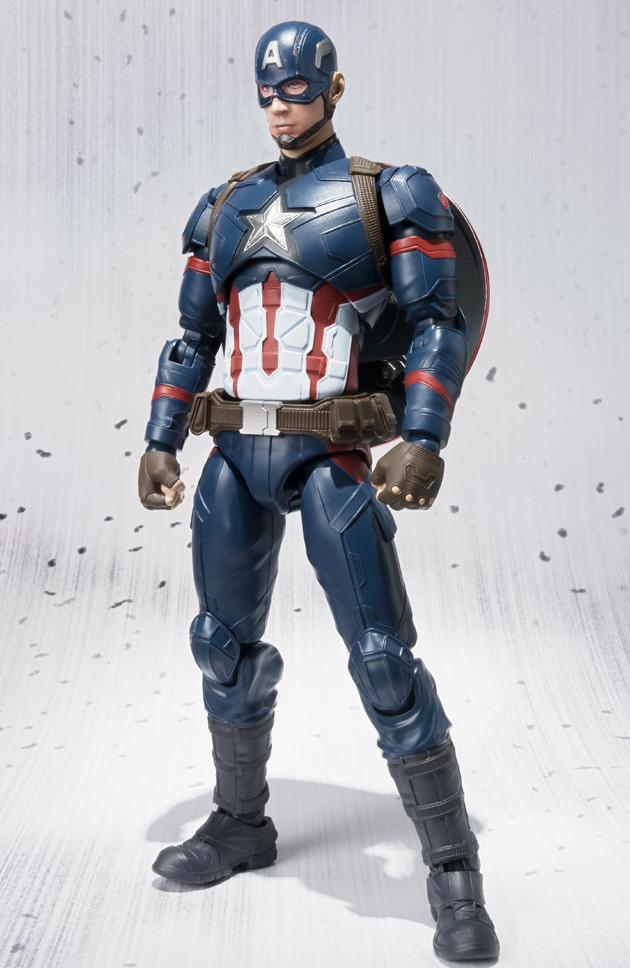 The S.H. Figuarts Civil War Captain America figure will be up for order next week, although it will only be available via import stores for U.S. customers (since Hasbro holds the master license for 6″ Marvel action figures in the United States). The Age of Ultron Cap was one of the best–and fastest-selling–Marvel figures of 2015, and I expect similar success from this year's new edition.
What do you think of the latest Bandai Captain America? Are you satisfied with the AOU Cap, or are you upgrading to this new version? And what other characters do you hope to see in the SH Figuarts Civil War lineup?