Yesterday, the Hasbro Pulse gave us our first look at the 2018 Marvel Legends Black Widow & Motorcycle set, one half of the announced Marvel Legends Riders series hitting stores next spring. I figured we'd likely see the other new boxed set next week, but Hasbro had an unexpected weekend surprise cooked up for us: the first photo of the packaged Marvel Legends Ghost Rider & Motorcycle set has now been revealed!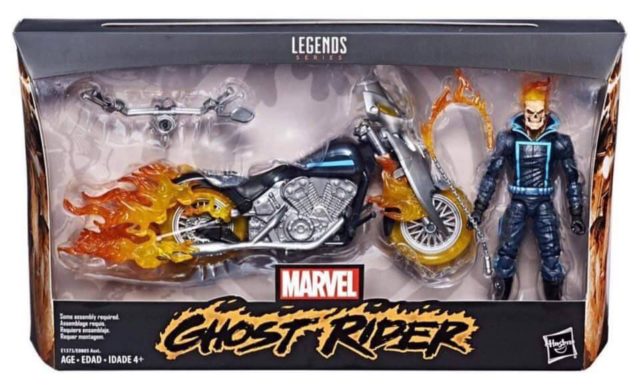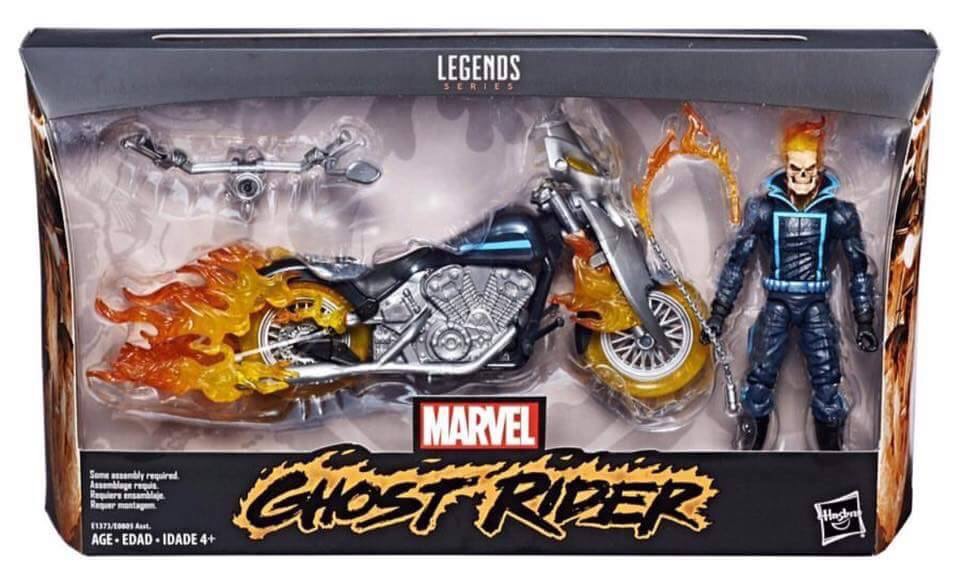 When Hasbro premiered the Marvel Legends Riders series of motorcycles at SDCC 2017, I glanced at Black Widow on her bike and thought she looked neat… and then spent 20 times as long gawking at and admiring the new Ghost Rider on flaming motorcycle.
With that in mind, Hasbro was probably wise to give the Black Widow set a 24-hour head start so Natasha could get her time in the spotlight—because one day later, the Marvel Legends Ghost Rider motorcycle set packaged photo has now driven in as well!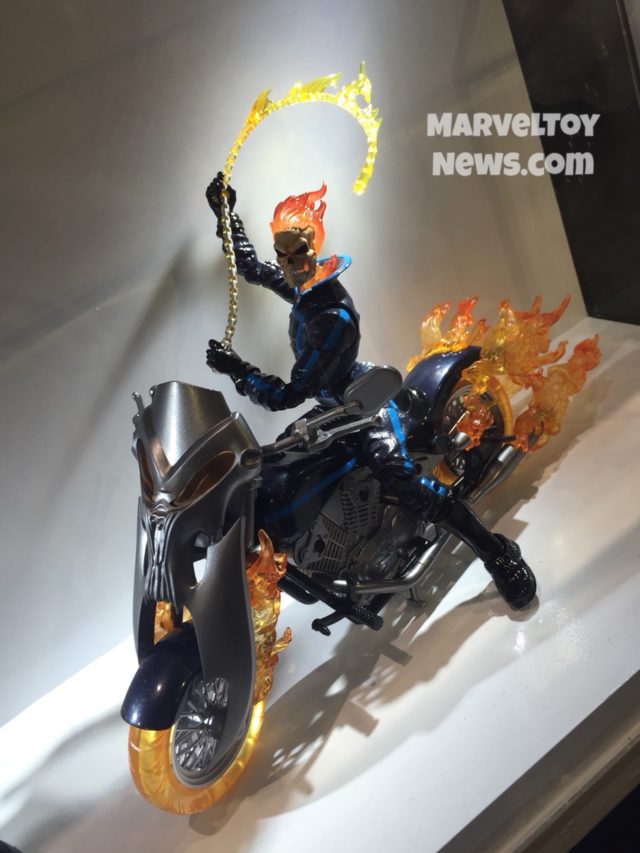 I'm just going to come right out and say it: the Flame Cycle? It looks tremendous. The orange, red and yellow translucent fire effects on the bike look absolutely awesome, and thankfully have a consistent appearance to the effects on Ghost Rider's chain and flaming skull.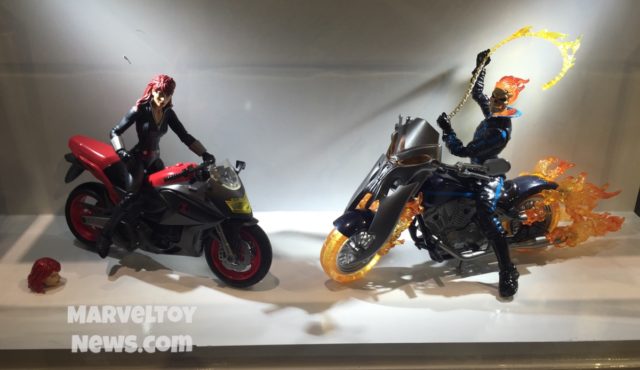 Danny Ketch has always been "my" Ghost Rider, but fans who have been asking for a new and improved Johnny Blaze Ghost Rider Marvel Legends figure are going to be really happy with this set.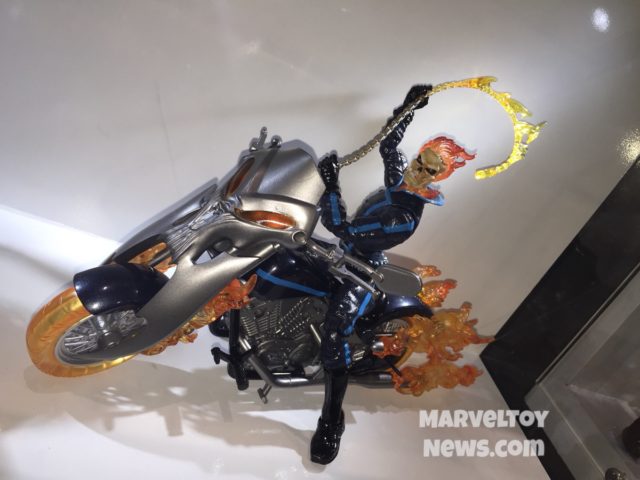 And since Hasbro has gone to the trouble of tooling up all these flaming motorcycle bits, after this set is a runaway success (and c'mon—it's gonna be, right?), I wouldn't be surprised at all to see a Danny Ketch Ghost Rider and motorcycle set down the road (no pun intended).
I loved this Marvel Legends Ghost Rider motorcycle in prototype form at every con it's appeared at this year, and in the package, it looks just as sweet. This is a guaranteed day-one purchase for me.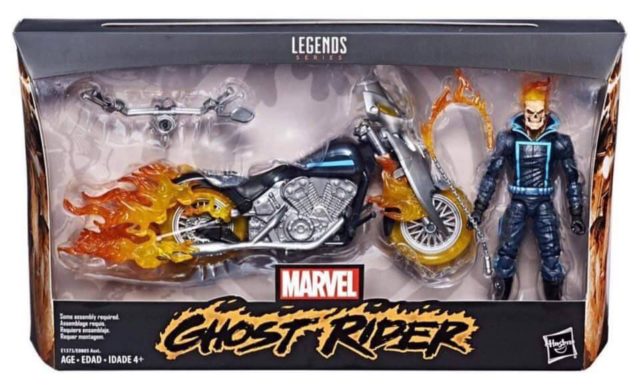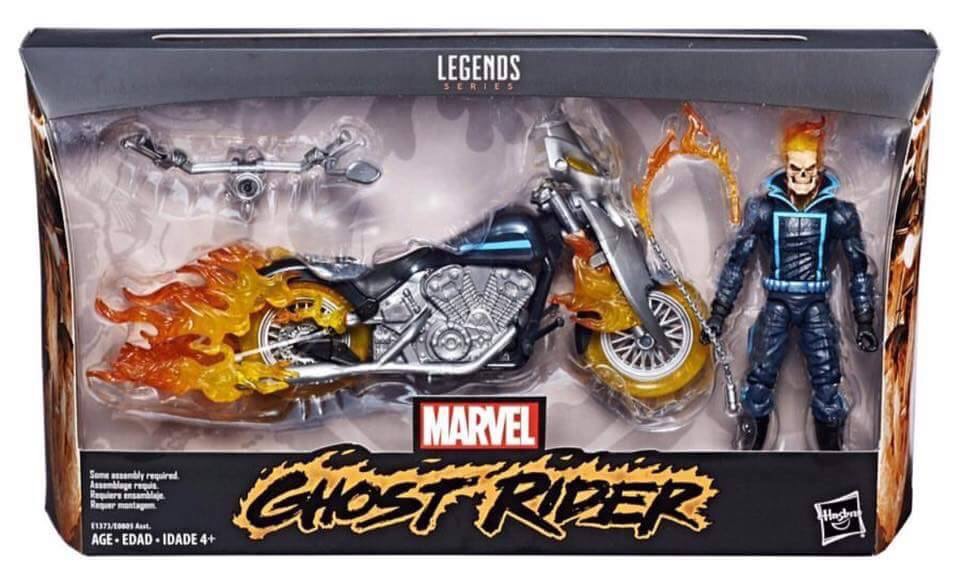 The Marvel Legends Riders series should be up for pre-order online later this winter. There's still no word on the official release date (beyond "Spring 2018") or pricing, but I'll post updates here and to the Marvel Toy News Twitter and Facebook Pages once that information is made available.
Now that we've seen it in final packaged form, is anybody not sold on this gorgeous Ghost Rider and motorcycle set? Anyone prefer the Black Widow Cycle to this, and are you planning on picking either (or both!) up next spring?