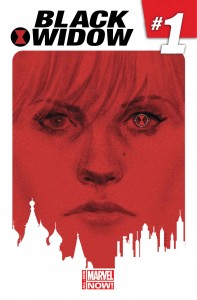 Despite the frigid sub-zero temperature outside today (and if it wasn't sub-zero, it sure felt like it was), I made the trek to my nearest comic book store to pick up Peter David's All-New X-Factor #1. Unfortunately, it wasn't there–the shipment of that comic was delayed by the weather. But since I was already at the comic book store at that point, I figured I might as well blow a quick 17 bucks on some other comics, including the Marvel NOW! Black Widow #1. This is the comic book that desperately wants to be Matt Fraction's Hawkeye–but is it up to that high standard…?
In short: No. But that doesn't necessarily mean that the first issue of the All-New Marvel Now Black Widow comic is bad–it's just not especially good–and definitely not quite at the same level as the outstanding Hawkeye comic book series is.
The first page of Black Widow #1 is basically a blatant rip-off of the intro page to each issue of Hawkeye. They might as well have just written "This is what Black Widow does when she's not being an Avenger", because Marvel clearly patterned this first page blurb after Hawkeye's. And honestly–it's annoying. You can tell that Marvel wants this book to have the style and feel of the Hawkeye series by reading it–I don't need that fact explicitly shoved in my face from page one.
The opening scene of the comic detail Black Widow gaining the confidence of a suicide bomber terrorist who's holed himself up in a building. After tricking the terrorist into letting Black Widow help him, she immediately betrays him and turns him over to the cops. I think we were supposed to be impressed with how sneaky and clever Natasha is, but this felt pretty standard and mundane to me.
Scene two takes place in Central Park, where Black Widow meets with her lawyer/manager Isaiah. Isaiah gives Black Widow a new mission involving a hit on an underworld criminal in Dubai, and Natasha drills it into Isaiah's head that these missions aren't about turning about turning a profit, but solely about atoning for her past sins. Whatever those might be.
36 hours later, Black Widow infiltrates a hotel in Dubai and takes out the thugs defending the mob boss with the hit on him, Mr. Lucas. The big twist here is that Black Widow has actually accepted a contract to kill an assassin sent to kill Mr. Lucas. She slips a kevlar vest on Mr. Lucas and allows him to be shot, then uses the angle he was shot from to aim her missile launcher and blow up the assassin in the hotel across from her. No, seriously–that's what happens.
Final scene: Black Widow befriends a cat in Little Ukraine, New York City, but insists that she doesn't want any kind of commitment (to the cat). Anyone remember how Hawkeye #1 ended with Hawkeye getting a dog and think it's just a coincidence that Black Widow #1 ends with Black Widow getting a cat? Yeah–me neither. Anyway, Natasha goes into her home and stares out the window, wondering if she can ever atone for her past sins and forgive herself for them. [/comic]
Now, I like a good "impossible redemption" story as much as anybody (Man, I miss Joss Whedon's "Angel" TV series), but I feel like this really fell flat as the introduction to an atonement story. Black Widow is trying to atone for her past by… using a missile launcher to blow up an assassin trying to kill a mob boss…? What?! This makes no sense. None.
And unfortunately, it's never explicitly stated or even hinted at exactly what Black Widow did in her past that she's still so emo about. It's tough to relate to the things that Natasha Romanoff has done that she can't forgive herself for when we're given zero specific incidents or hints as to what she's so haunted by. I'm sure Natasha did plenty of terrible things in her checked past with the KGB, but if she want me to sympathize with her, you need to put me into her head and let me know exactly what she did and why.
Overall:
This is a decent first issue of Black Widow that fails to amaze me, but also doesn't offend me in the manner that many female superhero solo titles do. I'm not sold on Black Widow's motivations in this series or the way she's going about searching for atonement, but I'm going to drop four more dollars two weeks from now to give Black Widow #2 a shot.
I was one of the few people to read and enjoy Nathan Edmondson on his DC New 52 Grifter comic book series, so I'm willing to cut Edmondson some slack with Black Widow #1. That said, if things don't pick up next issue and we don't start to get at least some clear idea of what's going on with Natasha and exactly why she's taking on the missions that she is, I won't be back for issue 3.
GRADE: C+