It's become a bit of a tradition for Hasbro to blow me away with amazing action figures of characters that I frankly do not care about. And it looks like that tradition is about to carry over to another year, as Hasbro has granted us an action figure of a Captain America and Wolverine villain I never expected to see in toy form. The Captain America Marvel Legends Nuke figure is now available online for just above MSRP, and surprisingly, he's worth buying for way more than the Giant-Man Build-A-Figure piece…
The Right:
Nuke has been the butt of my jokes ever since he was first revealed to part of this year's 2016 Captain America Civil War Marvel Legends series, but now it's time for me to pay the piper and confess.
Though I've never not grimaced when Nuke has shown up in a comic book story–and I've always found his character design hideous–I somehow managed to fall in love with this 6″ Nuke figure almost immediately after getting him out of the package.
This Hasbro Marvel Legends Nuke six-inch figure…? He is absolutely, undeniably… awesome.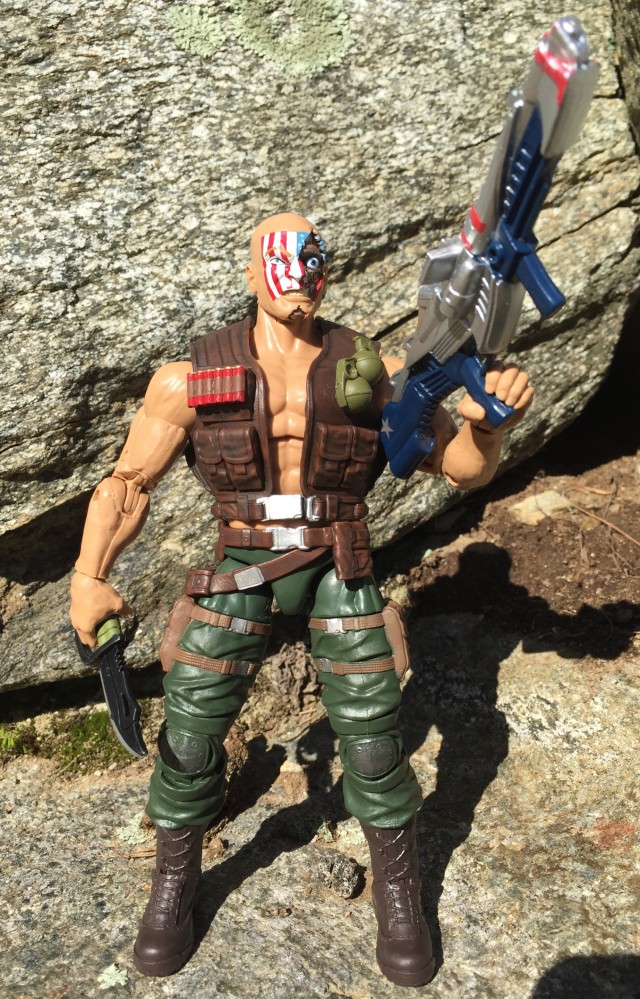 The fact that Nuke has an American flag tattooed on his face gives you an idea of the kind of psychotic character that this guy is, and the gritted-teeth, angry expression on his face drives home that Nuke is totally cray-cray.
Nuke's brown best has a dark wash on it that makes the immense amount of texture and sculpting detail on it jump out at you, with the pouches and separately-painted ammo and grenades being especially eye-grabbing.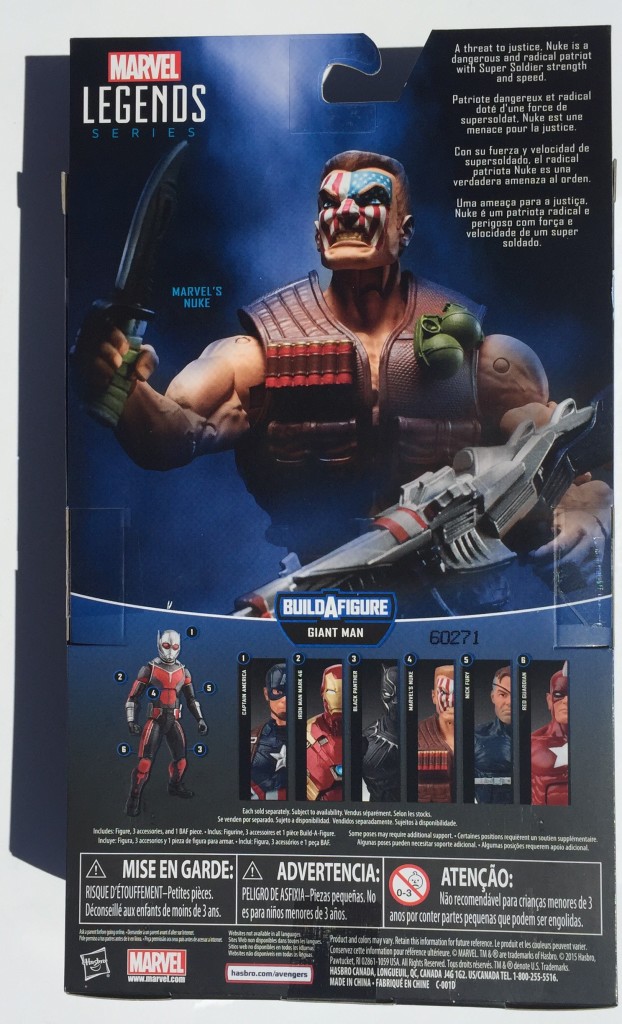 As a bulky powerhouse character, Hasbro probably could have justified cutting back on Nuke's articulation to lower production costs.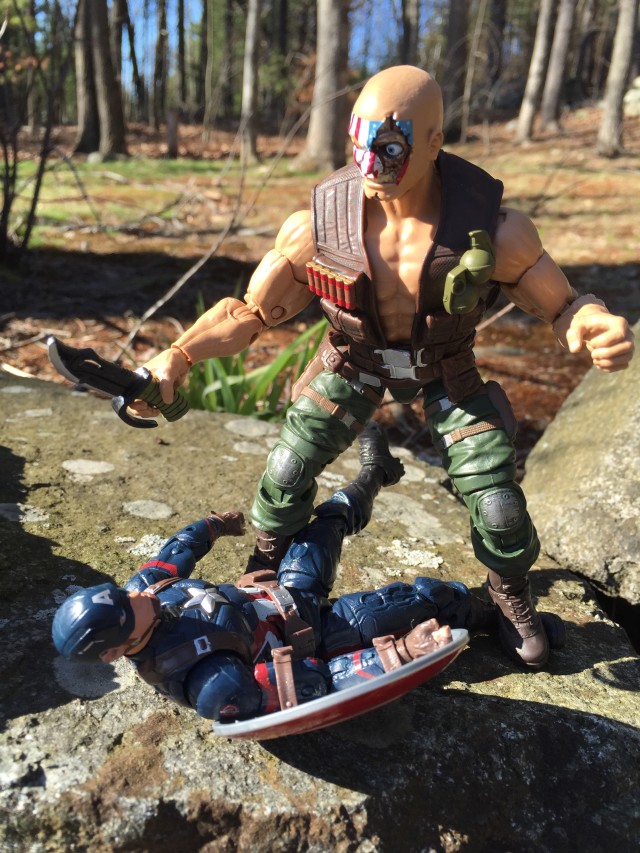 But nope–he's another Marvel Legends 6″ figure with a near-obscene amount of articulation, including everything from double-jointed knees and elbows to ankle rockers to a swivel waist and an upper torso ab crunch (usually we only get one or the other of those these days).
Nuke is articulated everywhere, and it's easy to get him into whatever pose for the character you might imagine.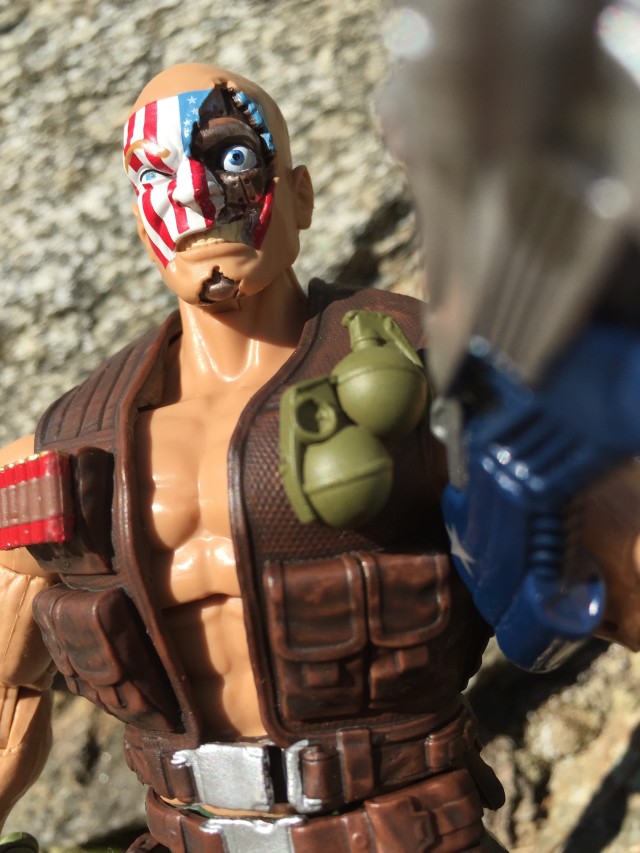 Nuke comes with three accessories besides his Build-A-Figure piece, and all three are fantastic.
The most important accessory is a totally different interchangeable head, which depicts a battle-damaged bald Nuke with cybernetic portions of his face showing through! The sculpt and paint here are killer, and this head is Terminator levels of cool.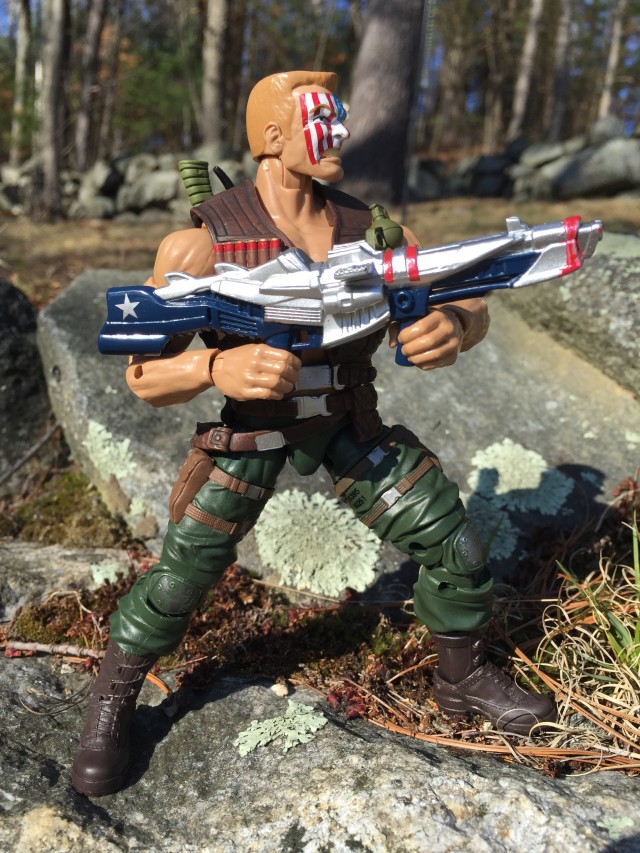 Nuke's also got two weapons, and both are pretty terrific. Not only does Nuke has a U.S. flag plastered on his face, but he even carries around a giant red, silver and blue rifle with a star on it. Nuke's patriotism is so far over-the-top that it ventures into the "crazy fun" territory.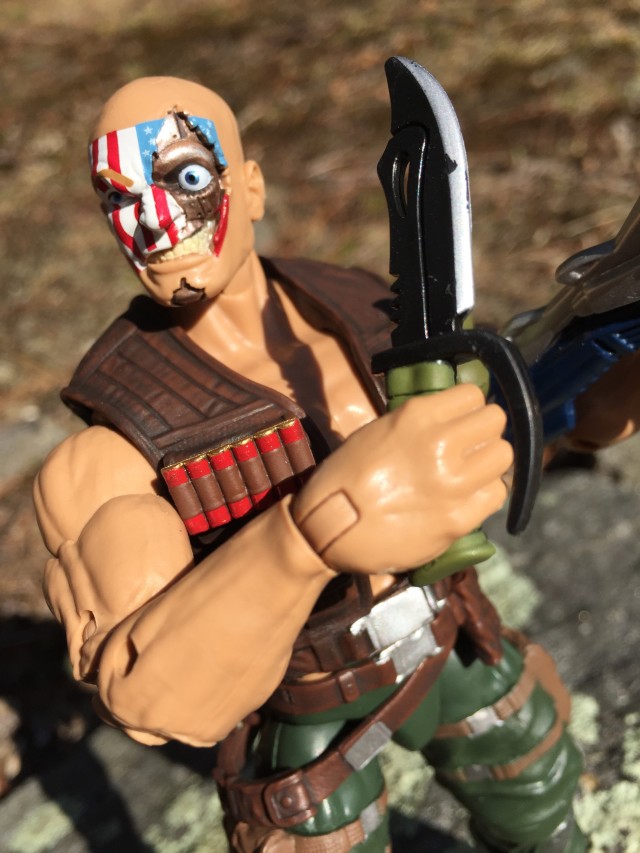 Marvel Legends Nuke also comes equipped with a lethal-looking serrated knife with two colors of paint deco on the plastic.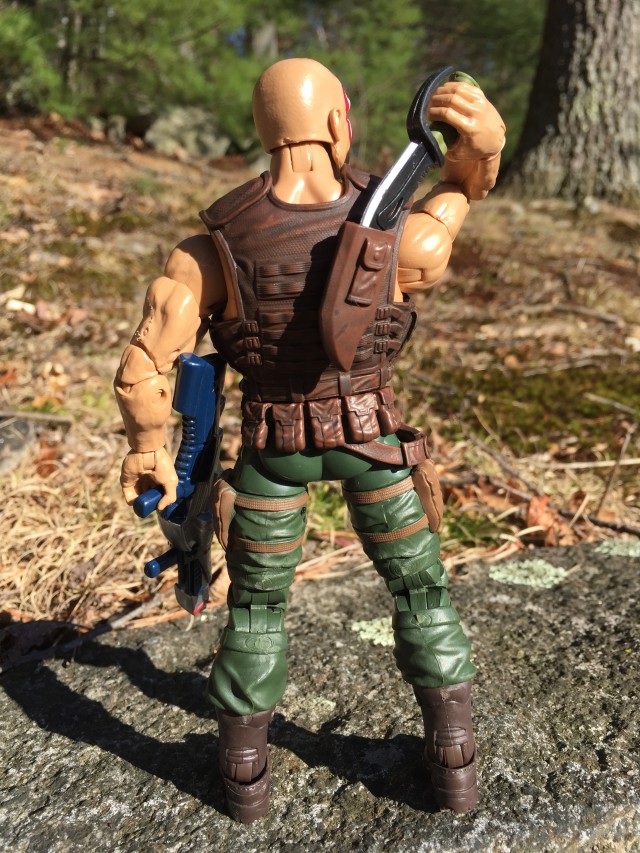 Nuke's knife can be snugly stores in the sheath on the back of his vest, which works perfectly.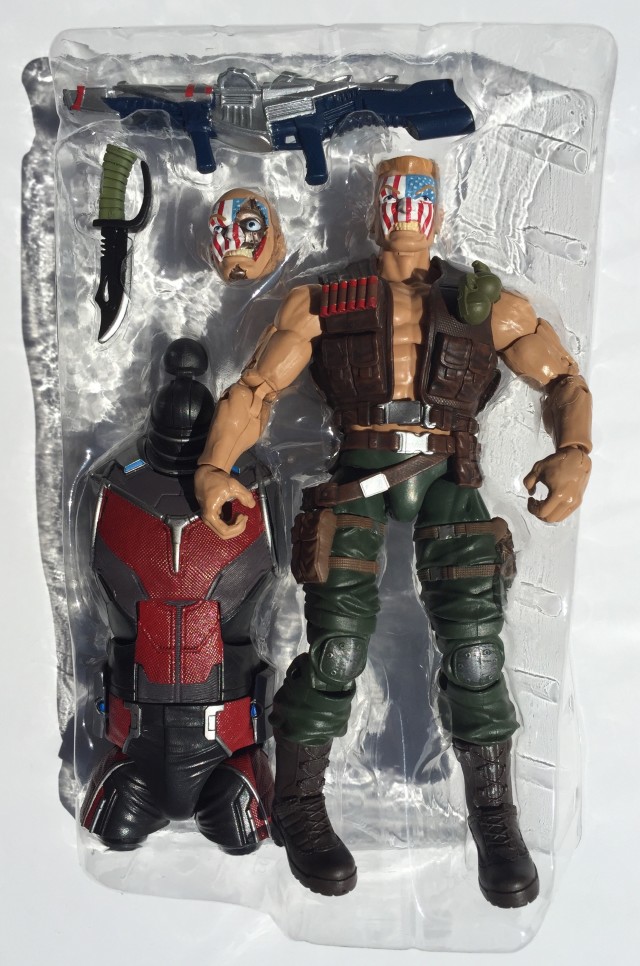 And the icing on the cake…? Despite being the largest and bulkiest figure in Marvel Legends 2016 Captain America Wave 2, and having the best accessories, Nuke also comes with the largest and most important piece of the Marvel Legends Giant-Man Build-A-Figure: the torso.
So for those who don't like spending 20 bucks on an obscure character like Nuke, you're getting a BAF piece with him that's almost as big as a whole other figure! Nuke has so much going for him, it's really sort of unfair to all the other figures in this Giant-Man Series.
The Wrong:
Considering the sheer amount of apathy I have toward this character, you would think this section would be full of all kinds of nitpicks. The trouble is, Nuke is so good that I can't find a thing to complain about.
I may have never wanted an action figure of Nuke, I can't deny that this is one of Hasbro's finest Marvel Legends toys ever.
So I guess what was "Wrong" was the sheer amount of crap I've been talking about this action figure prior to falling in love with it.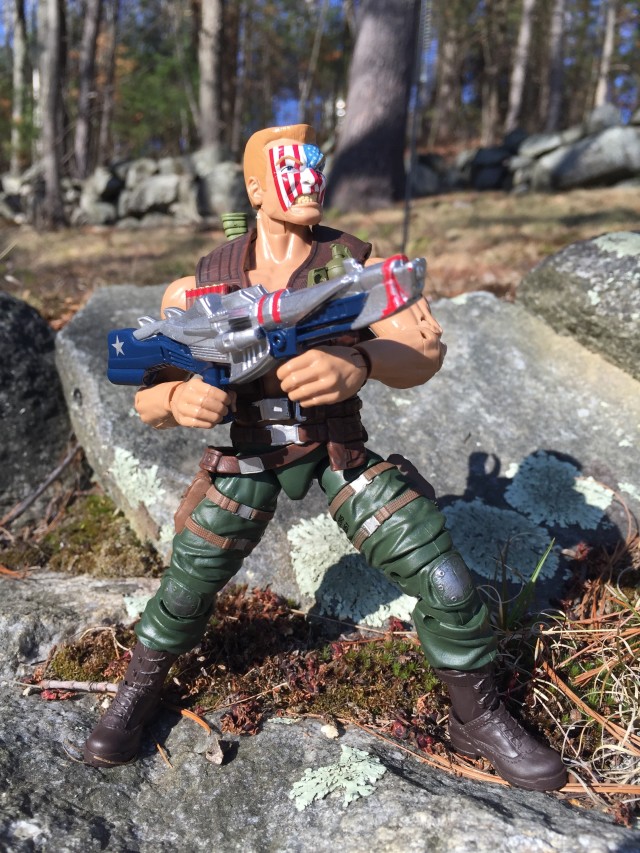 Overall: I don't much like giving out perfect grades like candy, but there's no way I could give the  Nuke Marvel Legends 6″ figure anything less. Excellent sculpting and paint deco, awesome accessories, plenty of articulation, one of the best alternate heads ever, and even the largest Giant-Man BAF piece–Nuke has got it all. Even if you don't give a fig about this character–like me–you're likely to be mesmerized with his action figure. Highly recommended. 
GRADE: A+