"Scourge" is a name that tends to evoke two distinct reactions from various Marvel fans: terror or "Huh?". A mercenary who primarily kills super-villains, Scourge is a fan-favorite character of longtime Captain America readers and one of the most efficient villain-killers in Marvel Universe history. Those who aren't big Cap fans, on the other hand… may have never heard of this guy. Even so, the Marvel Legends Scourge figure is now up for order, and if you're gonna build a Red Onslaught Build-A-Figure, then you're gonna buy him! And luckily, he's probably the best figure in the whole wave…
The Right:
"Justice is served!"
Yep, one of the more beloved Captain America villains created in the last thirty years is finally (and surprisingly) getting his own six-inch action figure! Thanks, Hasbro!
But before we get fully immersed in my Marvel Legends Scourge review, let's first do some bookkeeping. As you may have noticed, no, this is not the most classic–and most recognizable–version of the villain Scourge. As classic as the white-clad, skull-faced Scourge of the Underworld design is, it's also the kind of plain, old-school design that would very likely rot on store shelves for eons.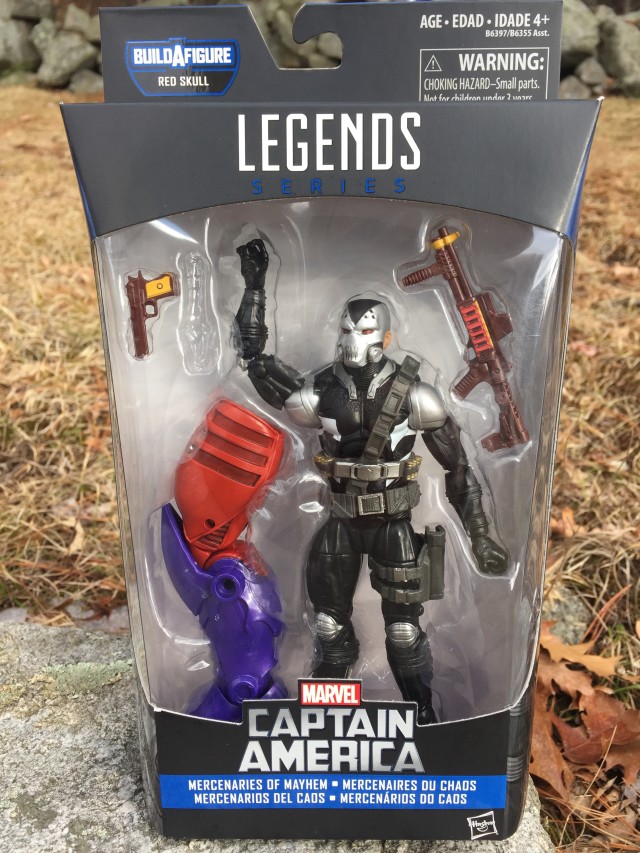 And so, Hasbro has instead opted to give us the most recent version of Scourge–the commando-looking version played by Dennis Dunphy, AKA D-Man (hence the "Demolition Man" text on the back of the Marvel Legends "Mercenaries and Mayhem" packaging). I know some folks are going to give the selection of this iteration a hard time, but I'm not–because this toy is simply awesome.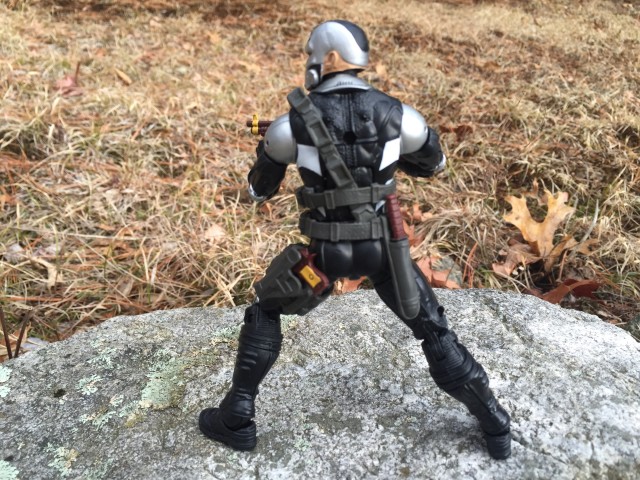 Many (if not most) collectors won't be familiar with this version of Scourge. But that's okay, because I think this figure is good enough to win people over. Aesthetic-wise, this Marvel Legends Scourge figure looks like an amalgam of design elements of Crossbones and Cobra's Firefly from "G.I. Joe Sigma Six".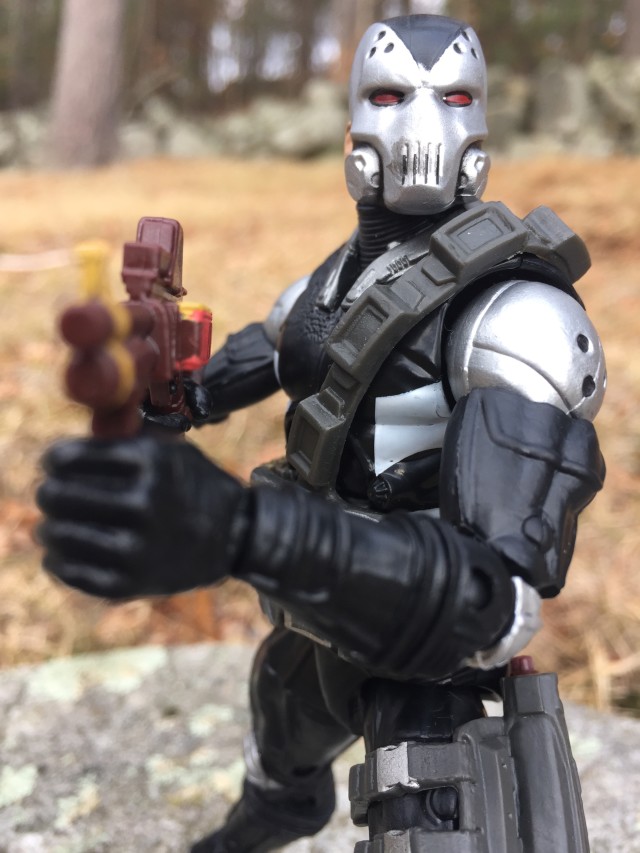 The silver skull-looking gas mask with red eyes looks suitably demonic to make this one of the scarier head sculpts we've seen on a Marvel Legends action figure. There are also sculpted wrinkles and textures all over Scourge's costume that look absolutely phenomenal.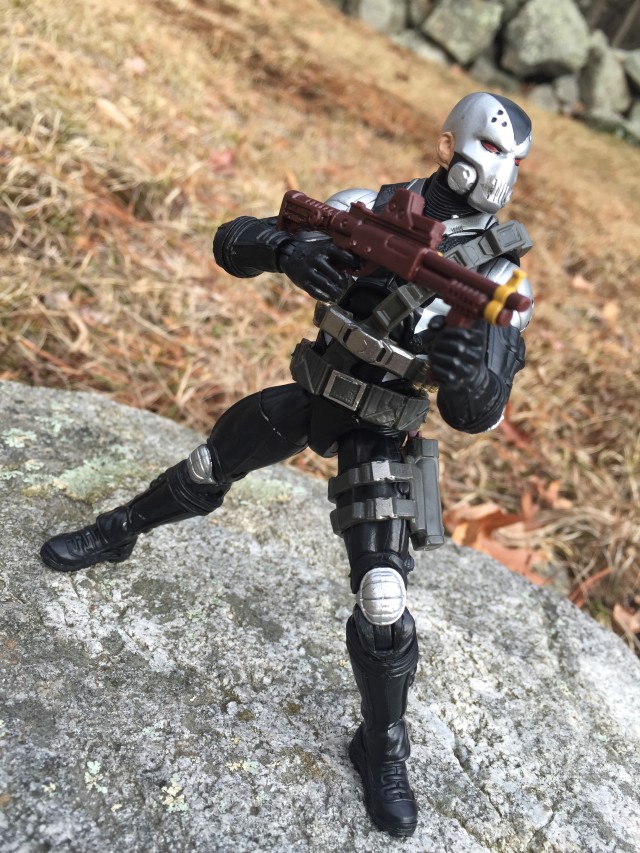 Scourge is wearing a primarily black costume (with silver as a secondary color) that's covered in web gear, including holsters, ammo clips, pouches, and so forth. Hasbro paid out the big bucks at the factory to have a lot of paint deco added to the web gear, and it paid off–the painted belt buckles and canisters on this figure really pop and help make the figure look outstanding.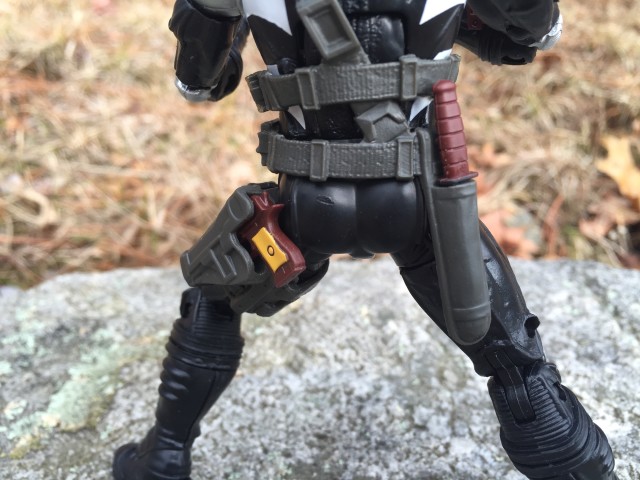 There's a holster on ML Scourge's left leg that his pistol can fit into perfectly, and a sheath on his right hip that holds his knife just as well. Both holds their weapons snugly and with no worries about them accidentally falling out–these have been perfectly executed.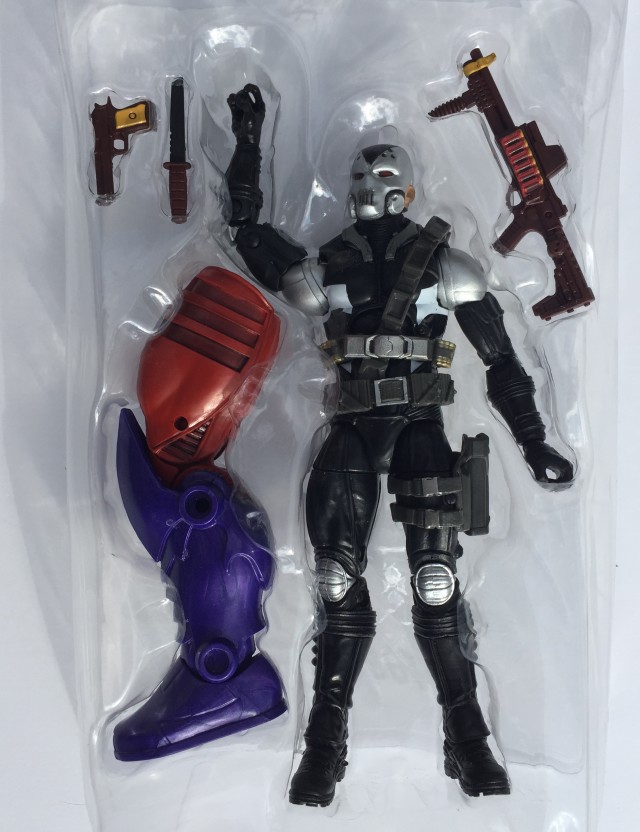 And speaking of perfectly executed, all three of the Captain America Legends Scourge weapons have extra paint applications on them, so they're not the uncolored plastic that we see so often! His brown pistol has yellow on the handle, while the black knife has a brown hilt. These kinds of paint apps go a long way to making this feel like a real collector's figure, and I'm glad that they're present.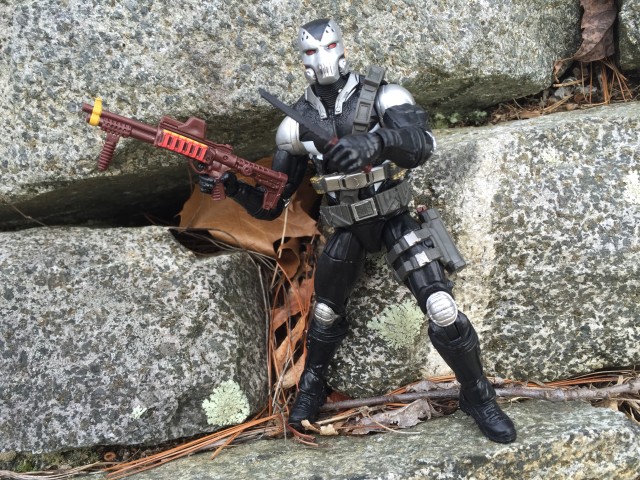 Scourge's best weapon, however, is his brown rifle. The rifle features two additional paint colors: red and yellow, which puts it beyond 95% of the weapons that we see Hasbro pack-in with the Legends series action figures. Because of the exemplary articulation of Scourge, he can easily get a two-handed grip on the rifle, so there's some variety to the way that he can be posed with it.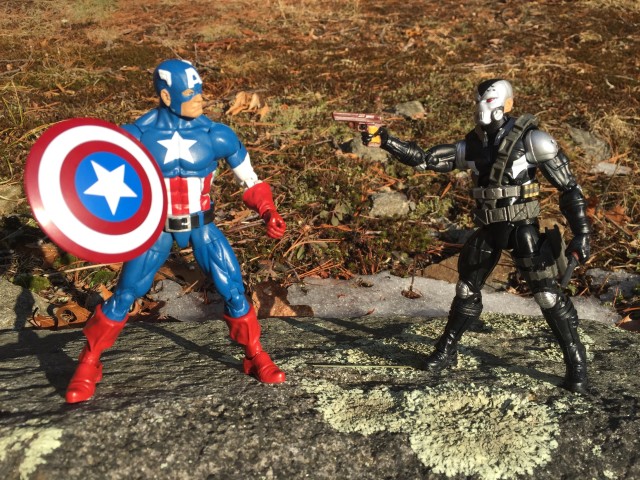 On that note, let's talk about the Scourge Marvel Legends figure's articulation: it's perfect. Every single point of articulation I want to see in a six-inch action figure is present and accounted for: ball-jointed shoulders, hips and head; double-jointed knees and elbows; swivel biceps, thighs and calves; ball-hinge wrists, upper torso ab crunch, swivel waist–even the ever-popular ankle rockers make an appearance.
The Wrong:
If you've scrolled down and seen my grade for this figure already (and I bet you have), then you already know that "The Wrong" is going to be way shorter than usual in this isntance. I don't have a single qualm with this Hasbro Scourge figure, and not even a little nit to pick. Excellent work by Hasbro all-around.
It's a really tough call, but I would say that this Captain America Legends Scourge figure surpasses his "Mercenaries of Mayhem" brother Taskmaster to earn the title of best figure in this entire wave.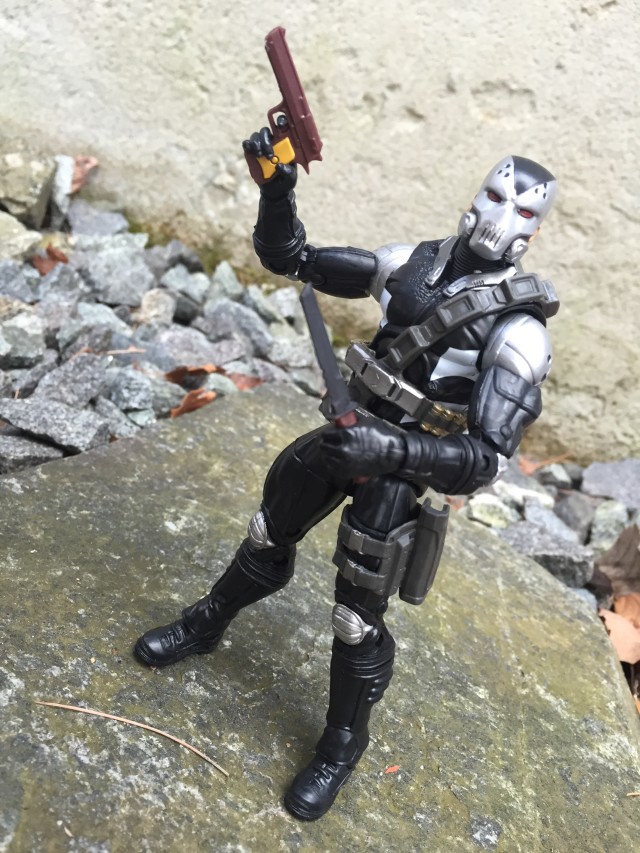 Overall: I don't hand out 'A+' grades like candy when it comes to $22 Marvel Legends 6″ figures, but this 6″ Scourge figure is simply perfect in every way. From a variety of painted weapons to a working holster and sheath to outstanding paint apps to every conceivable point of articulation, I've got no complains about this figure whatsoever. He's not the most well-known character out there (or even the most well-known version of Scourge, for that matter), but this is the best-designed and implemented figure in the Captain America Marvel Legends Red Onslaught series. If you like cool and fun action figures, you won't regret picking this guy up.
GRADE: A+