With the bombardment of Marvel toy news going both into and out of last month's San Diego Comic Con 2017, time has really flown by, as demonstrated by the fact that the latest Funko Marvel Collector Corps box has now arrived! The October 2017 Marvel Collector Corps Thor Ragnarok box is now up for order and is (obviously) entirely movie-based, so in the August 2017 box, Funko is balacing it out and giving us something totally comic-based–read on for full spoilers, unboxing photos and my Marvel Collector Corps First Appearance Avengers Box Review!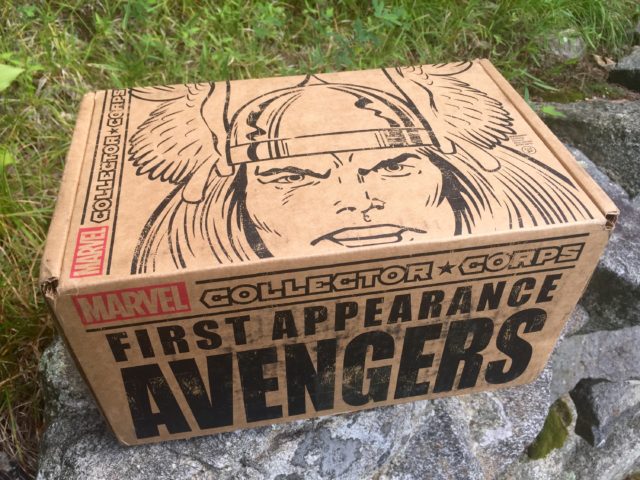 2017 has been a pretty movie-heavy year for Marvel Collector Corps boxes, as the previous two boxes have been Guardians of the Galaxy Vol. 2 and Spider-Man Homecoming themed, with Thor Ragnarok and presumably Black Panther boxes waiting in the wings.
And so, to be fair to the more comic book-inclined collectors out there, this month Funko gave us perhaps our most comic-centric box ever, with the Funko Avengers First Appearance box!
Thor finds himself on the lid of the box, which is the sole place that he appears on this particular box. Thor will have plenty of representation in the "Thor Ragnarok" movie box that's coming in October, so I've got no complaints about him solely being on the box here.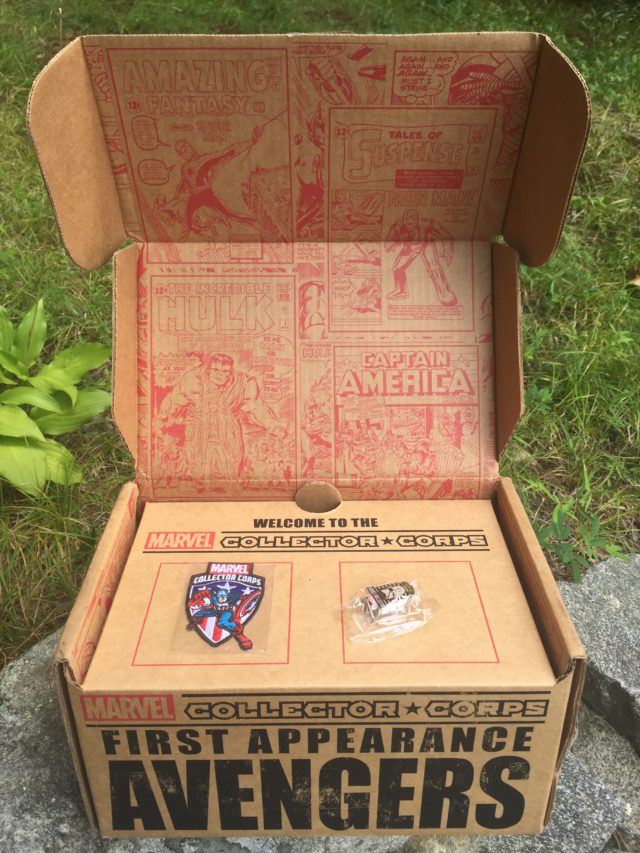 Inside of the box, we find some retro Captain America comic book artwork and our monthly pin and patch combo.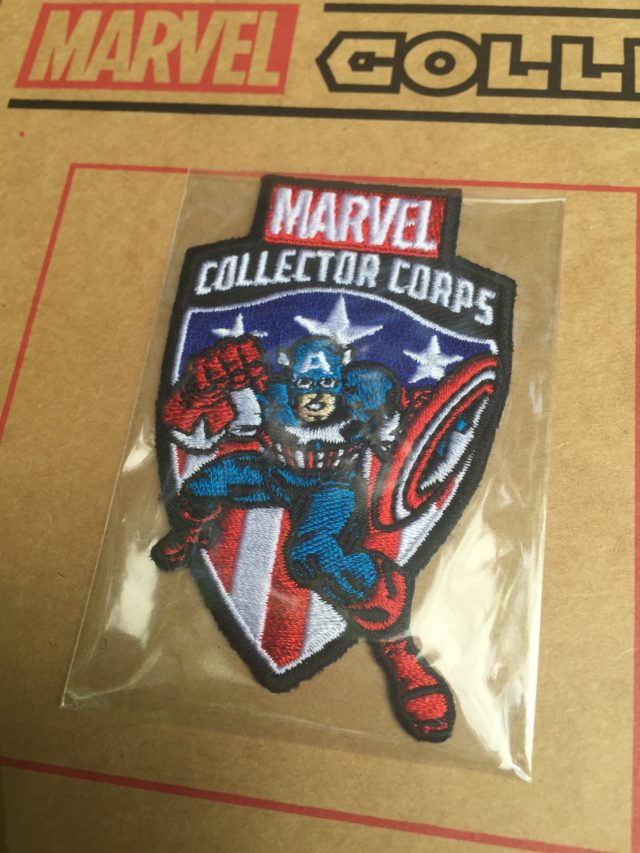 The MCC patch this month is a really classic Captain America patch, which I think fits in really well with this theme. I love that it's a full body shot and not just a head like we often get.
The Marvel Collector Corps Nick Fury pin is a nice depiction of Nick Fury Sr., but I call foul on this one: Nick Fury is not now and has never been an Avengers member, so I'm not sold on him being here. Luckily, that's my one and only gripe with this box (which is good, since a large number of collectors don't especially care about these pins at all).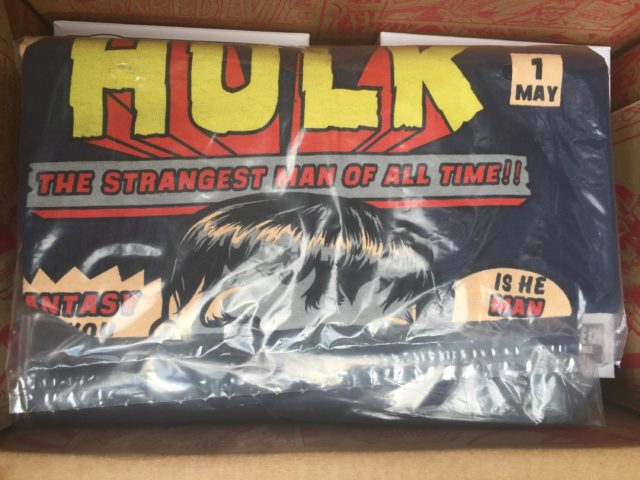 Delving further into the box, we find this month's navy blue POP Tees Shirt–which surprised me by being a lot cooler than I expected when I first glanced at it.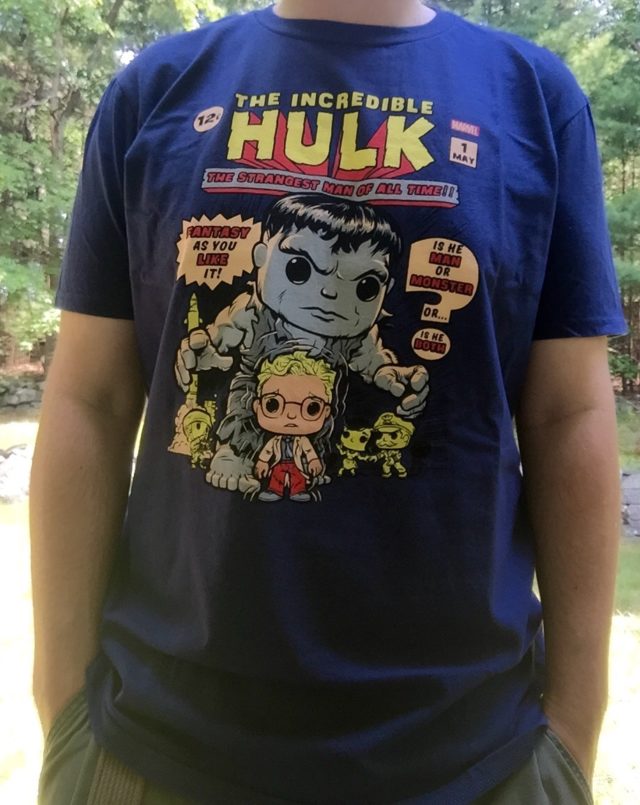 It wasn't until I fully unfolded the shirt that it registered that the design is a Funko POP Vinyls reenactment of the cover of The Incredible Hulk #1. This is one of the most all-out fun designs we've ever seen in one of these MCC boxes, and it's also quite comfortable and a good fit. Excellent!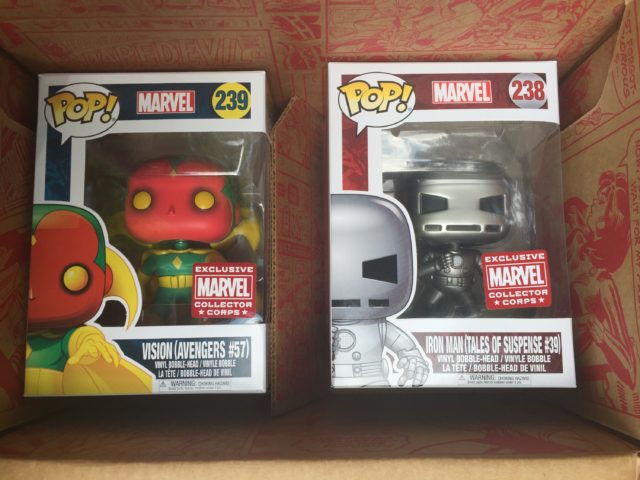 Underneath the shirt is this month's main event: two exclusive Marvel POP Vinyls!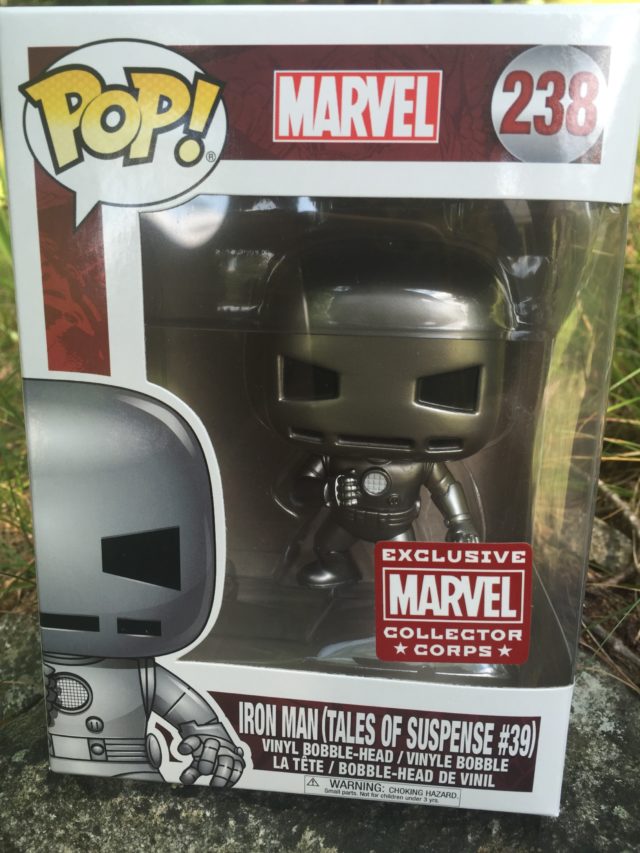 First, we've got the figure that Funko previewed themselves earlier in August behind spoiler tags: Funko POP First Appearance Iron Man!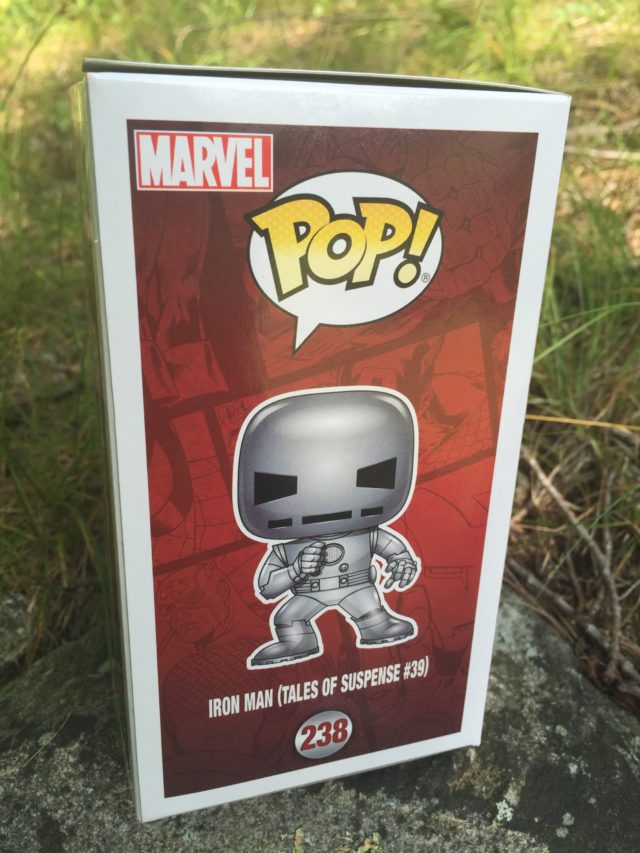 While Iron Man may be the second most popular Marvel character in the world right now (behind Spider-Man), even I'm not sure that his clunky original armor would sell well at mass retail.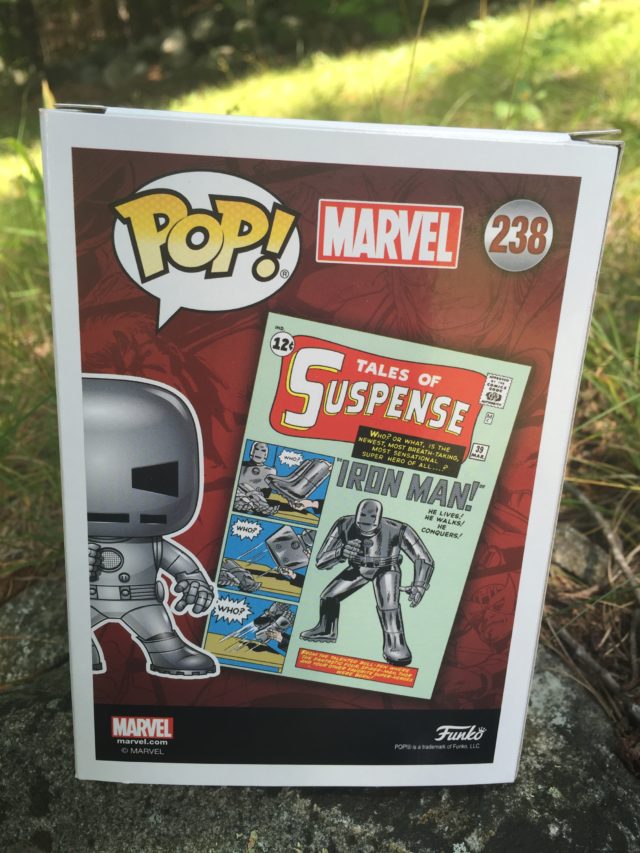 Even so, the First Appearance Iron Man armor is pretty essential and appealing to hardcore fans, and I'm really glad Funko found a way to offer this POP Vinyl to us. The figure itself is pretty simplistic–as it should be–and I like him a lot.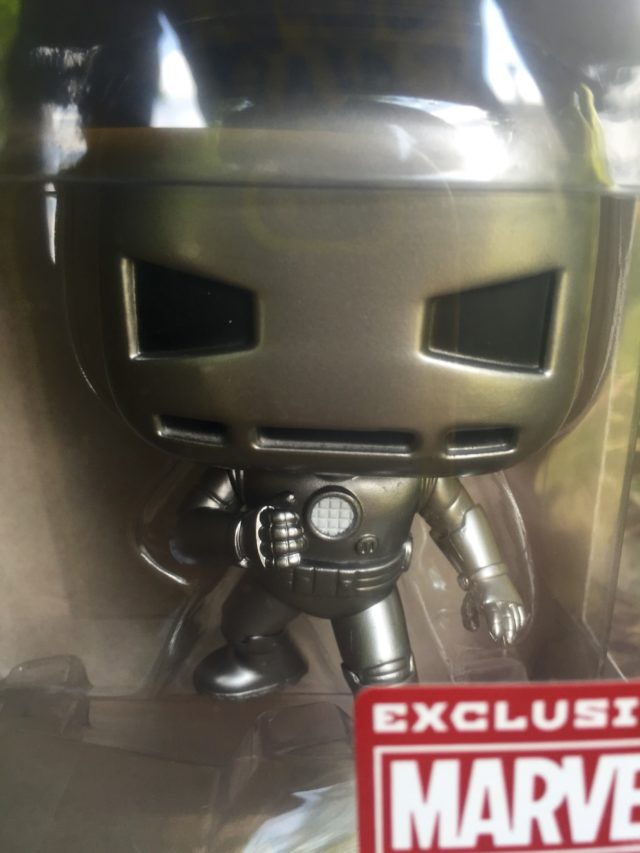 Some folks was complain this was a missed opportunity to do a Chase variant with gold Iron Man Mark I, but since this is First Appearance Iron Man from the comic book cover, I don't think that would fly in this case.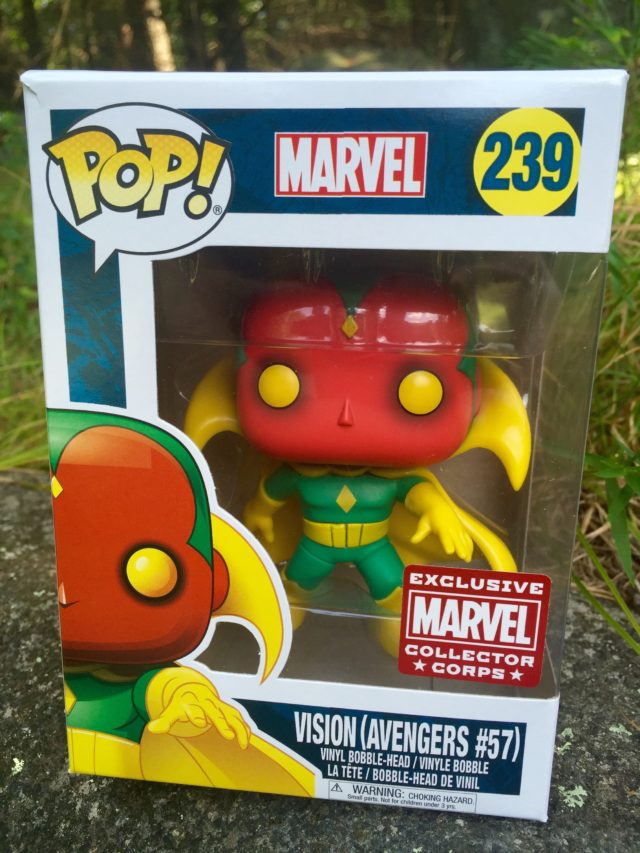 The other exclusive POP Vinyl in this Marvel Powered by Funko box is a true surprise that I'm really delighted about: a First Appearance Vision POP Vinyl!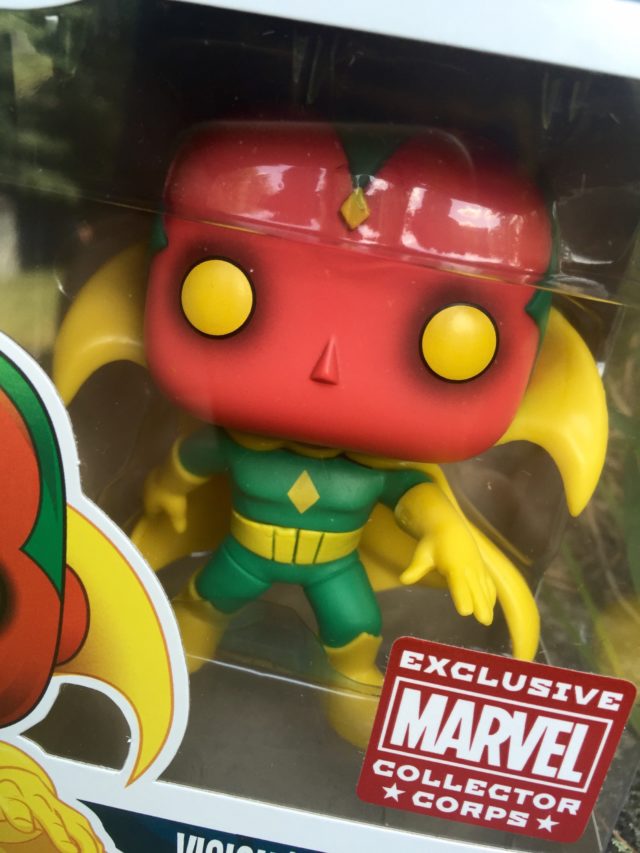 While the MCU Vision's character is growing on me, I just don't like his purple/pink and teal color scheme. Classic red, yellow and green Vision is where it's at, baby!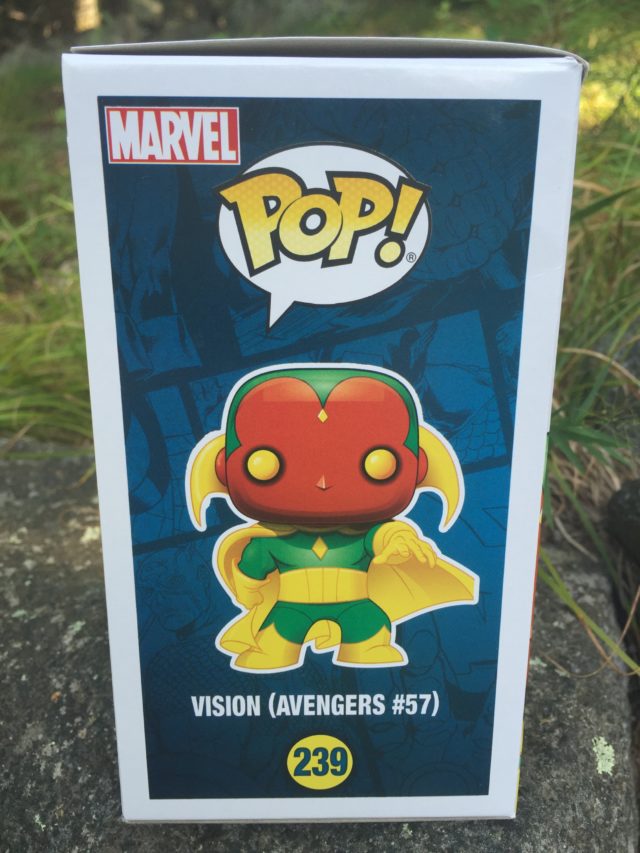 After getting MCC POPs the last few months that have mostly been characters in new poses (Logan, MCU Spider-Man, Rocket and Groot), it's really nice to get a Marvel Collector Corps Exclusive POP! Vinyl figure that is just completely different from anything that's been released before for the character. Thus far, this Vision is my Collector Corps POP of the year!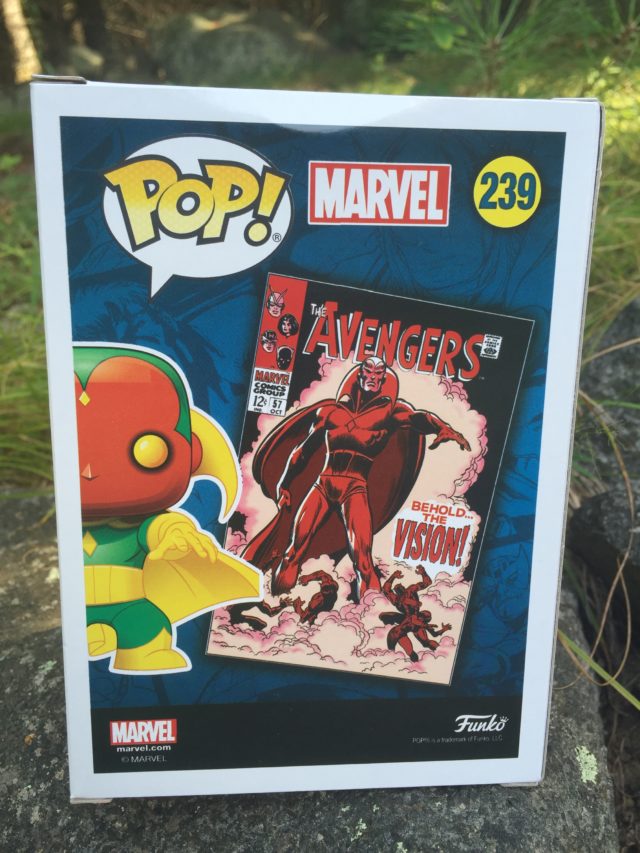 Funko has placed Vision in his iconic stance with one hand raised from Avengers #57, and given him extra shading around his eyes that really makes them pop.
I totally dig the way that Funko out the original comic book covers these figures are based on on the back of their boxes, and I would love to see a subset of continuing First Appearance POP Vinyls like these. Big win for Funko here!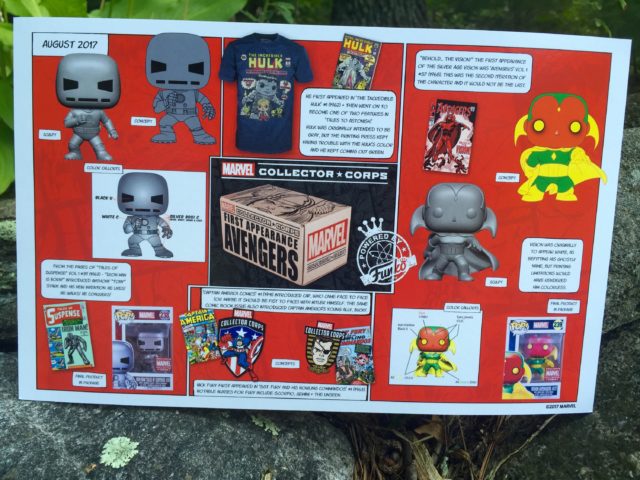 Overall, I am extremely pleased with this August 2017 Collector Corps box, which I consider to be one of Funko's very finest mystery box offerings to date from any of their various subscriptions. I knocked the '+' off the score because the Nick Fury pin didn't seem quite in-line with the "First Appearance Avengers" theme, but make no mistake: this MCC box is full of great exclusive items and was well worth its price-tag. The POP Vision and Iron Man Mark I vinyl figures are both essentials for comic fans, and the Funko POP Tees Incredible Hulk #1 shirt is super-fun. Loved this box–great job, Funko.
GRADE: A