I was pretty psyched last year when Sideshow Collectibles announced their new line of 1/5 Avengers Assemble statues. Classic-styled comic statues with a smaller footprint for way less than Premium Format Figures? Count me in! Captain America and Iron Man were both home runs, and I even liked Thor despite his higher price-point. But I hadn't seen anything yet: the Sideshow Avengers Assemble Hulk statue is now up for order–and he's not small, and he definitely ain't cheap…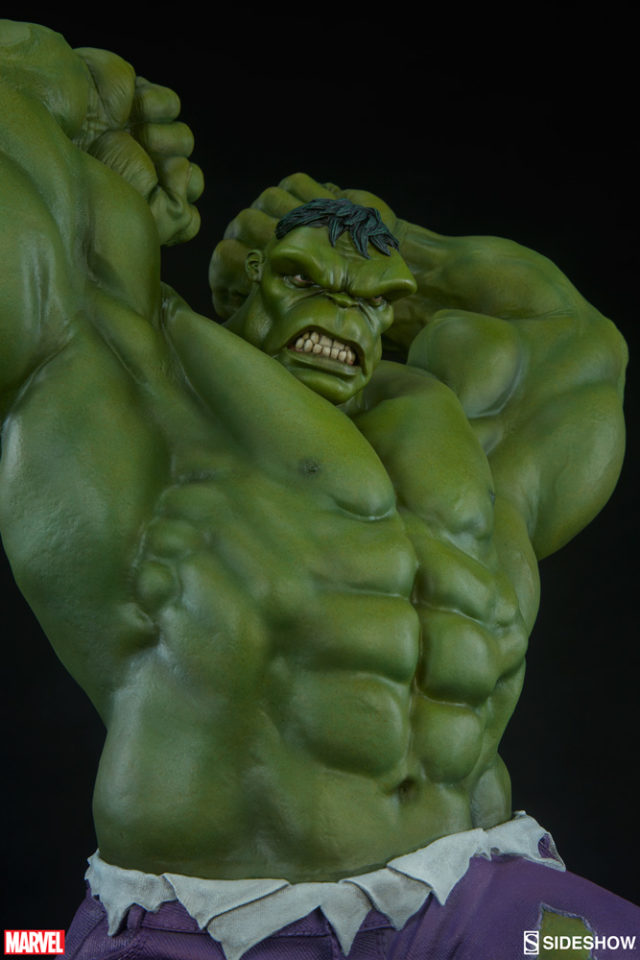 Ever since Sideshow Collectibles announced the pre-order pricing for their 1:5 scale Hulk Avengers Assemble statue earlier this week, I've been inundated with collectors asking me for my take on this particular statue–and its price. In fact, this poor Hulk, big as he is, has been almost totally overshadowed by his price-tag.
Why? Because the Sideshow Avengers Assemble Hulk statue is carrying an MSRP that's almost double that of the (awesome) Classic Iron Man statue that kicked off the line: $595. Yowza.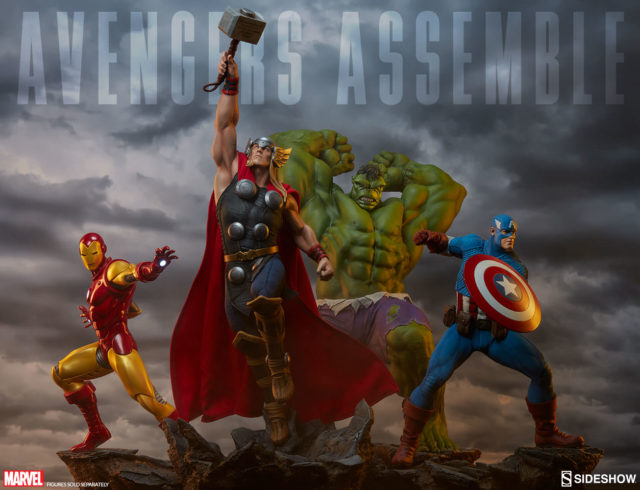 All that said, after I got over the initial sticker shock of this piece (and believe me, I had plenty of it), I spent the last couple days processing my thoughts on the piece, and decided that… the price on this beast is actually pretty fair.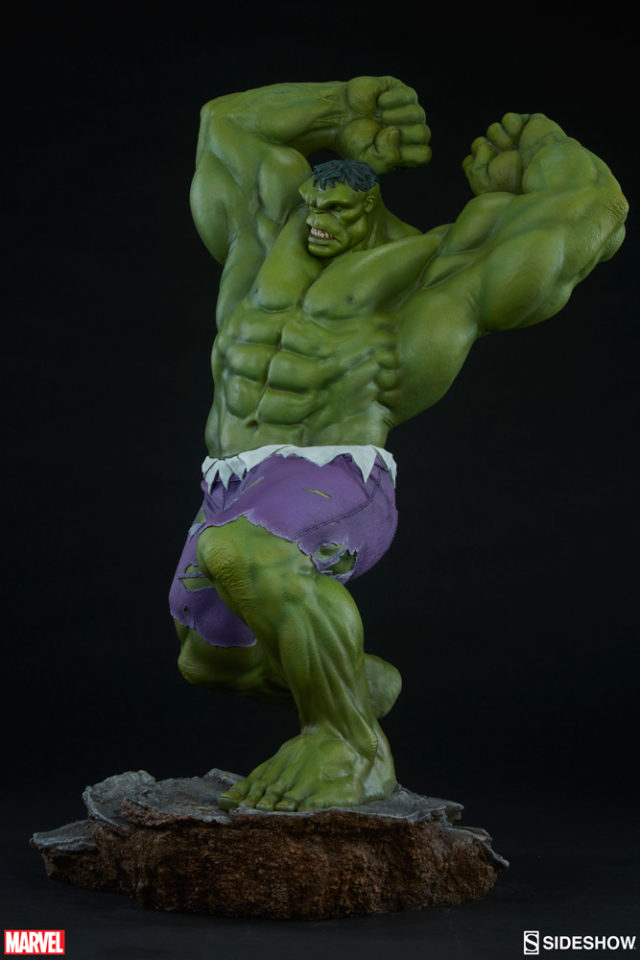 I know everybody wants me to get out the flaming pitchfork and strike down Sideshow Collectibles for the price on this AA Hulk statue, but realistically speaking, I fully understand why this piece is priced the way it is.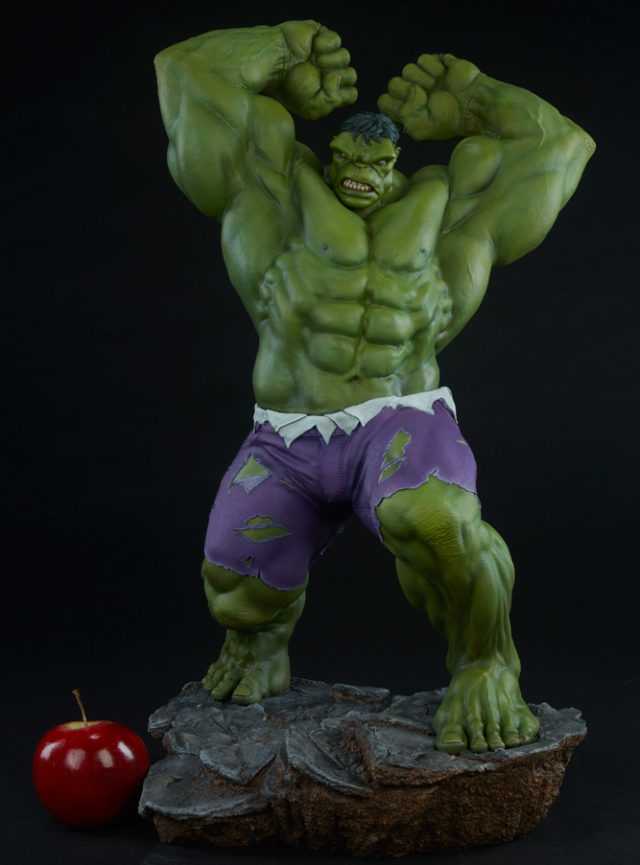 Standing over 24″ tall, this piece is actually bigger than most recent Premium Format Figures of regular-sized characters (ie not Bane), and also quite a bit bulkier.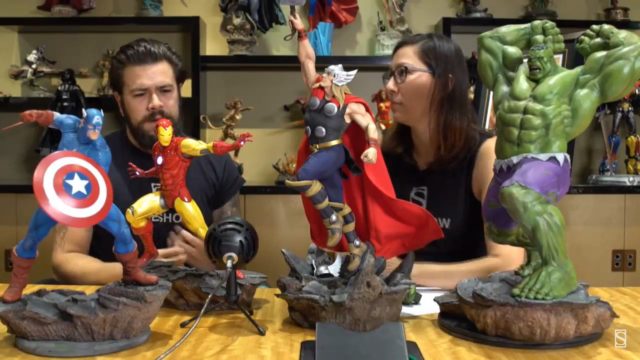 I really don't believe that Sideshow is price-going us here–I think these are the depressing, naturally rising costs of an already expensive hobby and this is simply a massive piece.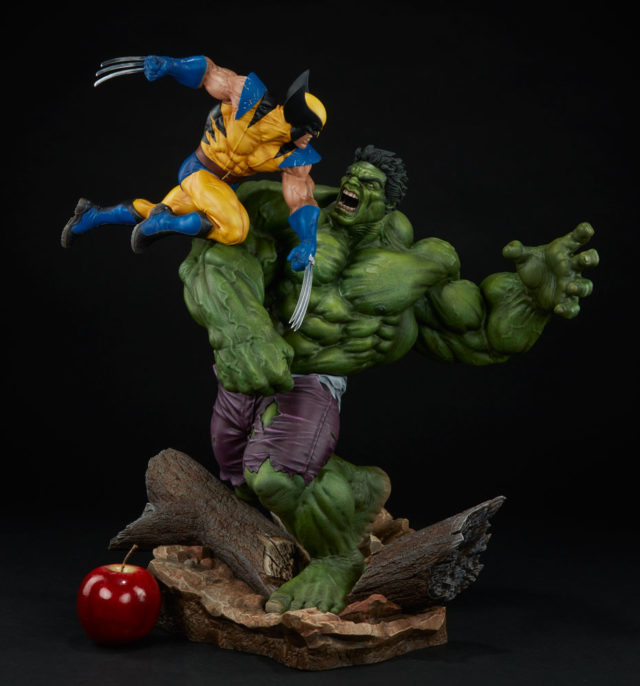 While Sideshow was able to price the amazing Hulk vs. Wolverine diorama statue at just $50 more than this piece–that was years ago. Today, that same statue would likely retail for $100 or higher due to increased factory wages, inflation and shipping costs. It's not fair to compare the price of a statue from several years ago to that of one being released today.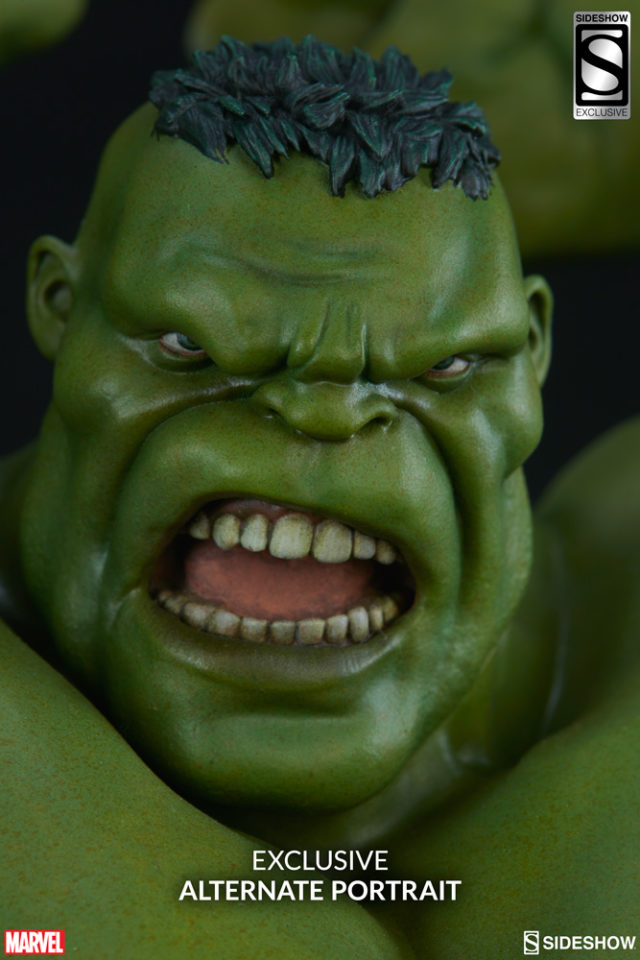 What is fair game, however, is to slander the heads on this Hulk statue. The regular edition neanderthal Hulk head doesn't do much for me, and the hideous hair-tuft Hulk head that comes as an extra with the Exclusive Edition does even less. Yuck.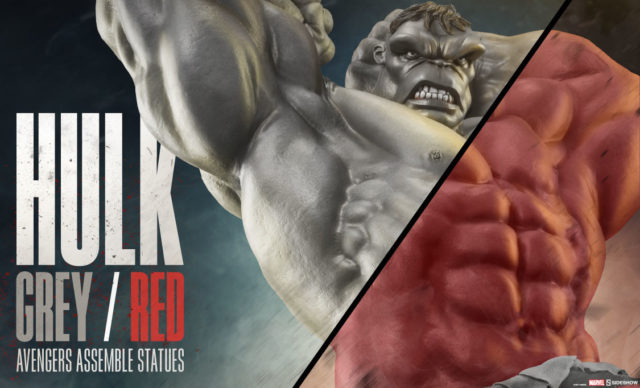 But wait–! Those aren't the only aspects of this release generating ill will from collectors! No, before this Hulk has even launched, Sideshow Collectibles has already announced
two
variants of this $600 statue: a grey Hulk (which makes sense, since this is classic-based), and a Red Hulk with a new head sculpt (which simply does not make sense).
While I'm a total sucker for Red Hulk merch, I don't understand why Red Hulk would be included in a lineup of very retro, classic-styled Avengers with no modern designs at all. It just makes no sense and comes off as a real money-grab.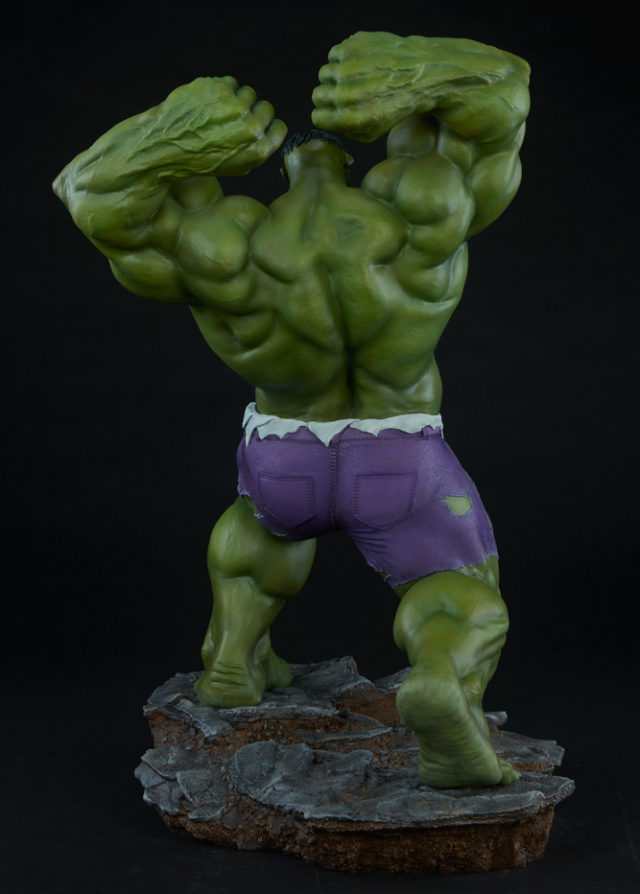 Other than all that, this Hulk Avengers Assemble statue is actually very nice. I've always liked the "Smackdown" pose that Bowen Designs originated in statue form, where Hulk has both fists raised in the air and is ready to smash, and I think that this is a solidly-done, larger version of that masterpiece.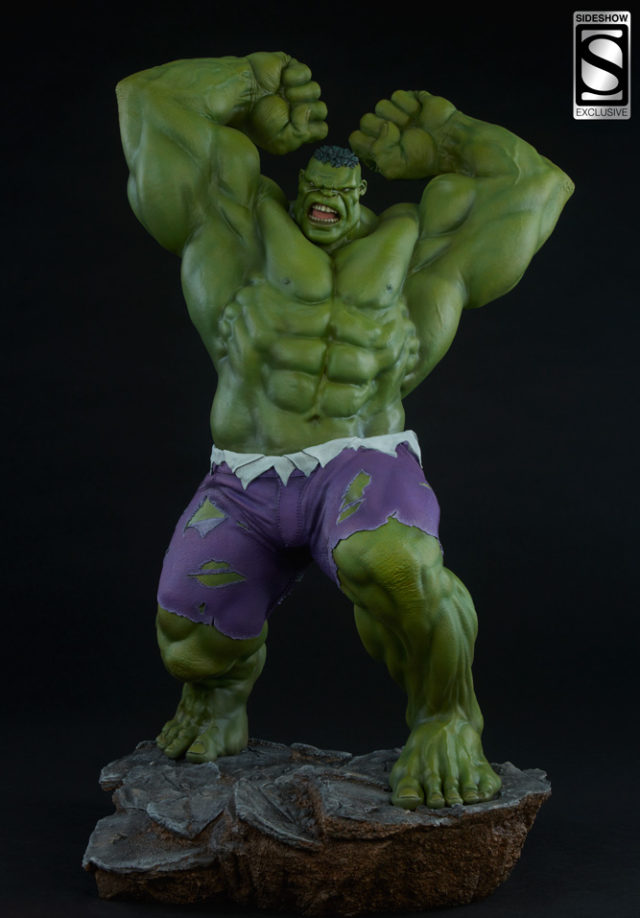 This piece absolutely towers over the Avengers Assemble Captain America and Iron Man statues, and I really don't feel that the pricing is out-of-line. I hate those heads and won't be dropping $600 on a statue sporting one of them, but I fully respect collectors who do decide to snag this piece.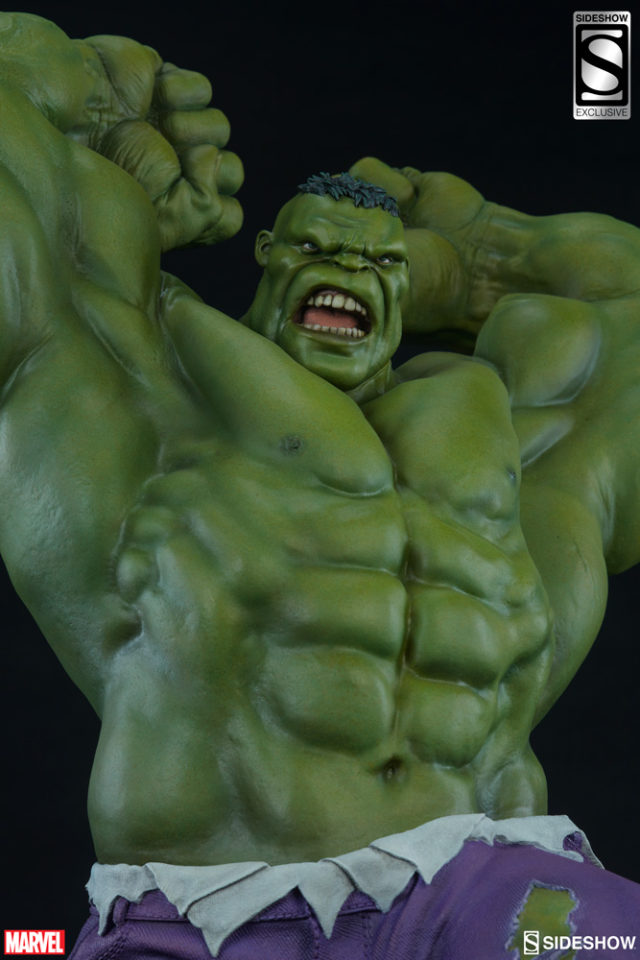 The Sideshow Collectibles Avengers Assemble Hulk 1/5 statue is now up for order, and is scheduled to be released in late 2018. If you don't feel the need for the bowl Hulk head, you can opt for the regular version instead of the exclusive and save 15 bucks (bringing the price to a "mere" $580–heh).
I ended up being a lot more critical of this piece and its circumstances  than I intended to be, but how do you feel about the big guy, Marvel collectors? Do you find the price on the Avengers Assemble Hulk statue justified, and is this a version of the Jade Giant you're considering adding to your own collection?