We're only a few days away from the start of July, which means that there's just over a month until the Guardians of the Galaxy movie arrives in theaters! As such, all street dates have now passed and every company from Hasbro to Funko to LEGO has begun releasing their Marvel's Guardians of the Galaxy toys. I'm "all in" for Guardians of the Galaxy in a way that I haven't been for any other Marvel movie, which means I'll be reviewing just about every toy made for GOTG. Today, I'll be discussing what's sure to be a real hit with the masses: the Funko Groot POP! Vinyls figure…
The Right:
Funko has really improved their packaging this year. Whereas in previous years the boxes all looked pretty much the same across the Funko Marvel POP! Vinyl line regardless of whether the figure was comic or movie-based, that's not the case here.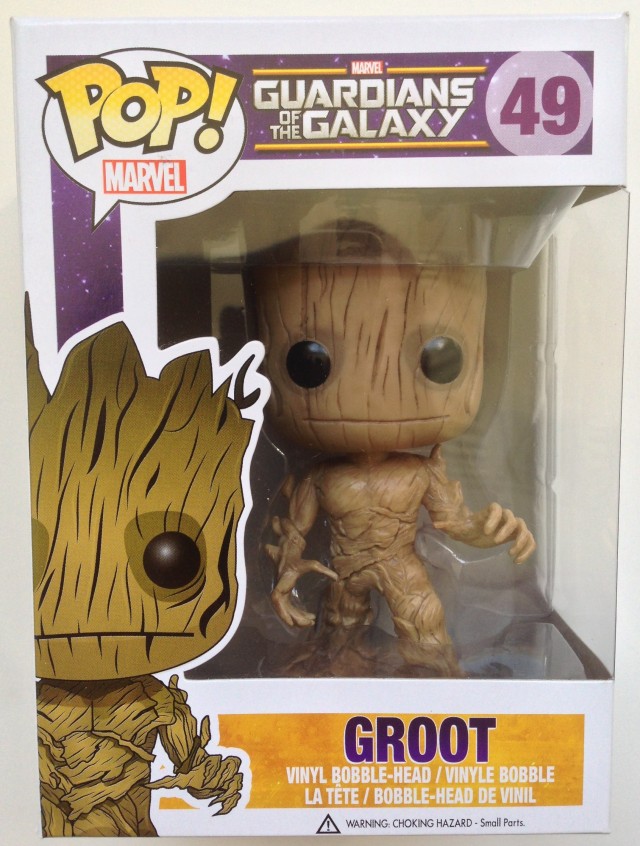 As with all of the rest of the Guardians of the Galaxy POP! Vinyls, Groot comes in a box that's got bright, cosmic colors on it to clearly denote this as a Guardians of the Galaxy movie product (despite still being numbered within the main Marvel POP Vinyls figure line).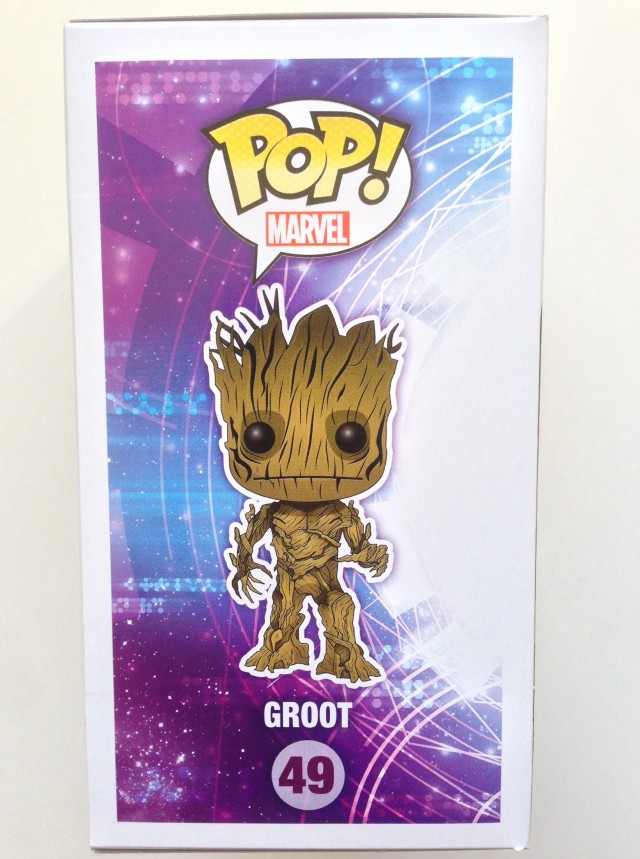 Once you get him out of the box, the first thing that fans will notice when they display the Funko Groot next to their other Marvel Funko POP! Vinyl bobble heads is that Groot is quite obviously taller than the standard Funko POPs. That's not to say he's a giant like the humongous Funko Stay Puft Marshmallow Man, but he's noticeably slightly bigger nonetheless.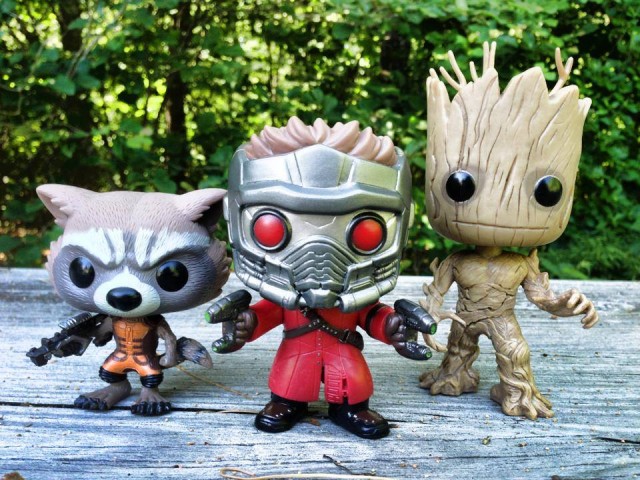 Groot's scale looks especially nice when he's placed next to the rest of the Funko POP Vinyl Guardians of the Galaxy figures. Groot towers over the Funko Rocket Raccoon (as he should), and is a wee bit bigger than the rest of his GOTG teammates. Should Groot be even taller…? Perhaps–but with a super-deformed line with exaggerated proportions like this one, I think Funko did just fine for themselves.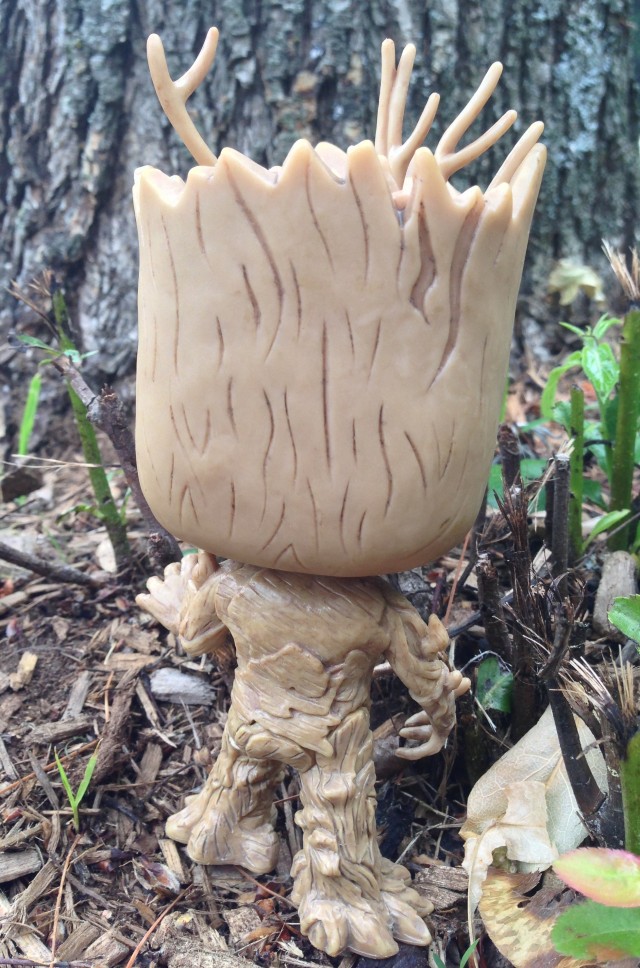 Sculpting is the other standout aspect of the Funko Groot figure. Whereas many Funko POP! Vinyl figures feature very basic and minimal sculpting, Groot actually has a surprisingly rich sculpt with lots of details in it.
The top of Groot's head is covered in loads of non-uniform bumps and branches, his fingers are intimidatingly sharp and pointed, and the gnarled look of the layers of wood on the Groot Funko figure's torso is fantastic. From a sculpting standpoint, Groot is one of Funko's best Marvel efforts to date.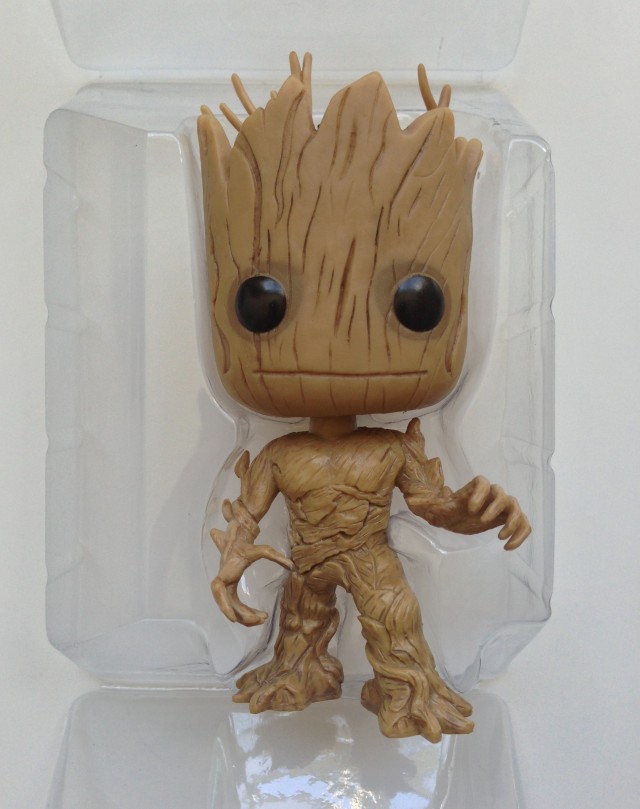 Oft times, quality control can be the worst nightmare of a Funko collector. To my relief, QC isn't the slightest problem with the Funko Groot POP Vinyl figure. This may largely be because the eyes are the only part of Groot that are actually painted and not just colored plastic, but they're painted excellent nonetheless with no slop or jaggies around them. Sometimes Funko really disappoints me with quality control, but that thankfully isn't the case here.
The Wrong:
If there's one design choice I don't care for about this Groot vinyl figure, it's the paint shading Funko chose to have circling Groot's eyes.
I never particularly like this kind of deco, as it usually ends up looking like bad mascara, and this is no exception. It's not a big deal from a few feet away, but up-close the black shading really bothers me. I may try to erase if off the face myself.
"Where Can I Buy It?!"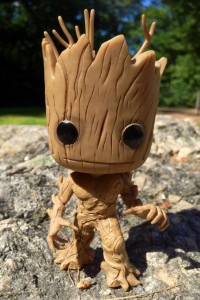 I received my Funko Guardians of the Galaxy Groot figure from Entertainment Earth last week, as they're typically the first e-tailer to get new Funko figures into stock. Groot is now in-stock on Amazon as well.
Overall: The Groot Funko POP Vinyls figure is easily one of the high points of the Funko Guardians of the Galaxy POP! Vinyls series. With an appropriate scale for an exaggerated line like this and some of the best sculpting details that we've ever seen on a Funko Marvel POP! Vinyl figure, this adorable interpretation of Groot is sure to be a top-seller with the masses. Whether you're planning to collect the whole Guardians of the Galaxy Funko team or just Rocket Raccoon and Groot, you'll happy to have this Groot vinyl figure in your collection.
GRADE: A-