With just over two months until Christmas and the Holiday Dancing Groot POP Vinyl announced quite some time ago, I thought that Funko had played all of their cards already when it came to sure-fire best-selling Marvel POP Vinyl Christmas presents. But it looks like they still had one magnificent trump card up their sleeve, and it's arriving in time for the holidays: the Funko POP Vinyls Ant-Man & Ant-Thony the Flying Ant Set is now up for order!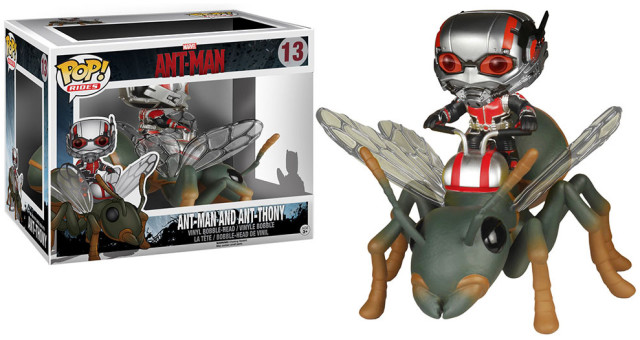 Within a day of the Ant-Man movie hitting theaters this summer, I began to hear an outcry from Marvel collectors pleading with Funko to release a Marvel POP! Rides set with Ant-Man riding on his trusty flying steed (of a sort), Ant-Thony the Flying Ant.
Even so, with Ant-Thony being a biological creature and way, way removed from the typical vehicles that are released as part of the Funko POP Vinyls Rides series, I thought it was pretty unlikely that Funko was going to break the mold (so to speak) by devising a big flying ant vinyl figure that wouldn't be released until months after the movie had left theaters.
I thought wrong.
The 13th entry in the Rides series (and the third unique Marvel Rides set–I absolutely do not count the repainted Deadpool Chimichanga Trucks) is in fact the hotly-demanded duo of Scott Lang Ant-Man and his favorite ant, Ant-ony!
I hate insects with a fiery passion, but even my cold heart thaws out just a little bit looking at those big black eyes on Ant-Man's tragically doomed friend. The translucent wings on POP! Ant-Thony are also a nice touch.
Even better, this isn't a straight-up repaint of the same Ant-Man POP figure mold that Funko already released three times (for if you count the unmasked verison) over the summer–this time out, Scott Lang has a totally unique body mold posed to hold the handlebars on his flying ant, as opposed to the closed firsts that the other versions of this character has. It's not a major change or anything, but hey–at least it's something!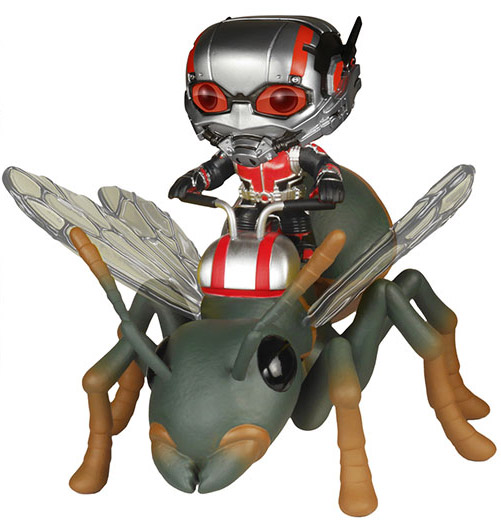 The Funko POP Rides Ant-Man and Ant-Thony set is now available for pre-order, and is scheduled to arrive in December 2015 in time for the holidays! As this set won't be released until a few weeks before Christmas, if you're wanting it to give as a holiday gift, I highly recommend ordering it online. With retail stores being crazy-taters in December and this set just hitting the distribution channel then, I think trying to find this set in a local store is a nightmare waiting to happen.
What do you think of the latest in Funko's series of POP Vinyls Rides, Marvel collectors? Is this super-cute POP Ant-Thony a must-have present for someone on your holiday shopping list (or perhaps a must-have gift on your own wish list)?