I went to bed early last night, got a good night's sleep and got up bright and sunny this morning–because today was the day the last of the announced mass-release Funko Civil War POP Vinyls was finally scheduled to hit stores! But I quickly hit a snag this morning, when I discovered that all of my local Gamestops–who insisted they wouldn't take reservations–had decided to reserve out all of their received Giant-Man POPs. Thankfully, my wife was sweet enough to zip over to the closest Gamestop to her job and nab me the last 6″ Funko Giant-Man POP Vinyl! Was the big-guy worth all the trouble?
The Right:
I'm not gonna lie: I was not in love with last summer's "Ant-Man" movie; nor was I giddy about Ant-Man's involvement in this year's upcoming Captain America: Civil War movie. But all that changed toward the end of 2015, when a leak from LEGO revealed something that fans had speculated about for a while–that Ant-Man would be transforming into Giant-Man as part of Captain America 3!
While I think the Ant-Man powers and talking with ants and flying on ants are all rather lame, there's something intrinsically primal and exciting and cool about a man who can grow to an enormous size and pummel his enemies. So while I'm pretty "ehn" about Ant-Man, I'm more than happy to get on the Giant-Man bandwagon.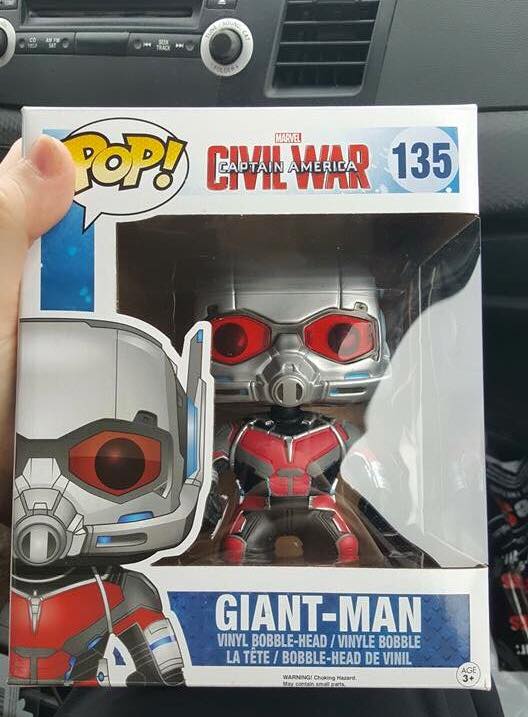 And so, when I failed to acquire the Giant-Man Funko POP Vinyl on my own this morning, I was plenty irritated. Thankfully, my wife picked him up and saved me from being pissy throughout the rest of the day (and maybe week).
As of now, the Funko POP Giant-Man figure has only been released in limited quantities at Gamestop stores, but Giant Man is also available for pre-order from EE right now. He's actually about 20% cheaper if you pre-order him online, but me and patience don't get along, so I wasn't gonna sweat over spending an extra 3 bucks on him.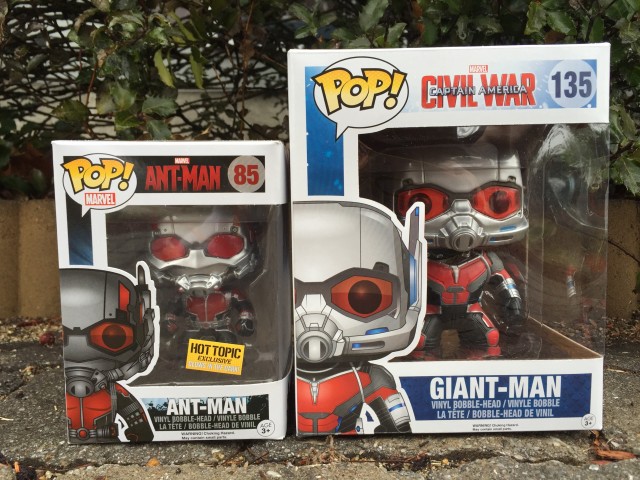 It's tricky reviewing a toy of a superhero in a costume that we haven't really gotten a good look at yet from the actual movie, but there's two things this vinyl figurine needed to do to be a success in my eyes: 1) have an updated costume for Civil War; and 2) be big.
As we can see from the photo above, Scott Lang's costume has clearly been updated from the Ant-Man movie to Civil War, and all of the sculpting/paint is well-done. Is the costume totally accurate? Well… the jury's out on that. We'll find out in two months when the movie hits.
And as for the second qualifier, well–he's big, so score! Giant-Man is only the third super-sized 6″ Marvel POP Vinyls character (yes, Baymax absolutely counts), so he'll absolutely stand out amongst his smaller 3.75″ Funko Marvel brethren on our shelves.
And hey, what's not to love about having a Scott Lang figure that's big enough to hang out with and stand toe-to-toe with the Marvel Legends Wasp 6″ figure, right?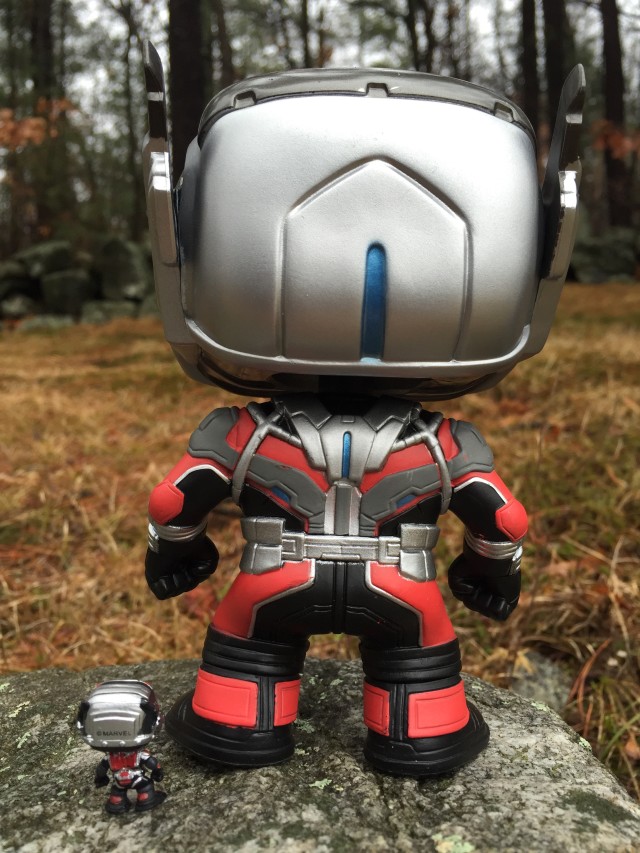 At the increased size, I would expect that this Giant-Man Funko POP figure have near-perfect paint applications–and he does. There's no trace of the Funko of the past who flubbed paint apps here on this figure, and I'm thankful for it.
(I'm using the mini Ant-Man from the Ant-Man Collector Corps Box for scale in these photos–and because they make Giant-Man look large and impressive, but note that the Mini Ant-Man POP is definitely not included with this figure.)
The Wrong:
The fact that Disney gave merchandisers the go-ahead to produce Giant-Man toys and then pulled the rug out from under them at the end of 2015 by deciding Giant-Man was now supposed to be a secret–making companies sit on the produced stock and pretend it didn't exist–is downright imbecilic.
And ultimately, all of the attempted secrecy was for naught–Giant Man has has yet to appear in a Captain America Civil War movie trailer, and yet everybody knows about him now because of the toys coming from LEGO, Funko and Hasbro.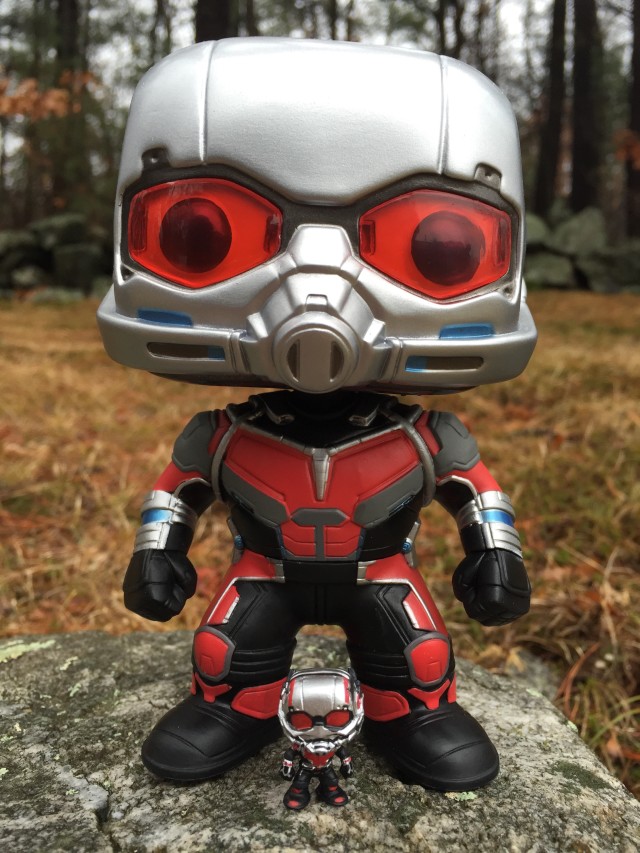 …Oh? What's wrong with this particular Funko POP Vinyl Giant-Man? Sorry, I got a bit carried away with my rant. Really, I don't have much in the way of complaints about this figure.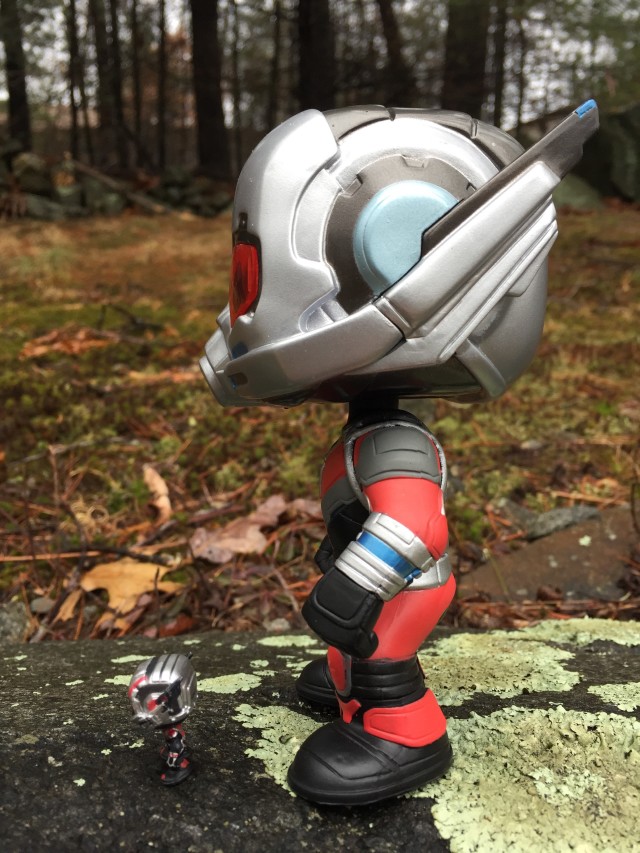 If I had any complaint about this Giantman POP figure it would be that he's a bit too small to be called "Giant", but "Sort-Of-Big-Man" just doesn't have the same ring to it–and more importantly, Funko doesn't have a Marvel license to produce POPs larger than 6″. I'd prefer it if they could have made this figure larger than they did, but that just wasn't an option, sadly.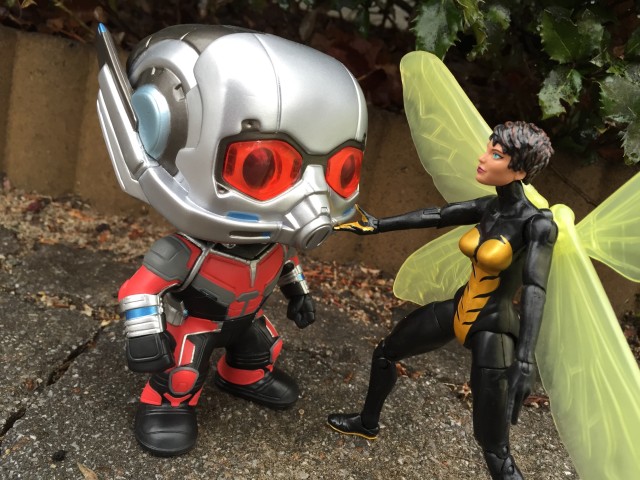 Overall: Having not seen Captain America: Civil War yet, it's really tough to render judgment on how authentic this Funko Civil War Giant-Man POP! Vinyl figure. What I can say is that this Giant-Man figure takes the regular-sized Ant-Man POP and gives it an updated design with improved paint deco and sculpting detail. The translucent red lenses on the mask look great, and it's super-fun having a super-sized Marvel POP Vinyl of a character who actually should be gigantic. Recommended.
GRADE: A