Last week, Mezco Toyz began "the great money siege of 2015″ when they put their very first Marvel ONE:12 Collective figure up for order: modern Captain America. While that was a figure that I couldn't resist, Cap just whet my appetite for the 1/12th scale action figure that impressed me more than any other 6" scale figure at New York Toy Fair 2016. And thankfully, I don't have to wait any longer to get in my reservation! Here comes the Man without Fear: the ONE:12 Collective Daredevil figure is now available for order!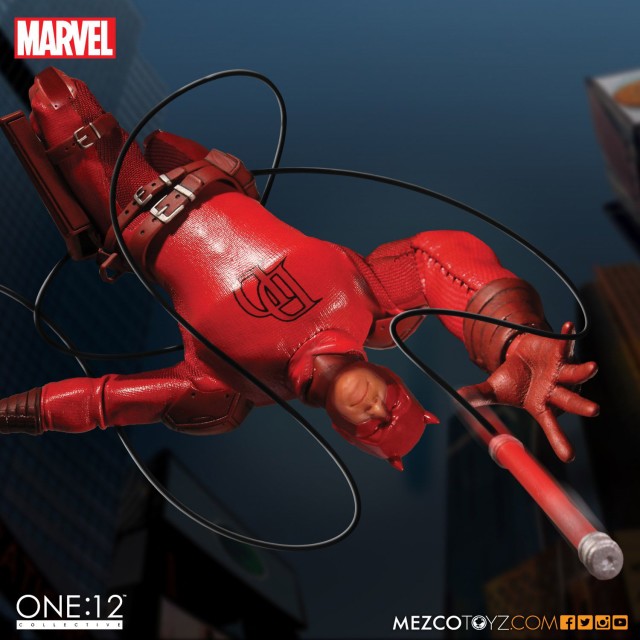 A week and a half from now, everyone is going to be talking (for better or worse) about the Batman v Superman: Dawn of Justice movie. But this week…?
This week
is the week of Daredevil, and everyone is going to be talking about Netflix Daredevil Season 2 in just two short days!
With the premiere of Daredevil Season 2 hitting Netflix on 3/18/2016, there was literally no better time for Mezco Toys to capitalize on the hype and drop the pre-orders for their 1/12 Daredevil 6″ figure, and they have done just that today!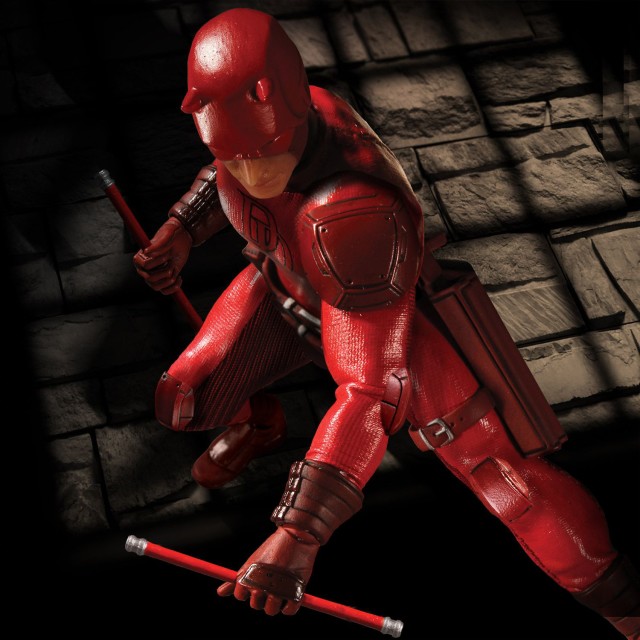 The leather-like fabric outfit on this Matt Murdock action figure is simply amazing, and is easily the best soft goods costume I've ever seen on a 1/12 scale figure in my entire life. The fabric costume, complemented by the sculpted shoulder pads and knee pads, looks mind-numbingly fantastic.
If the final product ends up looking even close to this prototype–and all indications from previously-released ONE 12 Collective figures say that it will–then this is my front-runner for Marvel 6″ figure of the year (and perhaps overall Marvel figure of the year, honestly).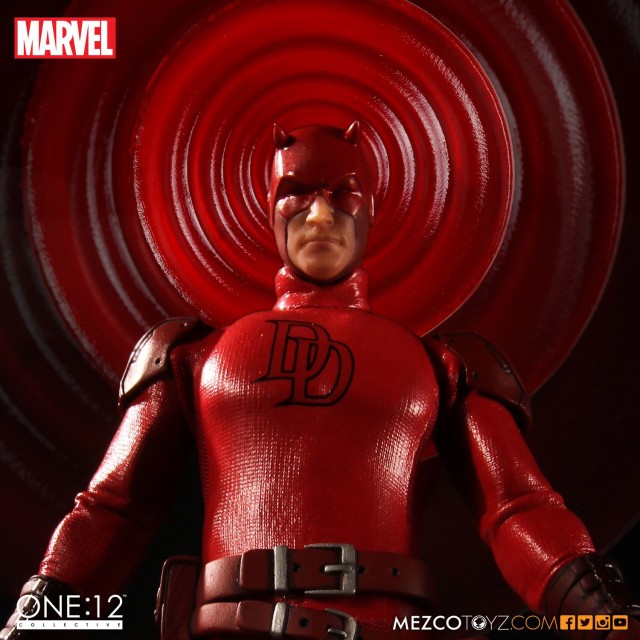 Not only is the Daredevil action figure itself phenomenal, but one of its accessories is something I've never considered coming with a figure in this scale before: a snap-on radar sense sonar effects piece! I think that DST may have done something similar to this in one of their Minimates series, but this on a 6″ scale Daredevil figure just blows my mind. Love it!!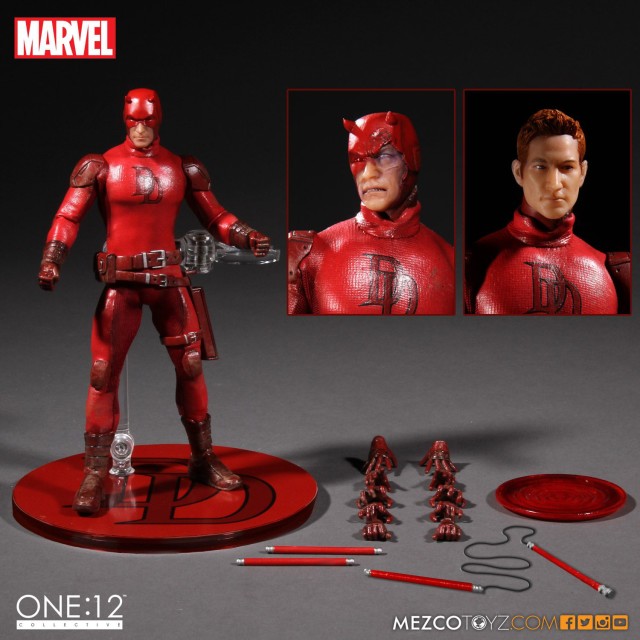 Of course, I would not be pleased if that radar sense effects piece was all we were getting with this Daredevil toy. Thankfully, it is not.
When you're paying 80 dollars for a 6.5″ action figure, you ought to be able to expect a metric crap-ton of outstanding accessories to be included. And even moreso than with their Captain America, Mezco Toyz comes through with the accessories for their Daredevil ONE:12 Collective figure!
Daredevil's accessories include:
Standard masked Daredevil portrait
Battle damaged Daredevil masked portrait
Alternate unmasked Matt Murdock portrait
Billy club holding hands version A (L&R)
Billy club holding hands version B (L&R)
Billy club holding hands version C (L&R)
Posing hands version A (L&R)
Posing hands version B (L&R)
Fists (L&R)
Set of separate Billy clubs
Billy clubs with poseable cable
Sonar posing post clip-on accessory
Display base with posing post
Now that is a lot of accessories for a six inch action figure! If there's anything else that I could have asked for as far as pack-ins go for a DD figure, I don't know what they are.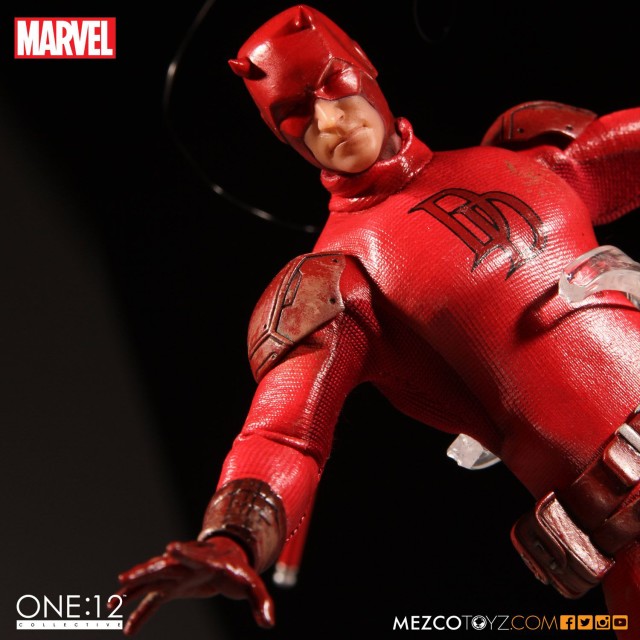 The Marvel ONE:12 Collective Daredevil figure is now available for pre-order, and is scheduled to be released in September/October 2016. I haven't found any retailers selling Daredevil for below his MSRP of $80 yet, so I opted to pre-order mine with the built-in free shipping from EE.
Sound off, 1/12th scale collectors! Is there room in your Marvel collection for these ONE:12 Collective figures, or are you sticking with the far more affordable line of Hasbro Marvel Legends figures in the same scale?