After a lengthy wait and excruciating build-up, the very first Mezco Marvel ONE:12 Collective figure was finally available at SDCC 2016 last month: Deluxe Classic Captain America! And now the floodgates can truly open, with a mass of both new characters and variants on the way from Mezco Toyz–including the Previews exclusive ONE:12 Collective Deluxe Punisher and First Appearance Daredevil versions that are now up for pre-order!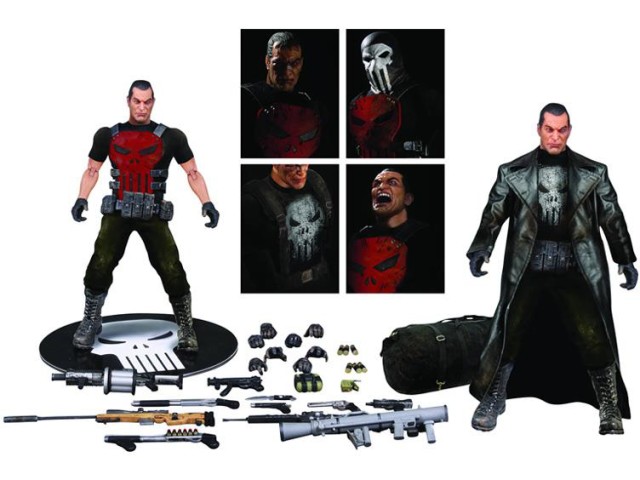 Ever since Mezco Toyz teased the various versions of The Punisher that would be available, I've been waiting patiently for the Thunderbolts Punisher ONE:12 Collective figure to go up for sale.
And while we got a great look at the figure during the SDCC 2016 Mezco reveals last month, one detail we didn't lead was exactly how the figure was going to be released–as a Preview Exclusive Deluxe Punisher figure with a price-point of $130!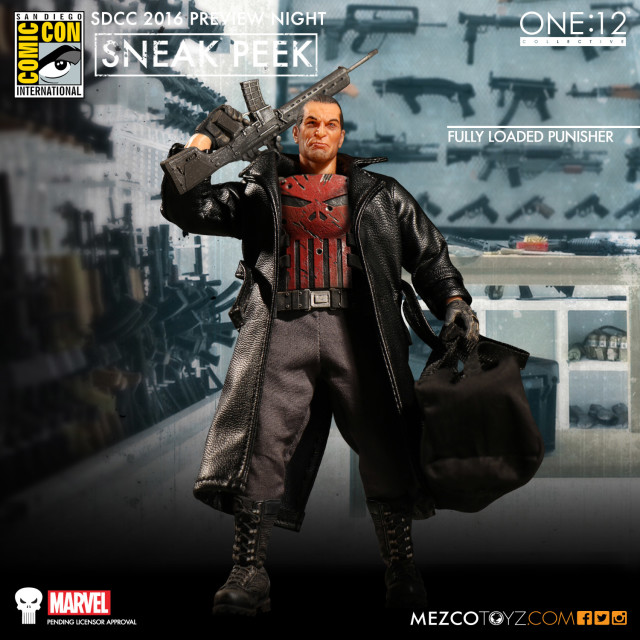 While I am totally infatuated with the red skull symbol on Punisher's costume and love the trench coat and huge arsenal, $130 is still a really rich price that's far more than I was expecting to drop on a 6″ Punisher. That's more than half the price of a Hot Toys figure for a six-inch action figure–I'm going to have to think long and hard about whether or not I want to pre-order this one.
In addition to the weapons that the regular version of Punisher comes with, Deluxe Punisher includes a cloth Duffel Bag, a huge Rocket Launcher, a Sniper Rifle with really nice paint deco, an alternate shirt, a removable trench coat, a mask, and more. It's really quite the package–I just wish that this Fully Loaded Punisher 6″ figure wasn't so dang expensive! I'm simply not convinced that a bunch of extra accessories are worth fifty more dollars.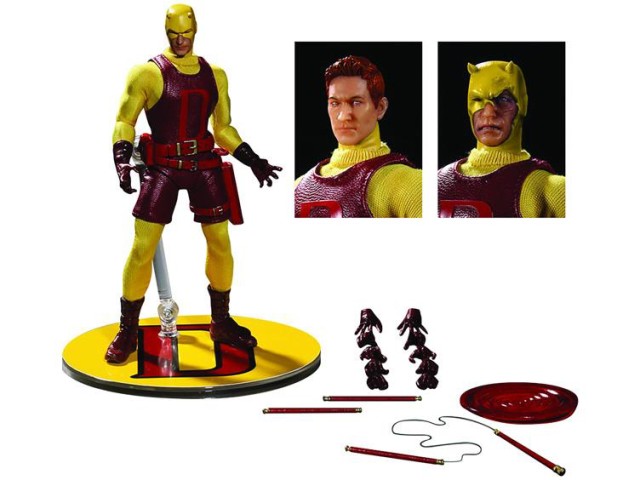 Meanwhile, the other Mezco Previews exclusive is First Appearance Daredevil! Though Matt Murdock only wore this yellow costume for a handful of issues decades ago, this unique look has stood the test of time and merch of it has sold consistently well over the years.
There aren't any accessories included here that don't come with the standard red version of Daredevil as well, although it looks like the interchangeable hands have been correctly repainted to match the Yellow Daredevil costume (obviously). Even if it's shared with the regular release, I still love that "radar sense" effects piece to death!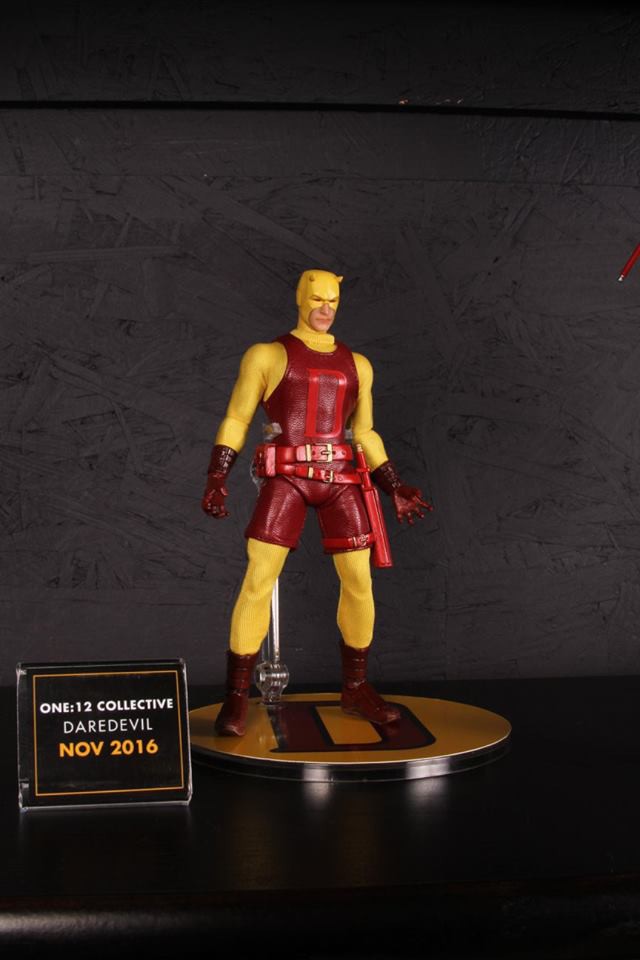 The Mezco Previews Exclusive ONE:12 Collective First Appearance Daredevil and Deluxe Punisher figures are now up for order, and are scheduled to be released in November 2016. That's also the exact same month Mezco announced way back at Toy Fair in February for First Appearance Daredevil, so it's nice to see things are coming along according to plan! The figures should be available from online and specialty stores that utilize Diamond Previews distribution.
What do you think of the latest Mezco 1:12 Collective Marvel variants? Do you feel the need for an $80 Yellow Daredevil six inch figure? And what are your feelings on the Deluxe Punisher figure–does the fully-loaded cache of accessories make this figure worth 130 bucks to you, or is this Punisher just too expensive in your eyes?