We are literally on the cusp of San Diego Comic-Con 2016 with just hours to go until Preview Night opens up, but there's still Marvel toy news pouring out in advance of the show! Earlier today, Mezco Toyz debuted their new 6″ Spider-Man, and now they're back with previews of the ONE:12 Collective Deadpool, Red Skull and Thunderbolts Punisher!
It looks like Mezco Toyz has adopted a strategy this year that I always think is a pretty good one: unveiling their new products hours
before
the actual start of a major event! Sure, there'll be plenty of time for press to ogle and photograph the actual figures once SDCC starts, but you can't beat getting major headliners before all your competitors, right?
And so, Mezco has now posted Sneak Peeks of three figures that we've previously only seen concept art of: the Classic Red Skull, "Fully Loaded" Punisher (AKA Thunderbolts Punisher) and Deadpool.
The ONE 12 Collective Deadpool is easily the most-anticipated figure in the entire Mezco Marvel Universe lineup, and he's looking pretty snazzy in our first images of him. The boots and gauntlets on this Deadpool look terrific, and the pizza box and pizza accessories look downright amazing. I think this 1:12 Deadpool from Mezco really might be able to challenge Hasbro's new Marvel Legends Deadpool for the title of best 6″ Wade Wilson on the market!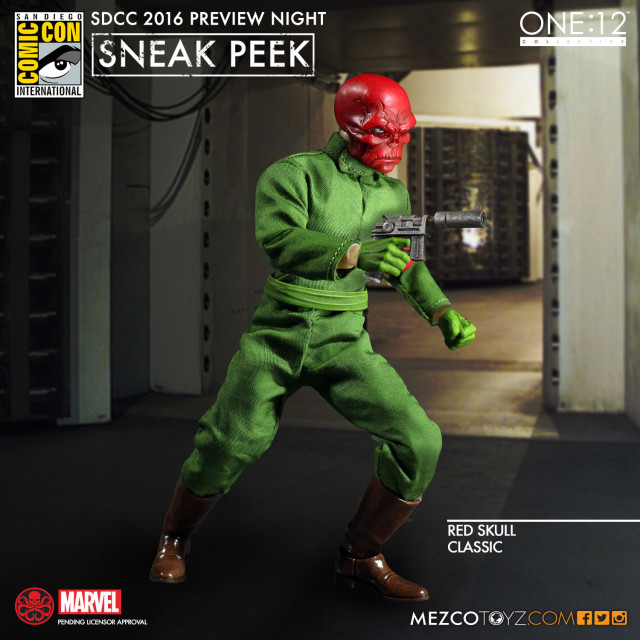 Classic Red Skull looks pretty ridiculous to me, but it's no fault of Mezco's–this green "gas station worker" jumpsuit is what Red Skull was actually sporting in the Marvel Comics golden age.
That said, note that this figure is specifically designated as "Red Skull Classic" and not just "Red Skull". Is it too much to hope for that Mezco would gift us with a really awesome modern Red Skull in a black trenchcoat as a variant…? I guess we'll know very soon!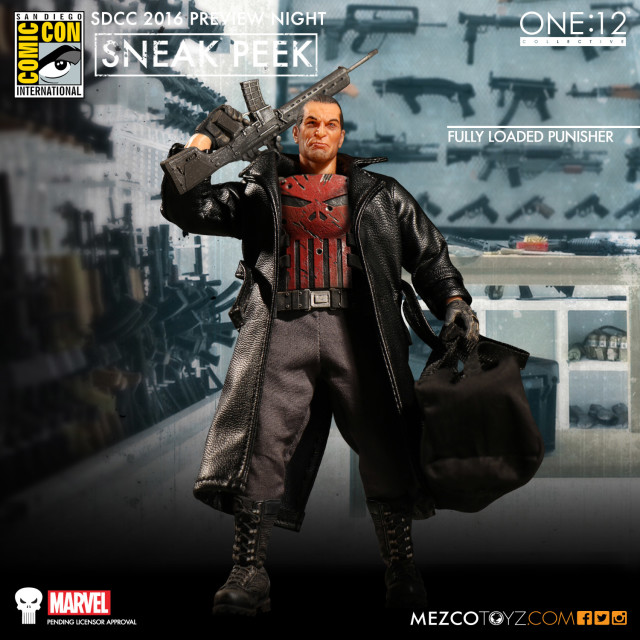 With a name like "Fully Loaded Punisher", I think we can safely assume that this Mezco Thunderbolts Punisher ONE:12 Collective figure is going to come packing quite an armory of weapons. We can see from the preview photo that this Punisher will have a duffle bag and trenchcoat that the other versions currently available lack, along with the blood red skull logo on Fully Loaded Punisher's chest.
We also saw the first official photo of the ONE 12 Collective Spider-Man figure this morning, which is looking really good except for some of the contrasts between the plastic and soft goods parts of the figure. I'm really anxious to see how he'll look in more natural lighting!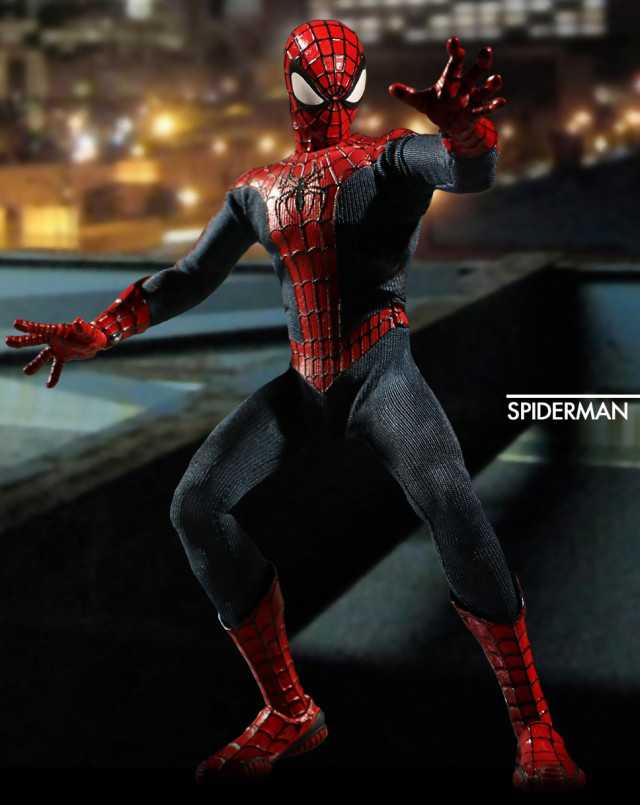 I'll be posting news and updates all weekend long from San Diego Comic-Con, so be sure to follow the Marvel Toy News Facebook and Twitter Page to have all of the latest news and photos beamed right to your choice of social media!
Now that we've gotten our first look at the next quartet of Marvel ONE:12 Collective figures coming our way, what do you think, Marvel collectors? Is there a spot for a mixed media classic Red Skull, Thunderbolts Punisher or Deadpool in your collection, or are you content with Hasbro for your 6″ figure needs?