It's finally here: San Diego Comic-Con 2016 has arrived! Now, I know what the majority of readers want to hear about is new Marvel Legends, but there's not much that's new on display on that front–and there won't be until the Hasbro Marvel Panel in a few days. But in the meantime, we're going to kick off coverage tonight in a big way–by looking at some of the biggest Marvel statues on the floor! The Sideshow Collectibles Rocket Raccoon & Groot and Deadpool Premium Format Figure statues have now been revealed!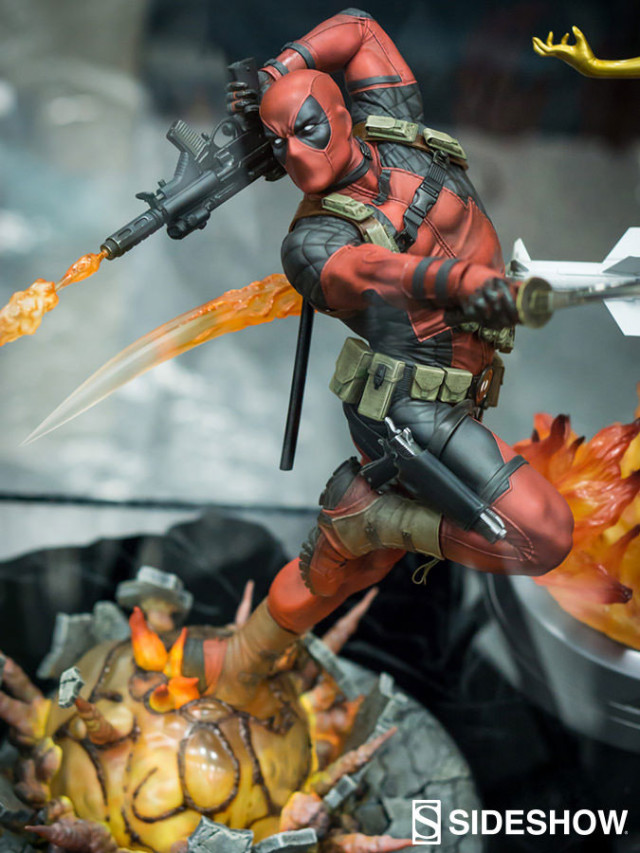 Although Sideshow was pretty relentless with putting three female Marvel Premium Format Figure statues up for sale one after the next earlier in the year (the magnificent Gamora, Captain Marvel and Dark Phoenix statues), it's been pretty quiet on the Sideshow Premium Format front ever since.
But it turns out that Sideshow was just waiting to knock our socks off at San Diego Comic-Con 2016, where they unveiled their new Premium Format Groot & Rocket Raccoon and action pose Deadpool statues, as well as showing the Angela Premium Format Figure at an event for the first time ever!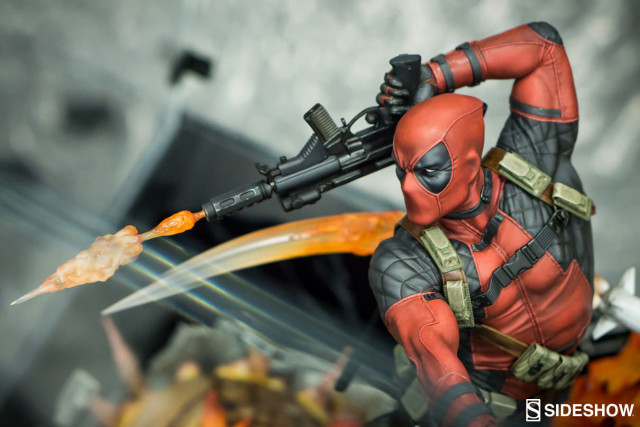 First up, we've got this new Premium Format Deadpool statue, which is in a really dynamic pose. I've heard some people complain already that they think this statue is too "busy" or awkwardly posed, but I think this Deadpool figure looks incredibly fun and energetic when you look at it from the right angle.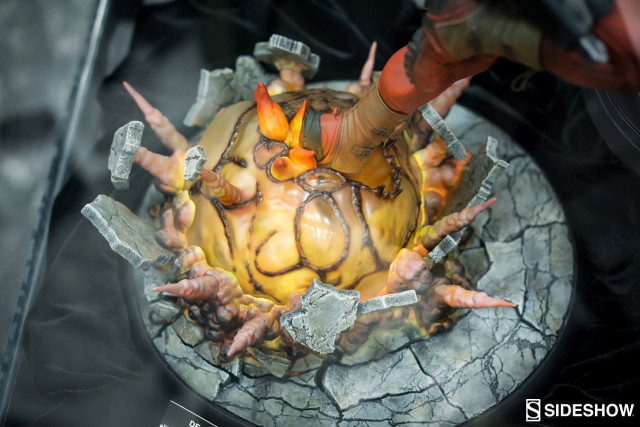 The "explosion" base for Deadpool genuinely does look a mite peculiar (it reminds me of the Mother Brain), but as a whole, I think this action posed Deadpool PF statue is really cool. I don't think Sideshow can ever top their Museum Deadpool statue from a few years back, so I think a crazy dynamic pose like this one was the correct way to go.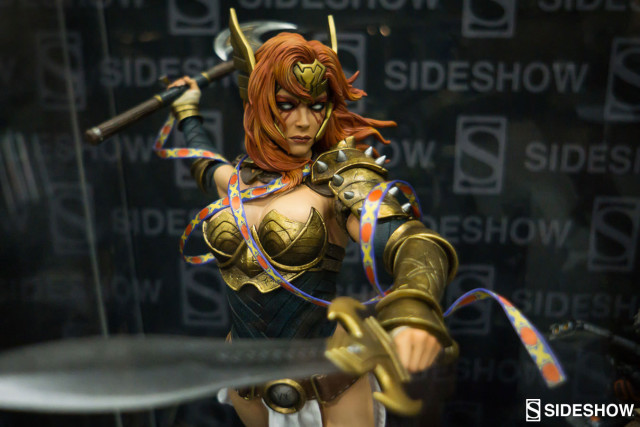 The Premium Format Angela statue made its first appearance at the show as well. Angela won last year's "Marvel Legends Fan's Choice Poll" from Hasbro, so she obviously still has plenty of fans out there, despite her solo comic books all being quickly cancelled. Whether or not those fans will be willing to shell out $500 for a statue of Angela remains to be seen, but I'm optimistic about these former "Spawn" female star.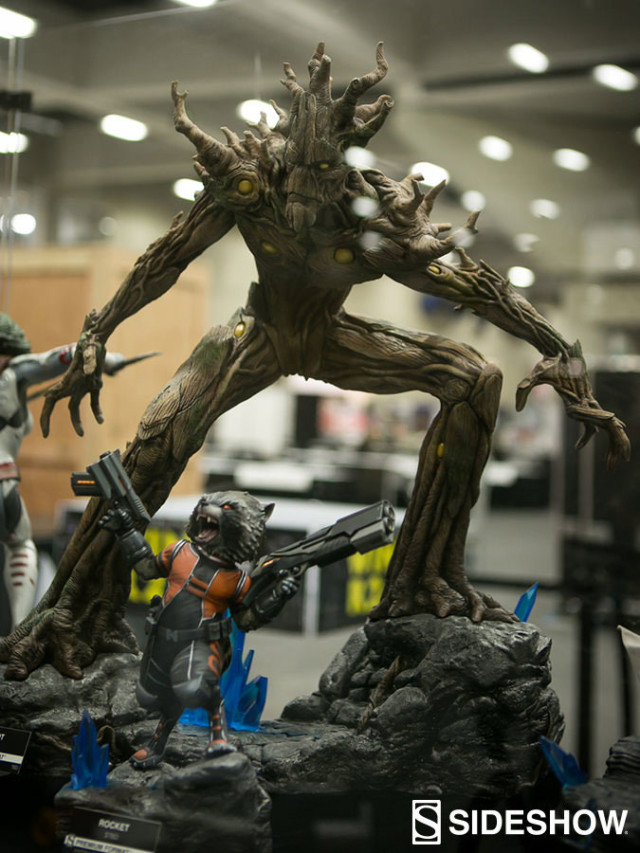 The other never-before-seen statue making its debut at SDCC 2016 tonight is the Premium Format Rocket Raccoon and Groot statue that Sideshow accidentally spoiled themselves by mentioning in some text descriptions a little while ago. This is a hybridized design for the Guardians of the Galaxy duo, which doesn't quite match the comics or the movie designs for the characters.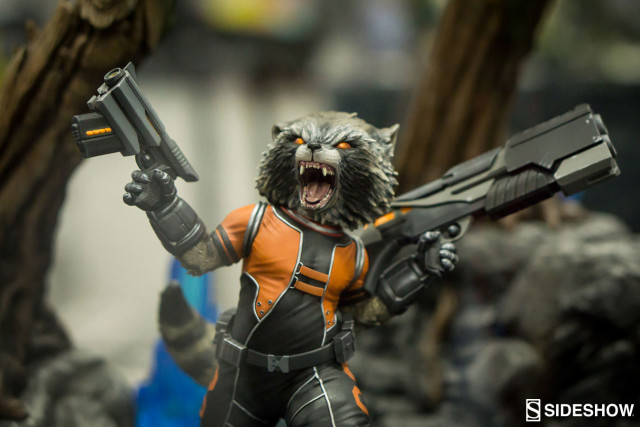 Rocket Raccoon looks positively
feral
in Premium Format Figure form, and honestly kind of scares me. I suppose Sideshow deserves kudos for making an anthropomorphic raccoon looks scary, but I usually prefer my Rocket Raccoon toys be more on the cute side. Alas.
Meanwhile, Groot has an incredibly detailed sculpt with a "wooden" texture that's to die for. This isn't the happy-go-lucky comical Groot we're looking at here, that's for sure–this Sideshow Groot Premium Format Figure means business!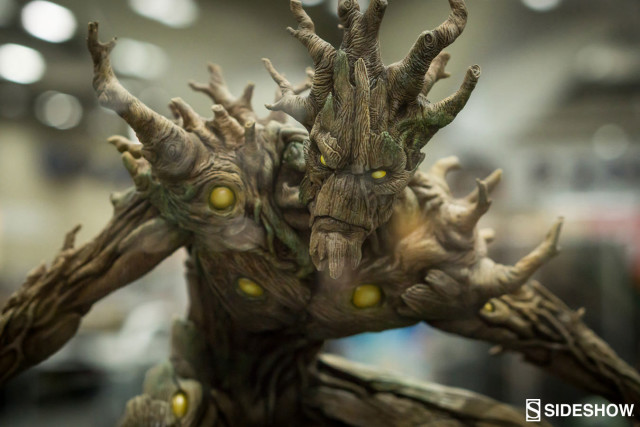 I'll be posting continuing news, photos and commentary all weekend long from San Diego Comic-Con 2016, and you can have Marvel Toy News sent right to your Newsfeeds by following the Marvel Toy News Twitter and Facebook Pages.
What do you think of the newest Marvel Premium Format Figures on the block, Marvel collectors? Is this new version of Deadpool a fitting sequel to the old version, or are you unimpressed with wacky action pose Deadpool? And are you happy about these dead-serious Rocket Raccoon & Groot statues, or were you hoping for something a bit, well… lighter?