February is now upon us, bringing with it the biggest toy news event of the year: New York Toy Fair 2017! But while we've still got two weeks to wait for the 2017 Toy Fair, Mezco's not waiting any longer to put their most-anticipated Marvel figure shown last year up for sale! The Mezco ONE:12 Collective Deadpool is now up for order–and surprise! There's also a Mezco website exclusive version that comes with an exclusive Headpool figure…!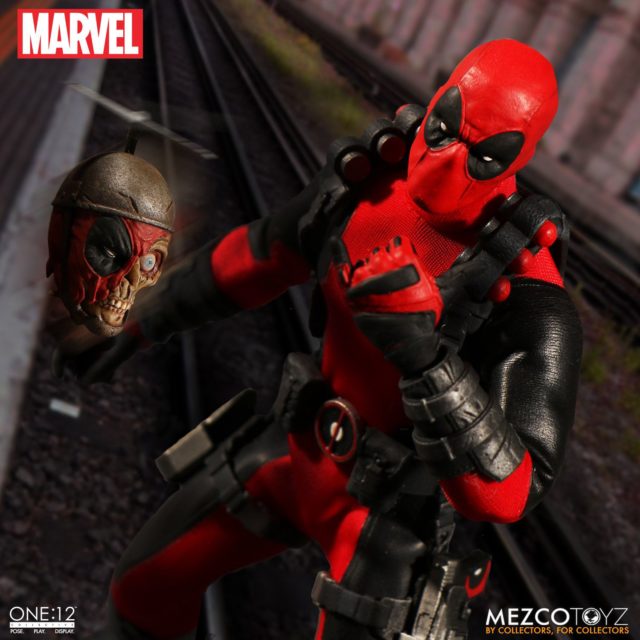 Well, perhaps tired of everyone buying their Marvel ONE:12 Collective figures from middlemen, it looks like Mezco Toyz has finally decided to take a page out of Sideshow Collecibles' playbook. Not only did Mezco recently launch their new Mezco Reward Points program, but now Deadpool is the first Marvel Mezco action figure that will feature an exclusive edition only available through the Mezco Toyz online store!
In fact, just like the Sideshow Collectibles Deadpool sixth scale figure, the exclusive ONE:12 Collective Deadpool will be coming with the world's most beloved disembodied zombie head–Headpool!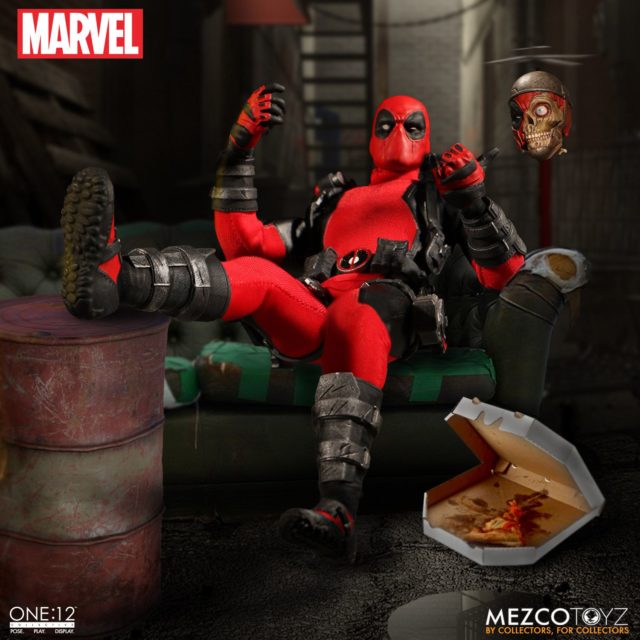 Headpool has become quite the popular pack-in for toy companies, as he's now appeared in the ONE:12 Collective, Sideshow Collectibles, Marvel Select and Marvel Universe toy lines. This is most likely because he's a unique character that requires zero articulation, which makes him reasonably inexpensive to tool but also desirable as an additional character.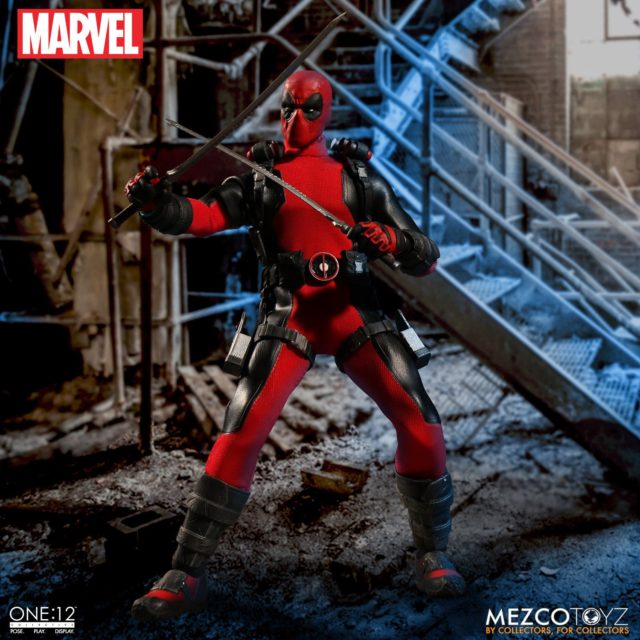 Note that obtaining Headpool will cost an additional $5 in this case, though, as Mezco is charging $85 (plus shipping) for the exclusive Deadpool, while the regular edition is being sold elsewhere for $80 flat. So if you don't care about Headpool or have enough Headpool figures already, this likely isn't the edition for you.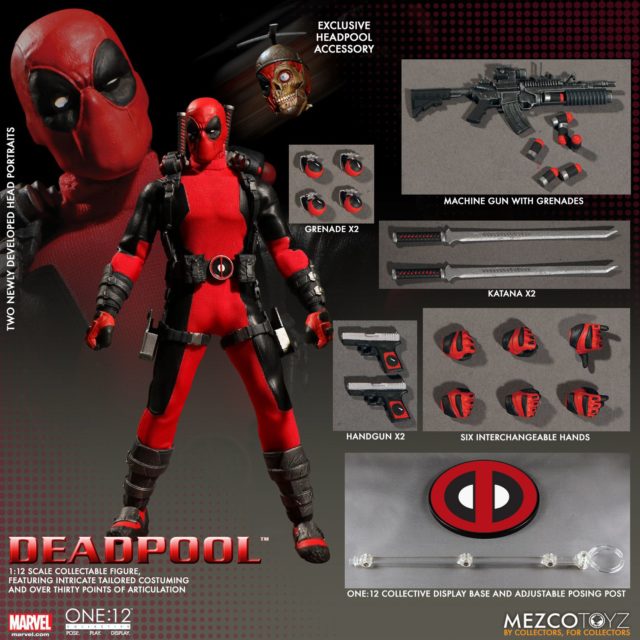 Luckily, the Mezco Wade Wilson comes with a pretty generous smorgasbord of accessories, with or without his flying zombie head alternate universe self! Deadpool's loadout includes:
Interchangeable Classic and Squinting Heads
Six Interchangeable Hands
Two Handguns
Two Katana Swords
Four Grenades
Machine Gun with Grenades
Deadpool Logo Display Base with Adjustable Posing Post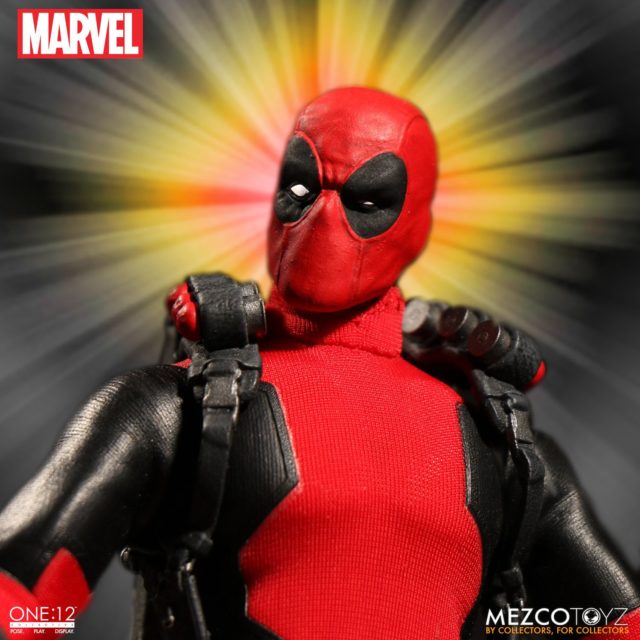 He's got a sheath on his back for the katanas, pouches on his harness for the grenades and thigh holsters for his pistols, so this Wade Wilson figure has plenty of storage solutions while he's out on a bonafide killing spree. The paint deco on these weapons is also outstanding for 1/12th scale accessories.
And while I know that not everyone is a fan of the ever-popular Deadpool squinting heads, I'm glad that a squinty-face head is included here in just the manner that it should be: optional. Thanks, Mezco!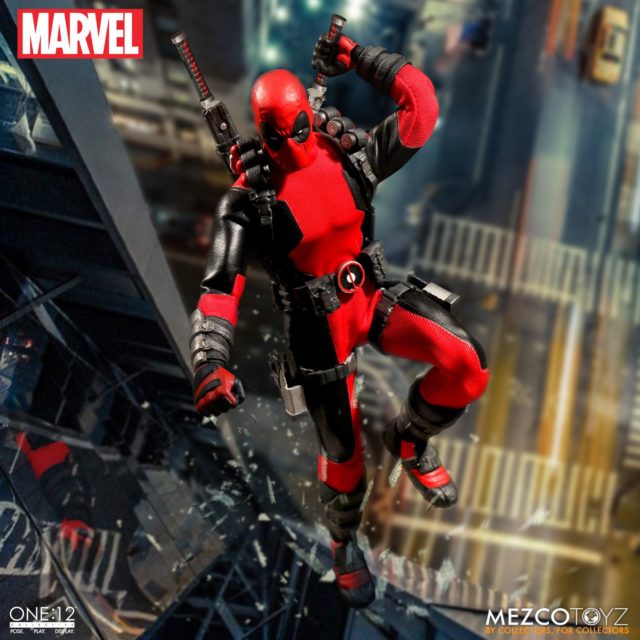 The ONE:12 Collective Deadpool Exclusive figure is now available for order on Mezco's website, and is estimated to ship out in August-October 2017. If you wanna save $5, BBTS and EE have Deadpool up for order now as well without Headpool. Those estimated dates have been way off for the previous Marvel figures from Mezco, but hopefully they'll arrive on-time in Deadpool's case.
Let's hear it, Marvel collectors: What are your thoughts on Mezco adding exclusive accessories to the versions of their figures sold on their own website? Will you be ordering your Marvel ONE:12 Collective figures from Mezco Toyz directly from now on, or is one extra accessory (Headpool, in this case) not enough to make you change your buying habits?