It's been a good month for the Phoenix! Not only is the Sideshow Dark Phoenix Premium Format Figure now arriving at collectors' doors (and looking gorgeous), but now Jean Grey has been revealed as the next release in DST's bargain-priced statue line: the Marvel Gallery Phoenix statue is now up for order! But prolific as ever, that's not the only Marvel statue Diamond Select Toys has lined up this month: a resin Classic Iron Man is deploying as well…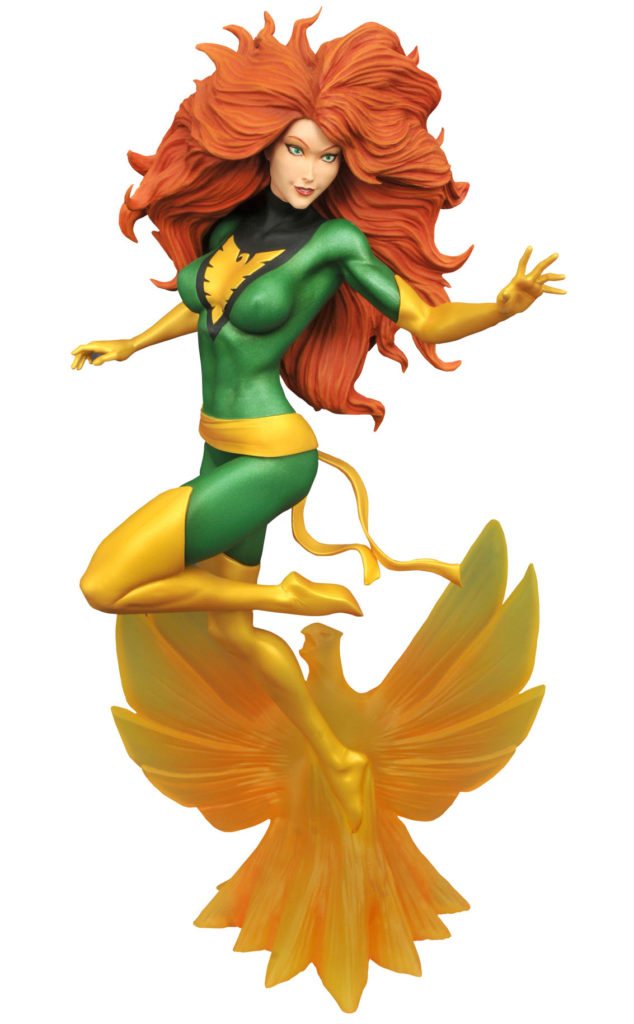 While I'm not nearly as big of a Jean Grey lover as a lot of X-Men fanboys are (I'm an 80's baby, so it's Psylocke and Jubilee all the way for me), I definitely still have an appreciation for Marvel's most iconic female mutant.
So while I couldn't bring myself to dish out the mega-bucks required to obtain the XM Studios Phoenix statue (one of the mightiest Marvel masterpieces ever, IMO), I'm definitely down for the Diamond Select Toys' Phoenix Marvel Gallery statue (sculpted by Alejandro Pereira) that costs less than 5% of what the XM Phoenix goes for these days and less than 10% of the price of the new Sideshow Dark Phoenix!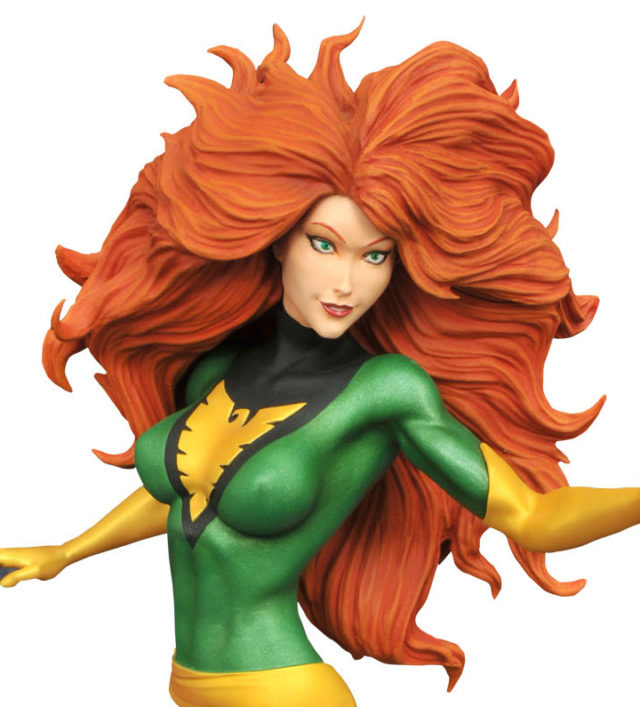 Approximately 10″ tall, the Marvel Gallery Phoenix figure is poses floating over a fiery Phoenix emblem. The pose for this is fine, but the real star of this statue is the paint deco–it looks spectacular for a $40 statue.
I'm not as impressed with Jean's wild hair or jovial facial expression, but as a whole this piece looks terrific and well worth my 40 bucks.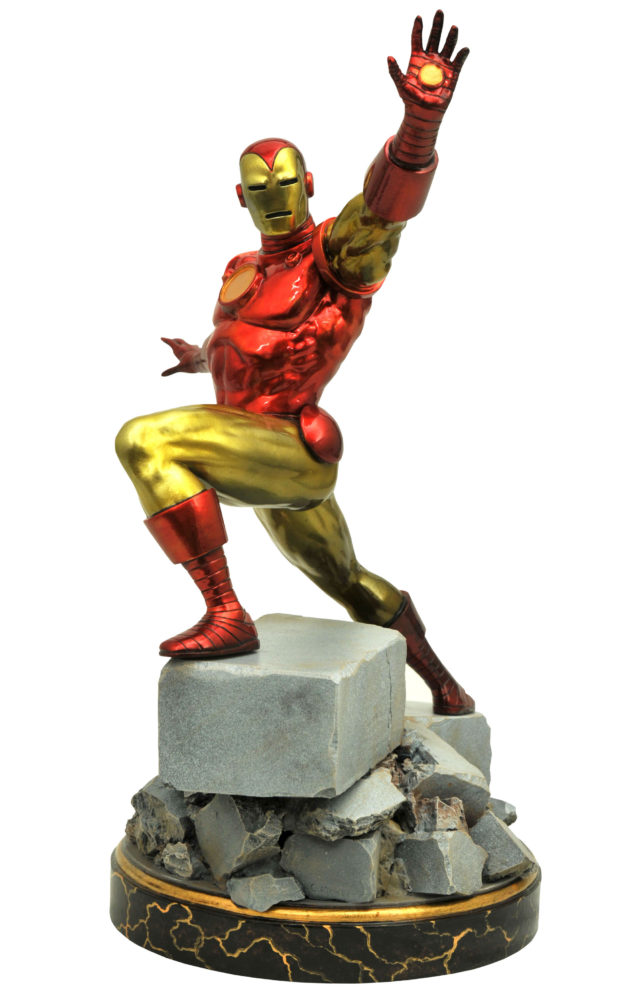 Joining Phoenix in this month's solicitations is Diamond Select's second Classic Iron Man statue in two months–the Marvel Premier Collection Classic Iron Man statue! While I thought last month's Marvel Gallery Iron Man PVC statue looked quite nice for the price, DST is going bigger and more high-end with the Marvel Premier Iron Man resin statue.
Unlike the Marvel Gallery PVC figures, the Marvel Premier Collection statues are a limited edition (of 3,000, in this case), cast in resin, and a little more than triple the MSRP of the Gallery statues at $149.99.
Again, the real winning feature of this nearly 14″ Iron Man statue is the paint. Those metallic, shiny red and gold paints look downright beautiful, making this Clayburn Moore Iron Man statue look more "metal" than virtually any one that I own.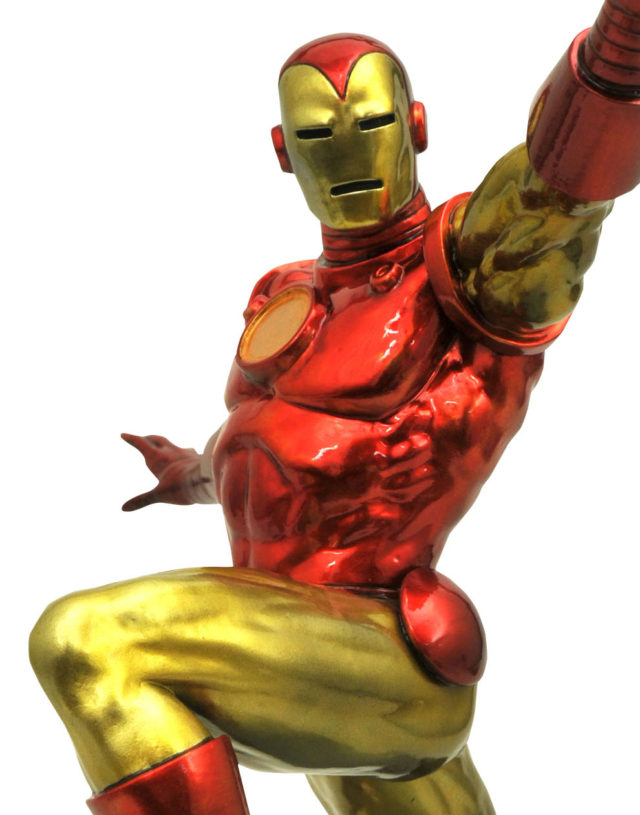 Where this statue misses the mark for me, though, is the weird way that Tony Stark is looking in one direction and has his palm positioned to repulsor blast in a totally different direction. This makes the pose look really awkward to me, which is a shame since the paint and sculpting detail on this piece is otherwise exceptional. I'll be sticking to the cheaper Marvel Gallery version myself, though.
Both the Marvel Premier Collection Iron Man statue and the Marvel Gallery Phoenix statue are now up for order with an estimated arrival in July 2017. DST has been dead-on thus far pinpointing release dates for these statues, so I'd be surprised if these don't arrive on-time. BBTS is offering a 10% discount on pre-orders for both statues, bringing Iron Man down to a very fair $134.99!
What do you think of the next additions to the Marvel Premier Collection and Gallery series, collectors? Has anyone (besides me) purchased any of the previous statues in these collections, and how are you feeling about these very affordably priced lines?