When XM Studios released their amazing Phoenix quarter-scale statue last year, collectors took note–and many paid $1,500 and up to own one of the beautiful statues. Sideshow Collectibles apparently took note as well, and have now lined up a different–but equally impressive–Phoenix of a different color: the Sideshow Exclusive Phoenix Premium Format Statue is now up for order!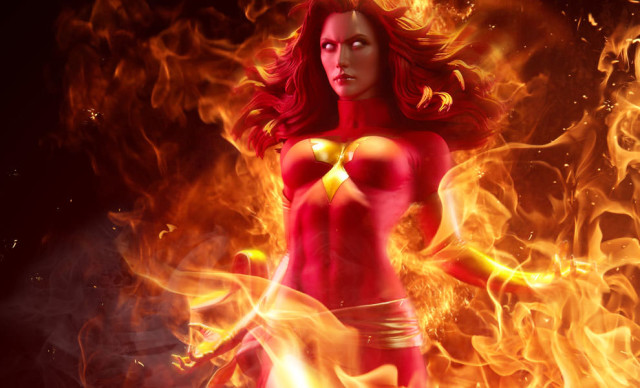 I'm not gonna lie: I wanted that XM Studios Phoenix statue
bad
, but the $1000+ it was going to cost me simply was not in my budget (go figure), so I had to let my dreams of owning that Jean Grey go. But Sideshow Colletibles has got a new Jean Grey of their own lined up now–and this one is of the omnipotent and malevolent variety!
"The Dark Phoenix Saga" is still considered not only one of the best X-Men stories ever, but one of the best comic book storylines ever overall. And so, if there's one female X-Men villain worthy of dropping a couple hundred dollars on a Premium Format Statue of, this is her.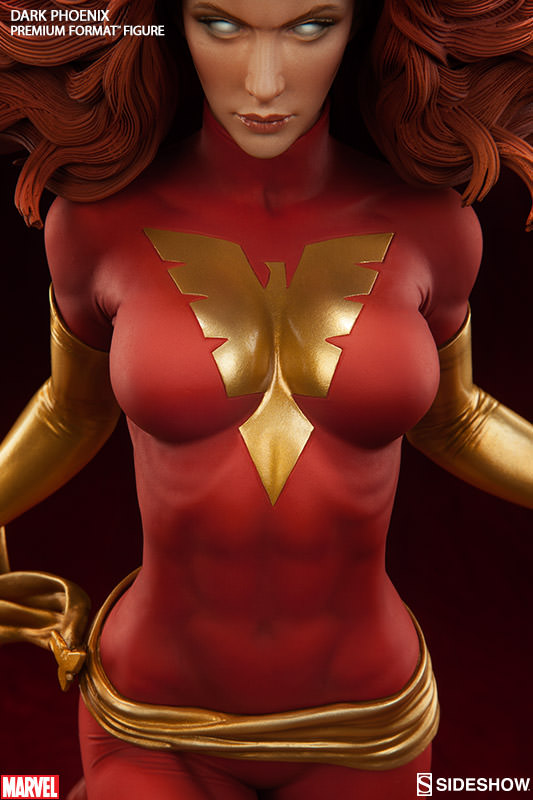 It's really hard for me to choose a favorite between the red and green Phoenix costumes, as both costumes are magnificent. That said, the red and shiny gold paint on this 1/4 Dark Phoenix PF look excellent together, and I think this statue is roughly on par with the far, far more expensive XM Phoenix statue in her green costume. Since I can't afford that green version anyway, I'm delighted to be able to purchase this statue at a price that isn't extortion.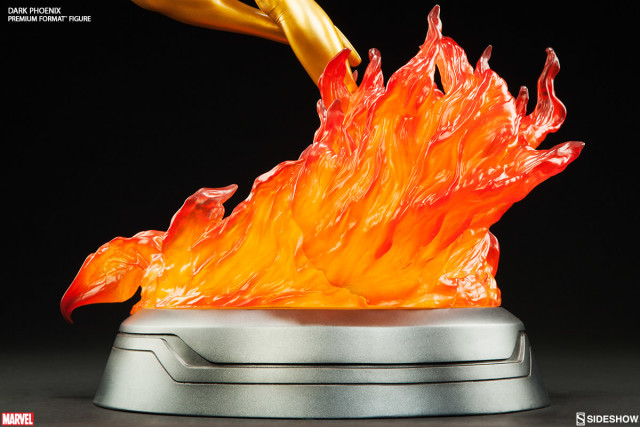 The only bit of this statue where I think some people will inevitably prefer XM Studio's Phoenix is the representation of the Phoenix Force Entity itself. I'm actually okay with this Jean having a more subtle fire base than the enormous firebird that the XM one had, but I know some people really, really loved the gigantic Phoenix Force Entity on XM's.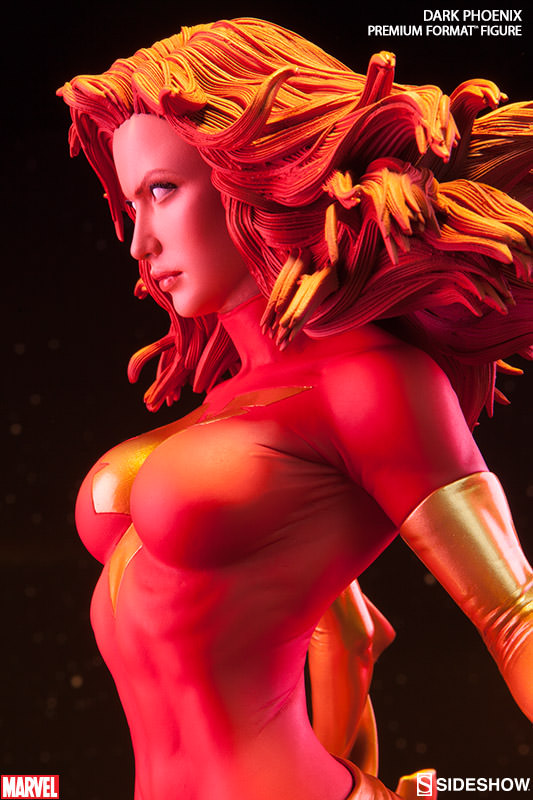 I adore the wavy, wind-swept hair on this Dark Phoenix statue. It gives a real feeling of motion and power to the piece, and seeing Dark Jean Grey rising out of the flames is downright terrifying.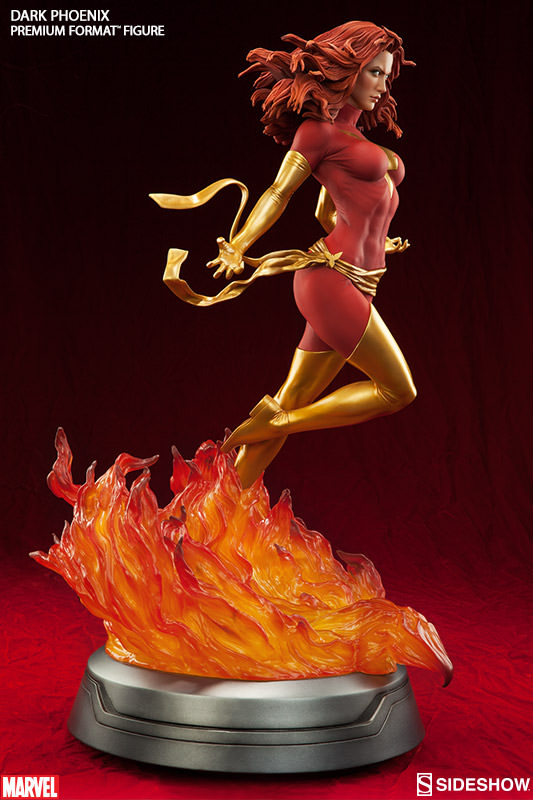 Honestly, the only thing I can think of that I dislike about this piece is that I can't afford the XM Studios Phoenix in green costume to bookend with with this one. This is just gorgeous–some of Sideshow's best Marvel work in the past couple years.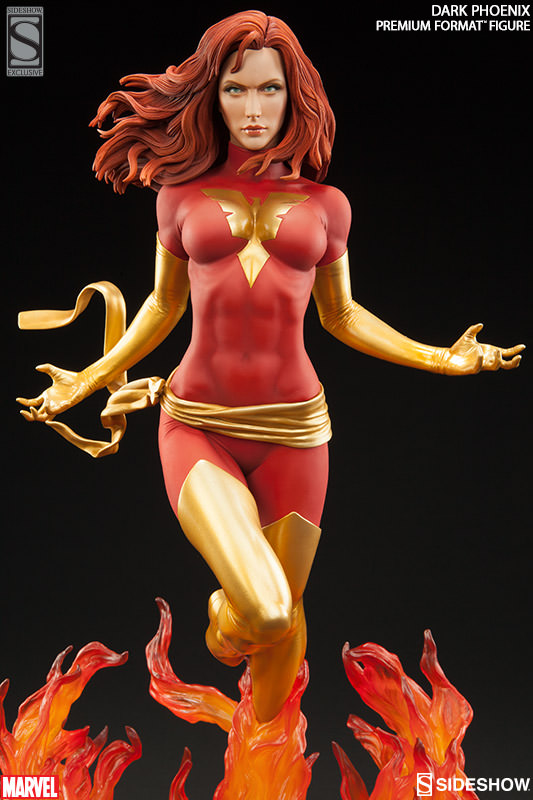 Like most hotly-anticipated Sideshow Marvel statues, there's going to be a Sideshow Exclusive Premium Format Phoenix statue. Occasionally the exclusive accessory is something lame or trivial, but usually it's something pretty good.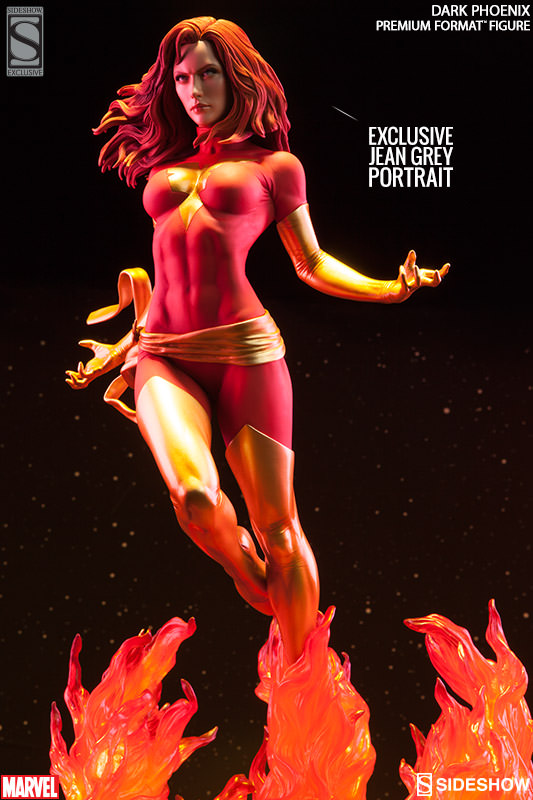 Thankfully, this time the bonus item is in fact a great one: it's an alternate Jean Grey portrait–with pupils! My only disappointment with the last Premium Format Jean Grey was the lack of pupils in her eyes, so I'm overjoyed to see that detail present on this exclusive head. This is what's making this a day one pre-order for me.
Okay, let's talk the scary part: the price. Sideshow has set the MSRP on both versions of this statue at $499.99. A couple years ago, that price would have put me into heart failure. But compared to the double or triple the XM Phoenix would have cost me…? Yeah–that price really doesn't seem all
that
bad anymore.
Spaced out over the course of the next year, I'll hardly even notice the $60-ish payments coming out of my bank account every month (at least, that's the plan). This is an expensive piece, no doubt about it–but I've seen over the course of the last year that quarter-scale statue prices can be far, far worse.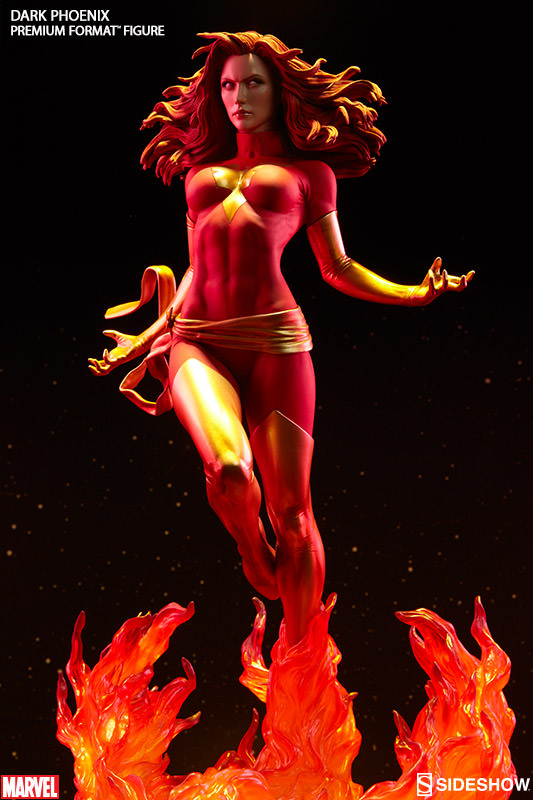 The Sideshow Exclusive Premium Format Dark Phoenix statue goes up for order this afternoon, and will be available exclusively through the Sideshow Collectibles website. A regular edition without the extra head will also be available from other retailers, but when the exclusive accessory is an extra head at no extra cost, I think we all know that that's the version that we want.
How do you think Sideshow's new Dark Phoenix PF Statue compares to the XM Studios Phoenix, Marvel collectors? Are you considering dropping half a grand on this grandiose piece, or have you been priced out of the market on this beauty?