While Hasbro has been spoiling us Marvel Legends collectors with new action figures released basically every month so far this year, LEGO collectors have it a bit rougher, with only two full waves of LEGO Marvel sets being released per year. The Spring/Winter sets were mostly focused on Captain America Civil War, but the LEGO Marvel Summer 2016 sets came available for sale online and in stores this month and include a variety of Spider-Man sets, as well as exclusive Civil War and Doctor Strange movie sets!
Ordinarily The LEGO Group (TLG) only releases new Marvel Super Heroes sets twice per year, but they've staggered things out a bit this year so as to help fill the void and ease the pain between new releases.
We got two LEGO Avengers Assemble sets in the winter, Civil War sets and Mighty Micros in the spring–and for the summer, Ultimate Spider-Man and more movie sets are now hitting both in stores and online!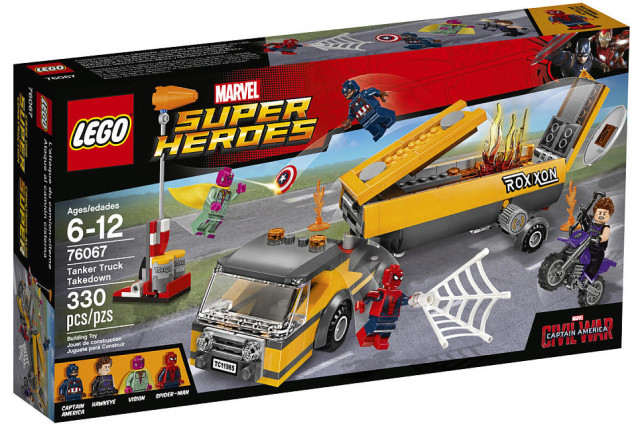 The hottest sets of this wave–by far–seem to be the two store-exclusive movie-related sets. First off, we've got the final LEGO Civil War set–the Tanker Truck showdown–headlined by the first MCU Spider-Man minifigure!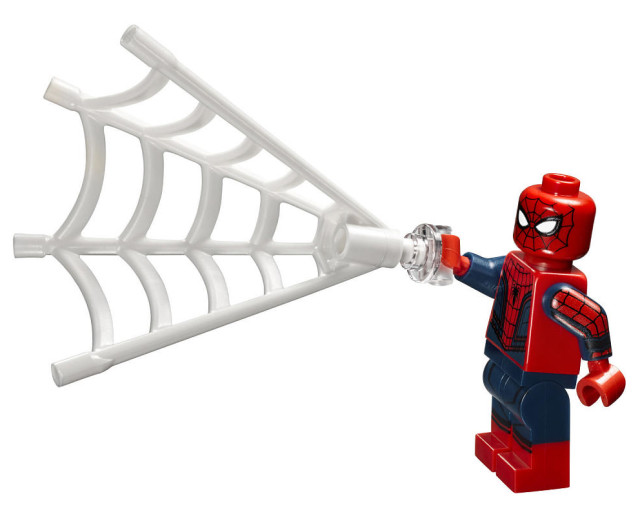 While this isn't the most spectacular set in the world, it does feature an outstanding character selection, with rare Hawkeye and Vision minifigure included in addition to Spider-Man. There's also another superfluous Captain America minifig, but that can't be helped due to the licensing agreement on Civil War Spider-Man toys.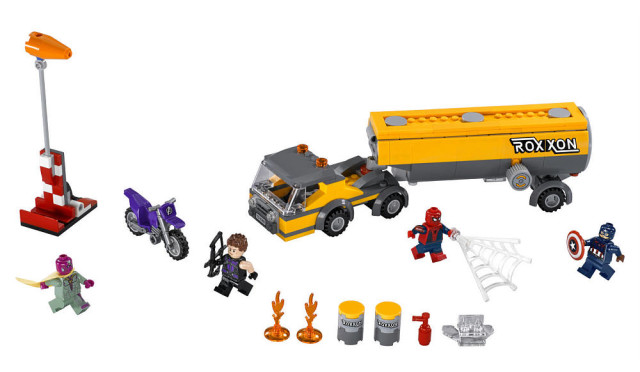 Spidey made this set a must-buy for me, and I think the yellow Tanker Truck will make a nice complement to the Superhero Airport Battle set released in the winter.
The Tanker Truck Showdown retails for $29.99 and is a Toys R Us exclusive. I couldn't find the set locally despite an extensive search, so I decided to order it direct from the online LEGO Shop. I'll post in-hand photos once I receive mine.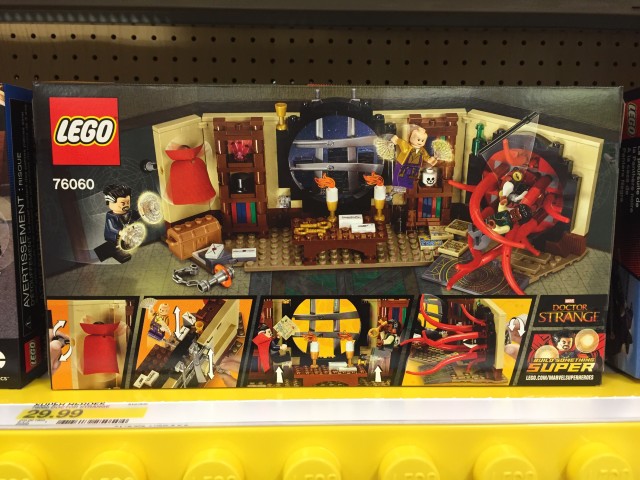 The other movie-based set just released comes from a movie that's still three months away–Doctor Strange!
I feel like it's really bizarre that TLG is launching their sole LEGO Doctor Strange set as early as they are, and it's especially weird that the $29.99 set is a Target  exclusive (that's also available from the online LEGO Shop).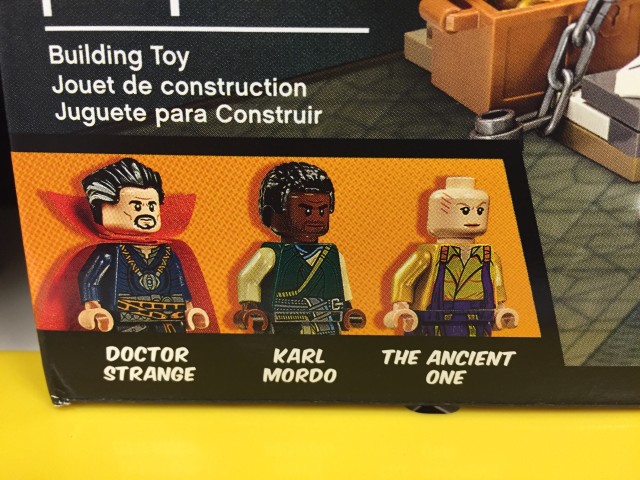 The 76060 Doctor Strange's Sanctum Sanctorum LEGO set includes three figures, and none of them villains: Doctor Strange himself, Karl Mordo and The Ancient One.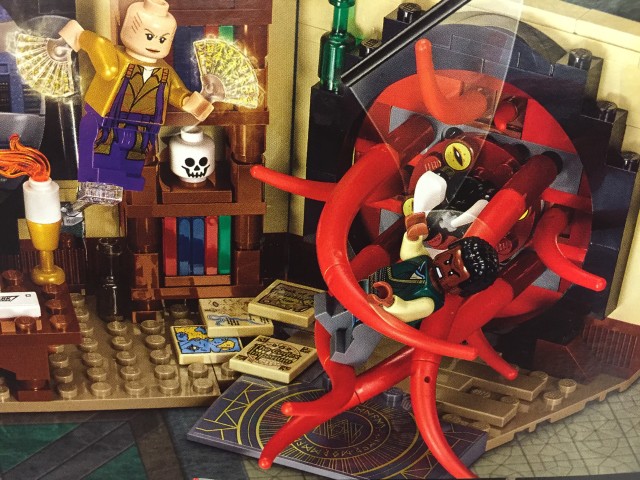 I'm guessing reference imagery of Kaecilius and his Zealots weren't ready in time for TLG when they designed this set, so the Doc and friends are battling a random tentacle demon instead.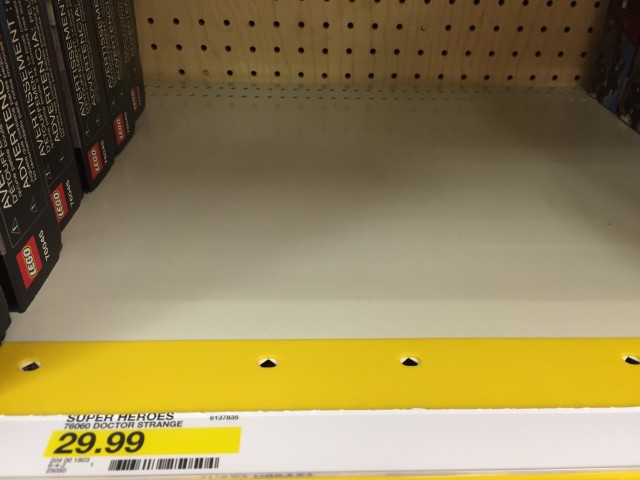 This set has been extremely popular thus far, and a couple of my local stores have already sold through their first shipment of it.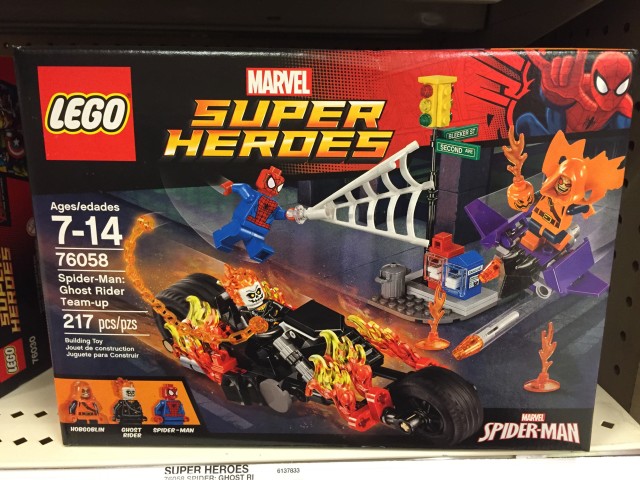 Now on to the three Ultimate Spider-Man LEGO Summer sets, all of which are available at mass retail!
The Ghost-Rider Team-Up set is the lowest priced set in this entire wave at $19.99, and is almost certain to be a huge seller. Ghost Rider is a perennially popular character with kids and collectors, and with the hype surrounding a Ghost Rider (though not this version) coming to Agents of SHIELD, I think this set is going to fly off shelves.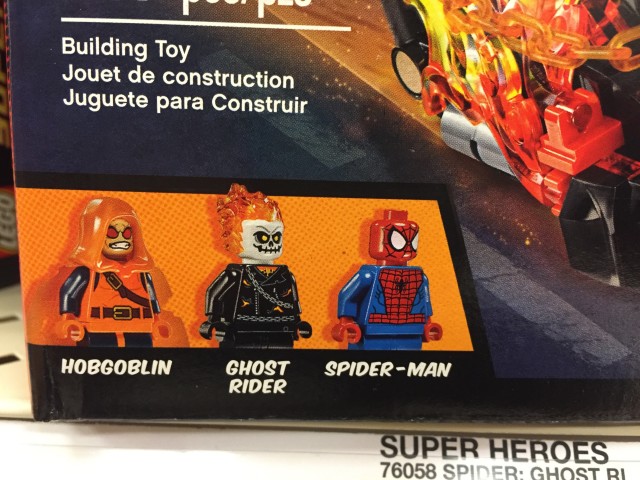 In addition to the LEGO Ghost Rider minifigure and his intimidating motorcycle, a Spider-Man and the first-ever LEGO Hobgoblin minifigure (with glider!) are also included. Terrific little set–well worth the 20 bucks.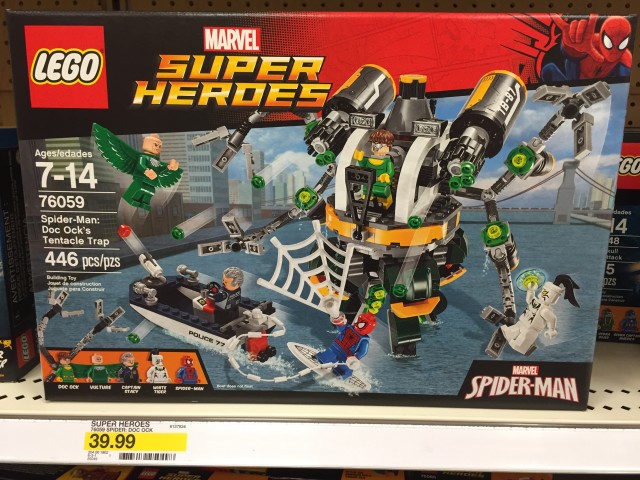 Less exciting is the 76059 Doc Ock Tentacle Trap set, which isn't a bad set, but certainly is the weakest of the summer 2016 wave. Basically, it's Doctor Octopus piloting a giant mech against Spidey. Yay?
The set retails for $39.99 and includes the first-ever LEGO White Tiger, Vulture and Captain Stacy minifigures. With the release of White Tiger, TLG has now covered all of Spidey's main teammates from the Ultimate Spider-Man cartoon. Way to go!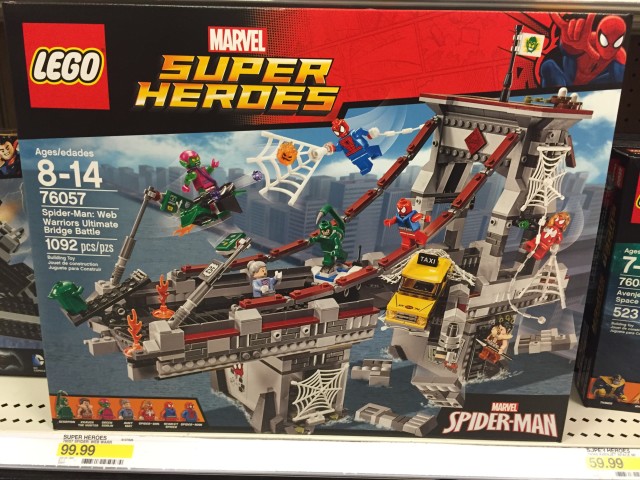 Finally, we've got what I have no reservations about calling the best 2016 LEGO Marvel set–the Ultimate Spider-Man Web Warriors Bridge Battle 76057!
I've never bought multiples of a LEGO set before for the purpose of expanding a brick-built environment, but I'm buying two of this $99.99 LEGO Bridge Battle set so that I can complete both halves of the bridge.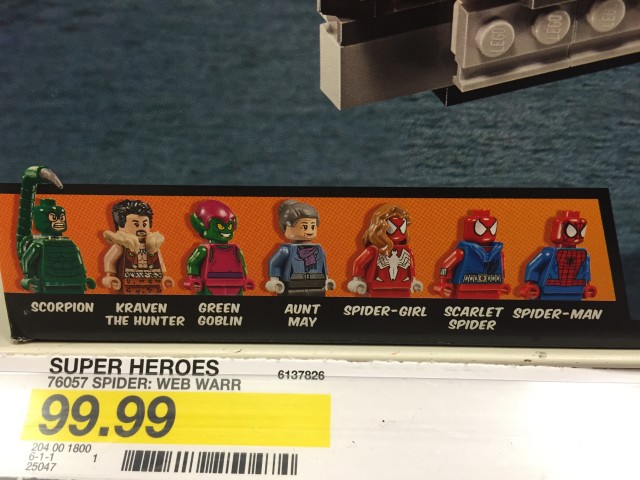 With a ton of amazing details and features and an awesome variety of minifigures included, this is easily one of the best-designed Marvel LEGO sets ever (if not
the
single best).
The minifigure selection includes first-time figures of Scarlet Spider, Scorpion, Kraven and "Spider-Girl" (Ultimate Spider-Woman in the comics), as well as rare figures of Aunt May and Green Goblin. And of course, there's a generic Spider-Man minifig (with cool new web effects piece).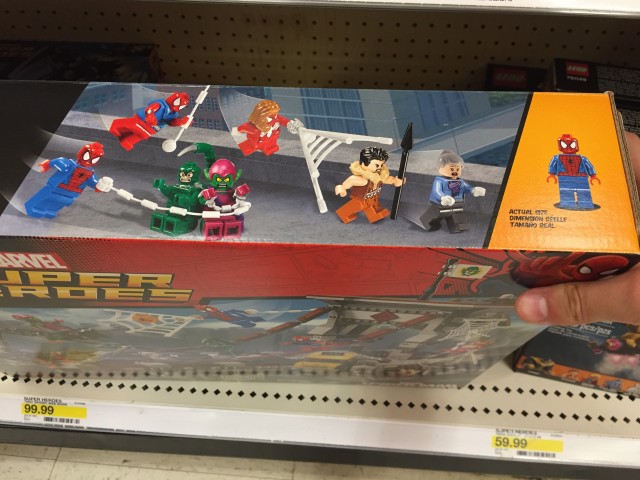 The three mass-release LEGO Marvel Summer 2016 sets are available online now with free shipping, while the Doctor Strange set is exclusively at Target and the Tanker Truck Showdown set is exclusively at Toys R Us. I've been told that the LEGO Stores may not be carrying these store-exclusives at their brick-and-mortar locations, so be aware of that while on the hunt.
What do you think of the summer batch of LEGO Marvel Superheroes sets, brick fans? Is there anything in this wave that's a must-have for you (or perhaps that you've bought already), or has TLG failed to capture your dollars with their latest  Marvel merch?