Among the best news of the year for Marvel collectors was that Mezco Toyz had obtained the Marvel license to make mixed-media Marvel six inch figures! Mezco debuted nine figures in their pre-Toy Fair buildup, and eight of those figures have been up for order for a while. So it comes as no surprise that they were saving the final figure in the initial lineup as a NYCC 2016 Exclusive–ONE:12 Collective Black Daredevil!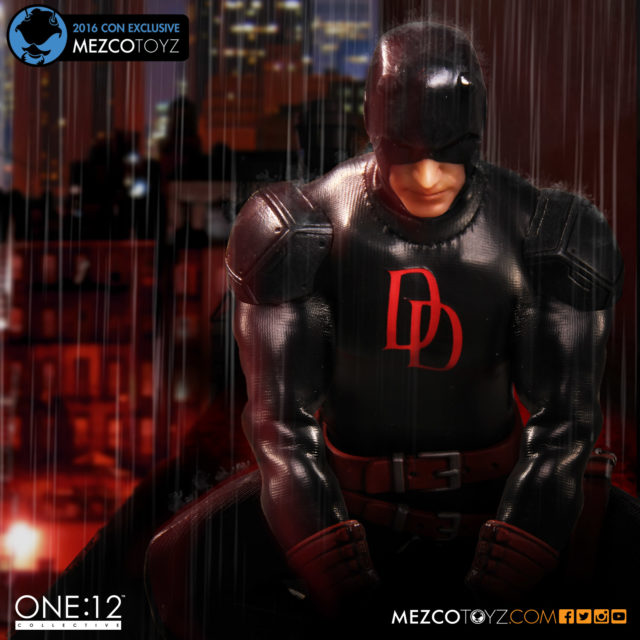 With the Mezco red Daredevil 6″ figure having gone up for order to mass retailers months ago and
the exclusive First Appearance Daredevil yellow figure going up for sale last month
, I think most collectors guessed that the final member of the Daredevil trio would be getting announced as a New York Comic Con 2016 exclusive soon enough.
Those collectors (including me) were correct–Mezco Toyz has now posted the teaser image officially revealing their 2016 NYCC Daredevil figure in black costume! And hey–while it feels like we've been waiting eternity for this toy, he'll actually be arriving earlier than Mezco originally said, as the placard at Toy Fair 2016 stated a November 2016 launch.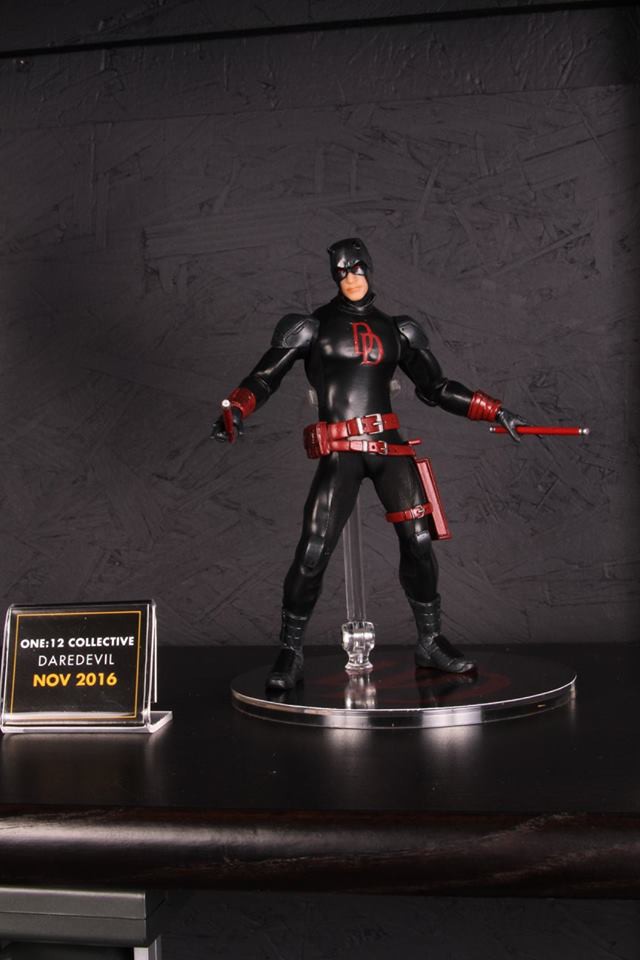 We haven't seen anything at any of the shows or events that this ONE:12 Collective Daredevil figure has appeared at to indicate that there will be any "new" accessories included with this figure beyond the black costume itself, but that doesn't mean that there won't be anything new either. We'll have to wait until the full announcement by Mezco later this week to know for sure. I wouldn't bet on any new extras, though, personally.
I'm ashamed to say that I'm not sure exactly what the inspiration for this black costume Daredevil variant  is. This costume is neither Netflix Daredevil costume nor the 90's Armored Daredevil costume.
It's also not the current All-New All-Different Daredevil costume, which features red boots and red wrappings on his Matt's forearms and fists. Help me out, readers?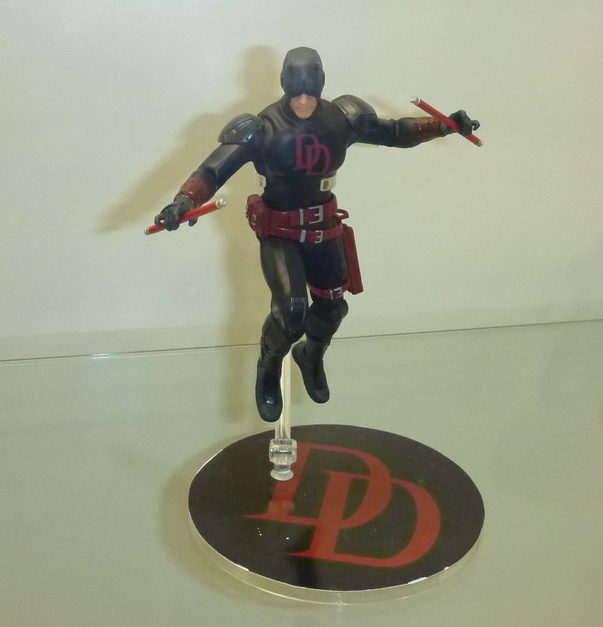 I know that many fans' blood runs cold as soon as they hear the words "convention exclusive". Luckily, those collectors who want this exclusive action figure and won't be in attendance in Manhattan next month will still have an opportunity to snag it.
The Black Daredevil Mezco ONE:12 Collective figure will be available for online orders on September 7th on the Mezco Toyz Store, and will also be available for purchase at the Mezco booth at New York Comic Con  2016 next month. Unless this figure comes in the same sort of crazy deluxe packaging as the SDCC Captain America did, I'd expect him to retail for the "normal" $80-$90 for this line.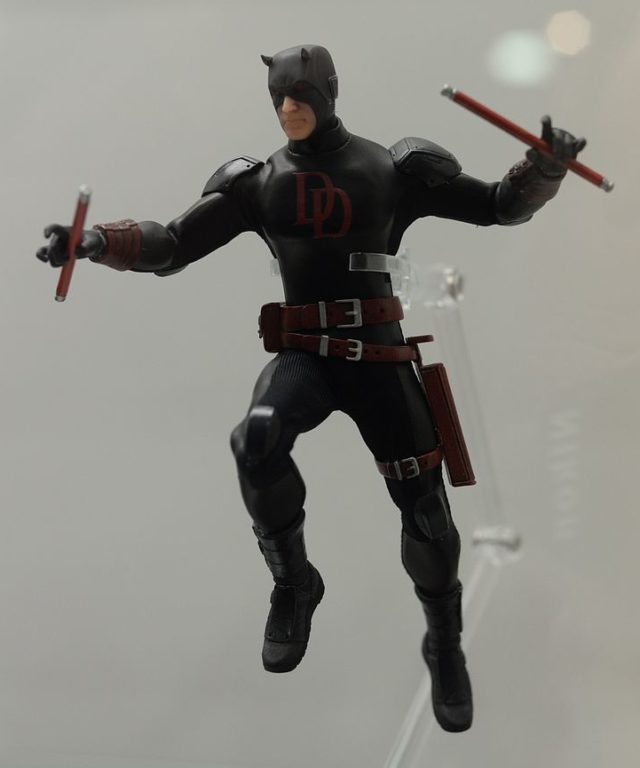 The SDCC ONE:12 Exclusives–including the Classic Captain America I thought was way overpriced to begin with–are actually selling for well above their original prices already on the aftermarket, so don't be too surprised to see this cool 1:12 Daredevil Black variant sell out and escalate in value quickly as well.
What do you think of the first-ever Mezco NYCC 2016 Exclusive Marvel figure? Is this Black Costume Daredevil figure on your must-buy list for the fall, or are you content with the red and yellow Daredevil figures (or no Daredevil figures at all)?