It's been a pretty rough couple years for poor Electro. First there was the critically-maligned Electro character design from Amazing Spider-Man 2, then in the comics Electro lost control of his powers, accidentally murdered his girlfriend, lost his powers entirely, and then got killed himself by his resurrected girlfriend–the new female Electro. Like I said–it's been a rough couple years. But on the bright side, the new Marvel Legends Electro figure is now available online! Should you get one? Read on for my Electro review…
The Right:
Electro is perhaps my absolute favorite Spider-Man villain aesthetically in his (goofy) classic costume, so I was ecstatic when his name turned up on a leaked retailer UPC list earlier in the year.
I was less blissful when I saw the first images of him, however, and discovered this was going to be a Marvel NOW! Electro in his modern costume. Now that I've got him in-hand, have my feelings changed…?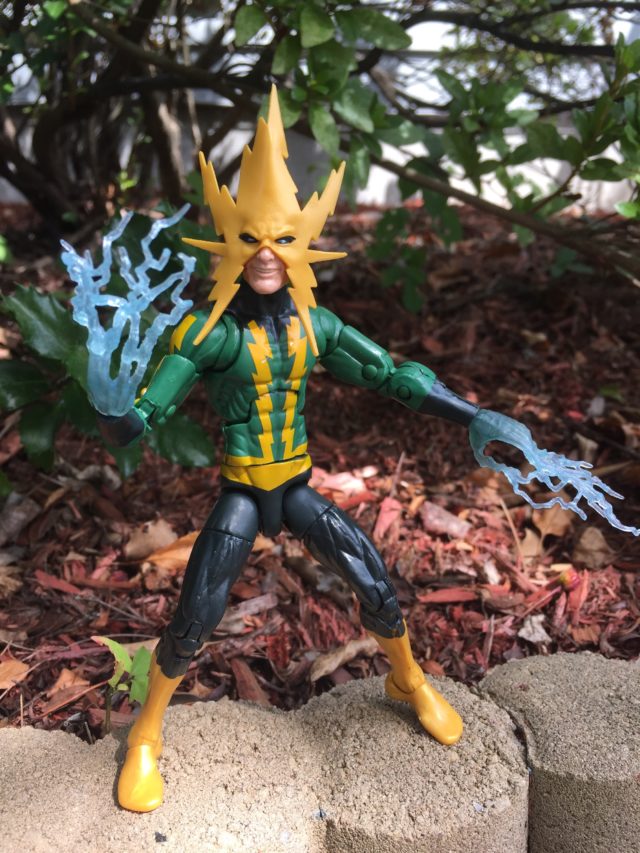 In a lot of ways–yes. While the 6″ Marvel Legends 2016 Electro figure does come by default with an unmasked head, thankfully Hasbro has also given us an interchangeable masked head for Electro!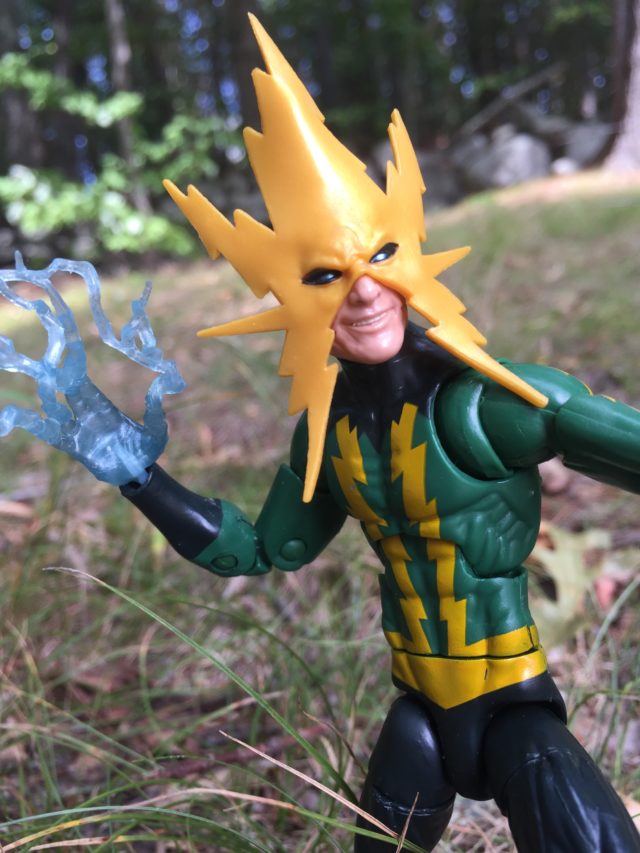 The Electro mask is made out of a soft plastic, so Max Dillon can still take full advantage of his ball-hinge neck and look way up and way down without the mask getting in the way.
And the malevolent smirk on Electro's face on this head is just awesome! Putting this head on the figure increases my enjoyment of it tenfold. Love it.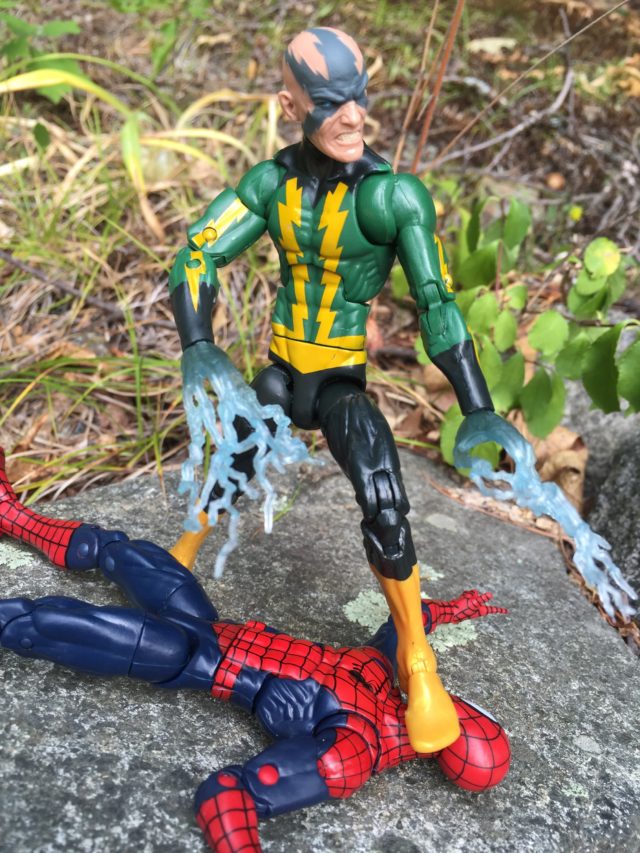 Another thing that I love about this figure is the electricity effects hands. These hands originated on the Amazing Spider-Man 2 Electro Marvel Legends figure I reviewed two years ago, and we're frankly the best thing about that figure.
The translucent blue crackling energy looks as cool now as it did two years ago, and I'm still a big fan of it.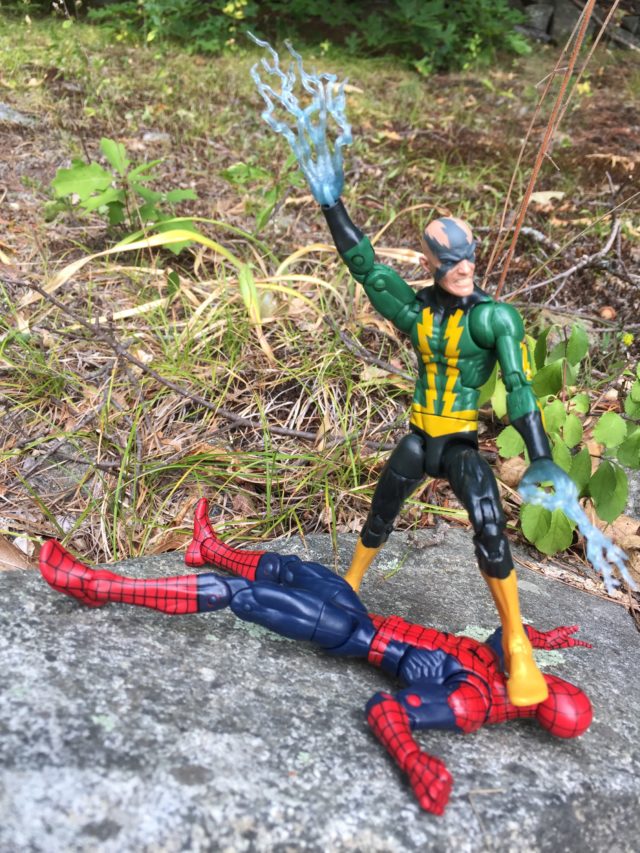 And speaking of fans–all but the heads and hands of this Hasbro Electro six inch figure are reused from a fanboy favorite mold: Pizza Spidey! While Electro isn't necessarily a karate-wielding villain who needs to be that super-poseable, I'm certainly not going to turn my nose up at the ample articulation.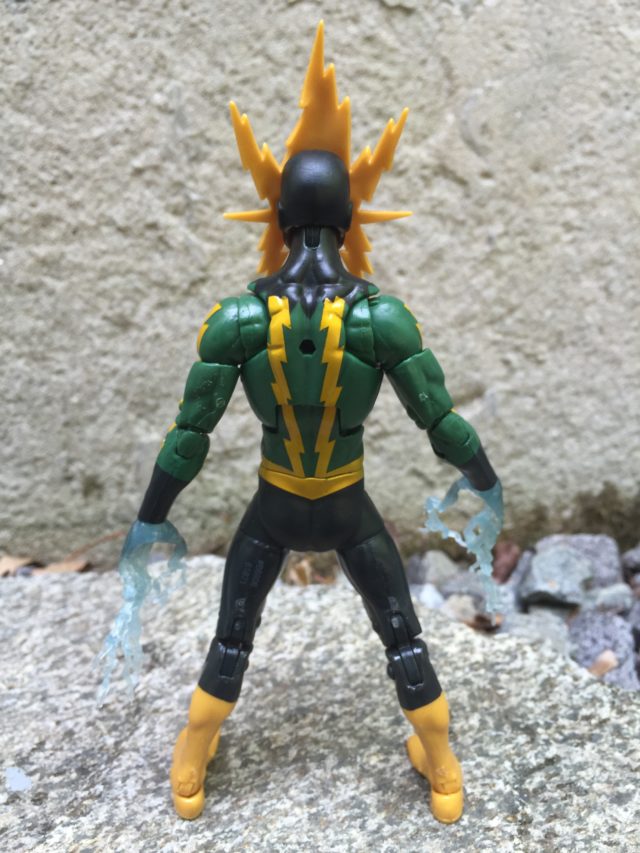 For those who don't have the Pizza Spider-Man figure, Marvel Legends Electro features a ball-hinge head, upper-torso ab crunch, swivel waist, ball-hinge shoulders with butterfly swivel joint, swivel biceps and thighs, double-jointed knees and elbows, ball-hinge wrists, ball-jointed hips and ball-hinge feet with ankle rockers. This is the most articulated Electro action figure Hasbro has ever done, hands-down!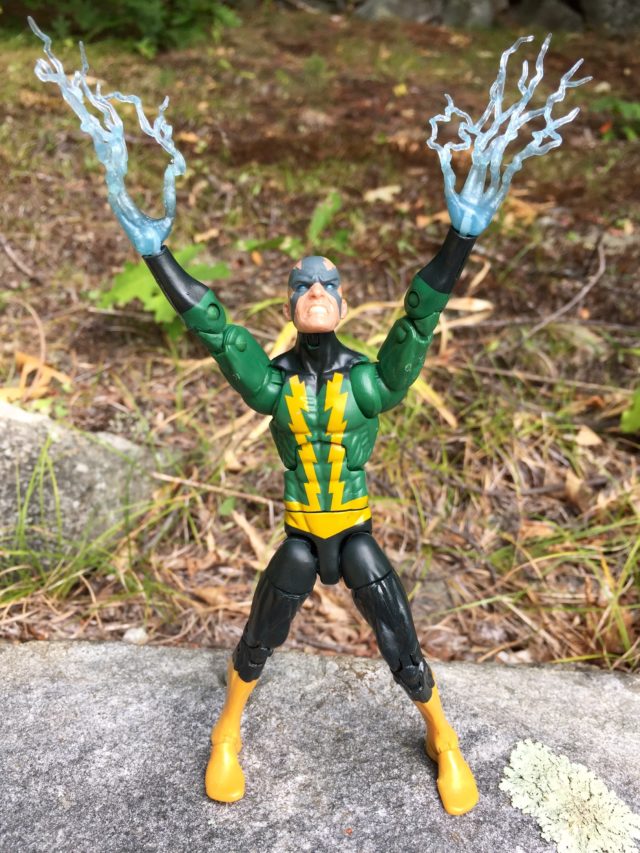 Also, while this is not my favorite costume for Max Dillon, it is accurate and well-done. The black pants and forearms wouldn't be my pick, but the combination of matte black and green and glossy yellow that Hasbro chose really do look excellent together.
And for those who opt for the bald-headed, lightning-tattooed unmasked Electro head–it's well-done. Max Dillon is gritting his teeth with rage and anger, and looks seriously POed. I won't be displaying this head, but some fans will dig it.
The Wrong:
While I like this 6″ Electro action figure a lot more than I expected to, that doesn't mean he's flawless, however.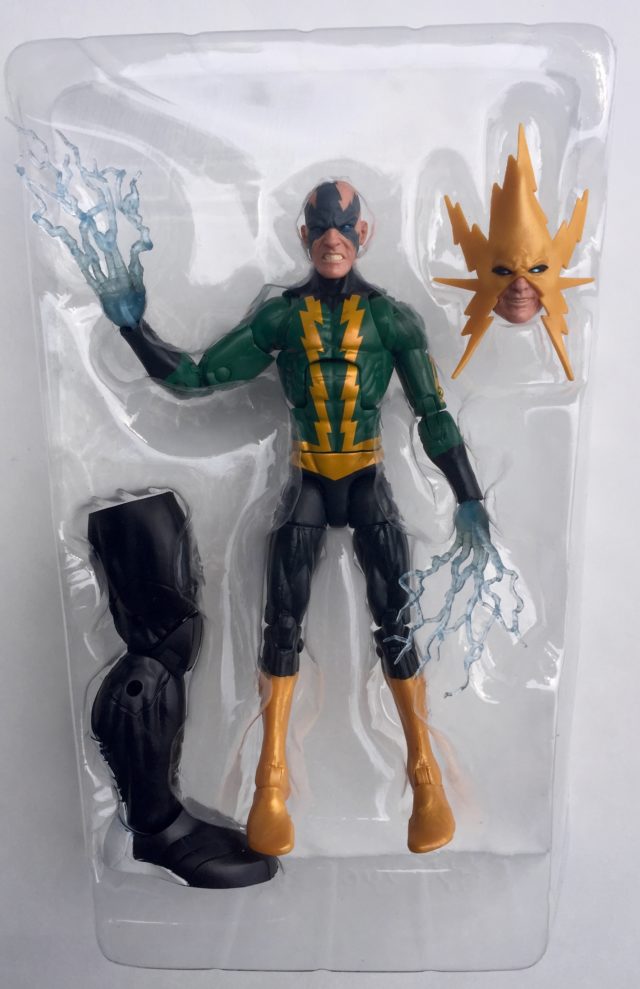 One aspect of this figure that ticks off pretty much every collector is the lack of interchangeae neutral, non-powered hands for Electro. Now, we can say that this figure is of an out-of-control Electro, I suppose, but I suspect that won't be a satisfactory explanation for many collectors.
Alternate hands are cheap and already in existence–with Electro only coming with an alternate head and Space Venom Build-A-Figure leg, Hasbro probably could have made some regular fists fit into the budget.
The quality control on the paint apps of my Electro Legends figure are also the worst of any figure in 2016 Marvel Legends Spider-Man Wave 2. There's a huge black splotch on his yellow boot, a stray silver line on his chest (weird since there's no silver on this figure at all), and a few other minor areas where the paint apps are messy.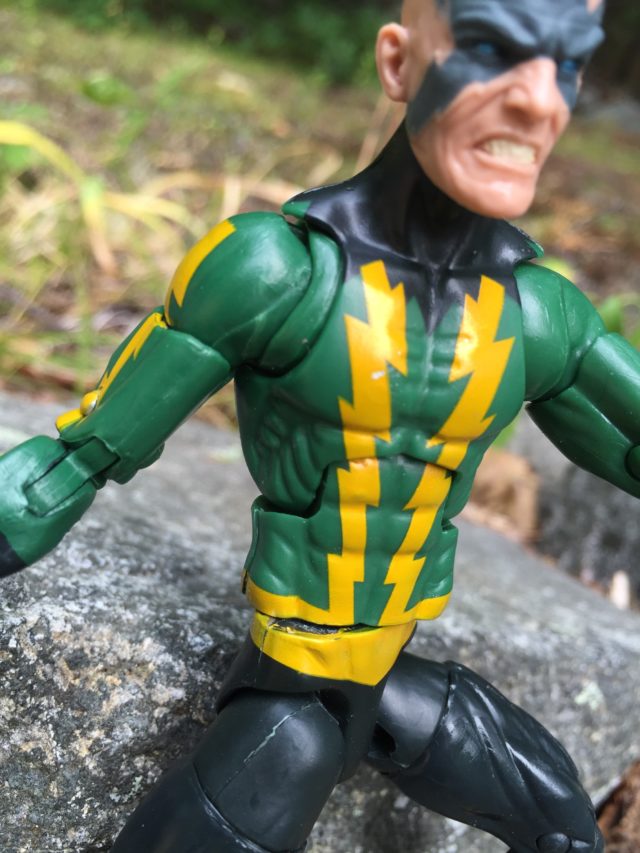 The paint deco certainly isn't bad, but it is the worst of this wave, and it bothers me enough that I'll be picking up another Electro and ditching this one.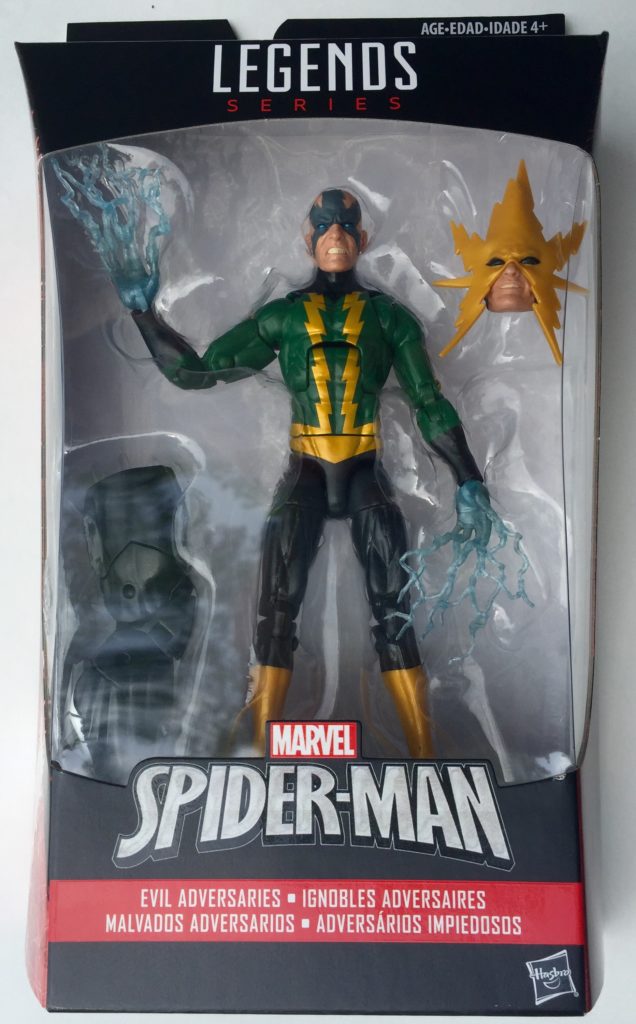 Finally–and this won't count against the figure's grade, of course–I think Hasbro may have shot themselves in the foot packaging this Spider-Man Legends Electro with the unmasked head on. It's ugly, and I suspect largely responsible for this figure not selling out instantly online already like Sill and Hobgoblin.
Also, am I the only one who thinks it's crazy that we live in a world where an iconic Spider-Man like Electro can't get his name on the front of his own action figure packaging, but The Eel can?! "Evil Adversaries"?! What a world, what a world.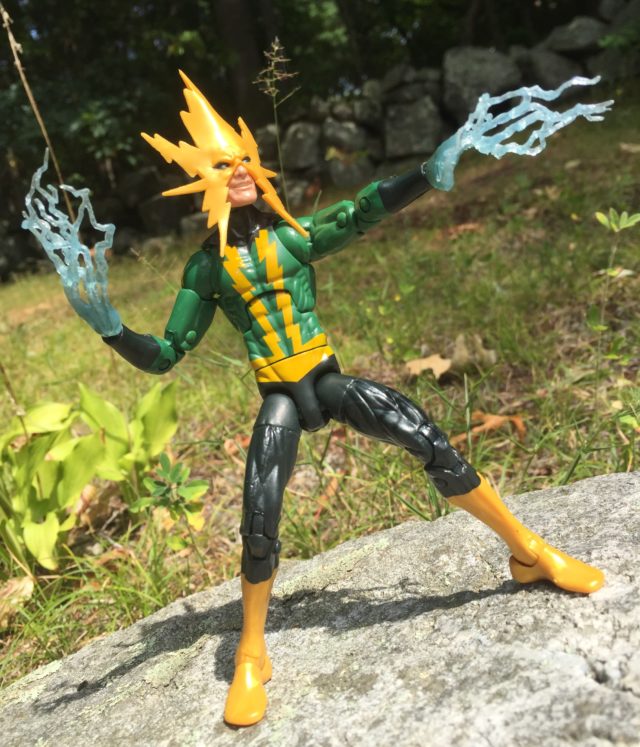 Overall: Though I think this figure may under-perform sales-wise due to being packaged with the ugly unmasked head, this Marvel Legends Electro 6″ figure is pretty solid overall. The lack of non-powered hands is a surprising choice and the paint apps are a bit messy, but the masked head, powered-up hands and superb articulation all make this a better figure than it's getting credit for being. If you don't hate the modern costume and can deal with the hands, this Hasbro Electro figure is worth your 20 bucks.
GRADE: B