Earlier this week, Mezco Toyz posted the teaser image of their first-ever New York Comic Con exclusive Marvel ONE:12 Collective figure, and today they've dropped the whole motherlode of official photos and details regarding the action figure. I wasn't totally convinced which version of Matt Murdock this was before, but there's no question now–the ONE:12 Collective NYCC 2016 Shadowland Daredevil figure has now been fully revealed!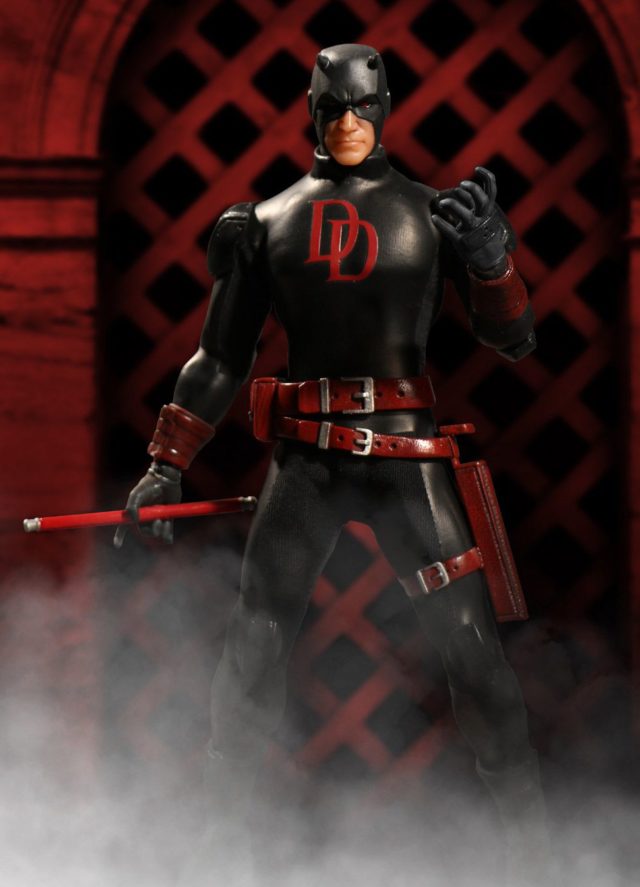 I posed the question to readers earlier this week as to exactly what Daredevil costume Mezco was trying to capture with this con exclusive figure, and the overwhelming response was "Shadowland Daredevil!" Thanks, readers!
I was being thrown by the inaccurate "DD" logo on the figure's chest before, but there's absolutely no room for doubt now–Mezco Toyz officially dubbed this figure as the ONE:12 Collective Shadowland Daredevil this morning.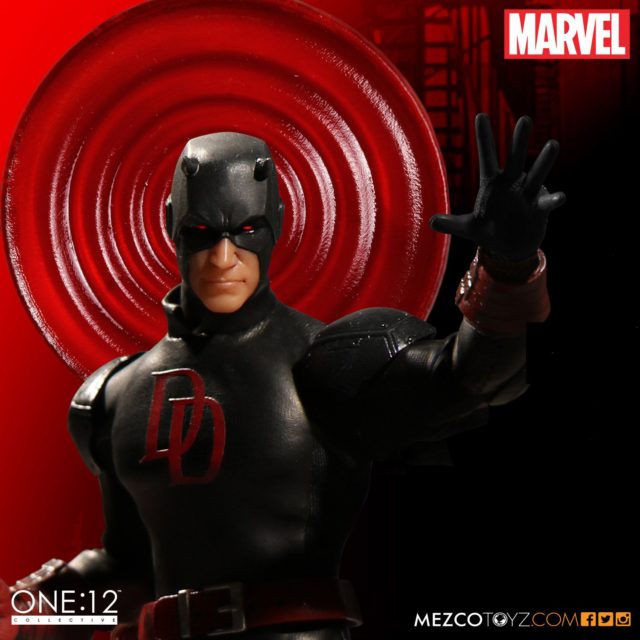 So what sets this NYCC exclusive Daredevil apart from the regular 1:12 Collective Daredevil…? Well… basically, it's just the colors. This is a palette swapped version of Daredevil with a black costume and red logo instead of the opposite. Which sounds pretty lame, but man, what a great-looking palette swap!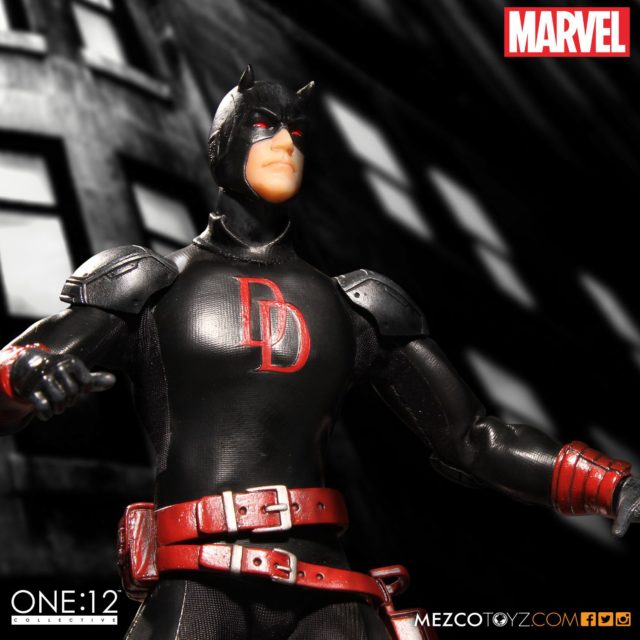 I feel like the one-tone black costume on this figure just flows far better and feels more natural than the red version does (with its slightly different hues of red on the shoulders). And obviously Shadowland Daredevil looks snazzier than First Appearance Daredevil, but let's be honest here: no one likes the yellow Daredevil costume for its style.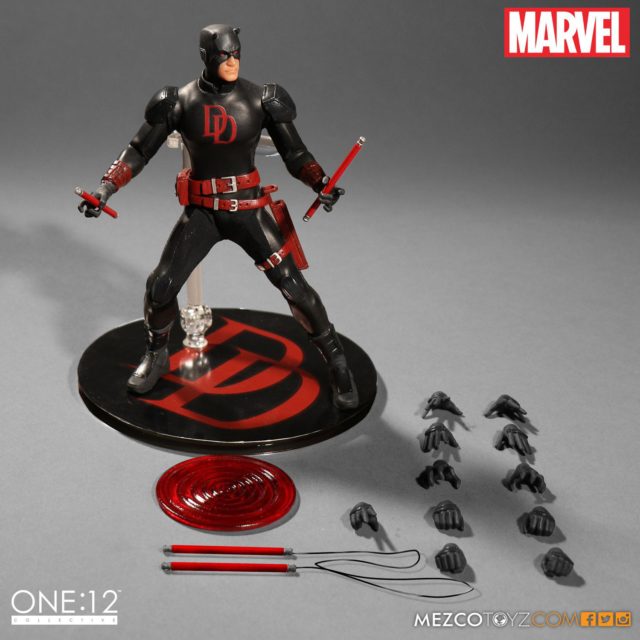 As expected, this Mezco Daredevil Shadowland figure includes a whopping zero new accessories. In fact, he'll be coming without two major accessories that the regular version and yellow Daredevil do come with: an unmasked Matt Murdock head and a battle-damaged Daredevil head!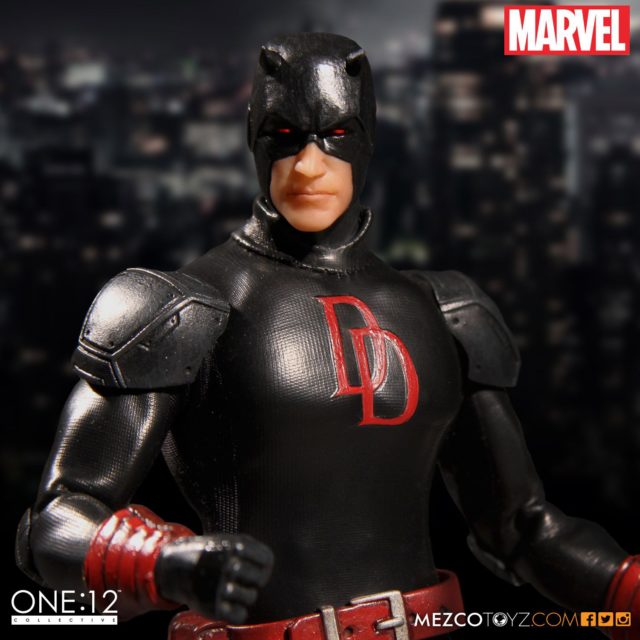 I didn't think there was much chance of Mezco Toyz creating any new extras for this release, but I am legit shocked that the exclusive version comes with less than the regular edition. Weirdness. Even so, at least we get the ingenious radar sense effects piece, both types of billy clubs and a crazy thirteen interchangeable hands with this figure.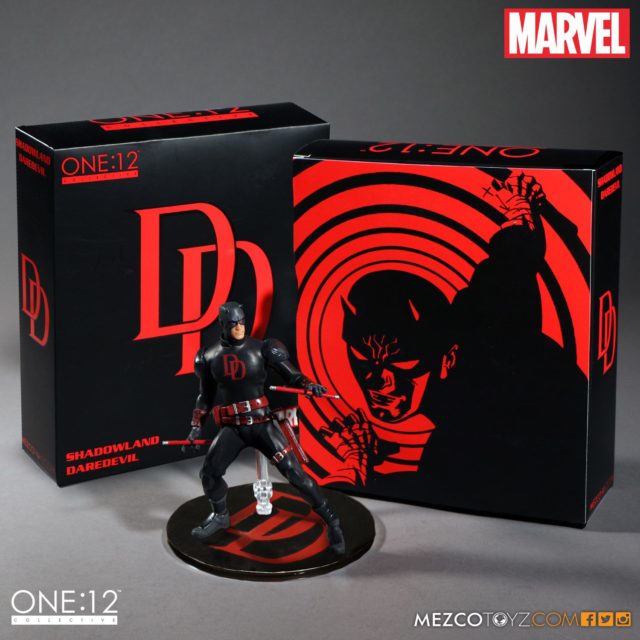 Even with the disappointing lack of interchangeable heads, Mezco has actually managed to earn my dollars with these official images. While the red Daredevil was easily my favorite of the trio prior to seeing these photos (even having seen the figures in person earlier this year), the slickness of Shadowland Daredevil has finally won me over.
And hey, I won't lie–that awesome black and red double box packaging is definitely a factor in Mezco winning me over. Gorgeous.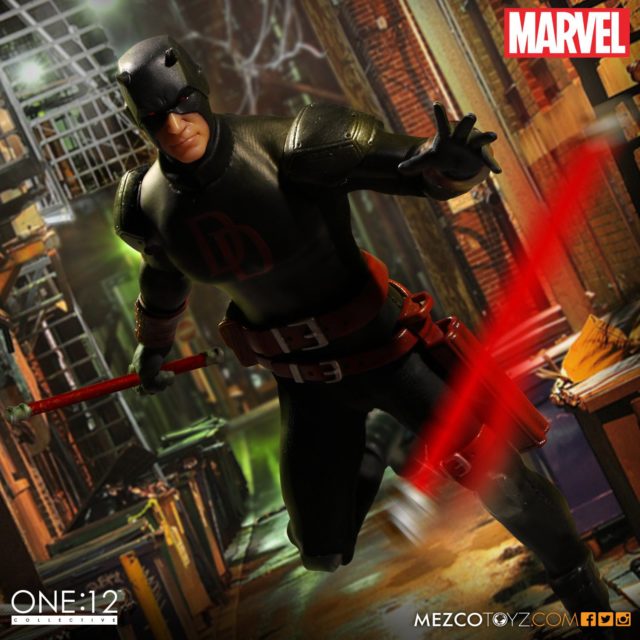 The ONE:12 Collective Shadowland Daredevil figure is now available for order through the Mezco online store, where it is expected to ship out in November 2016. New York Comic-Con 2016 attendees will get first dibs on this Daredevil, as he'll be available there first next month at the Mezco booth.
Having seen the full specs and hi-res photos, has Mezco convinced you to pick up this black Daredevil variant action figure, Marvel collectors? Or are you preferring one of their other Daredevil figures (or even one of Hasbro's) to this one?