It's a testament to the insane popularity of Spider-Gwen that the figure I'm reviewing today isn't the most-anticipated Spider-Man Legends figure of the year. He may only have been created a half-decade ago, but Miles Morales has earned himself a loving fan-base, his own 616 Marvel Universe comic book series, a spot on the Avengers–and now his first real Hasbro 6″ figure! The Marvel Legends Miles Morales Spider-Man figure is available online now for below MSRP: here's why you should get one…
The Right:
Those who haven't been collecting for a long time (or those that don't remember sub-par store exclusives) may not recall this, but Miles Morales Spider-Man has had one Marvel Legends 6″ figure released in the past, so this isn't actually his debut six-inch scale figure. His "rookie" action figure was an awful Walmart exclusive repaint of an adult body mold, mind you, but it was still his first.
Fans of the Brian Michael Bendis-created Ultimate Spider-Man have had to wait a few years for Miles to get a second chance, but this make-good by Hasbro is really good. Here's my review…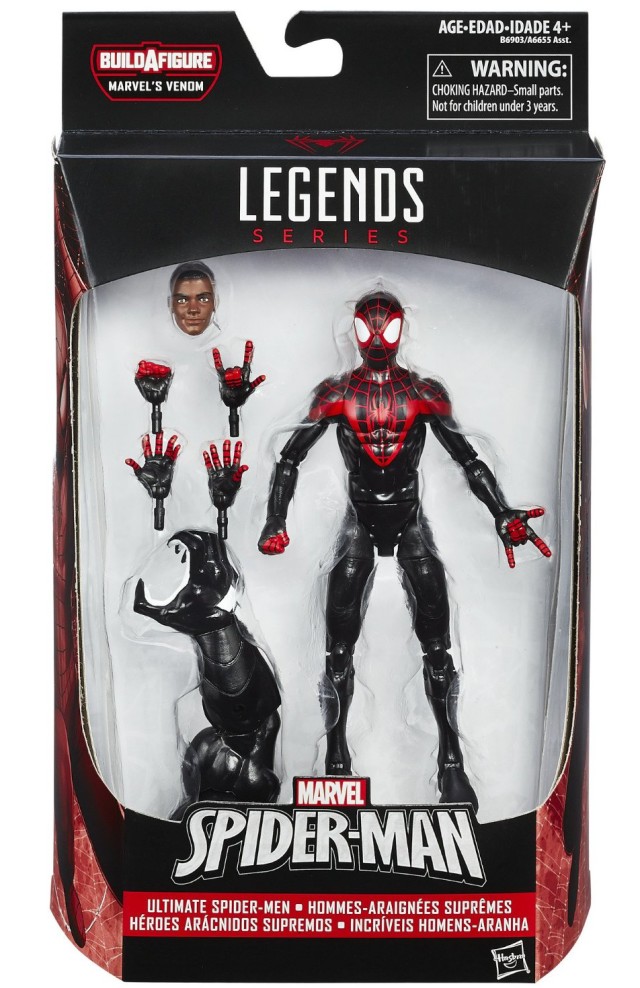 Oftentimes Hasbro doesn't make the "right" decisions when it comes to which figures to double-pack in a case and which characters to short-pack. This isn't one of those times: the Marvel Legends Spider-Man Miles Morales figure is packed two-per-case, just the way he should be.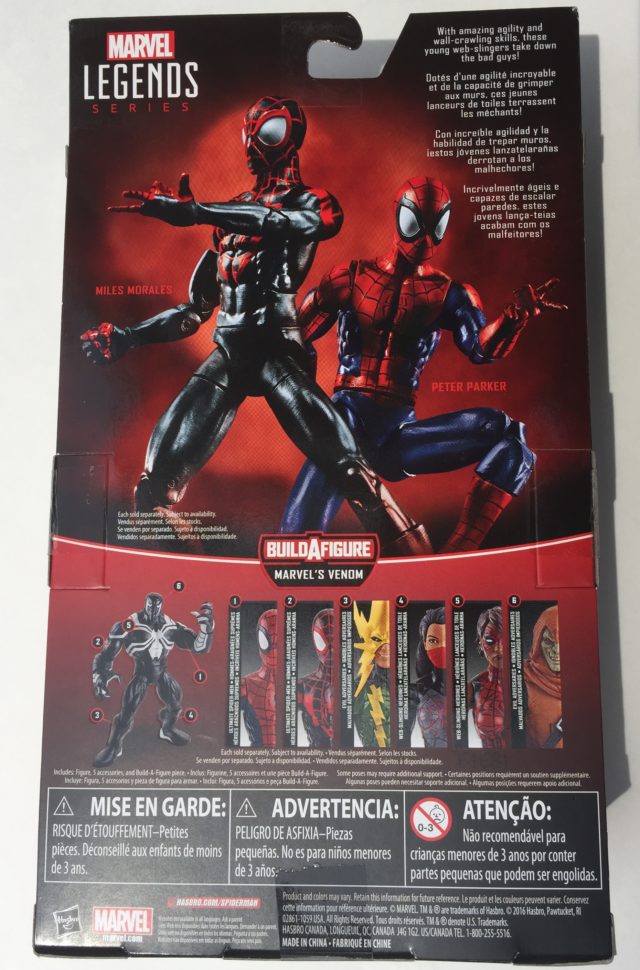 At one-per-case, this Miles Morales 6″'figure would be an absolute nightmare to acquire on the aftermarket. Double-packed, everyone can acquire this essential modern Marvel Universe character for at or even below MSRP. Thanks, Hasbro!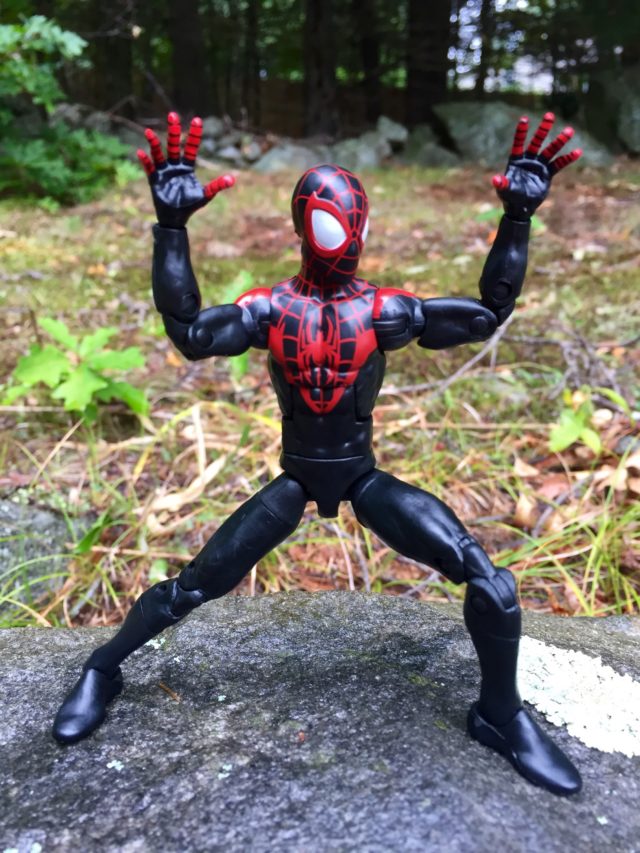 Whenever you've got a figure that features black as the primary color on their costume, there's worries about paint applications and quality control. Thankfully, the Hasbro factories outdid themselves for this release–there's zippo in the way of messy paints or uneven lines on this figure to set off my OCD radar. Bravo!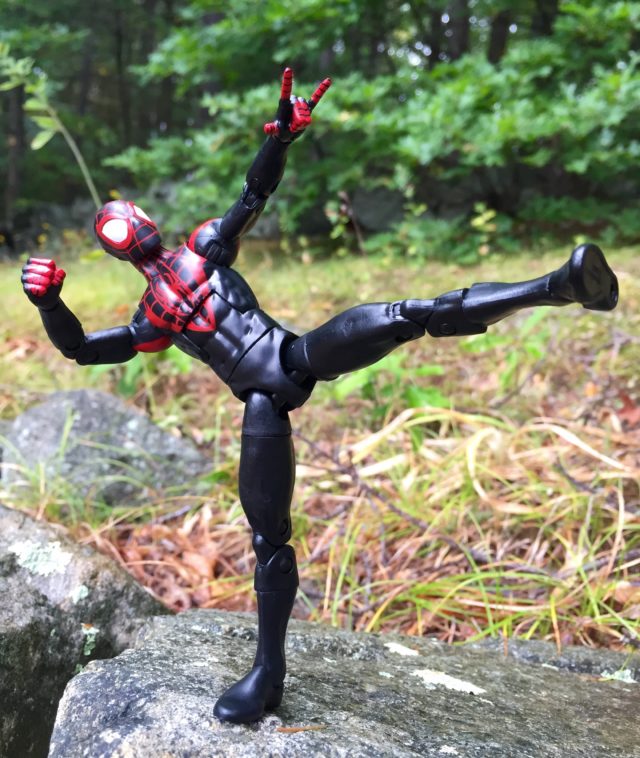 Perhaps the most important quality of any Spider-Man figure is articulation. And in this department, Miles Morales is a huge winner. The Spider-Man Legends Miles Morales figure features a ball-hinge head, ball-hinge shoulders, swivel thighs, calves and biceps, double-jointed knees and elbows, ball-hinge wrists, upper torso ab crunch, swivel waist, ball-jointed hips, and ball-hinge ankles with ankle rocker pivots.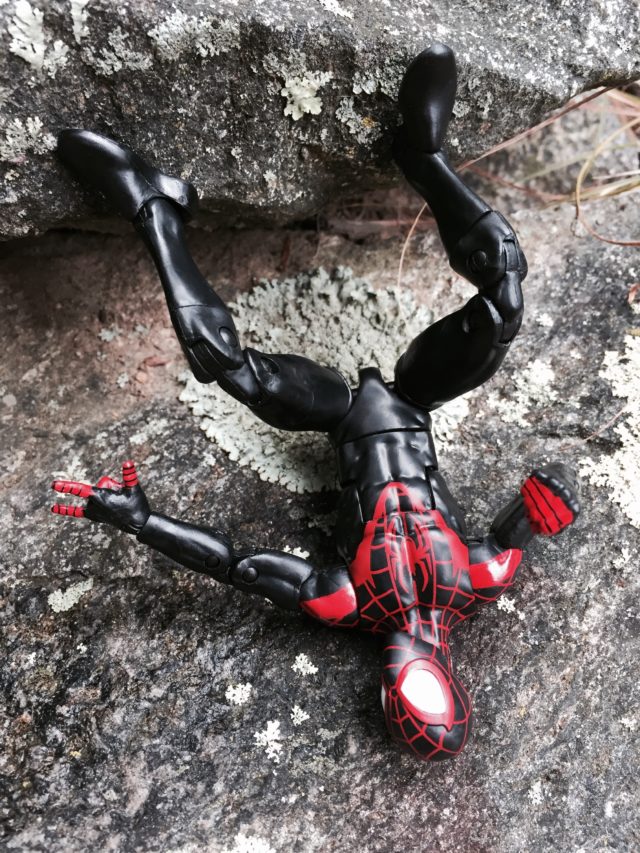 Short of the controversial butterfly shoulder articulation from the Pizza Spidey mold, there's not a single point of posing potential missing that I'd want. This new teenage boy body mold has tremendous flexibility which should be enough to please any fan.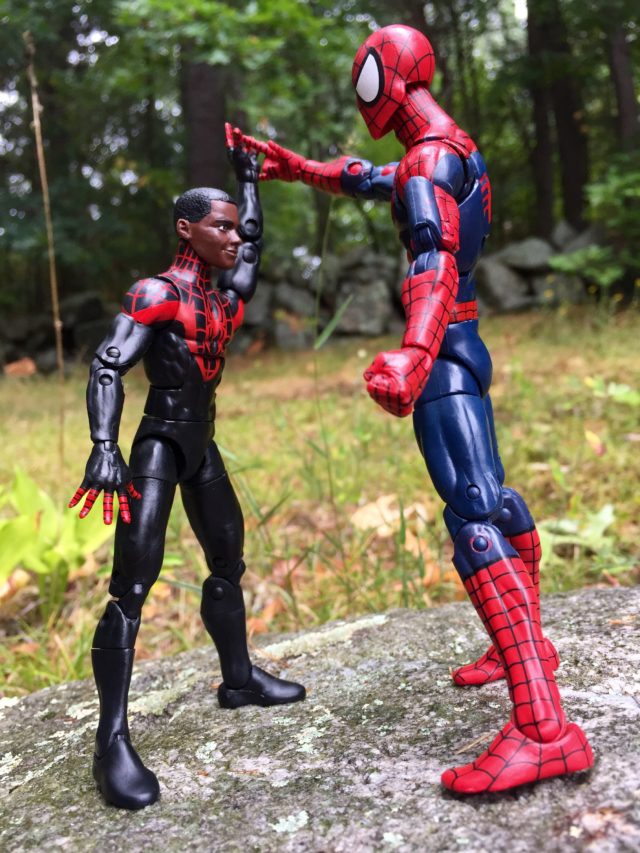 And speaking of "new teenage boy body mold"–yes, that's right: Hasbro has developed an all-new, never-before-used body mold for teen boys that debuting on both the Ultimate Spider-Man action figures in this Venom Space Knight wave!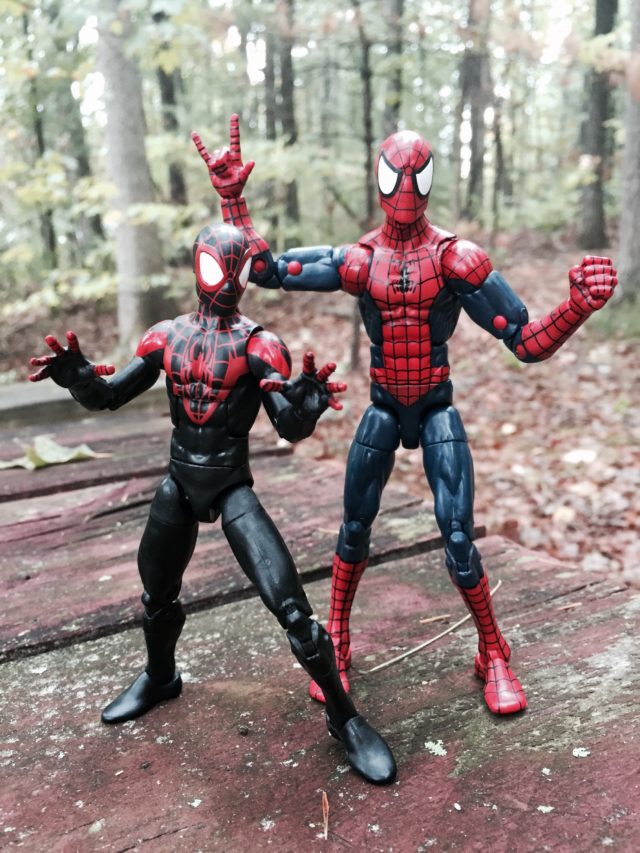 Miles stands just over 5.5″ tall, so while he's clearly not a child, he's also not a full-grown adult. He looks perfectly scaled next to adult Peter Parker to me!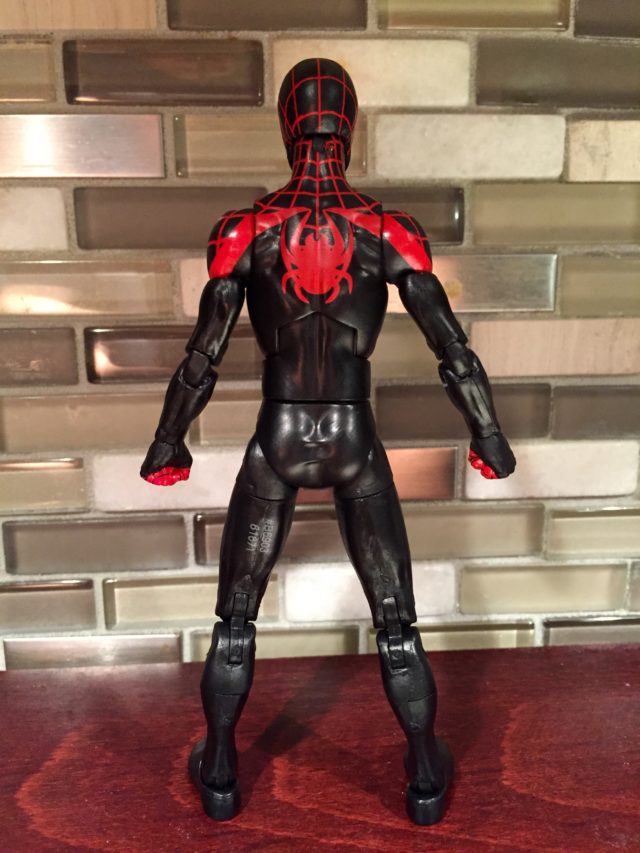 And have no fear–Hasbro did not cut corners with the paint deco on this figure. Miles' costume is fully-painted on the front and back of the figure, just as you would expect it to be on a Marvel Legends Collector's figure.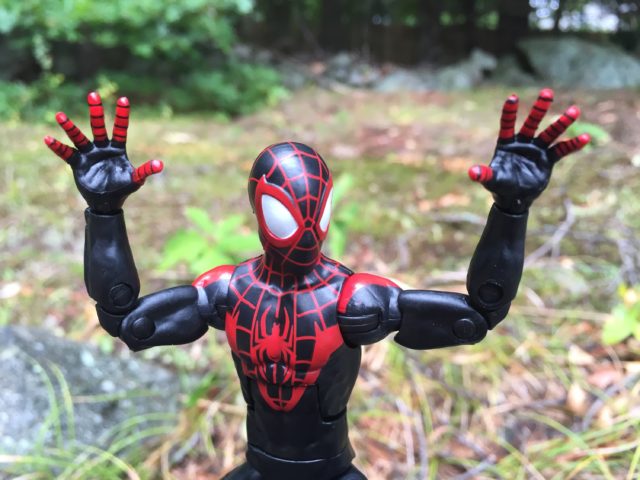 I also really dig that Hasbro has actually sculpted the "spider eyes" onto the mask for the new head sculpt seen on these Ultimate Spider-Man figures. This gives the head a real 3-D feel and looks far better than past figures which have just had the eyes painted onto the smooth plastic head.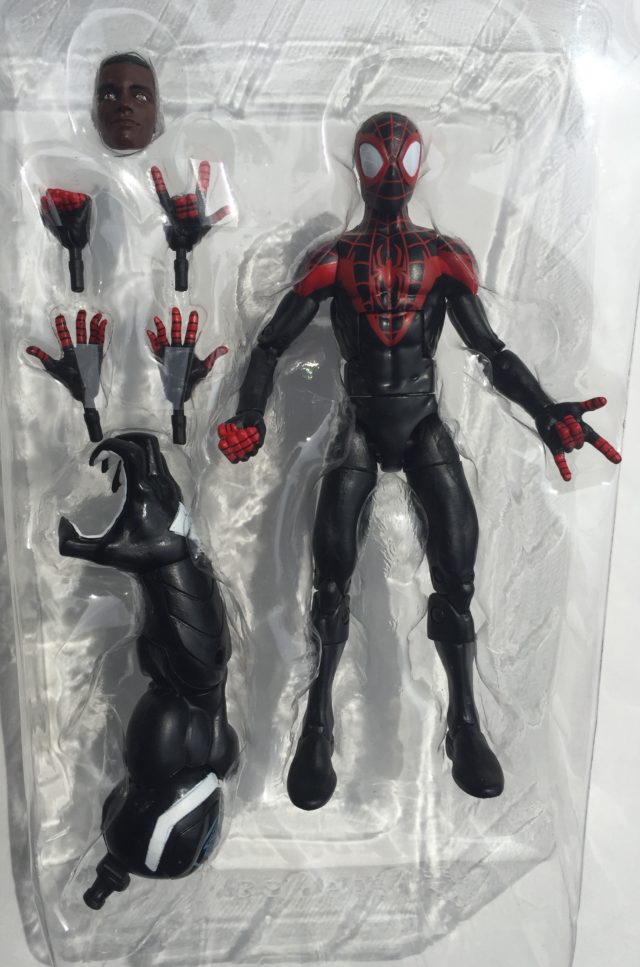 On the accessories front, you get six with this figure: an interchangeable unmasked Miles Morales head, four extra hands and a Space Venom Build-A-Figure arm.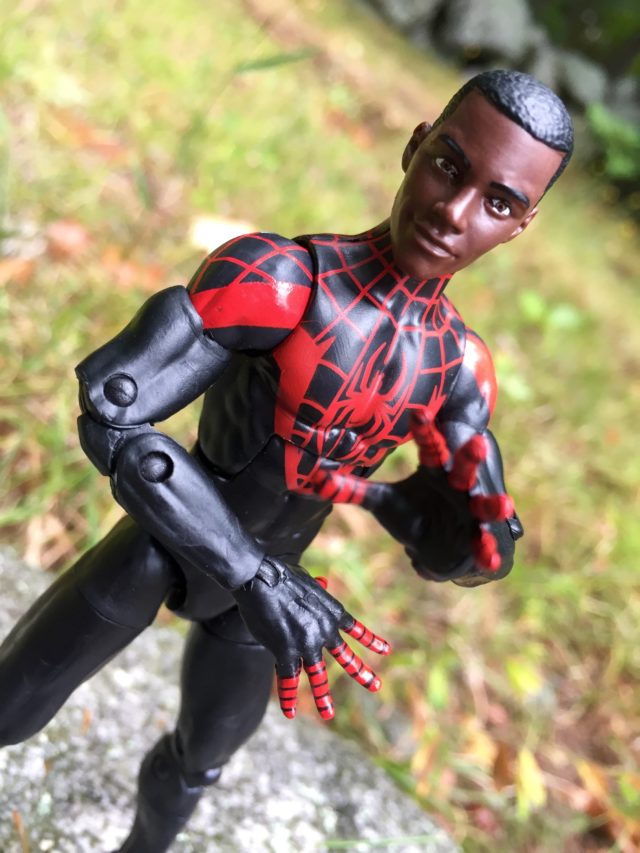 The Miles Morales portrait actually looks really nice to me, which is a pleasant surprise, as unmasked figures aren't always Hasbro's strength. Instead of looking like an expressionless bore, Miles actually has a youthful grin on his face with a hint of a smirk. Love it! Miles spends a fair amount of time in costume with his mask off, so this is a really solid option to give collectors.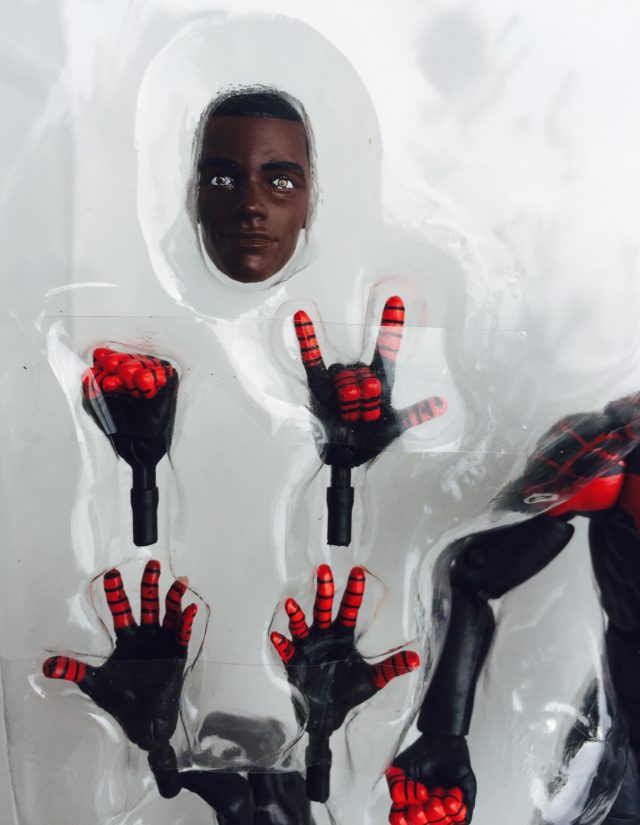 The six total hands this figure comes with allow Miles to have any combination of fists, open palms or web-shooting hands. These are all the major options that I want for a Spidey figure, and I'm fully satisfied with them.
The Wrong:
While it's true that I got my special (non-existent) nitpicking magnifying glass out to look for flaws, prepare for disappointment (or not)–I've got nothing to gripe about with regards to this Ultimate Spider-Man Miles Morales action figure.
While I utterly loathe sounding like a Hasbro sycophant, from quality control to articulation to accessories to even the case ratios, Hasbro cut off all my potential whining points at the pass in this instance with an excellent all-around product. Nice work!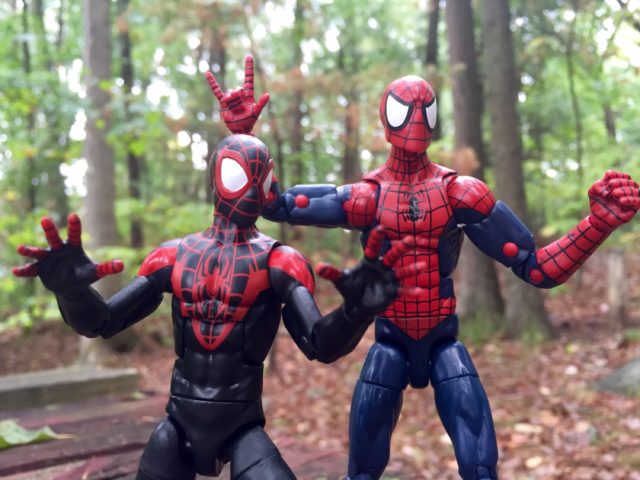 Overall: I really don't like handing out perfect ratings like candy, but hell if I can find anything legit about this Marvel Legends Ultimate Spider-Man figure to complain about. Amazing articulation, a great unmasked Miles Morales head, loads of extra hands, top-notch paint apps and a 100% new mold make this figure everything fans hoped it would be. Outright outstanding and highest possible recommendation–grab this figure now if you have any love for Miles at all, because this is going to be an expensive figure on the aftermarket a year or two from now.
GRADE: A+