Sideshow Collectibles didn't unveil the plethora of new Marvel pieces at San Diego Comic-Con 2016 that they usually do, but the ones that they did show were some of the most jaw-dropping, gorgeous statues at the event. And one of those pieces was among the most impressive Wolverine (and Hulk!) statues that I've ever seen. I've been looking forward to it since July, but the day has arrived–the Sideshow Exclusive Hulk vs. Wolverine Maquette is now up for order! But all this magnificence comes at a monstrous price…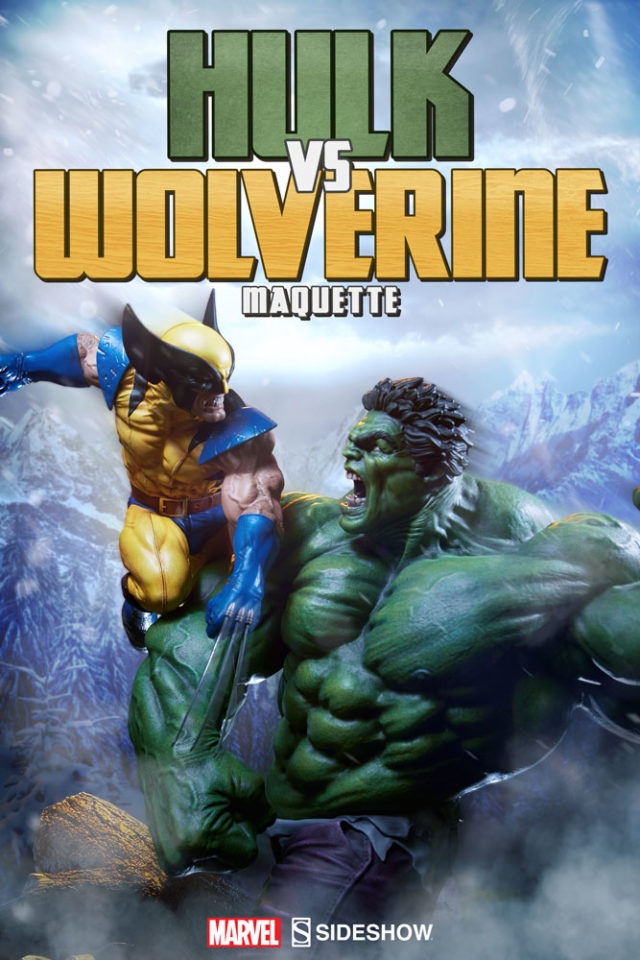 While we usually see several statues of Wolverine released each year, none of them have captured my heart in the way that the Bowen Design Action Wolverine (Jim Lee) statue released over a half decade ago has. I really never thought I might love another Jim Lee Wolverine statue again as much as I love that one… until now.
Sideshow's new Wolverine vs. Hulk statue just may be not just the best Jim Lee Wolverine statue ever–but perhaps the overall best Wolverine statue ever!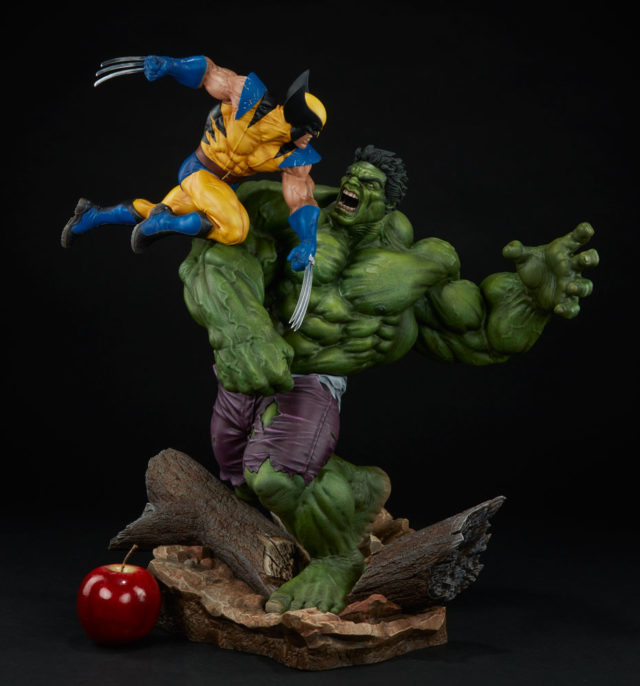 This amazing maquette stands 23″ tall, weighs 20 pounds, and recreates the battle from Wolverine's epic first tussle with the Hulk–with the added wrinkle of Wolverine sporting his beloved Jim Lee era mask (don't freak out yet, First Appearance Wolverine fans–keep reading).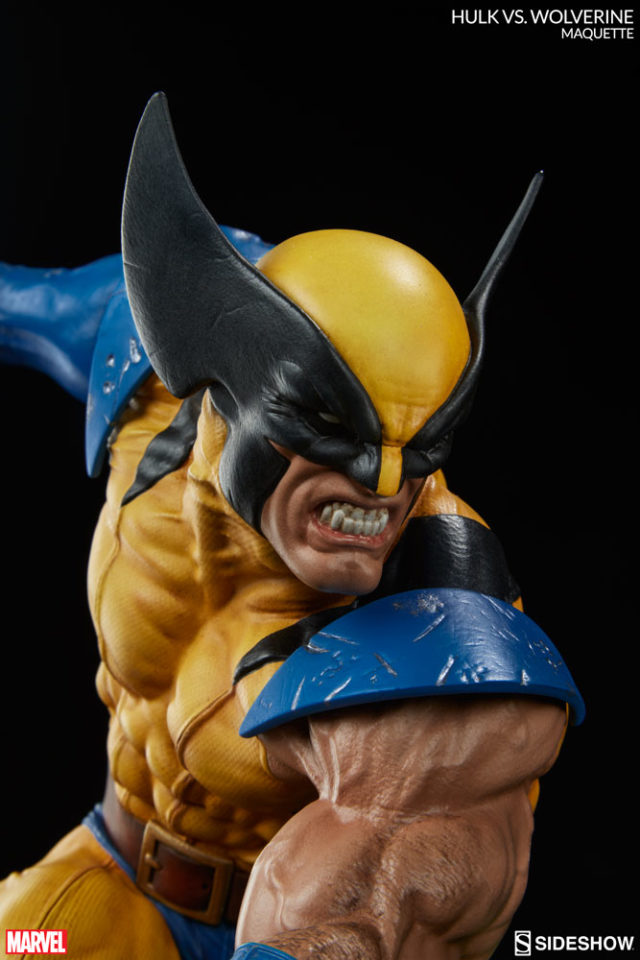 From the spot-on vicious sneer on Logan's face to the aggressive pose and battle-worn costume, this Sideshow Wolverine statue is almost unquestionably one of the best representations we've ever seen of the most popular X-Men character.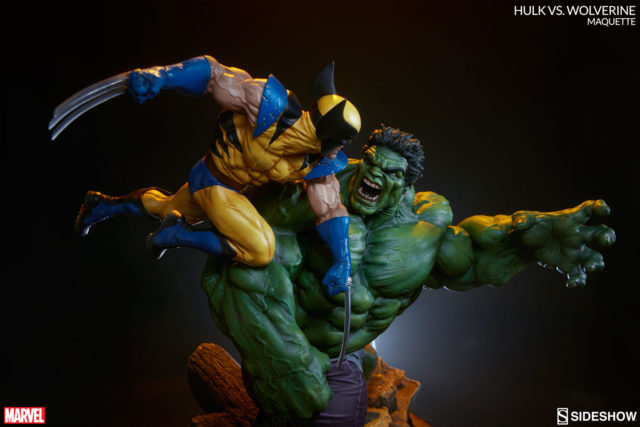 Of course, as nice as he is, Wolverine is the smaller half of this "versus" statue. There's also this other guy depicted here in gargantuan Polystone–the Jade Giant himself, the Hulk!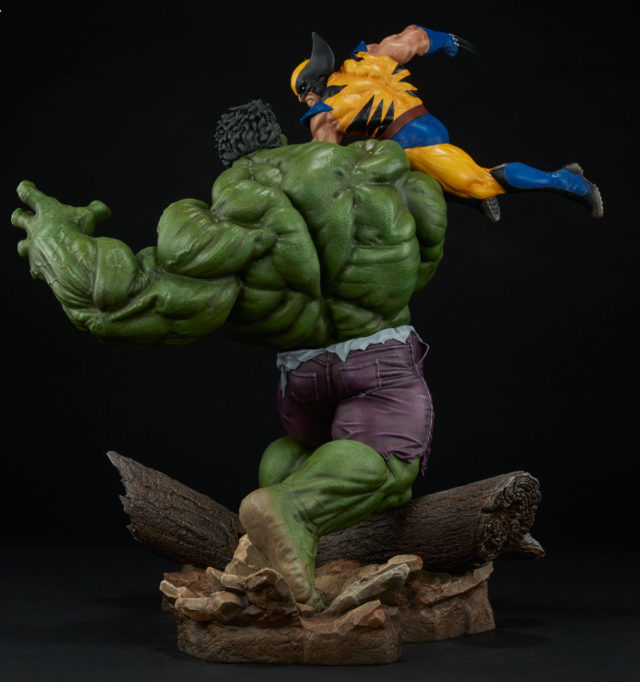 Hulk is another character that there's absolutely no shortage of statues of, but this is again a quintessential representation of the Hulk. The Hulk vs. Wolverine statue's Hulk is posed in a brutal, ready-to-dismember pose that looks and feels totally appropriate for this titanic throwdown.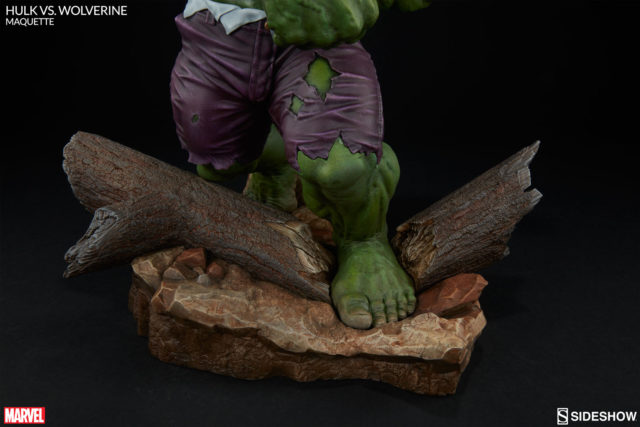 I own a couple Hulk statues already (I'm embarrassed to say I lost track of exactly how many), but from the perfect proportions to the musculature of Hulk's back to his tattered jeans and the enraged look on Hulk's face, I can already tell this is going to be one of my favorite Hulks I've ever owned.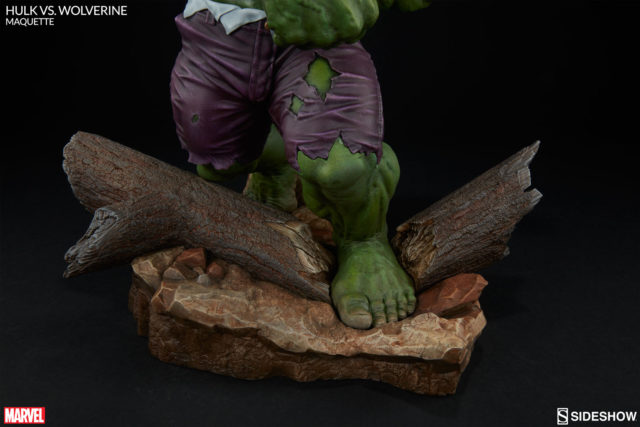 Sideshow even thought to have the backs of Hulk's feet covered in dirt and mud! How cool is that?!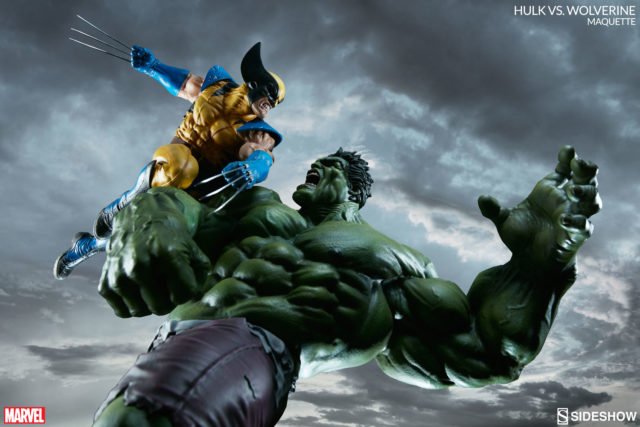 But here's the bad news: this Marvel masterpiece is carrying a retail price of $649.99. Now, make no mistake: this is a huge and absolutely beautiful piece and very well may be worth that massive 650 dollar price-tag.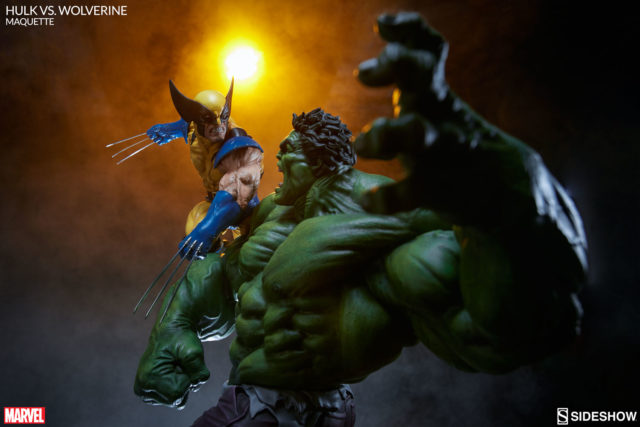 A statue that costs several car payments is a tough pill for a lot of folks to swallow. (Thank God for Sideshow Collectibles Flexpay payment plans is all I have to say.) Even so, many collectors are probably going to want to reserve their copy of this Hulk vs. Wolverine maquette as soon as possible, because…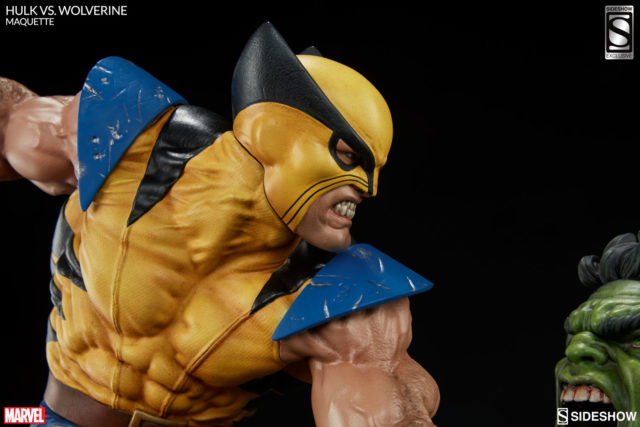 As usual, there's a Sideshow Exclusive Edition of this statue, and this time, the exclusive extra item is a
good one
. Wolverine's first appearance was in The Incredible Hulk #180-181, and you can recreate that legendary battle with the exclusive interchangeable First Appearance Wolverine portrait!
While the original Wolverine costume isn't one of my favorites, this is a case where including a swap-out original Wolverine head is an absolute necessity for this particular showdown (at least, in my opinion). This limited exclusive item brings this statue from a "wait and hope for a sale" item to a "better get it now and eat instant macaroni for a month" item for me. (Your priorities may vary.)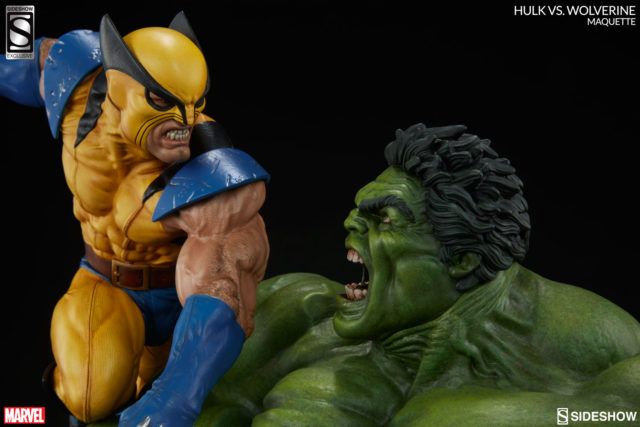 The Sideshow Exclusive Hulk vs. Wolverine statue is now up for order, and is scheduled to ship out in August 2017. While I always hate waiting for new toys to arrive, I am genuinely grateful this beauty is a bit out, as it means more time to make smaller Flexpay payments to Sideshow Collectibles!
What do you think of this humongous (and humongously expensive) Sideshow Wolverine vs. Hulk Maquette, Marvel collectors? Is this the best Jim Lee Wolverine and/or Hulk statue ever made, and are you willing to lay down the big bucks to own one?