Back at San Diego Comic-Con 2016, Kotobukiya revealed the early prototype sculpt of the upcoming Agent Venom ARTFX+ statue, leading us to believe that he'd be up next in the Spider-Man series. But instead, Koto has thrown us a real curveball this week with perhaps the most-anticipated character in the wave–the Kotobukiya Spider-Gwen ARTFX+ Statue is now up for order! Gwen is looking mighty fine (as always), but she also comes with an unexpected price increase…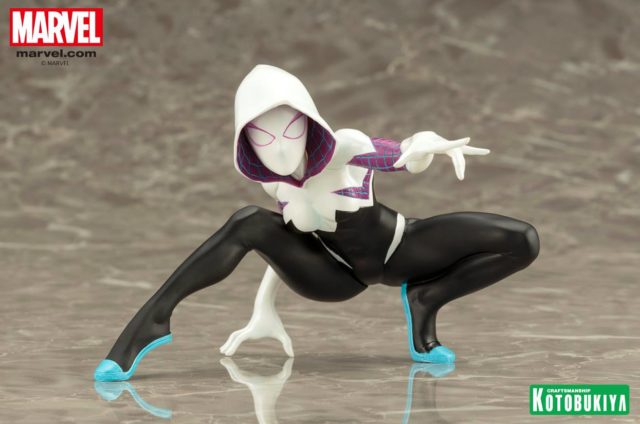 My, how things change! At this time last year we were all anticipating seeing prototypes of the very first Spider-Gwen figures and statues–and now, we're practically swimming in them!
As such, while the Koto Bishoujo Spider-Gwen is just beginning to arrive in collectors' hands worldwide this week, Kotobukiya has already solicited their next Gwen Stacy Spider-Woman statue for release next spring!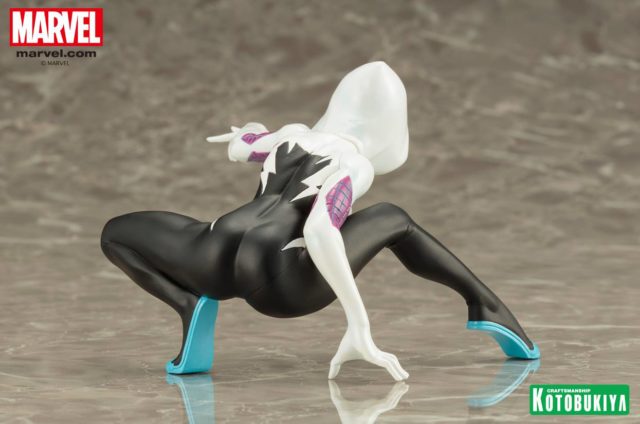 There's no real surprises with the design of this figure–Gwen is posed exactly as she was in the Stefano Caselli artwork revealed earlier this year that this whole Spider-Man ARTFX+ series is based upon.
I will say that, perhaps due to the compact manner of this PVC statue, the colors on this particular Spider-Gwen figure definitely seem to pop a bit more than the do on a lot of other statues. The cyan shoes and magenta and cyan webbed parts of the statue look especially nice!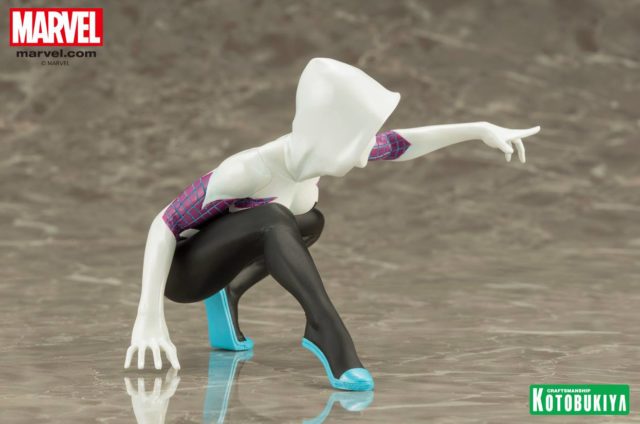 Like the first two figures in the line–Miles Morales Ultimate Spider-Man and Spider-Man himself–Gwen is captured in a crouching pose, so the 1/10 scale piece only stands a mere 3.5″ tall. This definitely will be among the tiniest Koto Marvel statues on your shelf, but it'll certainly still stand out on our shelves due to Gwen's unique color scheme!
Sculpted by the man behind the rest of the ARTFX+ Marvel statues, the great Junnosuke Abe, Spider-Gwen's extreme crouching pose looks incredibly authentic–the statue seriously looks like it came to life right off the cover of one of the Spider-Gwen comics!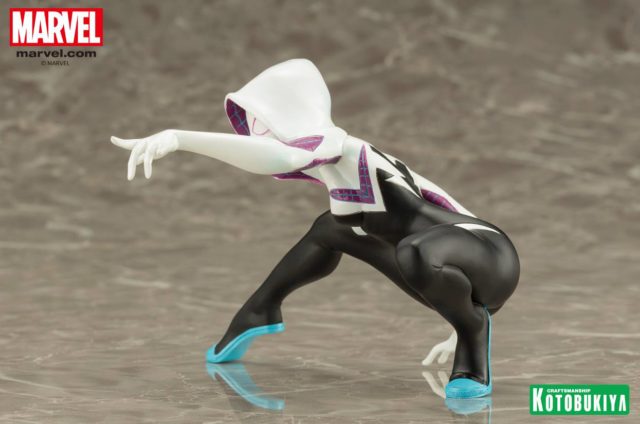 There is so unwelcome bad news about this release, however: a very unexpected price increase. Considering that Spider-Gwen uses very little plastic and is only 3.5″ tall due to the pose, you might expect her to be among the cheapest Marvel ARTFX+ statues thus far.
But nope!! Instead, Gwen will carry an MSRP of $64.99, making her the single most expensive Marvel ARTFX+ statue yet–even more expensive than much larger figures like Hulk and Magneto. Thumbs way down on this decision, Koto.

The Kotobukiya ARTFX+ Spider-Gwen statue is now available for pre-order, and is expected to ship out in April 2017. You can get a $5 discount on her via pre-orders to thankfully decrease the inflated price-point on this one a bit. None of the Spider-Man ARTFX+ statues have sold out yet in the pre-order stage, but if one of them is going to, it'll likely be this Gwen Stacy figure.
How do you feel about the latest addition to the growing armada of Spider-Gwen toys, Marvel collectors? Do you like this better or worse than Kotobukiya's Spider-Gwen Bishoujo statue, and are you planning to pick one up despite the price increase?