It begins again! Having spent the past two years building the core rosters of the Marvel NOW! Avengers and X-Men teams in ARTFX+ statue form, Kotobukiya is moving on to the other most-beloved corner of the Marvel Universe for their next series of 1/10 scale statues: Spider-Man! And what better character to lead off this new theme than ol' Amazing Spidey himself? The Kotobukiya Spider-Man ARTFX+ statue goes up for order later this week!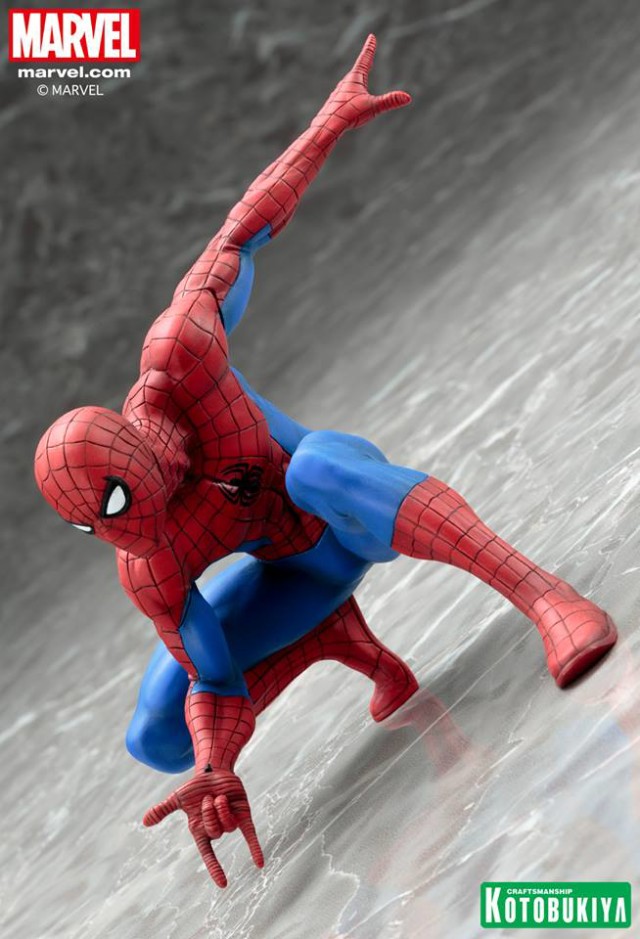 At the New York Toy Fair 2016, Kotobukiya let it slip that their next lineup of Marvel ARTFX+ 1/10th scale statues would be themed around popular characters from the Amazing Spider-Man wing of the Marvel Universe, including Carnage, Venom and Spider-Gwen. Even so, Koto didn't bring any actual prototypes from this line to the NY Toy Fair or any event since, so we've been left waiting and anticipating.
But today the first of the mysterious Spider-Man themed curtains has been raised, and we've got out first look at the inaugural entry in the line: the Kotobukiya Amazing Spider-Man ARTFX+ statue!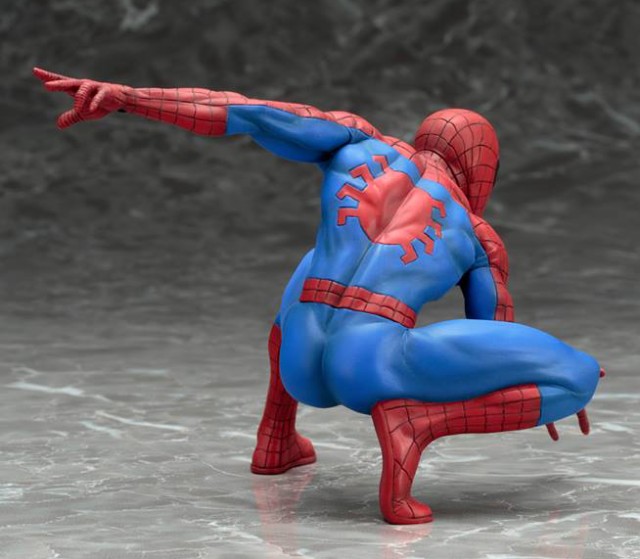 While the X-Men and Avengers statues Koto released the past two years have been very clearly based off of their modern artwork, this ARTFX+ Spider-Man figure is about as "classic comic book"-styled as you can get! This Spidey looks like he's just leaped out of one of the hundreds of Spider-Man comics that I read growing up!
Rather than going with one of the ever-popular web-swinging poses, Koto has opted for a crouching, web-shooting pose with this classic Spider-Man statue. That's A-OK with me, as I was very rarely get to see Spidey in this pose, despite how iconic it is.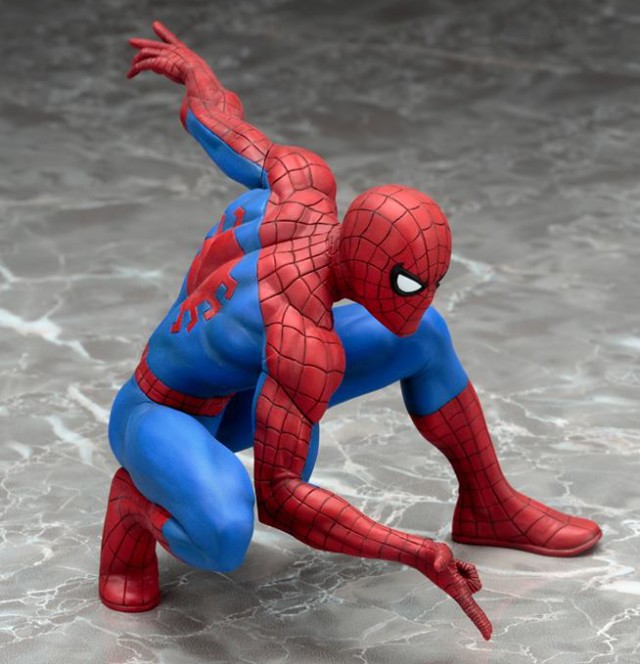 The Amazing Spider-Man Kotobukiya ARTFX+ statue is just over 3.5″ tall (as he's crouching, obviously), and will be carrying a retail price of $59.99. Thankfully, online retailers will likely be slashing $5-$10 off the MSRP of this figure once they open up pre-orders for it later on this week.
Koto hasn't revealed the base yet for this Spider-Man statue, but since the solicitation info mentions that he'll have the same magnetic feet that the Avengers and X-Men statues do, I would assume that Spidey will come with the same style of generic black rectangular base as all the previous Marvel ARTFX+ statues (besides Deadpool) feature. These bases are definitely a bit boring, but they also give the series an overall consistency, so I don't mind them.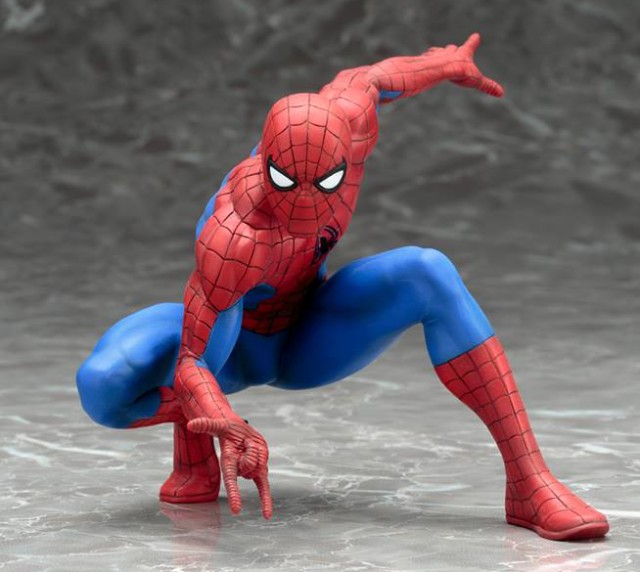 The Kotobukiya ARTFX+ Amazing Spider-Man statue goes up for order this week, and is scheduled to be released in November 2016. There hasn't been any official artwork released yet revealing the rest of the characters that will be in the line (beyond Venom, Carnage and Spider-Gwen), but I'll post an update and send out alerts via the Marvel Toy News Twitter and Facebook Pages once more information regarding this new series is made available.
Are you interested in this new series of Spider-Man themed 1/10 statues by Kotobukiya, Marvel collectors? What do you think of the action-posed Spidey that's kicking off the line, and what characters do you hope will be rounding out the set?