Ever since it made its debut during the New York Toy Fair 2016 festivities, it's been a real waiting game as fans anticipate the arrival of the first Mezco ONE:12 Collective Marvel figures. And while we'll be waiting another month-plus to get the first one in-hand, Mezco has now confirmed the SDCC 2016 Exclusive Classic Captain America figure. But that's not all–the awesome Previews Exclusive Commander Steve Rogers figure is also now up for order!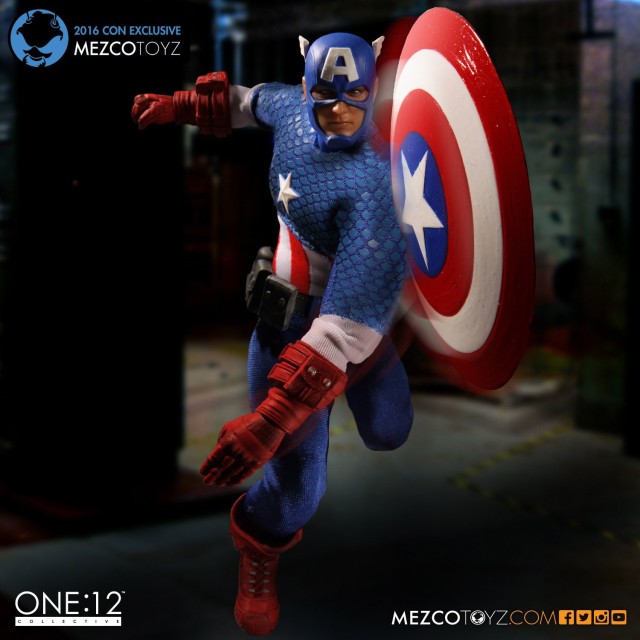 The Marvel ONE:12 Collective 6″ figures line made a huge splash during Toy Fair in February, but having to wait almost half a year to get the first figure has decreased the momentum for this series just a bit.
That said, it's time to get hyped once again, as the very first Mezco ONE:12 Collective Marvel figure will finally be released next month: the limited-edition 2016 San Diego Comic-Con Exclusive Deluxe Classic Captain America!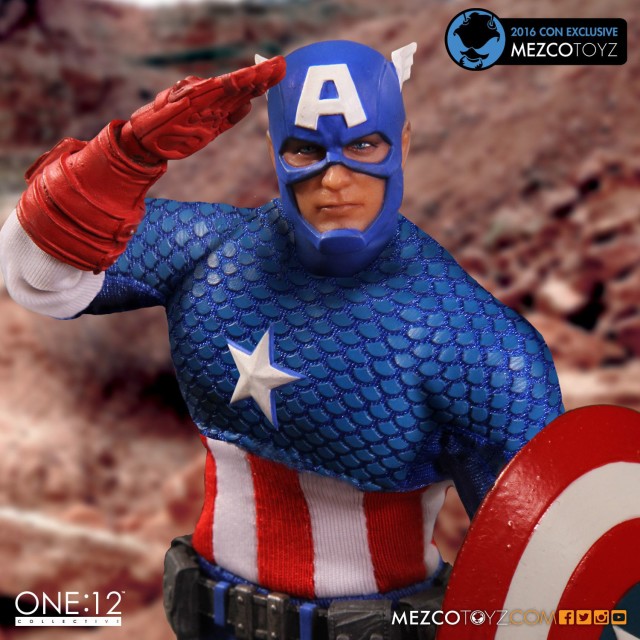 Basically, this is a minor revision of the non-exclusive Captain America ONE:12 Collective figure that went up for sale a few months ago. This version features a more primary blue costume, along with an all-new head featuring Cap's iconic wings on his mask.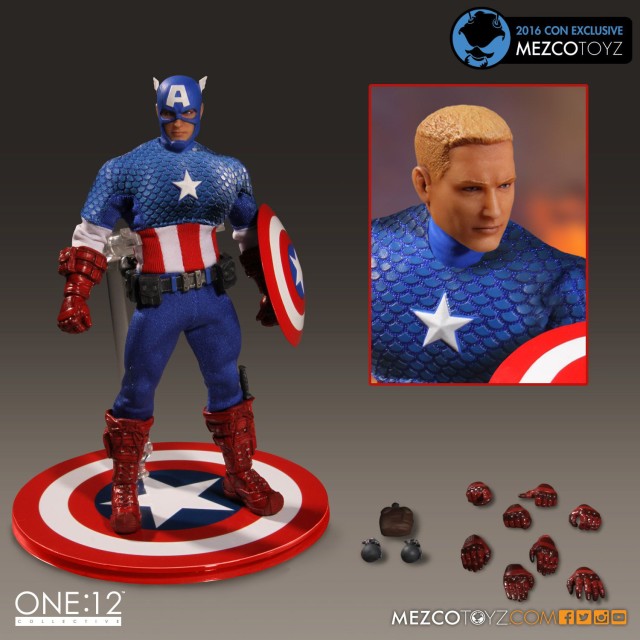 Here's the official description for Deluxe Classic Cap from Mezco Toys:
"Featuring over 32 articulation points, intricate sculptural work, incredible costume detailing and tons of accessories, the final product creates an iconic classic vision with a "real world" look. This exclusive, limited-edition not only features a new classic head sculpt and vibrantly colored uniform, but is packaged in an exclusive shield-shaped metal tin featuring a lenticular transformation chamber."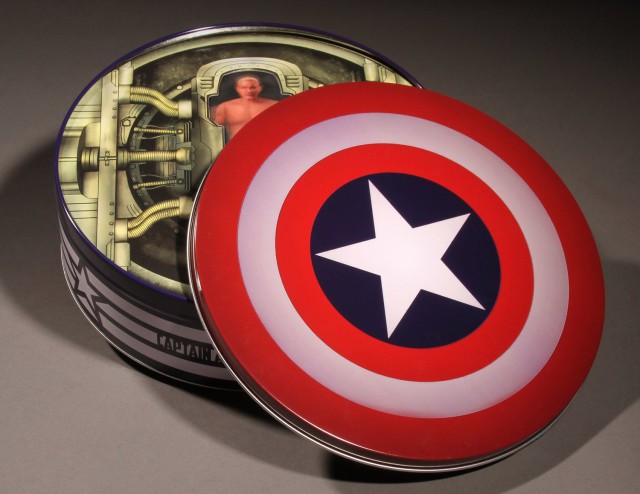 As mentioned in the description, the other thing besides the costume color and new head that makes this exclusive special is the fact that it's coming in some pretty unique collectible packaging:
"Packaged in a deluxe, limited edition circular tin featuring Captain America's shield design. When the tin is opened, a lenticular image is revealed. The lenticular dramatically shows the transformation of Steve Rogers from a scrawny weakling into a chiseled super-soldier. Beneath the lenticular, the figure and his accessories are securely held by collector friendly trays."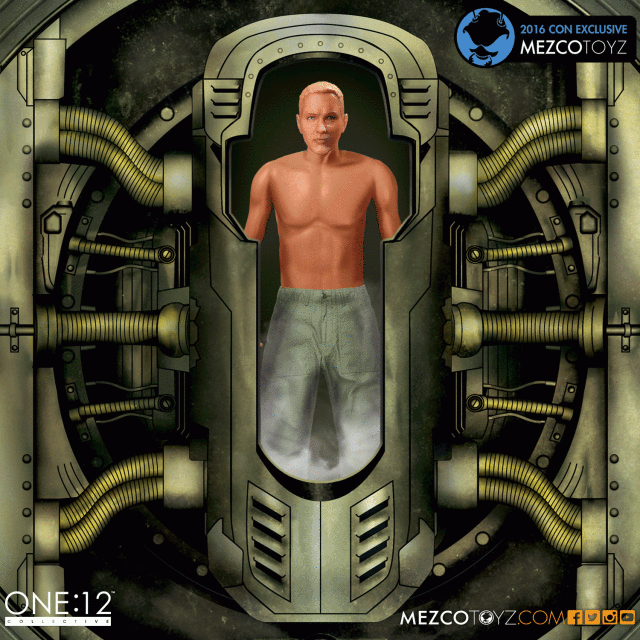 To be totally blunt, I hate this tin. It's adding $30 to the price of a six-inch figure who I thought was pushing the "value" limits to begin with, and I think that the Steve Rogers lenticular is rather creepy, honestly. I know some folks are going to really dig this special collector's tin packaging, but I would have been way happier with a normal box and a price-tag $20-$30 lower.
At $110 + ~$15 shipping, this San Diego Comic-Con Cap is costing more than half the price of a 12″ Hot Toys Captain America figure, and that's just not acceptable (at least, not to me).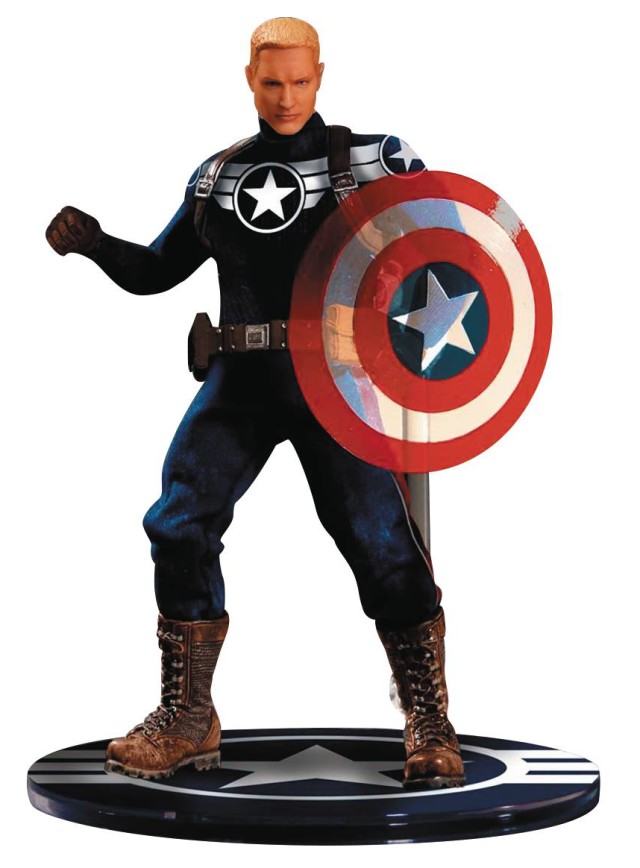 But SDCC 2016 isn't the only place to find an exclusive Captain America! All comic book and specialty stores who order from Previews have the ability to order the exclusive ONE:12 Collective Steve Rogers Captain America figure as well!
This figure features the groovy translucent shield that Cap used during this era, as well as an unmasked Steve Rogers head and the Steve Rogers Super-Soldier costume that was all the rage a few years back. I love this version way more than I expected, and it was an instant pre-order for me–especially at the normal, non-inflated price-tag for a ONE:12 Collective figure.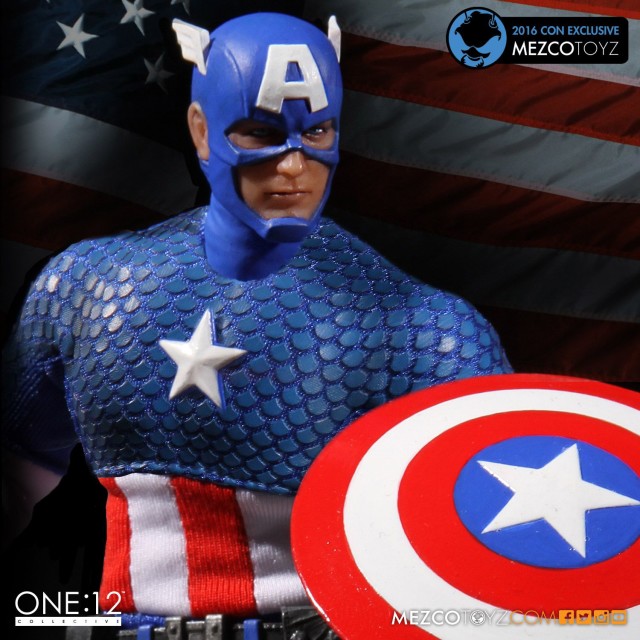 The SDCC 2016 Deluxe Classic Captain America is now up for pre-order on Mezco's website while supplies last, while you can also order the exclusive Commander Steve Rogers figure from other online retailers. With these being two of the first Mezco Toyz Marvel ONE:12 Collective figures to actually be released, I suspect the hype will make both of them fast sell-outs.
What do you think of the first two variant figures for the ONE:12 Marvel figures line, Marvel collectors? Are these iterations different enough to earn your dollars? And are you still interested in Deluxe Classic Cap for almost $125 after shipping?