Mezco Toyz showed off a ton of Marvel ONE:12 Collective figures last year at SDCC 2016, and since then, every single one of them has gone up for order… sans one. But just in case you might have thought Mezco had forgotten all about ol' Classic Red Skull, think again! It turns out he's a limited exclusive (as this one absolutely should be): the NYCC 2017 Exclusive ONE:12 Collective Red Skull figure is now up for order!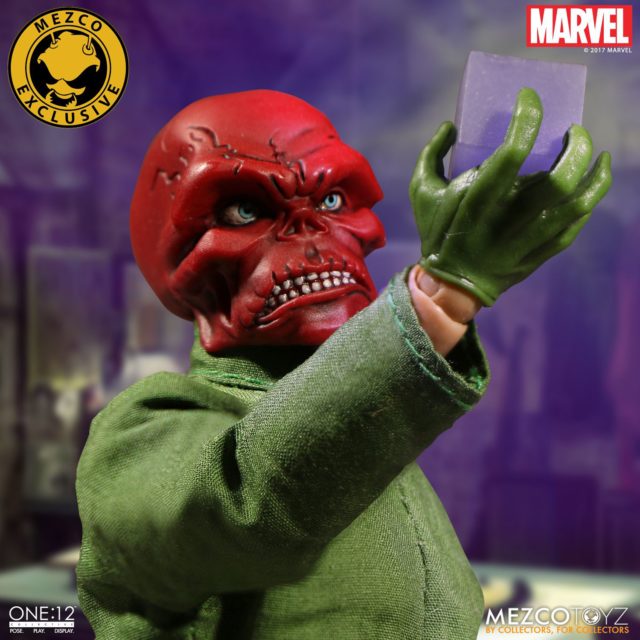 Before the Brown Costume Wolverine prototype showed up in his silly biker shorts, there was only one Marvel ONE:12 Collective figure that I couldn't stop myself from making fun of on sight: the ONE:12 Collective classic Red Skull figure in his green military uniform.
Now, it's not really Mezco's fault–this costume is what it is–but Red Skull's green costume rendered in soft goods looks like he's wearing green pajamas to me (or what I imagine old-time gas station workers to have worn).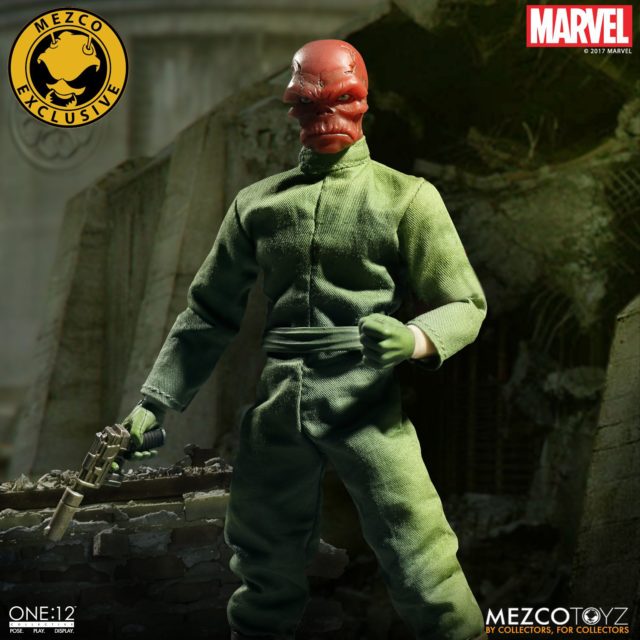 Visually, this is not the most eye-catching Marvel ONE:12 Collective figure out there, which is why it makes a perfect Fall 2017 exclusive to sell at New York Comic Con. I like that Mezco Toyz is making this available for those who want it, but not shooting themselves in the foot mass-producing a figure that may sit on store shelves for all eternity.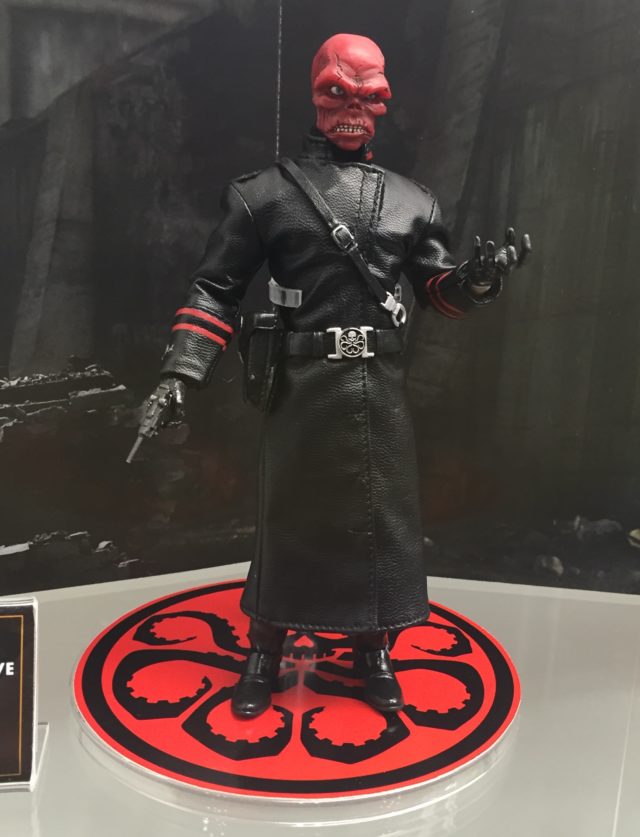 For those who prefer a more modern take on the character, the mass-release ONE:12 Collective Red Skull in black coat is still available for order on some websites and expected to ship out in the next month or so (although be aware that he's already pre-sold out from many retailers).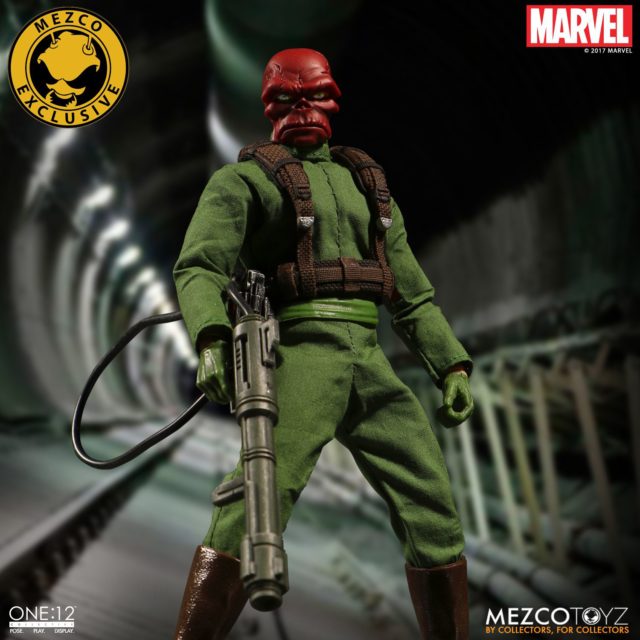 Mezco has added one very cool set of accessories to this figure: a "cannon", fuel tank with hose and harness! Basically, you put all these pieces together to form a big ol' "flamethrower"-looking contraption. This is really fun, and I'm impressed to see Mezco Toyz going to these lengths with the accessories for a con exclusive item.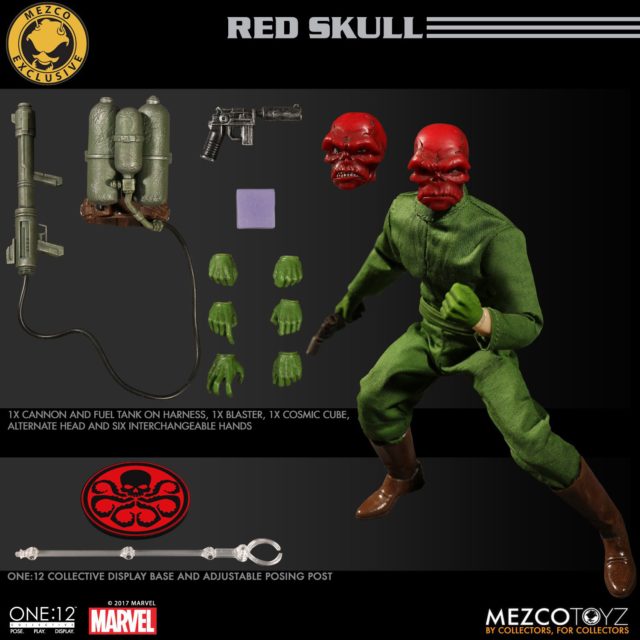 In addition to the new cannon accessories, Red Skull also includes a Cosmic Cube, a blaster, a holster for the blaster that attaches to his belt, an alternate head, a logo display base with post, and six interchangeable hands (including new hands for holding the cannon).
Classic green Red Skull retails for $80, the standard price-point for this line. With the soft goods, new accessories and highly limited nature of the NYCC exclusive, that seems more than fair (even if this isn't a version of Red Skull that's going to be for everyone).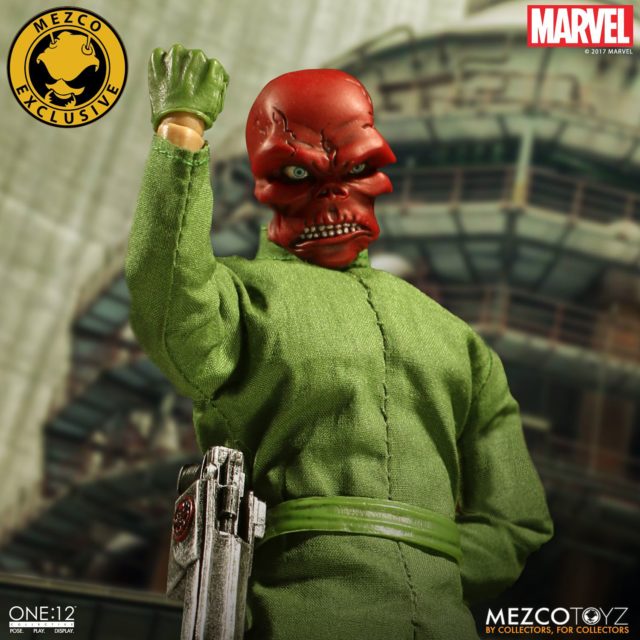 The Classic Red Skull ONE:12 Collective figure is now up for pre-order online in limited quantities, and will also be available at NYCC 2017 from October 6-9 next month. Every ONE:12 Collective exclusive since last year's Shadowlands Daredevil has sold out lightning-fast, so be aware that the online allotment for Red Skull in his green jumpsuit here may end up doing the same.
I'll be updating the site regularly as more Marvel New York Comic-Con 2017 exclusives are announced, and you can follow the Marvel Toy News Twitter and Facebook Page to get alerts whenever new updates are posted to the site.
Now that he's finally up for order over a year after being shown, who's on board for the Mezco Red Skull exclusive? Is this your preferred version of Red Skull, Marvel collectors, or are you content with the modern black trench coat iteration?