We got our first official look at the Amazing Spider-Man statue kicking off the Kotobukiya Spider-Man ARTFX+ Series of statues yesterday, but at the time Koto hadn't revealed the full lineup. Luckily, we're not going to have to speculate any more: the full lineup including Spider-Man 2099, Spider-Gwen, Venom, Miles Morales Spider-Man, Carnage and more has now been revealed!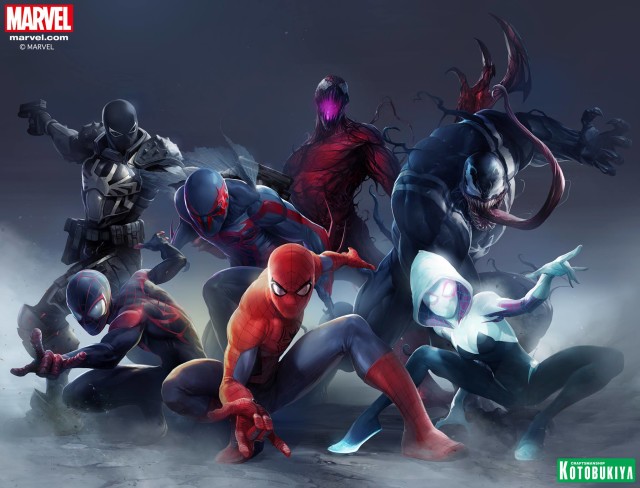 Well, we didn't have to wait long for the official artwork by Stefano Casali revealing the whole range of characters included in the new 1/10 ARTFX+Spider-Man Kotobukiya statues series! Thanks, Koto!
Like the Marvel NOW X-Men Series before it, this Spider-Man set will consist of seven totally different statues (and likely a couple of as-yet unrevealed paint variants for exclusives).
The seven characters included in this Spider-Man ARTFX+ Series are as follows:
Amazing Spider-Man
Venom
Carnage
Spider-Man 2099
Miles Morales Spider-Man
Agent Venom
Spider-Gwen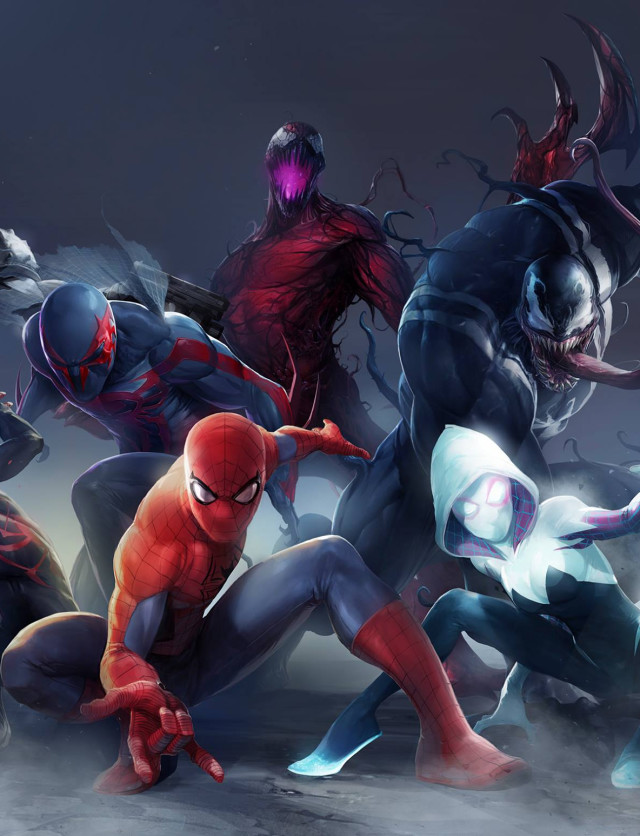 We know that Spidey himself is kicking off the line and will be released in November 2016, but we've no idea yet what order the remaining characters will be released in.
That said, Koto typically likes to release a female second in these Marvel ARTFX+ lines and save the most popular character for last, so my pure speculation is that the Kotobukiya Spider-Gwen will be released second and the classic Venom seventh. We'll see how close my prediction ends up coming to reality!
Meanwhile, Carnage is the first-ever pure villain Kotobukiya will be releasing as a Marvel ARTFX+ statue. This is a bit of a switch, as it feels sort of bizarre to have Carnage hanging out peacefully in a lineup with Miles Morales, Spider-Man 2099 and Venom. Hopefully Carnage will ultimately be the first of many villains in this 1:10 scale, however, and he'll be able to hang out with a group of baddies soon enough!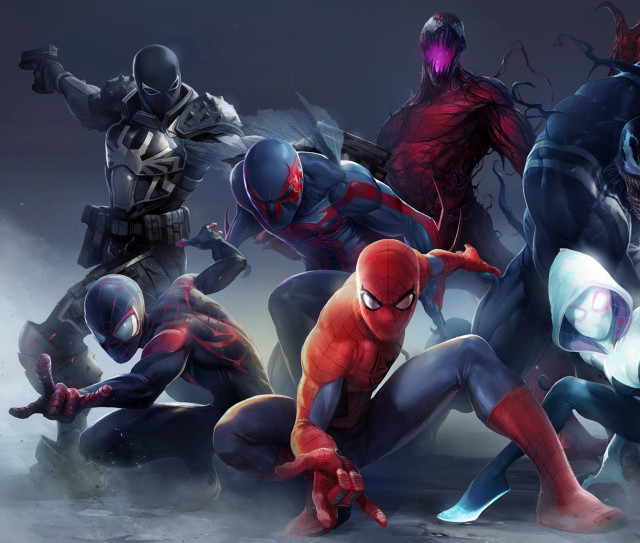 And while we're talking about firsts, let's talk about two characters getting their first-ever statues from any toy company: Ultimate Spider-Man Miles Morales and Agent Venom!
While I suspect Miles would have gotten a statue long ago if Bowen Designs were still in the game, Koto is the manufacturer actually giving him his inaugural statue. Miles' pose looks like it will mirror Peter Parker's, making the two excellent bookends for the series.
On the Agent Venom front–yep, both the Flash Thompson Agent Venom and the classic Eddie Brock Venom both appear in this lineup, even though the two characters can never coexist at the same time since they're both the same symbiote. Weird, right…?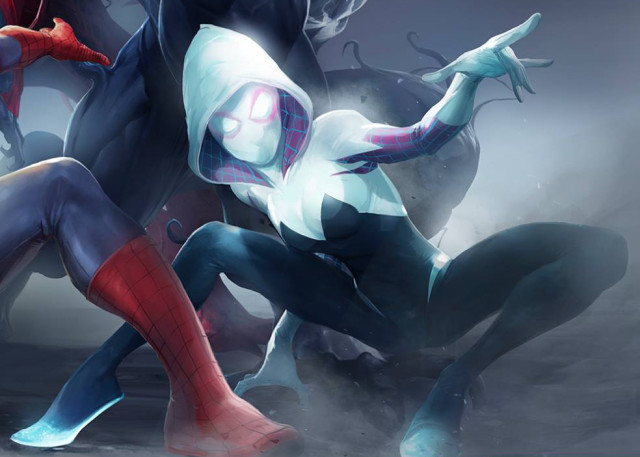 Spider-Gwen is in a crouching pose that seems pretty similar to the poses Peter Parker and Miles Morales are in, but that's fine–we've seen plenty of Spider-Gwen statues already this year, and this is the only one (other than the Gentle Giant Spider-Gwen Animated statue) to be in this sort of crouched position.
What do you think of this lineup, Marvel collectors? Do you agree with the character selections that Koto made for this series, or do you think there were other characters who deserved to make it onto the ARTFX+ Spider-Man figure roster?