Earlier this week I previewed Gentle Giant's smaller and less expensive alternative to Sideshow's amazing–and astronomically priced–Venom Premium Format Figure. And now, it's the other most popular Symbiote on the planet's turn: Carnage! Kotobukiya adds its first villain to the 1:10 Spider-Man statue series with Cletus Kassidy–the Kotobukiya Carnage ARTFX+ statue is now up for order! Those used to the super-low cost of Marvel ARTFX+ figures past may be a mite surprised by the price, though…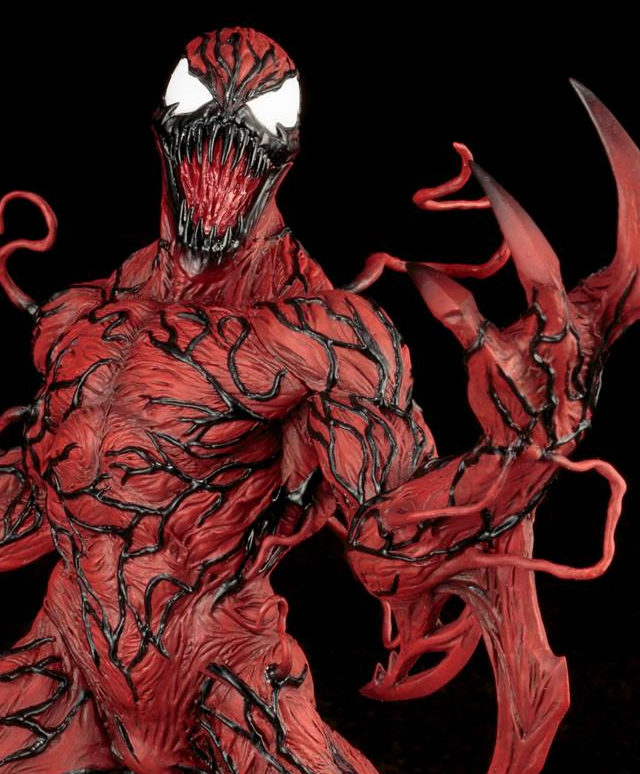 If there's one pure villain in the Spider-Man universe that collectors just can't get enough merch of, it's Carnage. Whereas Venom has been portrayed as an anti-hero more often than a villain over the years, Carnage is about as sadistic of a super-villain as there is.
And so, even though Koto released a $200+ Fine Arts Statue a few years back and Sideshow has just solcited their own nearly $500 Carnage Premium Format Figure, there's still room in the market for a smaller, cheaper Carnage statue!
Let's take a look…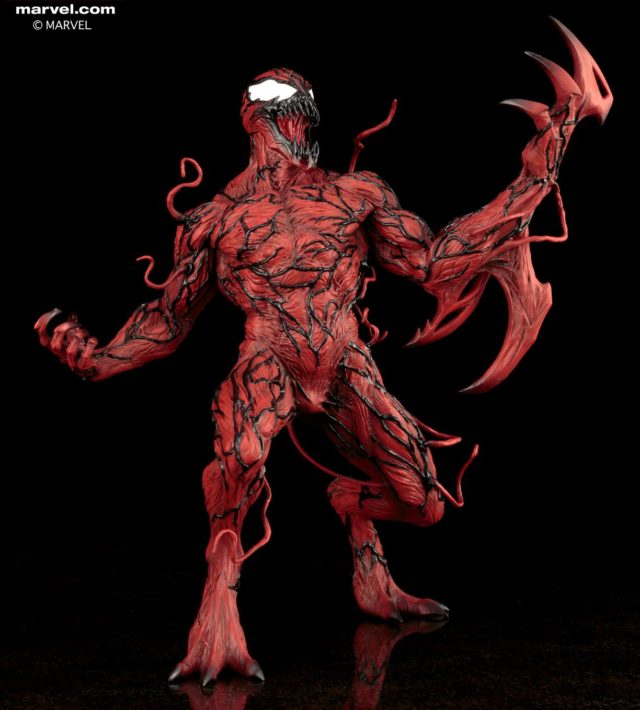 The ARTFX+ Carnage statue is the fifth figure released in the Koto Spider-Man ARTFX+statue series, following the solicitations for Peter Parker Spider-Man, Miles Morales Spider-Man, Spider-Gwen and Agent Venom Flash Thompson.
The figure has an enormous amount of sculpting detail and texture on it–vastly more than we've seen on any figure in this series up until now.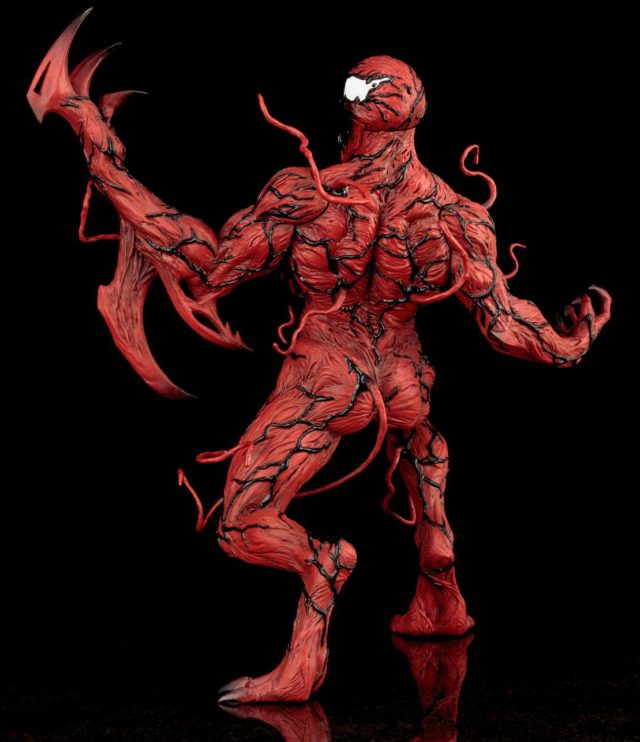 Like the rest of the characters in this series, Koto has gone with a modern interpretation of Carnage for this 1/10th scale statue. Thankfully, Carnage still looks pretty true to his classic roots… for the most part.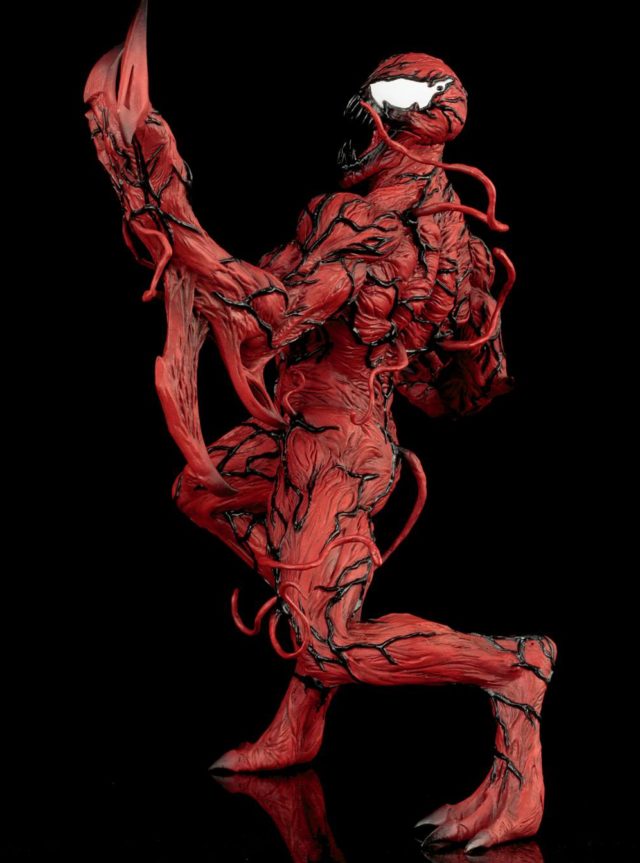 While this statue has a classic Carnage vibe to it almost all-around, Cletus does have these crazy chicken feet that fans have already been pretty vocal in their opposition to.
While the non-human feet definitely give this piece a more alien feel, but I'd be lying if I said I particularly liked them myself.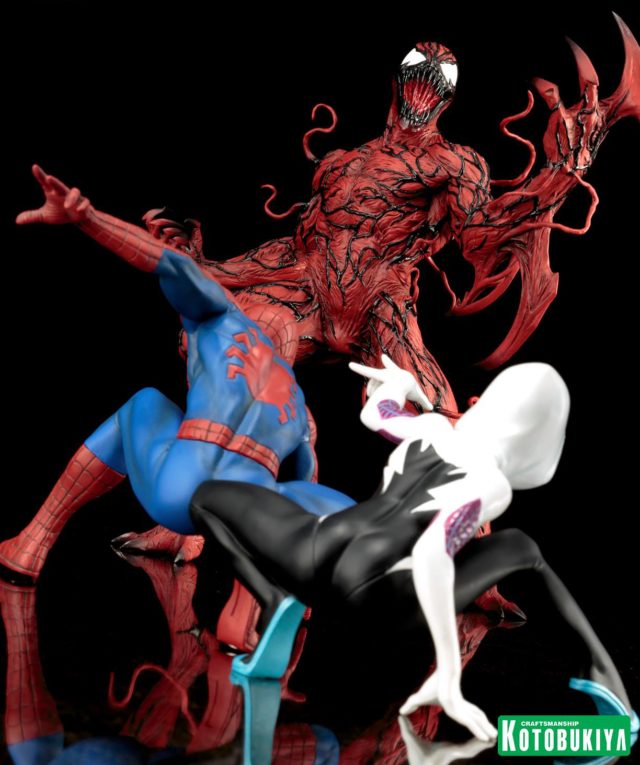 Standing just over 7″ tall, Carnage absolutely towers over most of the other figures in this Spider-Man series–particularly since all of the Spider-people to-date have been in crouching poses and are really quite short.
That size is coming at a surprising price, though: the Carnage Kotobukiya ARTFX+ statue is coming with a retail price of $79.99, which is the highest we've ever seen for a mass release Kotobukiya Marvel ARTFX+ statue.
Considering Agent Venom's MSRP was just $64.99 (as was that of the very large and heavy Koto Hulk figure), the $15 price jump on Carnage is really quite perplexing.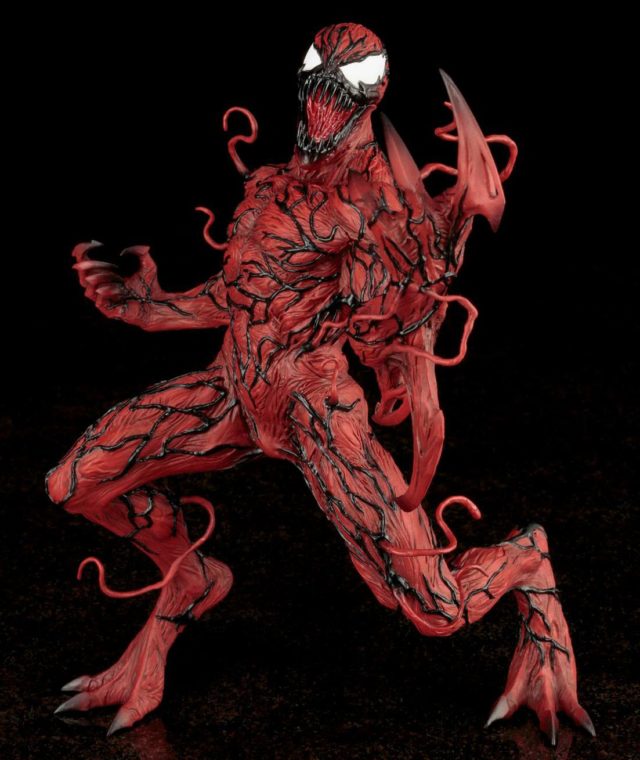 The Kotobukiya Carnage ARTFX+ statue is now available for order, and is scheduled to be released in July 2017. Ordinarily I see the prices of Koto's statues slashed a bit for pre-orders, but thus far I've only seen Carnage being sold for the full retail price. That's definitely a bummer since he's the most expensive ARTFX+ Marvel figure yet, but I'll keep watch and send out an alert when and if I see discounted pre-orders for this monster.
Thoughts on the newest (and cheapest) Carnage statue on the block, Marvel collectors? Is this Carnage figure bound for your home this summer, or are you put off by some aspect of this figure (such as the price, stance or chicken-feet)?