Have you ever waited so long from when a figure was fully revealed to when it was available for order that when it actually did go up for sale, you thought you'd ordered it months ago…? Yeah–that's how I feel about the Marvel Play Arts Kai Wolverine figure, which I could have swore I ordered at least 3 months ago. But I did not–at least, not then. That said–the Wolverine Play Arts Kai figure is now up for order–and this time, I really and truly have placed an order for him…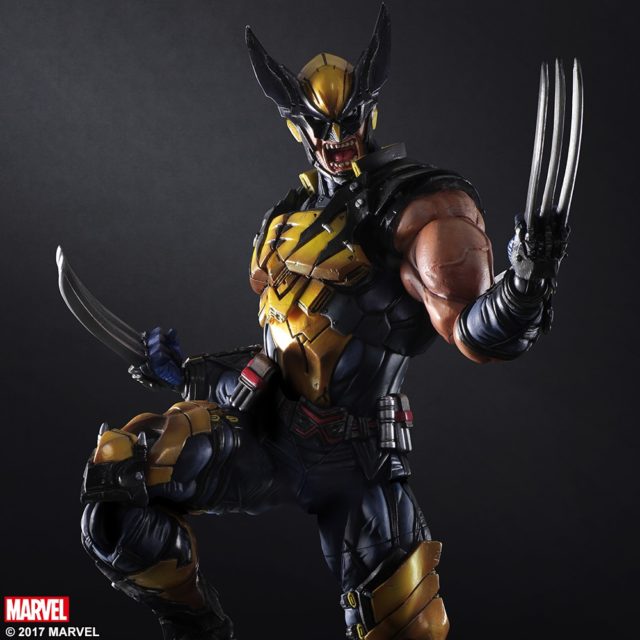 Square-Enix had the final painted prototype for their Play Arts Kai Marvel Wolverine Variant figure painted and being shown off in final form at events as far back as last summer. Ordinarily, pre-orders for PAK figures that far along either soon follow or already have happened before Square-Enix displays in that state.
But there are of course exceptions to every rule, and the new Marvel PAK Wolverine seems to be one of them.
Unlike the majority of Wolverine figures that we see released these days–which tend to be toys of Logan out of his X-Men costume–Square-Enix decided to go with the classic yellow-and-blue look for Wolverine. Of course, this is the "Marvel Variant" line, so the actual costume is far from "classic".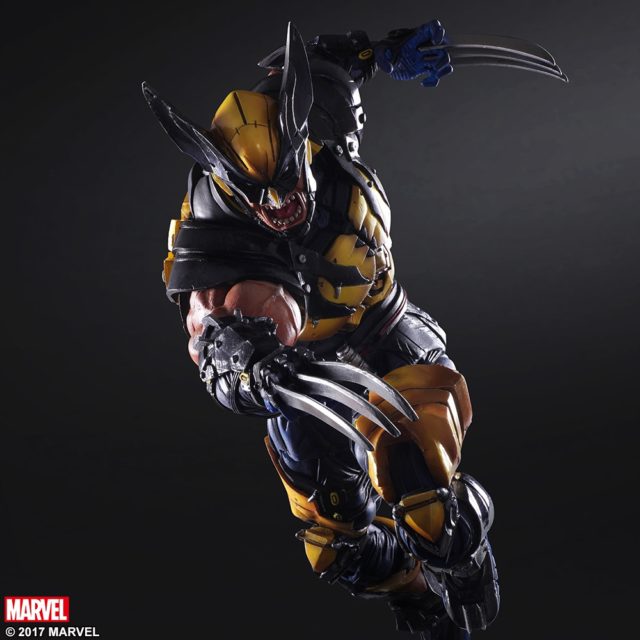 Standing about 10″ tall (slightly shorter than the rest of the Marvel Play Arts Kai figures–as he should be), this Play Arts Kai Wolverine figure is outfitted in yellow, blue and black armor from head to toe (well, besides his bulging biceps which are out for the world to see).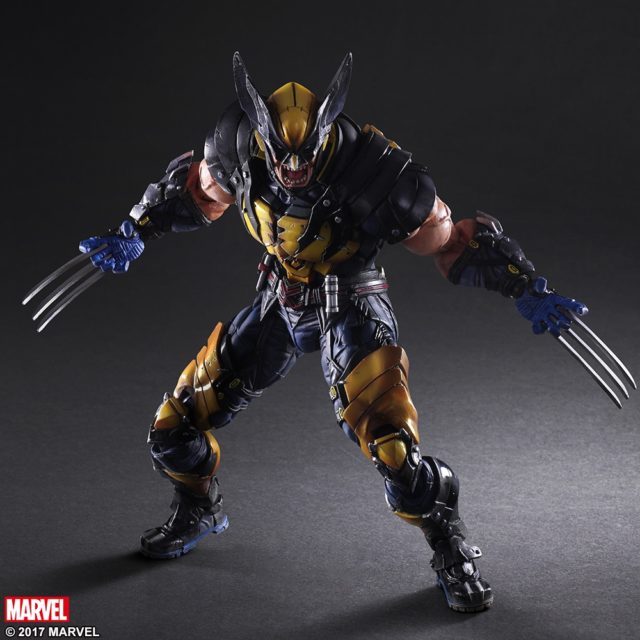 Yeah, forget spandex–healing factor or no, Wolverine looks much safer (and more deadly) in this armored costume. This is a great look for Logan.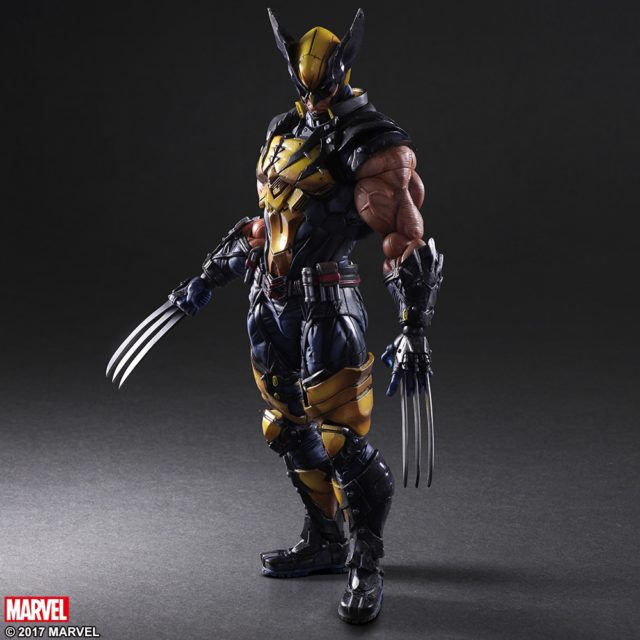 And check out those claws! Man, do those look sharp! They look better than the claws on a lot of Wolverine high-end statues that I've seen!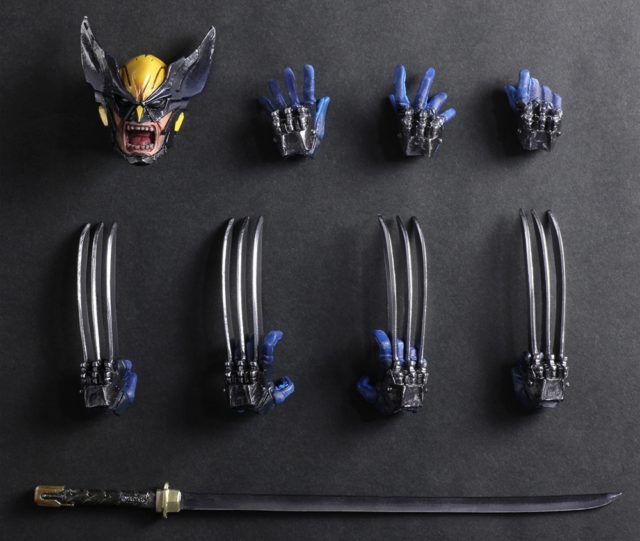 Like all the figures in this lineup, Wolverine comes with a pretty substantial amount of accessories. He comes with two interchangeable heads–one calm and one in a feral berserker rage–, nine hands (some with claws out and some with claws retracted), a high-quality figure stand and a katana sword.
Other than an unmasked Logan head–which none of the figures in the PAK Marvel series have had this far–there's nothing else I would have wanted that hasn't been included here.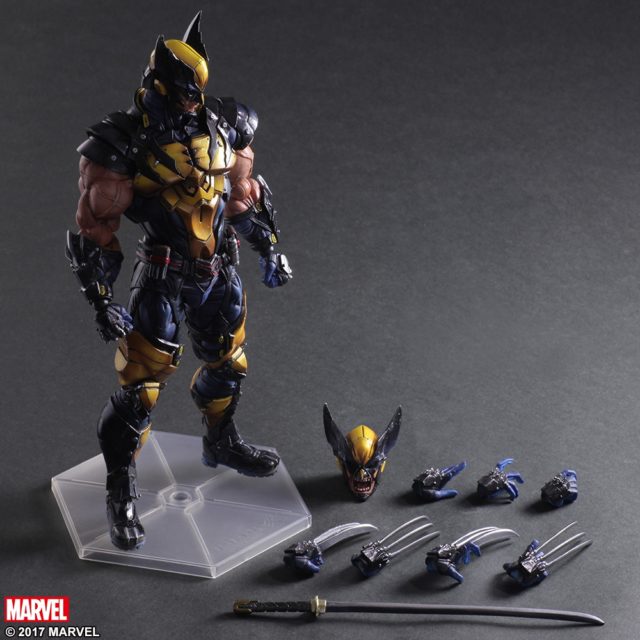 As with all of the characters in this series, the Square-Enix Wolverine PAK figure has a 100% newly-tooled mold that doesn't reuse pieces from any other figure. This type of unique, highly-detailed tooling with lots of new accessories and fancy paint comes at a price, though. And in this case, that price is 150 bucks.
That price–the better part of a Hot Toys figure–is going to be too rich for the blood of many collectors, but I suspect that those who do end up purchasing this very cool Wolverine figure will be pretty happy with him.  This figure looks outstanding.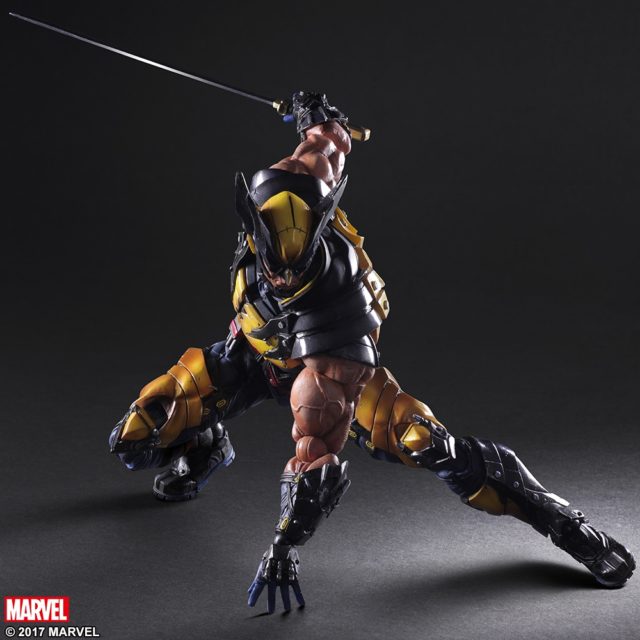 The Play Arts Kai Marvel Wolverine figure is now up for order, and is scheduled to be released in June 2017. Square-Enix's estimates tend to be very accurate, so are odds are that's the month he'll actually be in our grubby collector hands. This is the final figure that's been shown for the Marvel Play Arts figures series to-date, and very well may be the last figure released in the line overall.
How do you like the Play Arts Wolverine figure, Marvel collectors? If Wolverine does turn out to be the final Play Arts Kai Marvel figure Square-Enix produces, is he a fitting  swan song for the line? If Square-Enix does choose to continue this series, what character(s) would you like to see them tackle?