While 2017 is off to a hot start from many of the most popular Marvel manufacturers such as Hasbro, Sideshow Collectibles, Kotobukiya and Diamond Select Toys, the offerings have been a little… light… this year, with only the new Marvel Micro Muggs having hit thus far. But there's a lot to look forward to in the coming months, including not only the Coulson and Ms. Marvel sets–but also new LEGO Guardians of the Galaxy 2 sets! And the headliner is the new LEGO Milano vs. The Abilisk 76081 set…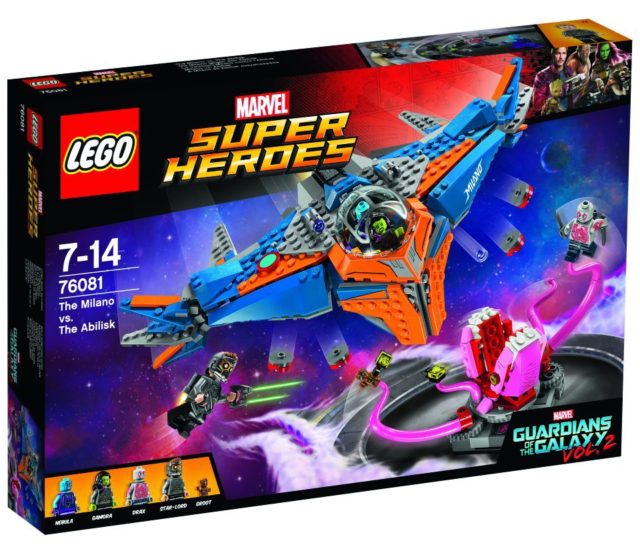 Just like for the original movie, The LEGO Group will be releasing a trio of sets for GOTG 2.
I'll be discussing the other two sets on my LEGO blog later today
, but let's take a look at the headliner set here on Marvel Toy News…
If there's one set that I was almost certain would be a lock for this year's movie Guardians of the Galaxy LEGO sets, it's a new version of Peter Quill's ship, the Milano. What I didn't expect is that, well–it'd be so small this time!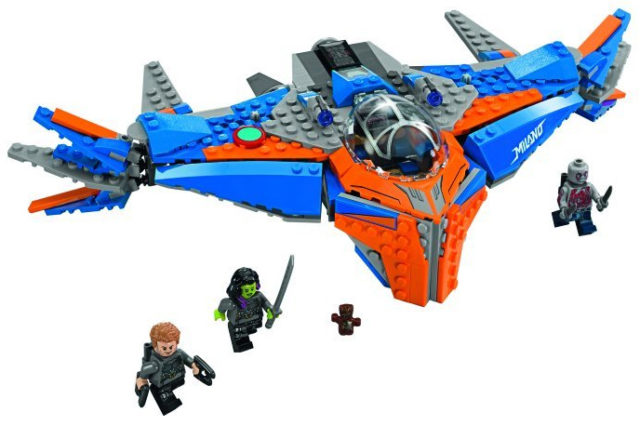 See, the first LEGO Guardians of the Galaxy Milano set sat on store shelves for about two years at 80 bucks (and can still be found in some stores), so it looks like The LEGO Group didn't want to repeat that mistake with a large-sized Milano spaceship again.
This time, the set will contain just 460 pieces and has an anticipated retail price of $49.99 in the United States (a price-point which I expect to be confirmed at New York Toy Fair 2017 next month).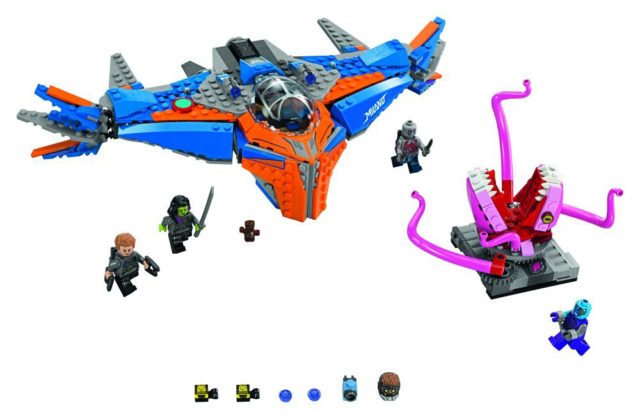 That's a bummer, as the new Milano is much smaller and less interesting than its predecessor–but it's also a blessing for those who want minifigures of Gamora and Drax in a set for under 50 bucks for the first time. And speaking of the minifigs…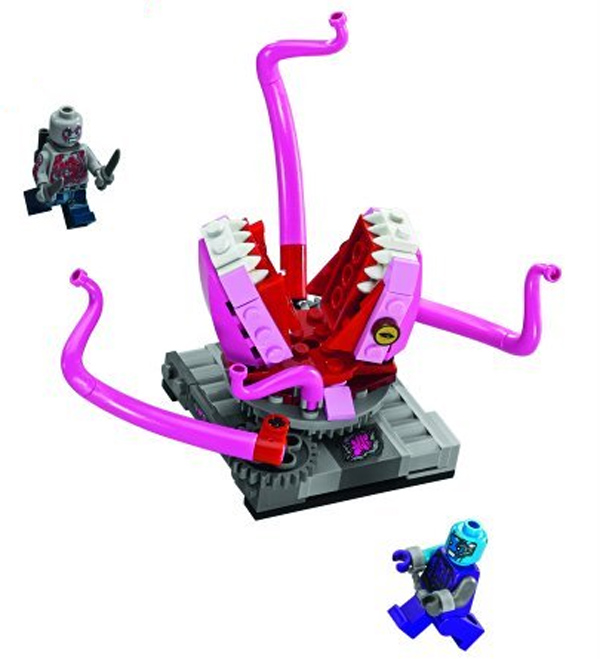 The new LEGO 76081 The Milano vs. The Abilisk set will contain five figures: new minifigures of LEGO Star-Lord, Drax, Gamora and Nebula; along with a little non-articulated figure of Baby Groot in his Guardians of the Galaxy uniform. Let's be real: that Baby Groot LEGO figure is gonna sell a lot of these Milano sets!
The other main component of this set is The Abilisk, which appears to be a crazy neon pink Sarlacc-like creature. I don't recall seeing this alien in any of the trailers yet, but I really hope it's this wacky pink on-screen–I feel like that bizarre-ness really works for a movie like Guardians of the Galaxy Vol. 2.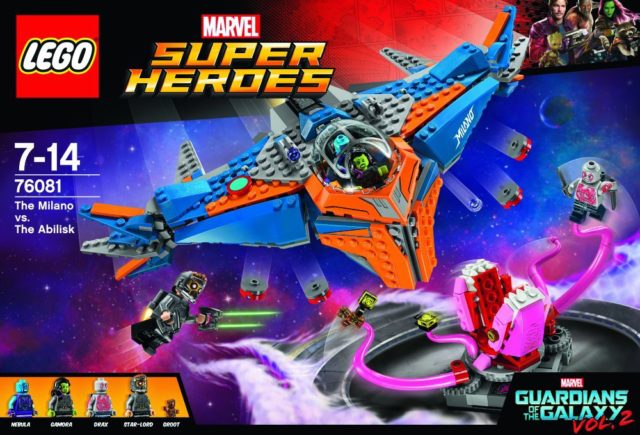 The LEGO Guardians of the Galaxy Vol. 2 sets are scheduled to be released in March 2017, giving the sets a one-month head start in advance of the movie hitting theaters. As these are street-dated movie sets, they can't be pre-ordered anywhere just yet, but I'll post links to order to the Marvel Toy News Twitter and Facebook Pages as soon as the new sets go live for sale.
How do you think this year's batch of LEGO Guardians of the Galaxy toys compares to the sets from the first movie, Marvel collectors? Do you like your Milano big and expensive or cheaper and smaller? And hey–how cute is that LEGO Baby Groot?!