So far, there are two clear Marvel breakout stars in 2016. One has an R-Rated major motion picture in theaters now and decades of comic book appearances. The other… has appeared in comic books for less than two years. But what Spider-Gwen may lack in history, she makes up for in the sheer variety of merch coming out this year: the Skottie Young-styled Gentle Giant Spider-Gwen statue is now up for order!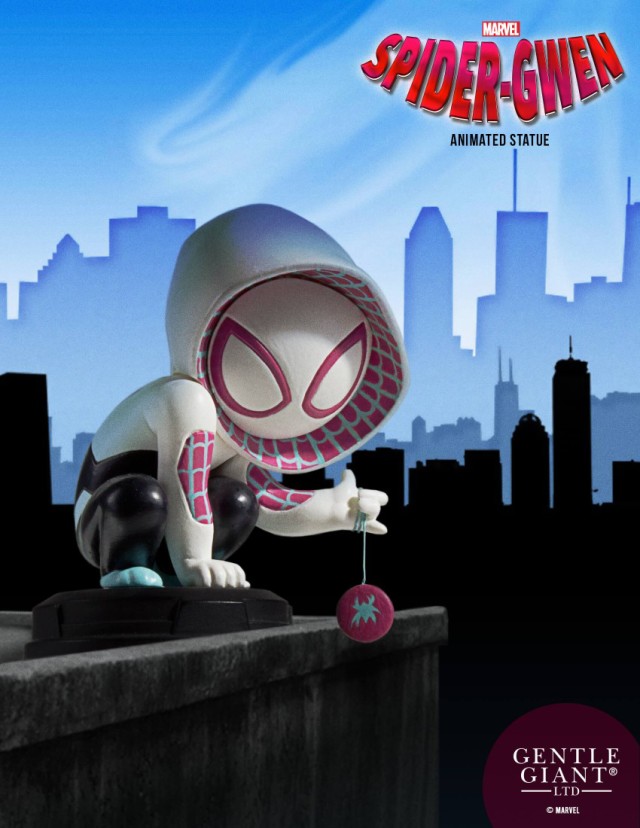 As far as Marvel merchandisers go, Gentle Giant doesn't have a whole lot going on in 2016. Their Marvel mini-bust line is pushing up daisies, and the quarter-scale line releases new pieces few and far between.
On the bright side, Gentle Giant's retro Jumbo Secret Wars figures are coming out on a consistent basis, and their Skottie Young Marvel Babies statues line is off to a hot start–and about to get a lot hotter with Spider-Gwen!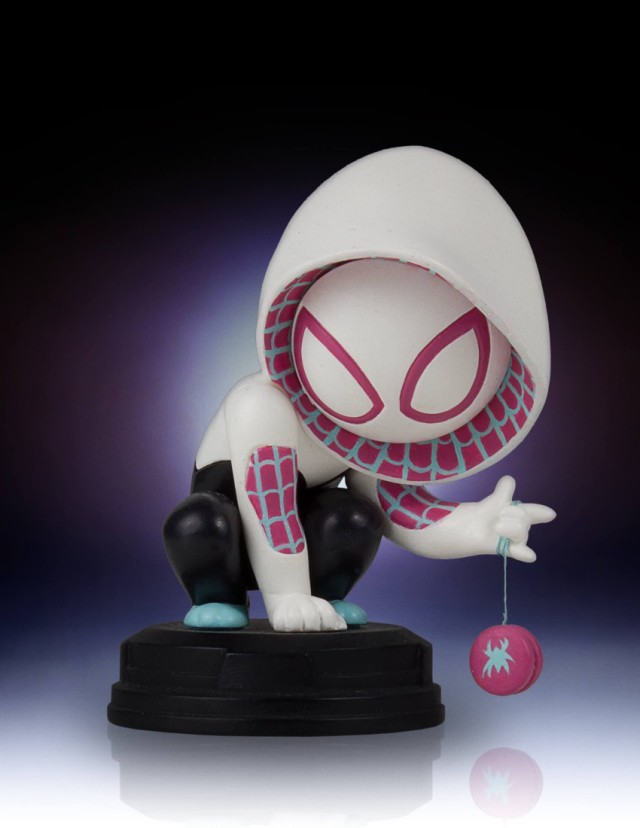 I've got a strong hunch at this point that there are more people out there who own Spider-Gwen toys or have cosplayed as her than the number of people who have actually read a Spider-Gwen comic book.
But you know what? If there's one character design of the past decade that deserves to promote a character, her comic book series and her collectibles, it's Spider-Gwen's.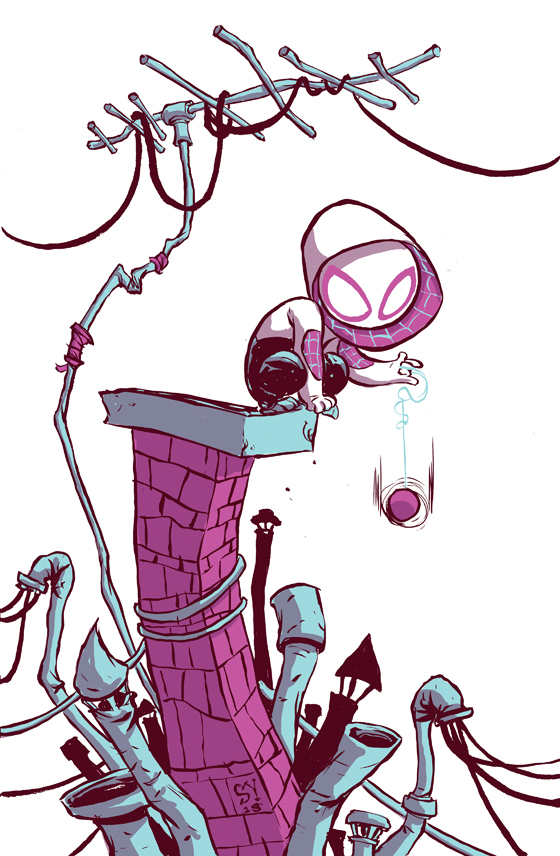 Those who do read the Radioactive Spider-Gwen comic book will get an extra kick out of this Gentle Giant Animated Spider-Gwen statue, though, as the figure recreates the Radioactive Spider-Gwen #1 Skottie Young variant cover, with Gwen Stacy killing time waiting for crimes to stop by playing with a yo-yo. Adorable!!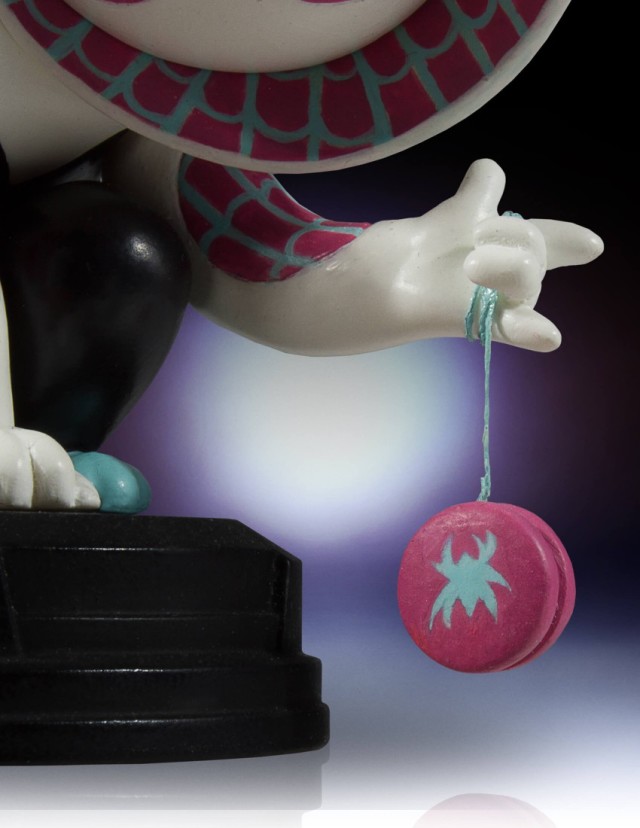 And hey–the Yo-Yo portion of the statue is even made with a real string holding up the yo-yo! Pretty cool, huh?
The resin Animated Spider-Gwen statue stands 3.5″ tall and has an MSRP of $64.99. That's not a terrible price for a resin statue of this size, especially since you can get pre-order discounts on her right now.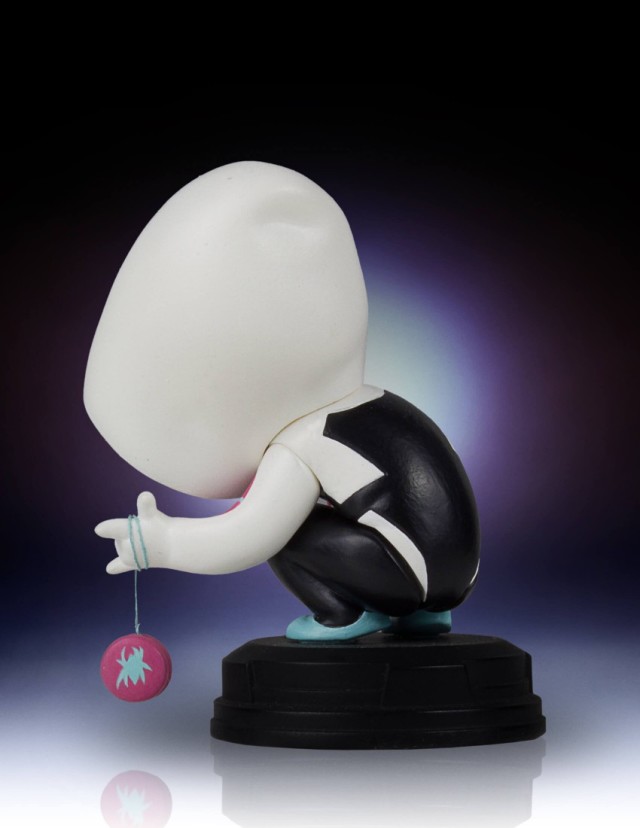 Spider-Gwen is significant as the first modern character in this Gentle Giant Skottie Young series–the previous three releases (Captain America, Iron Man and Thanos) are all classic characters with decades and decades of history.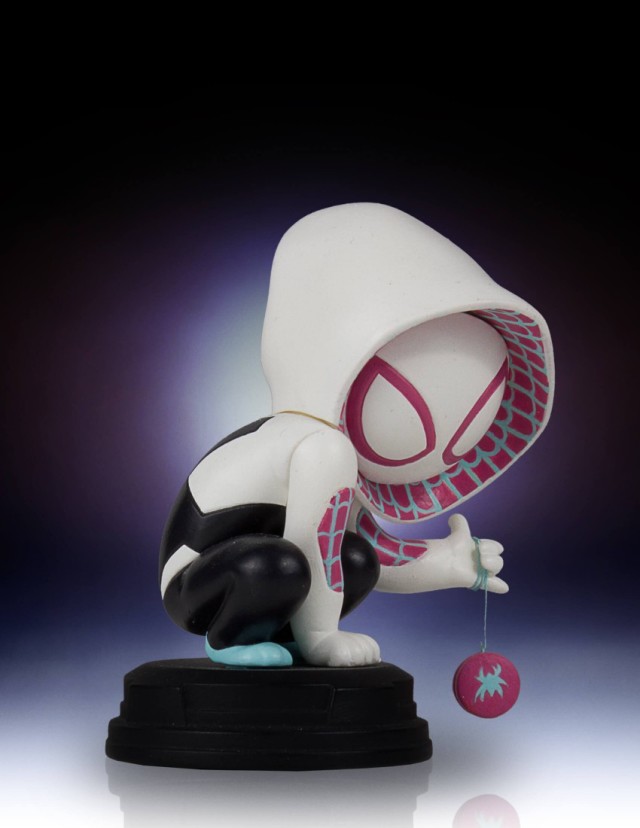 I'm actually getting really confused about what I'm supposed to call this statue line, as Gentle Giant Ltd. has referred to the pieces as "Skottie Young Marvel statues", "Marvel Babies statues" and now "Marvel Animated statues". The latter seems to be GG's favorite title, but it also makes the least sense, since every statue in this line is plainly derived from comic book artwork.
I'm going to continue mainly referring to this as the Skottie Young Marvel Babies statues line–because I prefer it, but don't take that name as gospel. Gentle Giant will probably settle on an official name for this series… eventually.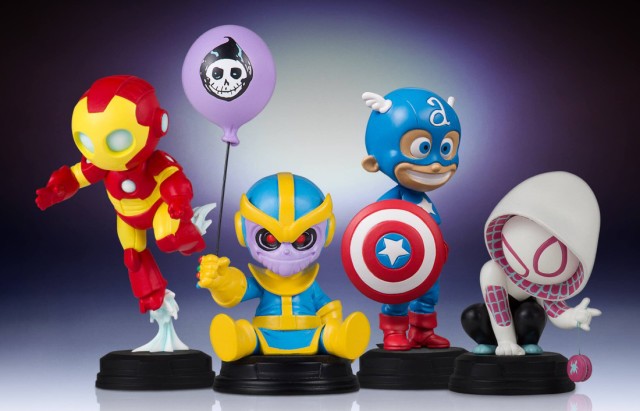 The Skottie Young Marvel Babies Spider-Gwen statue is now up for order, and is scheduled to be released in September 2016. None of the statues in this line have sold out yet, but if any announced character is destined to sell out quickly, it's the Gwen Stacy Spider-Woman.
What do you think of the fourth entry in the Gentle Giant Marvel Animated statues line? Do you like seeing modern characters as part of this line, or would you prefer that Gentle Giant stick to classic, iconic characters?