Back when Funko announced the Marvel Collector Corps subscription box service in February 2015, they promised Founder's Program members are special gift on the one-year anniversary of their subscriptions. Time has flown, and the much-discussed Marvel Collector Corps Founder's Gift has arrived: a gold chrome Captain America statue! If you're not a Founder, you can nab one of these exclusive statues for under $35 right now… but should you?
The Right:
During the signup period for the Marvel Collectors Corps Founder Program, Funko posted some artwork of an Academy Awards Oscar statue-looking gold Captain America figure. I had that image in the back of my mind all year, and last month, Funko outright confirmed that this Captain America statue was in fact the long-awaited free gift.
Now, this gift may not be what everyone had hoped for –and I'll talk about that in a bit–but for what it is, Funko really went all-out for us.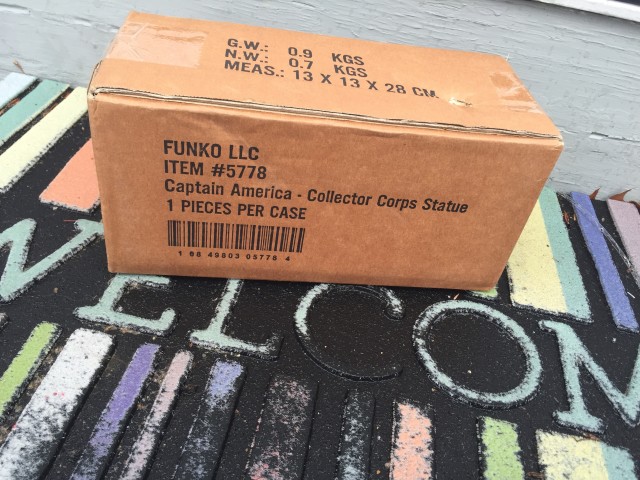 The MCC golden Captain America Funko statue arrives in its own cardboard shipper box, and inside of that comes in a sturdy window box.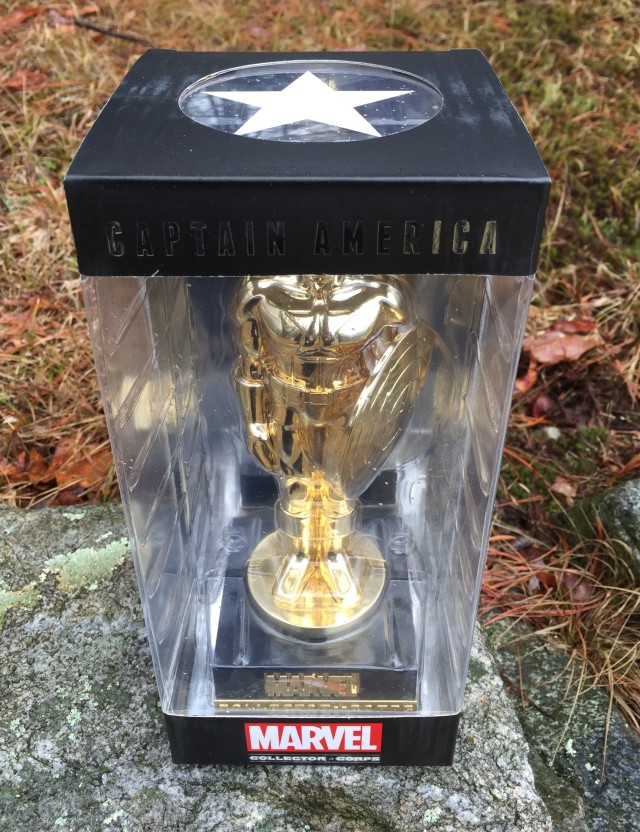 The window box proudly displays the statue from the front side, and has a Captain America shield logo printed on the top. There's not a whole lot to say about it, besides that it's pretty nice. For a box.
Of course, what we actually care about isn't the box–it's the toy inside. If you can consider it a toy at all–which I'm not sure I can, considering how classy this statue looks and feels.
This statue is clearly a classic Jack Kirby-styled Captain America, and it captures the look of that character design quite well.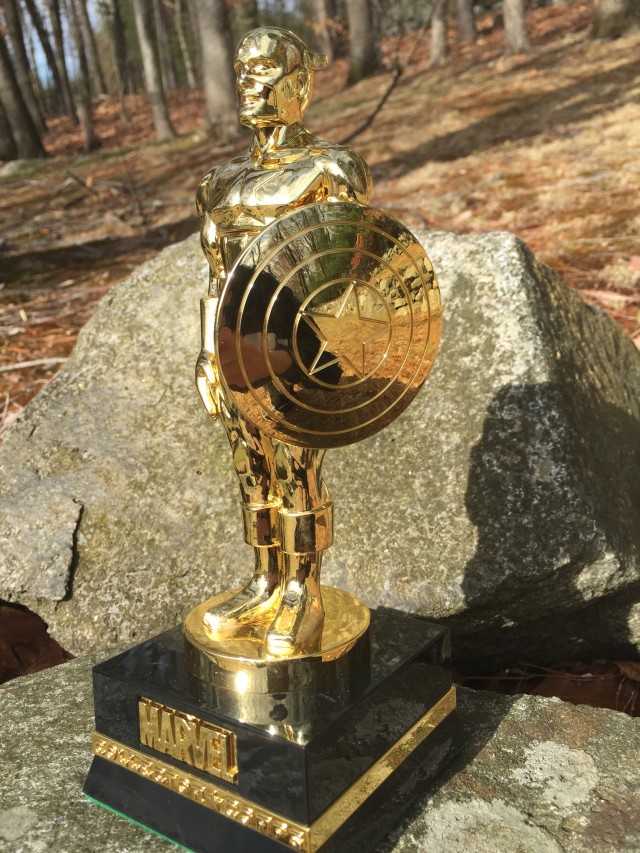 The statue is covered in gold chrome. When done cheaply, gold chrome can look really bad and show early signs of flaking. That's not the case here, however–the golden chrome on Captain America looks outstanding, with no evidence whatsoever of flaking or imperfections at all.
And not only does this statue look good–it feels good. Out of the box, this figurine still weighs over one and a half pounds! This definitely has the heft and weight of a heavy, high-quality collectible.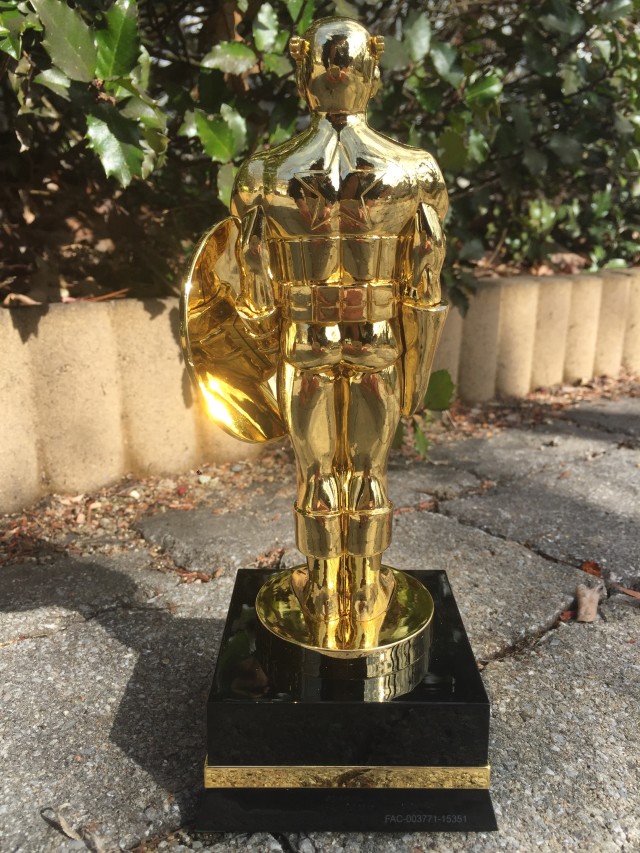 Even the square base that the Captain America figure is standing upon looks terrific, with a stripe of gold chrome running across the middle of the square and the golden Marvel Collector Corps logo adorning the front.
Inside and out of the package, this statue is a nice piece
The Wrong:
As high-quality and well-made as this Funko Gold Chrome Captain America statue is, there's really only one thing about it that I genuinely dislike: it doesn't look or feel like a Funko product at all.
Whereas Funko has made its name and fortune from producing cute, stylized versions of legendary characters, this is a more straight-up classic comic book take on Captain America.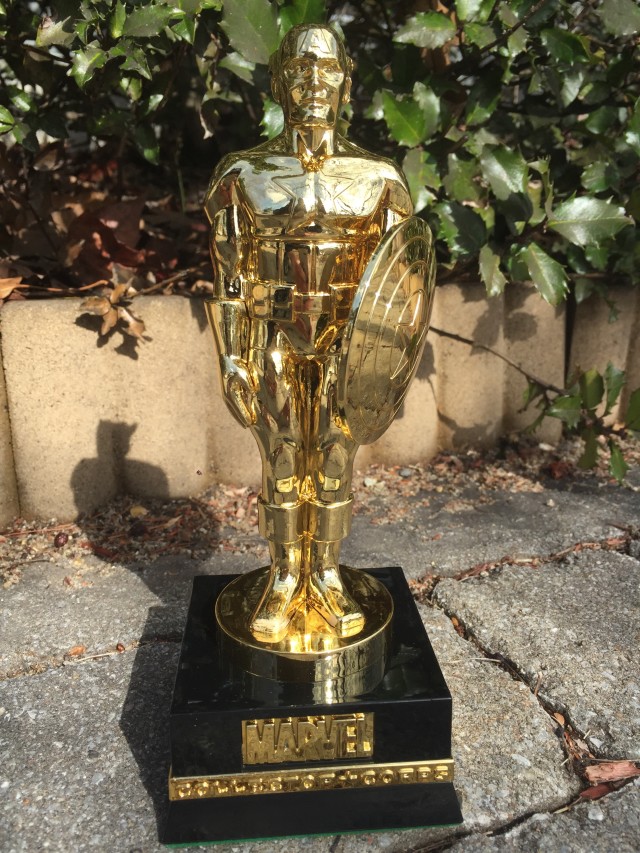 Maybe it's just me, but I really feel that an anniversary gift from a company like Funko ought to capture the style and spirit of Funko's other products–and this Marvel Collector Corps Founder's Gift just does not succeed in that respect at all.
Personally, I think a gold chrome POP Vinyl Captain America would have been a much better fit and would have ultimately been far more sought-after, and the cheap aftermarket sales prices for this chrome statue seem to indicate that it's not what other Funko collectors were hoping for either.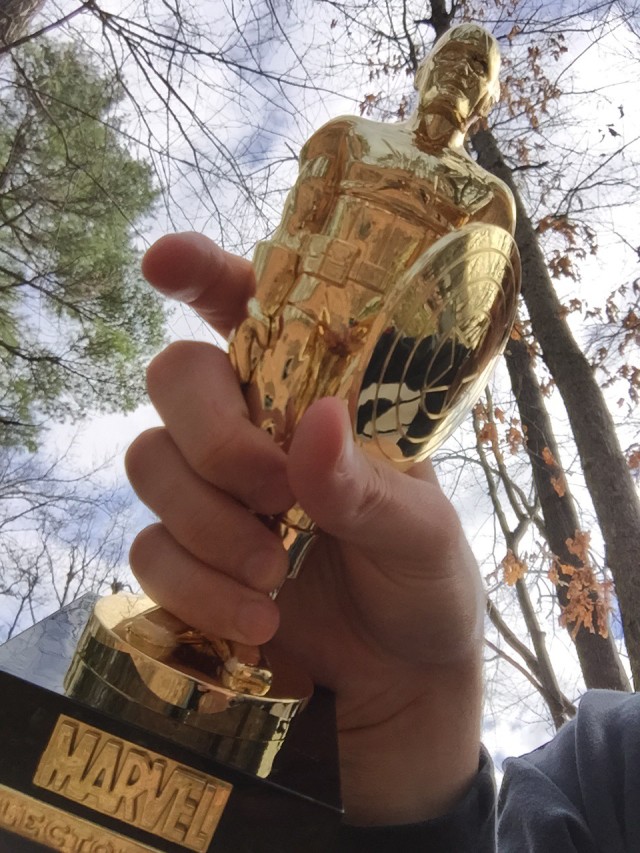 Overall: For a free gift, this Captain America MCC Founder's statue is really nice. The golden chrome is high-quality, the statue itself has a lot of heft to it, and even the packaging is very well-done. But on the flip side, this statue just doesn't feel like a Funko toy at all. I think it's a neat item and I'm not about to sell mine, but it definitely doesn't feel like it belongs displayed alongside of displays of Funko POP Vinyls, Hikari or Mystery Mini.
GRADE: B