Hot Toys missed the target slightly with their first Hawkeye MMS, and while it was loaded with accessories, the long-sleeved AOU Hawkeye just isn't an iconic version for the shelf. But the third time appears to be the charm, and it looks like the best is coming later this year: the Hot Toys Civil War Hawkeye is now up for order! And, oh yeah–it comes with a mini Ant-Man riding an arrow! Best accessory ever…?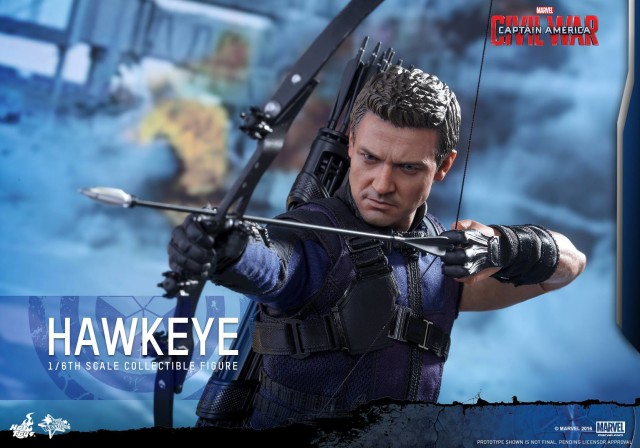 For whatever reason (and the reason likely being that he's not as popular as other characters), Hawkeye is not getting a lot of love from toy companies this year. There's no Funko Civil War Hawkeye POP Vinyl or Dorbz of any kind announced, no new Marvel Legends Hawkeye on the way in any scale, the SH Figuarts Hawkeye from Age of Ultron has probably been quietly scrapped, and even the Minimates Civil War Hawkeye is a Toys R Us exclusive.
But if there's one company we can count on to take all our money and complete our MCU lineups, it's Hot Toys! And now they're back with their third–and best–Hawkeye sixth scale figure yet!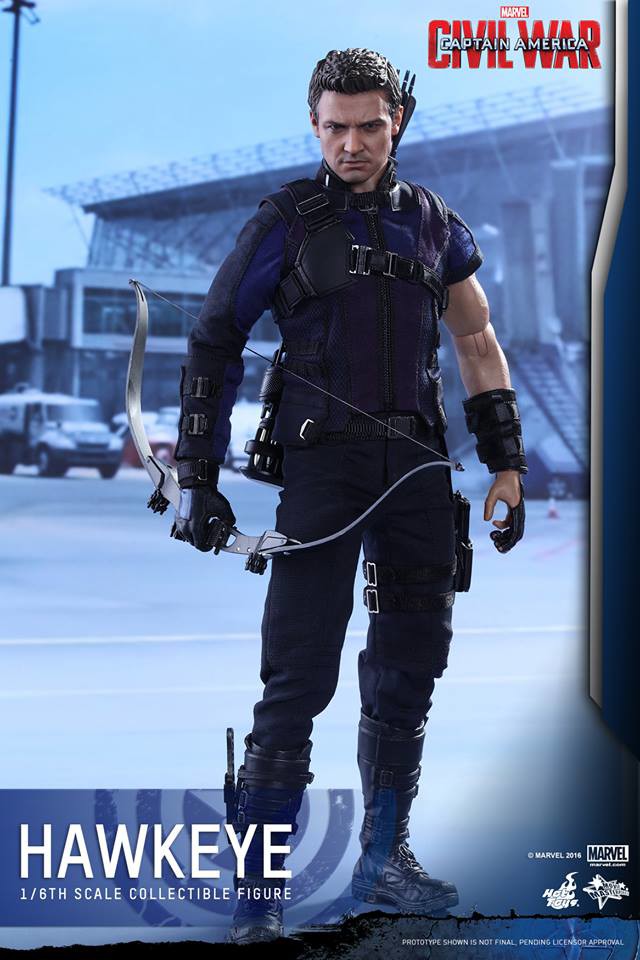 The Captain America: Civil War movie costume for Hawkeye is a pretty huge jump visually from his Age of Ultron costumes. I think that this is easily the most "comic book"-looking outfit that we've had for Clint, making it the default Jeremy Renner I want on my shelf.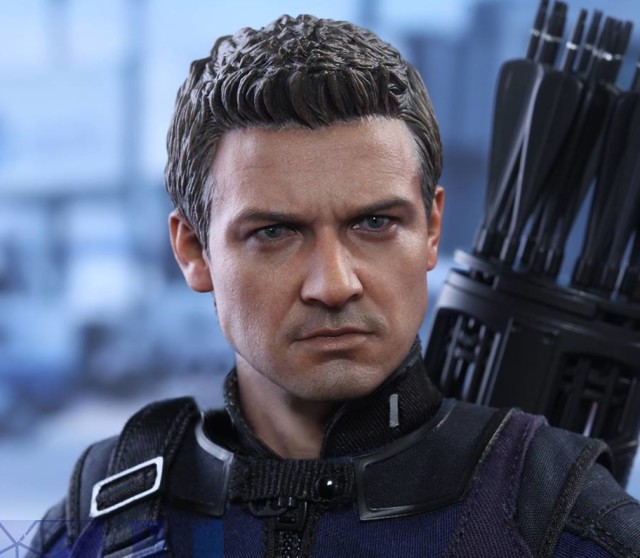 The AOU Clint Barton head sculpt is reused for this figure, but it's got a new–and slightly better–paint job. I don't know that this enters the uncanny valley just yet, but I do think this is the best Jeremy Renner portrait that Hot Toys has done thus far.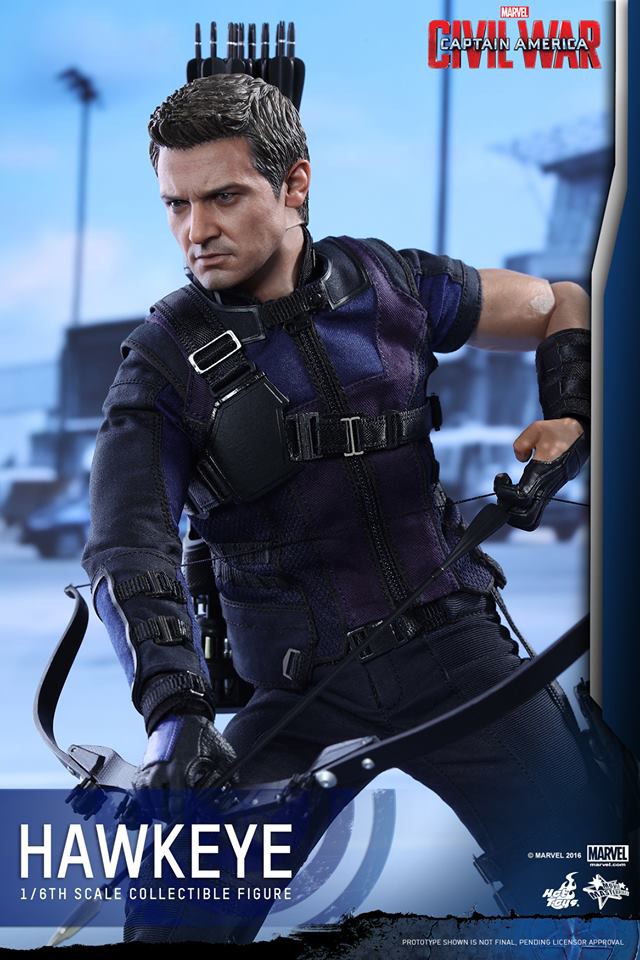 The prototype photos clearly show that the sleeveless arm has a single-jointed elbow this time, which is a surprise and a bit disappointing. Hopefully that'll be fixed for the production figure, as I prefer the extra flexibility the double-jointed elbows give (even if they would be more unsightly on a sleeveless arm).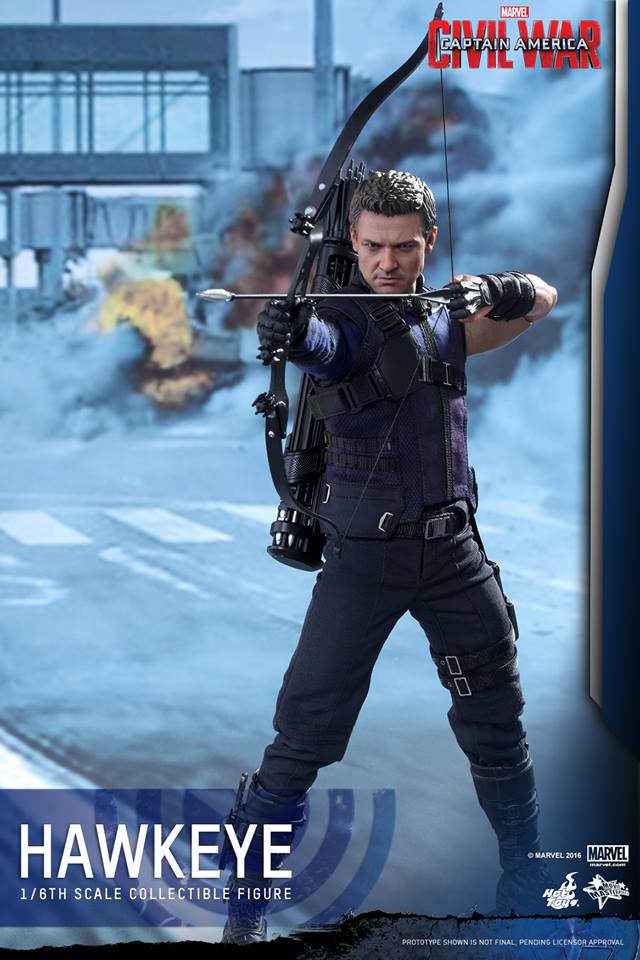 Hawkeye's bow is not collapsible in the Captain America Civil War movie, so we won't be getting a second bow with his 1/6 figure this time out.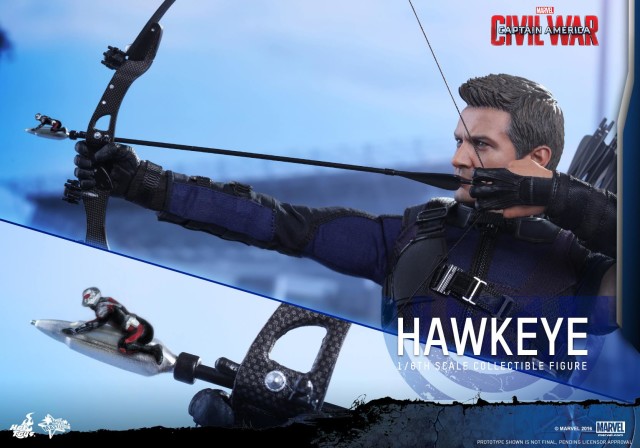 But what we will be getting is way better: an interchangeable arrowhead with a mini Ant-Man on it! That's right–arrow-riding Ant-Man is on the way! If this isn't among the coolest accessories Hot Toys has ever given us, I don't know what is!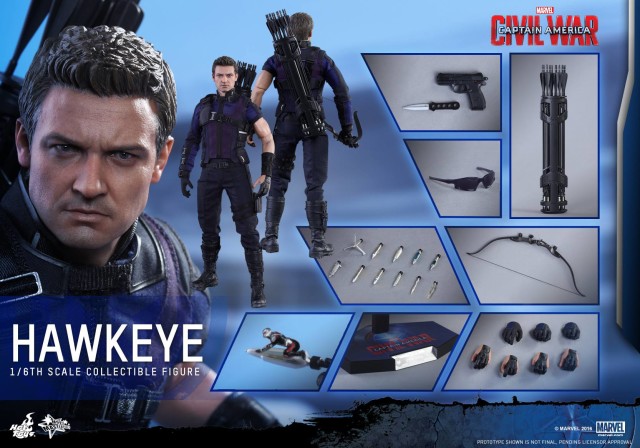 Now, this Hawkeye doesn't some with nearly the same amount of accessories that the Avengers Age of Ultron version did. As you can see, he's got his outfit, glasses, bow, quiver, arrows (plus Ant-Man arrowhead), a pistol, a dagger and a figure stand display base. That's not a huge loadout.
On the bright side, I'm thinking that Hot Toys is limiting the accessories on this release so that he can be lower-priced, just like the Civil War Winter Soldier figure is. Let's hope for that once the MSRP on this figure is posted this week.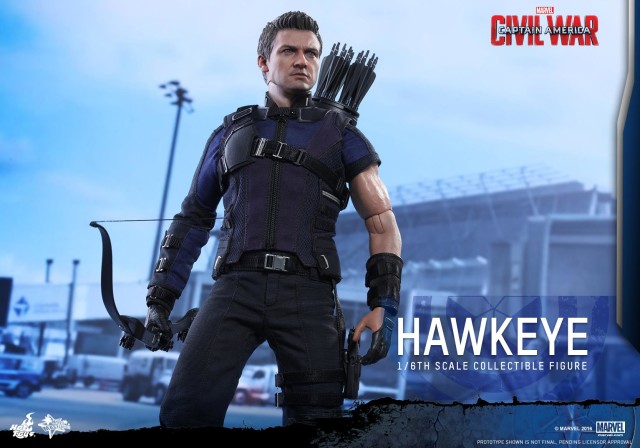 The Captain America Civil War Hot Toys Hawkeye 1:6 figure goes up for order this week, and is scheduled for release in fall 2016. I'll send out alerts via the Marvel Toy News Twitter and Facebook Pages once he goes up for order, so stay tuned to your Newsfeeds if you're anxious to order the world's best archer (sorry Green Arrow).
What do you think of the Civil War Hawkeye Hot Toys figure, Marvel collectors? Is this the best of the trio of Clint Barton sixth scale figures, or are you sticking with a previous version of movie Hawkeye?