2015 is a great year to be alive and a Marvel Legends collector! Not only do we have four waves of Avengers Marvel Legends and two waves of Spider-Man Marvel Legends in 2015, but we'll also be getting a variety of retailer exclusive sets. And while one of those sets was announced at San Diego Comic-Con 2014, we haven't heard another word about it–until now! The comics-based modern Marvel Legends Guardians of the Galaxy set has now been revealed!
UPDATE 9/9/2016: For those who have held out for the last 19 months, betting that this exclusive set would eventually get a mega-discount to a killer price–your patience has been rewarded! The EE Exclusive Marvel Legends Guardians of the Galaxy box set is now on clearance for nearly 50% off–just $62 shipped for five 6″ figures! Craziness! If you've been waiting for this set to reach the lowest price that it's gonna–this is probably it!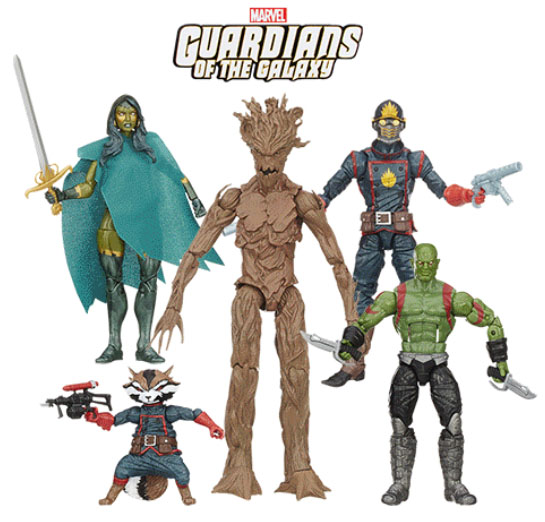 ORIGINAL ARTICLE 4/25/2015:
I was beginning to fear that Hasbro had quietly canned the modern comics-based Marvel Legends Guardians of the Galaxy set that they announced at SDCC 2014, but
out of nowhere
, an image of the set's packaging leaked online last week! (That image has now been removed by request, but an official image of the prototype of the set is above.)
For those who won't be in San Diego in July, have no fear: this Guardians of the Galaxy set will not be the SDCC 2015 Marvel Legends exclusive. While it was unconfirmed last week exactly where the set would be exclusive to, it has now been confirmed by Entertainment Earth to be an Entertainment Earth exclusive set! This set will not be available at Toys R Us, comic book stores, BBTS, or any other retail–so if you want it, EE is the only place to go!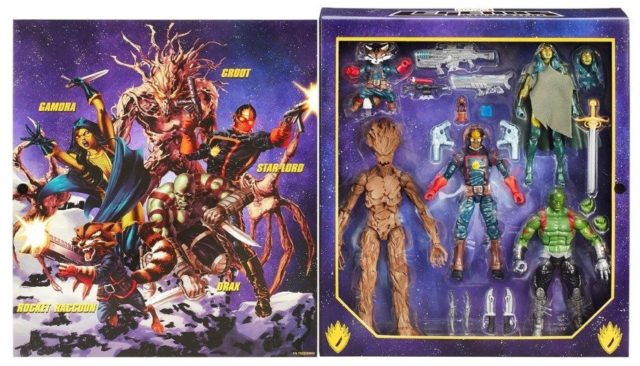 At a glance, my first impressions of this set are that it's "pretty good". I love the new Rocket Raccoon head, but that Marvel Legends Groot head is an abomination. Terrible stuff. The Drax looks to be a huge improvement over the previous Drax figure, though, thankfully. Star-Lord does not appear to have any differences from last year's exclusive Star-Lord Marvel Legends figure (at least, not as far as I can tell), and I'll need to see better photos before I pass judgment on Gamora.
The set is a mixture of Brian Michael Bendis' GOTG and the DnA GOTG looks, as the existing tooling for Rocket, Groot and Starlord necessitates.
The contents of this Guardians of the Galaxy Marvel Legends set are as follows:
Rocket Raccoon (Build-A-Figure Repaint with New Head and Gun!)
Star-Lord (Reissue of SDCC 2014 Marvel Legends Star-Lord?)
Groot (Build-A-Figure Repaint with New Head!)
Gamora (SDCC 2013 Moonstone Body Mold? with Black Knight's Sword)
Drax (??? with Warpath's Knives)
Baby Groot Figurine
Obviously this isn't the most hi-res or flattering image of these figures, but it does give us a pretty good idea of what these figures are ultimately going to look like. Off the top of my head, I can't identify exactly what molds have been kitbashed together to make that Drax figure–any readers want to help me out?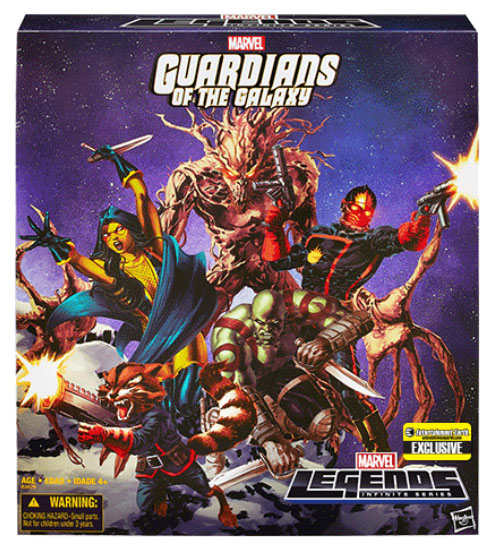 The Marvel Legends Guardians of the Galaxy exclusive box set is now available for pre-order from EE, and is expected to ship in August 2015. I'm a total mark for Guardians of the Galaxy toys, so I pre-ordered this set instantly.
Based off of our first glance at the Marvel Legends Guardians of the Galaxy box set, what do you think, Marvel collectors? Will this modern comics GOTG be joining your collection, or are you satisfied with your movie-based Guardians of the Galaxy team?