Remember that Classic Punisher ONE:12 Collective figure that Mezco Toyz has been showing off to tens of thousands of collectors at various shows and events for over a year now? The iconic comic-based version of the character…? Yeah, well–the good news is, he finally went up for sale unexpectedly today. The bad news is, he was a limited exclusive variant limited to 400 pieces now selling for $250 on the aftermarket just hours after going up for sale…
Today may go down in history as one of the most legendary days ever for high-end collectors of The Punisher, because
not only is Hot Toys putting their own 1/6 Netflix Punisher figure up for order this afternoon
, but the 6″ Classic Punisher from the Mezco ONE:12 Collective
finally
went up for order as well after a year of waiting!
…And promptly sold out in just over 3 hours. *crickets*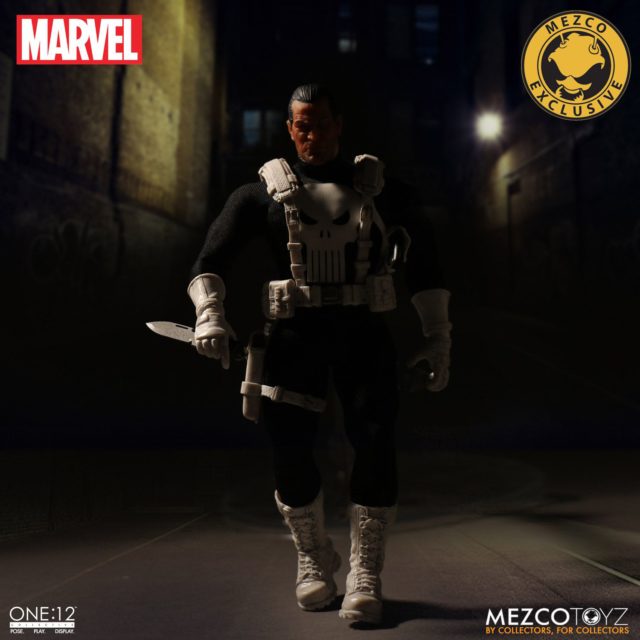 No, really. For whatever reason, Mezco Toyz decided to make the most iconic and recognizable version of the Punisher an excessively limited edition of just 400 pieces that went up for sale exclusively on their website around 8AM EST this morning. As there were no limits on purchasing the figure, it quickly sold out and began hitting eBay for scalper prices of around triple its original price.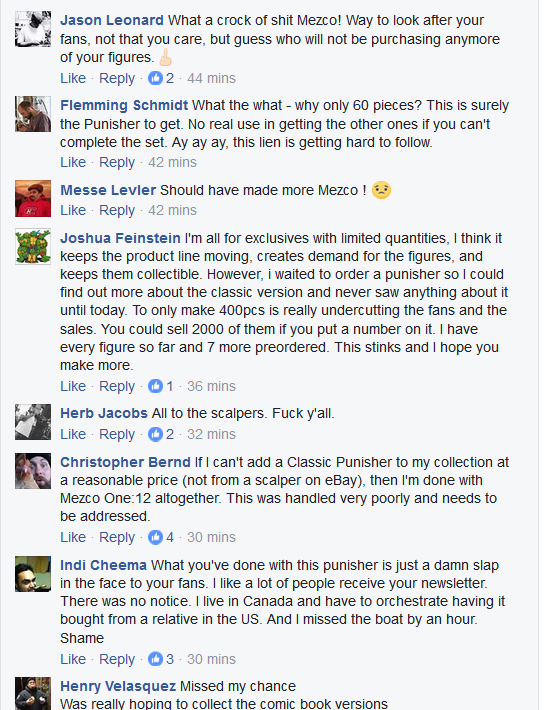 With no previous announcement of the long-awaited figure and many collectors on the west coast waking up to find it already sold out, it probably won't be a big surprise to many that Mezco Toyz is getting raked over the coals on various forums and other forms of social media about this.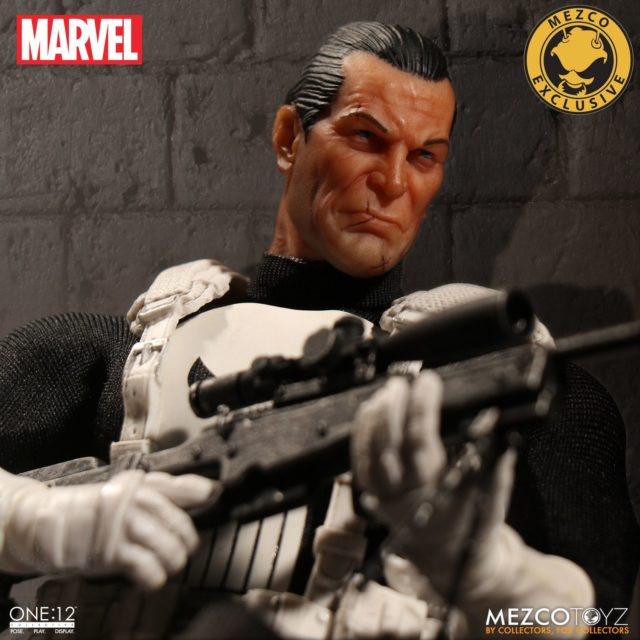 Making the situation even more inflammatory is the fact that international shipping was simply not available for this Marvel MezcoToyz.com exclusive, so international collectors are left high and dry for this limited variant figure–the iconic version of Punisher–unless they want to pay the now astronomical eBay prices for it.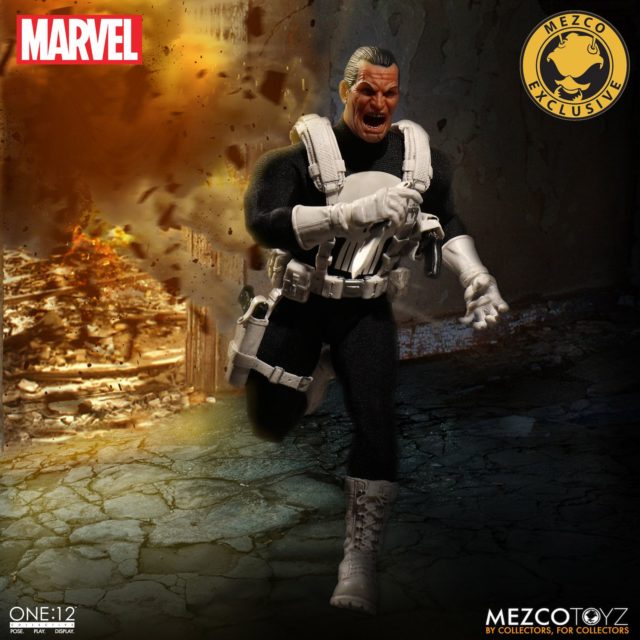 It also doesn't help that Mezco Toyz erroneously posted on Facebook that the figure was "truly exclusive" and limited to "60 pieces", driving up a huge frenzy for the figure which sold out minutes after that post–then correcting themselves that the edition was actually 400 pieces after it was sold out.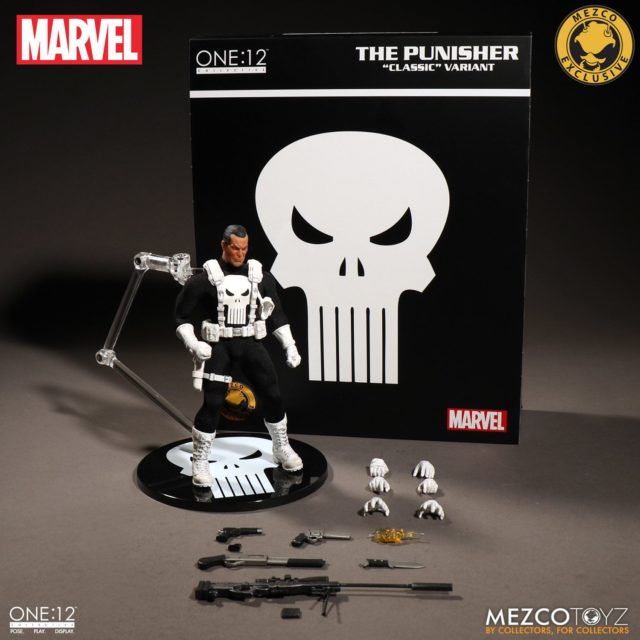 I'm seeing and hearing a lot of rage from collectors who had been supporting this line wholeheartedly that such an integral version of Punisher would be so limited and handled in such a manner. This isn't like the Toy Fair Punisher that was a minor variant few cared about, and a lot of collectors have said that they're done with Marvel ONE:12 Collective if these are the kind of tactics Mezco is going to employ.
Personally, I'm pretty mind-boggled about this whole incident and it reeks of poor decision-making to me. It makes literally zero sense to me for Mezco to make a figure they could have easily sold three or four times as many of into a limited exclusive and post it out of nowhere. Mezco had to know fans would be seriously ticked off about this. I refuse to believe that they're so out of touch with collectors that they'd underestimate demand this badly–I really can't imagine what they were thinking.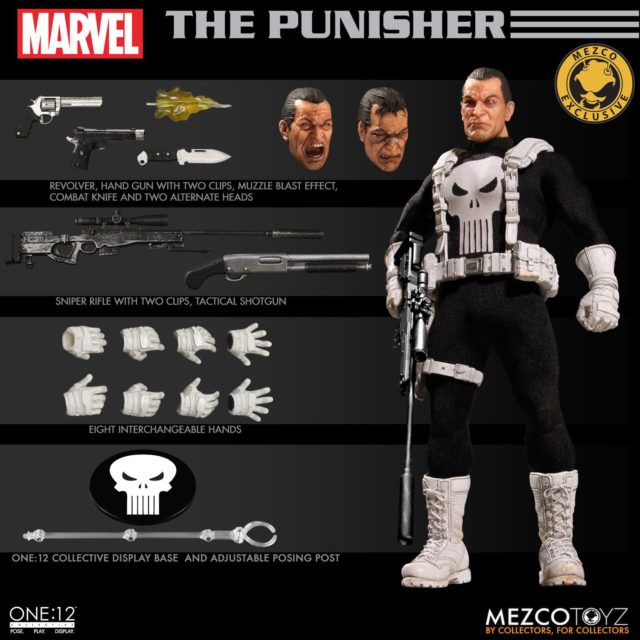 The ONE:12 Collective Classic Punisher figure is selling for $165+ on the secondary market, which is now the only way to get the figure, as it is permanently sold out on the Mezco Toyz website. If you want one, it's unfortunately eBay or nothing at this point–and with such a small quantity produced of this essential variant, prices are likely to only get higher and more out of hand.
Are you upset about the surprise pre-order and quick sell-out of the Mezco Classic Punisher ONE:12 Collective figure, Marvel collectors? If the classic comic book versions of figures in this line end up being as difficult to acquire as this Punisher, are you still interested in collecting the line?