Get those wallets ready, Netflix Daredevil fans! After announcing that Netflix Punisher was on the way last summer and then teasing him for the better part of a year, Hot Toys finally made the full reveal of their Punisher sixth scale figure overnight. And while the Punisher isn't "my guy", I gotta say–the Jon Bernthal portrait just may be the best likeness Hot Toys has ever done! The Hot Toys Punisher Netflix figure is now up for order!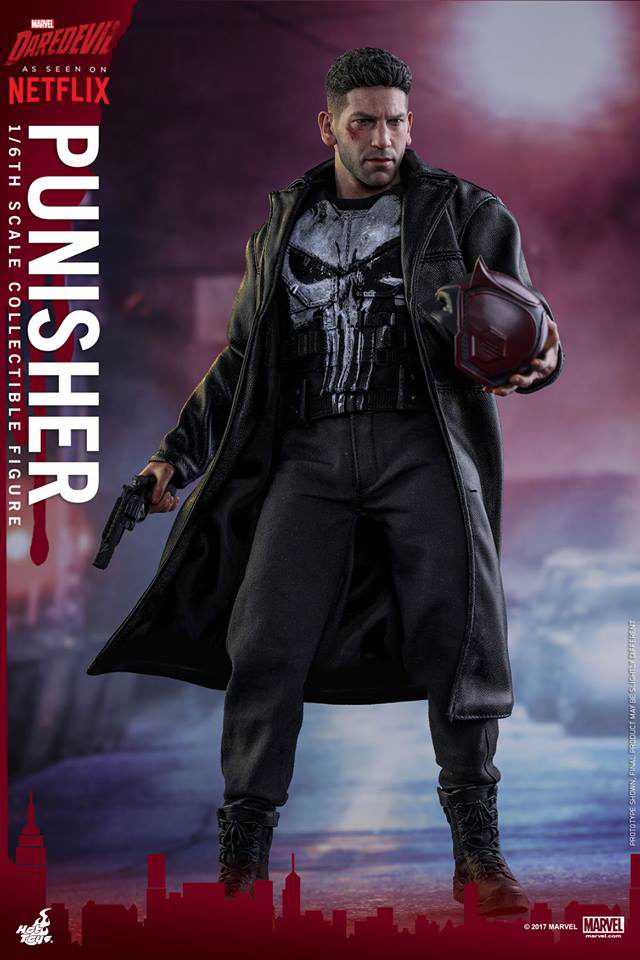 2017 may be a big year for the Marvel movie characters, but as far as merchandising goes, it's going to be huge for Netflix Marvel! Daredevil himself is finally getting long-overdue love from Hasbro, Diamond Select Toys, Mezco Toyz, Hot Toys and more this year.
But even though he wasn't introduced until Season 2, The Punisher is joining the party as well with a Marvel Legends figure, a Marvel Gallery statue, his first MCU POP Vinyls–and now The Punisher Movie Masterpiece Series figure!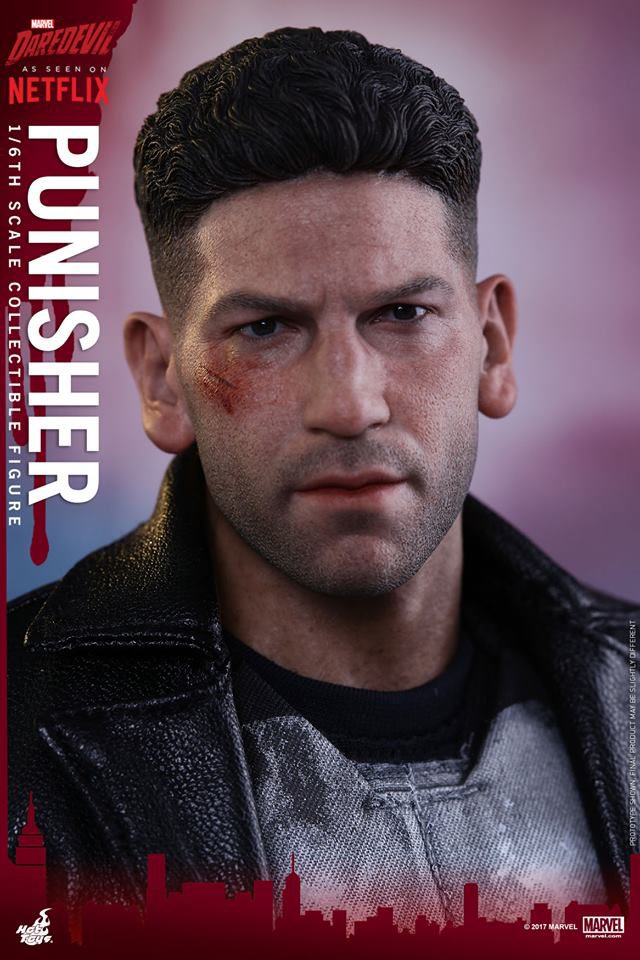 While the costuming and accessories are up to the usual top quality Hot Toys level, let's talk about the true highlight of this figure: the Jon Bernthal portrait.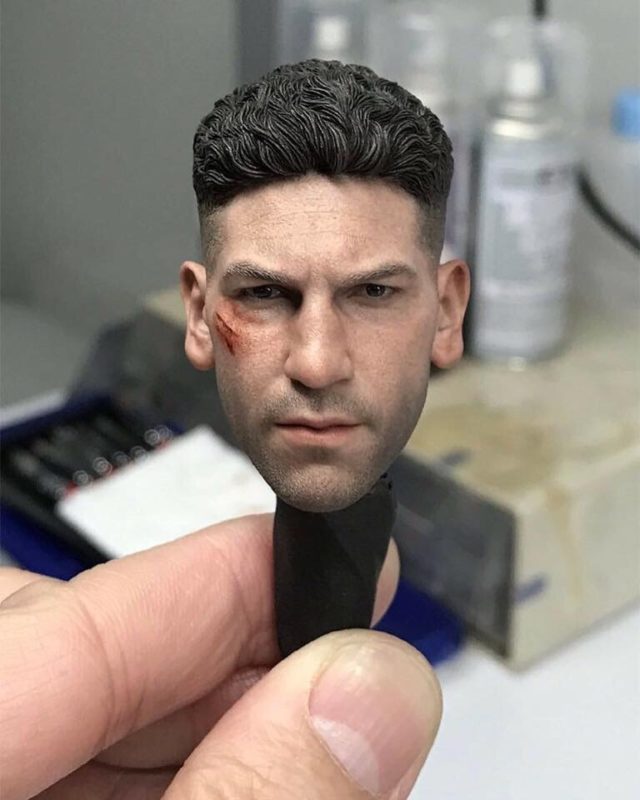 Put simply, this Punisher Jon Bernthal head sculpt is absolutely amazing. If you look at a screenshot of Punisher from the show and then this Punisher Hot Toys head, it's almost eerie just how much Hot Toys nailed this likeness. And that just may be the best-sculpted hair they've ever done. Period.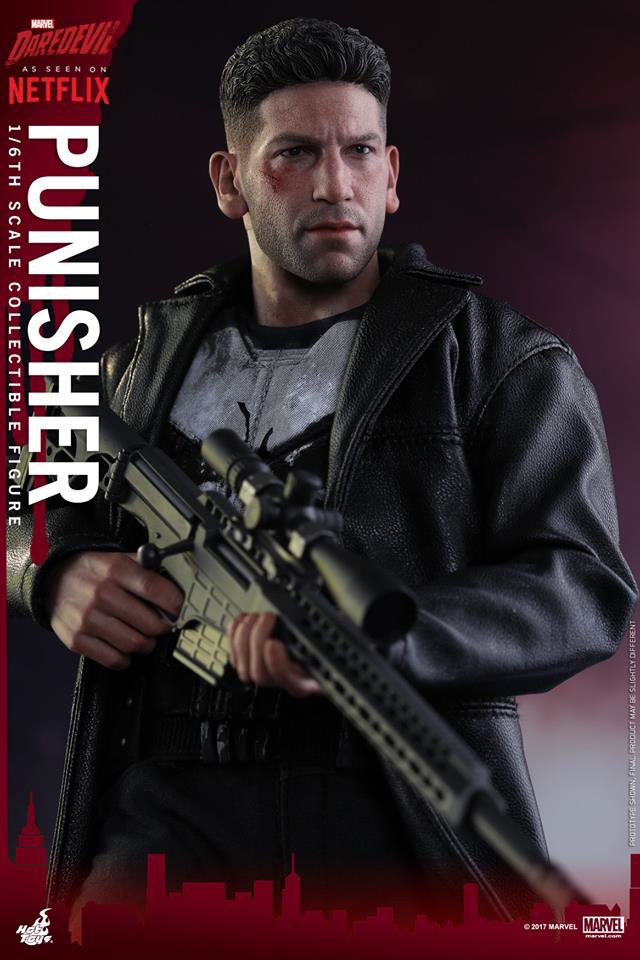 The rest of the figure looks just as impressively authentic to Punisher's actual appearance in the series. The leather jacket and skull logo on Frank Castle's chest really pop and bring this character to life.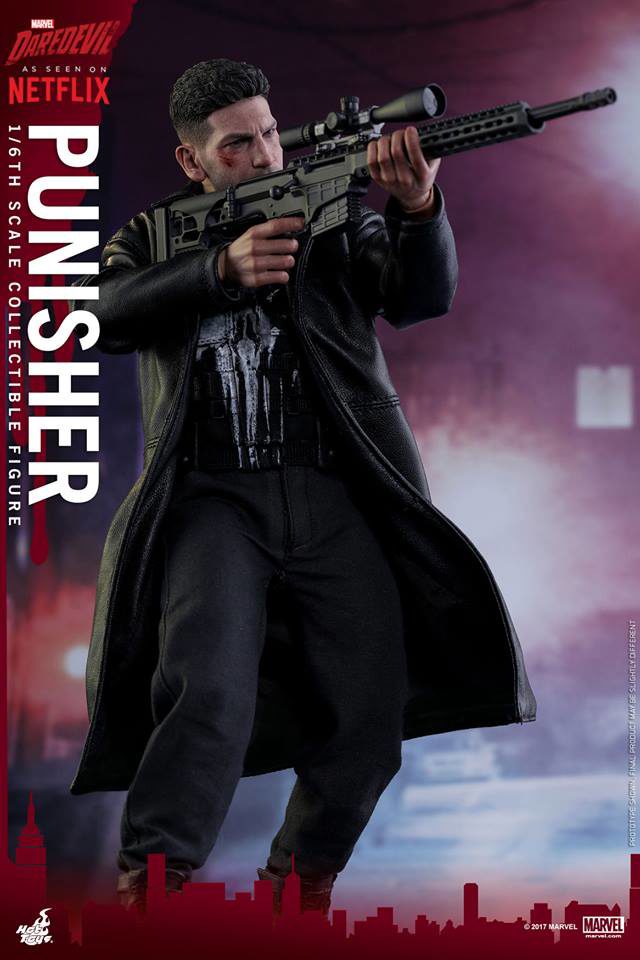 I've heard a few complaints that Punisher's lower body is a bit dull, but honestly, I don't know what those folks are expecting: Punisher's pants and boots are a perfect, accurate match for their onscreen appearance.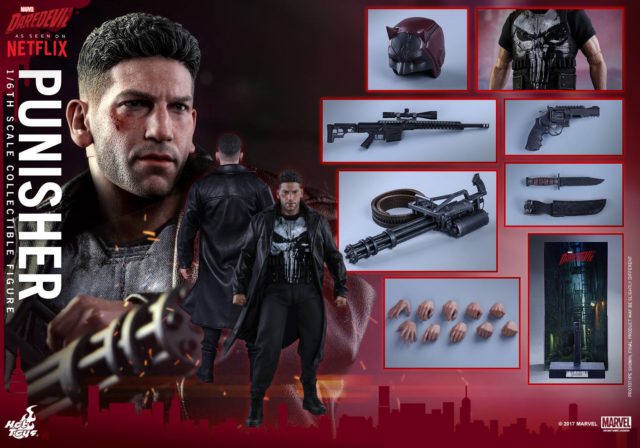 Along with the usual assortment of interchangeable hands (crucial for wielding his various weapons), the Hot Toys Punisher 12″ figure will come with a display stand with backdrop and a pretty sweet arsenal of weapons, including a dagger, a Barrett MRAD Sniper Rifle with scope, an M134 Minigun and even a S&W 327 handgun with both rails, just like on the show.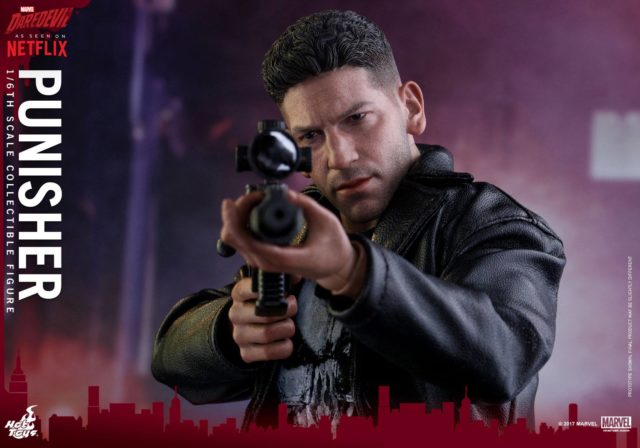 For gun fans, this figure is a can't miss. I love that Sniper Rifle–love it!!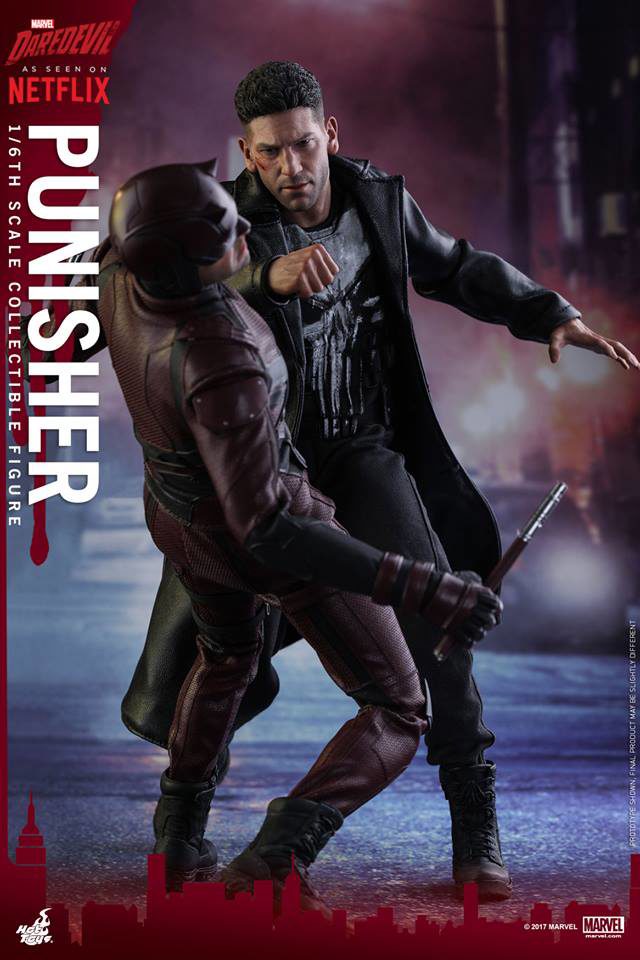 While some collectors may opt to end their Netflix collection with just Daredevil himself, I have a hunch that a majority of fans will want to have Punisher alongside their DD. Or, dare I say it, Hot Toys might sell more Punisher MMS figures than Daredevils…?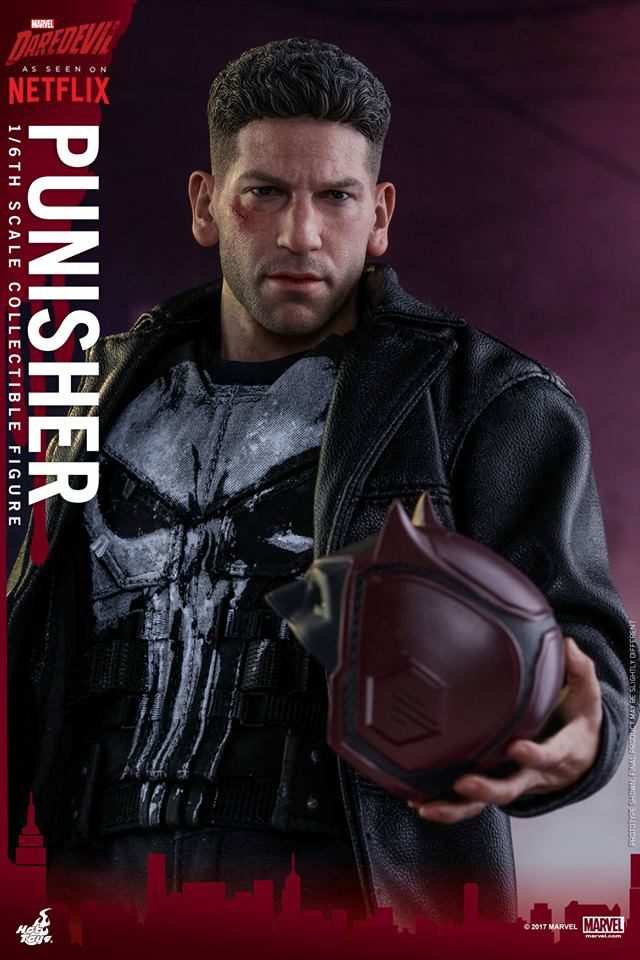 When we saw the first teasers of this figure, it was assumed by many collectors that the Daredevil mask would come as a Sideshow Exclusive accessory with Punisher (much in the way that the Daredevil mask is a special add-on for the Funko CHASE Punisher POP Vinyl).
But as it turns out, it appears that there will only be one version of the Punisher Hot Toys figure released, and the whole production run will come with the mask. It's a pretty cool accessory that I think most folks are gonna want, so having it be available to everyone is A-OK with me!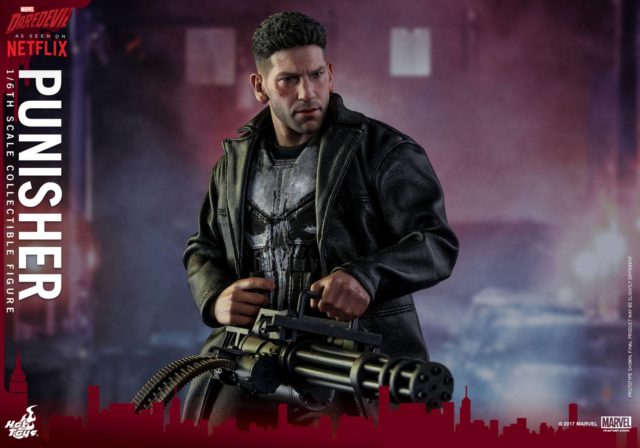 The Hot Toys Netflix Punisher sixth scale figure is now up for order, and should be released around the beginning of 2018. With the Daredevil figure having already sold out in the pre-order stage from many retailers, collectors intent on owning this Punisher may want to consider a pre-order ASAP.
Thoughts on the Punisher Hot Toys Netflix Daredevil figure, Marvel collectors? Do you agree that this is the best Marvel likeness Hot Toys has ever done, or am I forgetting someone? Will this version of Frank Castle be joining your collections, and are there are any other characters from the Daredevil series you'd buy a high-end figure of?