The six-inch Mezco Marvel ONE:12 Collective figures took the world by storm when they were revealed back in Februaru, but all Marvel collectors have been able to do since is sit back and wait for these Hot Toys-quality 6″ figures to be released. Sadly, we've still got a while to wait to own these figures–but the third figure announced for the line is officially on the way: the Mezco ONE:12 Collective Punisher is now up for order!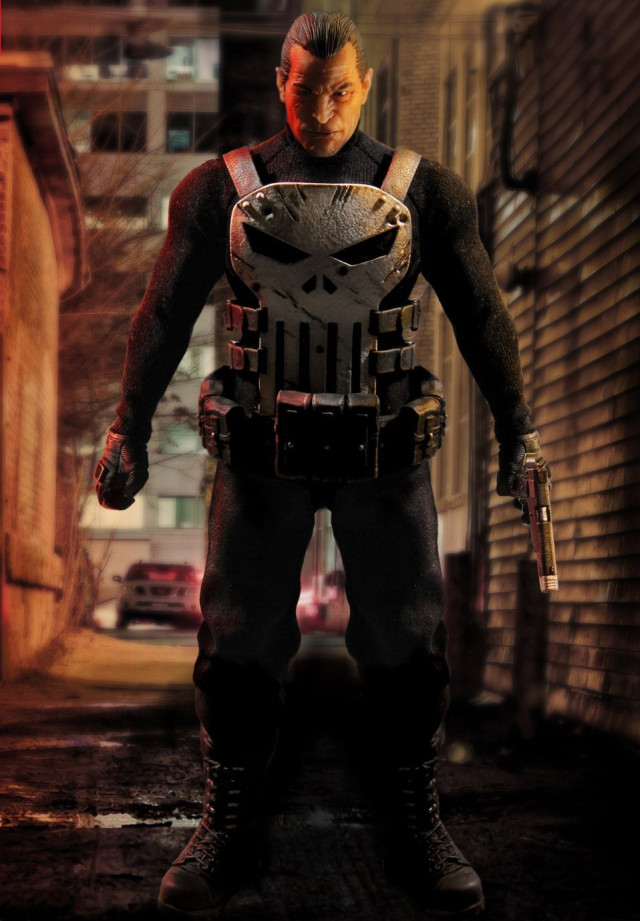 It's not very often that I get to talk about two different upcoming 6″ Punisher figures in a single day (in fact, I'm confident it has never happened before), but after
the new photos of the Walgreens exclusive Marvel Legends Punisher
hit the internet this morning, now we have another hotly-anticipated Punisher action figure going up for sale–the ONE:12 Collective Punisher!
In honor of this momentous occasion, I hereby declare May 16th "Punisher Day". (Unless such a day already exists. In which case forget I said anything.)
Based off of the photos that Mezco Toyz has shown off, it looks like we can look forward to several versions of this 1:12 Punisher figure being released, including a trenchcoat-wearing masked version and the ever-popular (but certainly not classic) Thunderbolts Punisher costume with red skull symbol on his chest.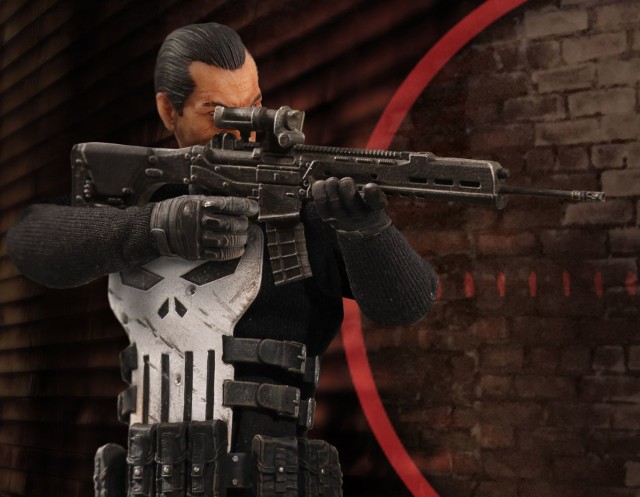 Look how naturally Frank Castle can hold his rifle up! That's amazing! As good as the Marvel Legends Punishers have been over the years, none of them have had the arm articulation necessary to pull off such an impressive, natural pose (and recreate the cover of Punisher's first appearance in the process!).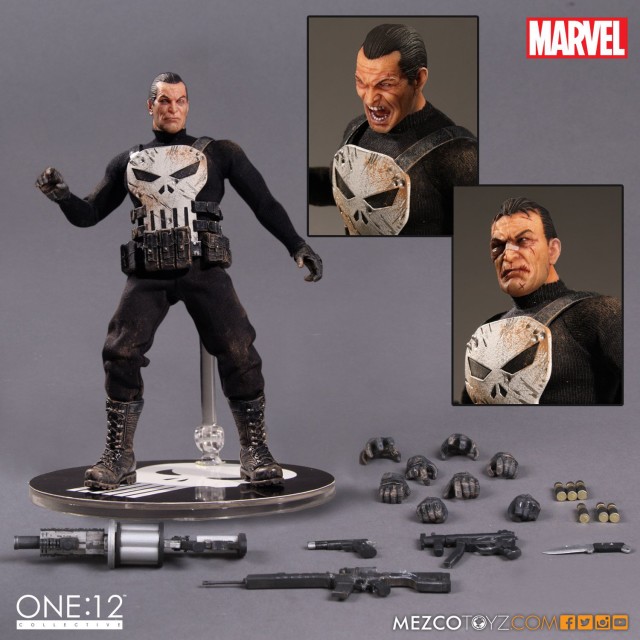 Like all the figures they've shown so far in this line, The Punisher comes with a spectacular loadout of weapons and accessories that's beyond impressive, including all of the following:
Standard Portrait
Alternate Head 1 (Beaten-Up Head)
Alternate Head 2 (Yelling Head)
Fists (L&R)
Holding hands (L&R)
Grappling hands (L&R)
Posing hand (L)
Karate strike hand (R)
Armored skull load-bearing vest with belt and knife sheath
Combat knife
9mm automatic pistol with extra clip
Machine gun with extra clip
Grenade launcher with six grenades
Submachine gun with extra clip
Punisher Logo Display base with posing post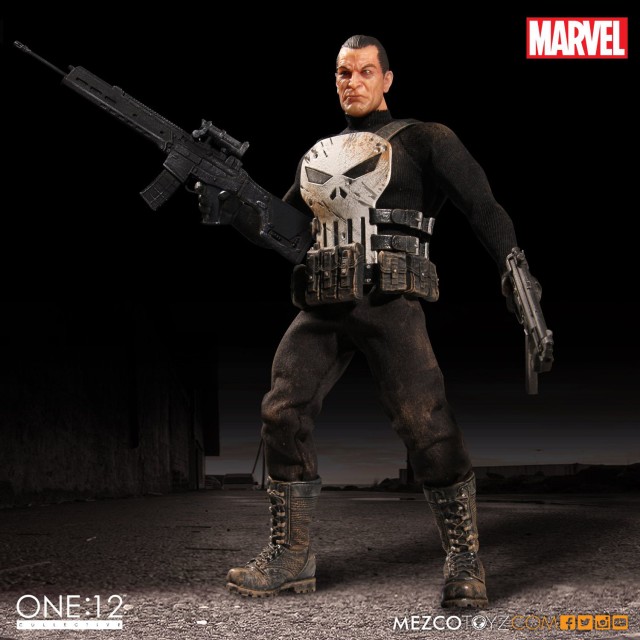 Now there's an enormous accessories list for a six-inch figure that Mezco can be proud of!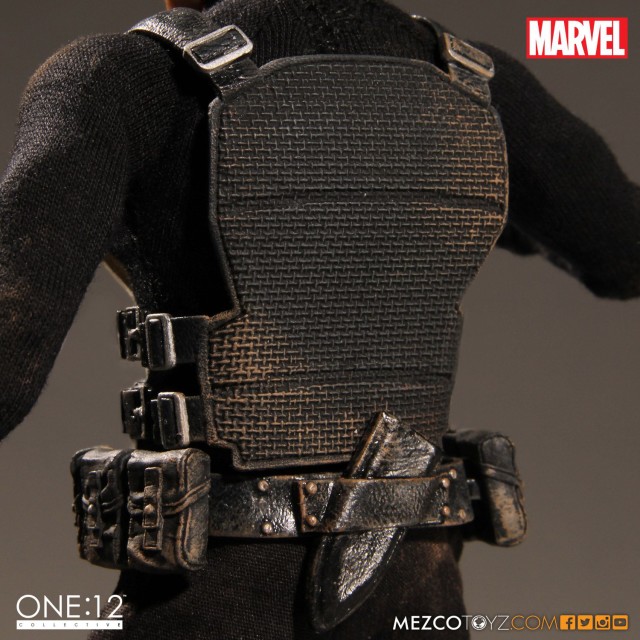 The detailing on the front and back of Punisher's silk-screened armored vest is especially nice, with a great-looking texture on it and a usable knife sheath located at the bottom.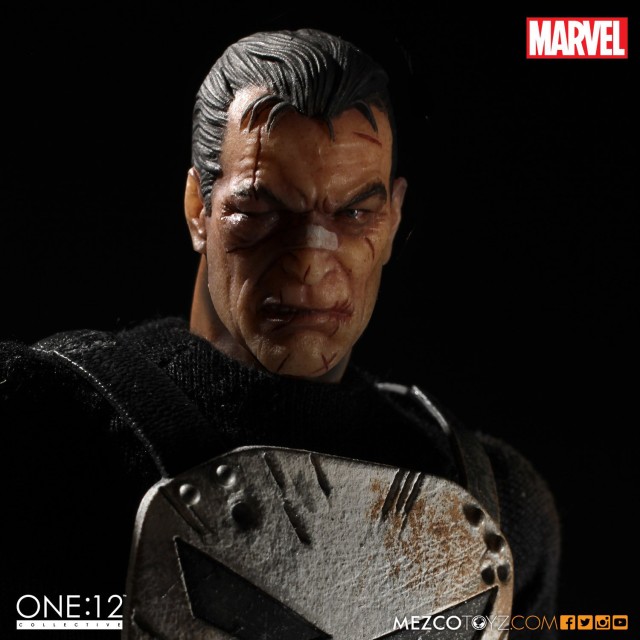 Mezco Toys is also knocking this figure out of the park with the pair of awesome alternate heads included.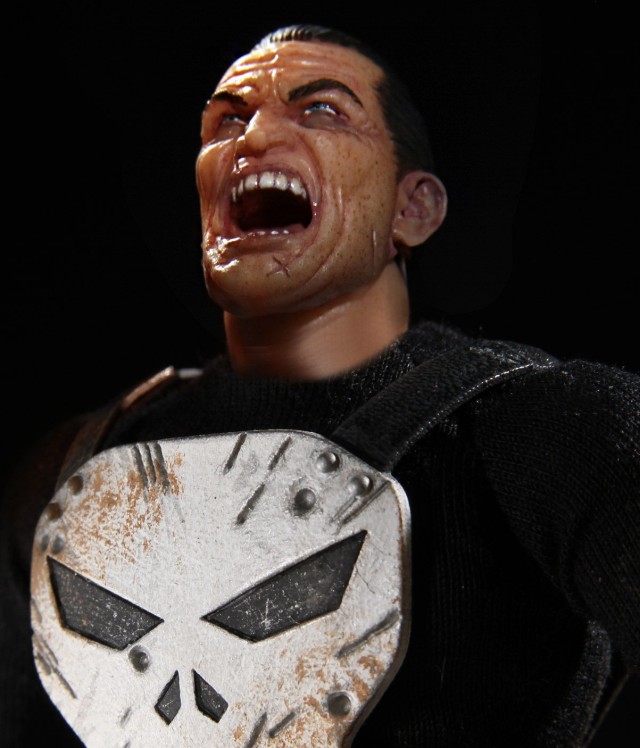 While the yelling/screaming Punisher head sculpt is a mite too over-the-top for my tastes, the "beaten-up" Punisher portrait is pure gold. These are expensive six inch figures, make no mistake, but at least Mezco is really giving us our money's worth when it comes to a veritable cornucopia of weapons, alternate body parts and accessories.
And speaking of the price: like the rest of the figures in this line, the 1:12 Collective Punisher figure will retail for $80. That's going to sound like a million dollars to those who are only used to collecting Marvel Legends, but it doesn't seem that out-of-line to us crazies who have been buying Bandai SH Figuarts imports.
For what's essentially a mini-Hot Toys Punisher figure, I don't think Mezco's price is bad at all, to be perfectly frank (no pun intended).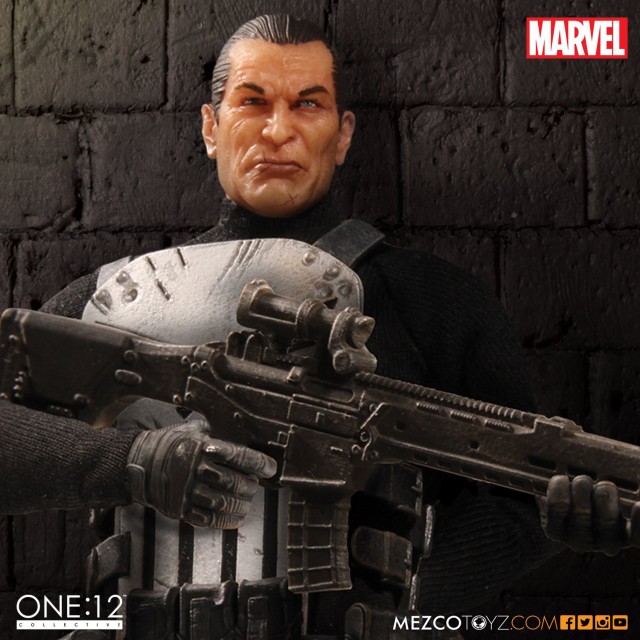 The Mezco ONE:12 Collective Punisher figure is now up for order, and is scheduled to be released in December 2016. Man, that's quite a wait to own what looks to be the best 1/12 Punisher toy ever. I'm glad we're only a few months away from Captain America being released! EE is offering free shipping on Punisher, which makes theirs the best deal in the land for Frank right now.
What do you think of Mezco's Punisher six-inch figure, Marvel collectors? Is this the best-looking Punisher figure you've ever seen in this scale? And even if he is, are you willing to drop 80 dollars for him?