Let there be absolutely no doubt about it: we are living in a golden age for Marvel figures and collectibles. And while the market has been starting to get a wee bit crowded over the past year or two, another company is about to enter the fray. At their pre-New York Toy Fair 2016 press event today, Mezco Toyz revealed the first seven figures that they'll be releasing in their all-new mixed media Marvel ONE:12 Collective figures line: Captain America, Daredevil and the Punisher!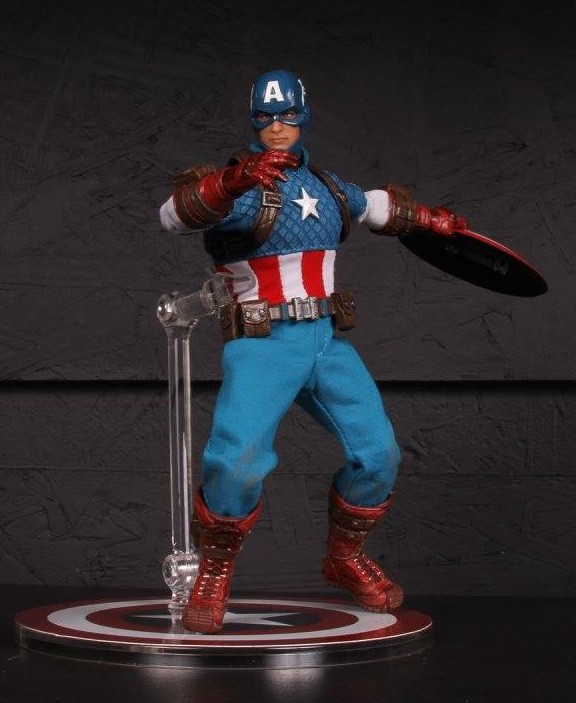 Hot Toys made me fall in love with 1/6 (sixth scale) figures a few years back, and ever since, my collection has been pretty much exploding with 12″ figure goodness. But as beautiful as 1:6 scale figures are, not every collector has the space–or the money–to purchase a ton of figures of that size.
For those who can't afford sixth scale collectibles (or just want to try something smaller), however, Mezco Toyz has a real treat in store for you this year, as their highly-successful line of ONE:12 Collective 6″ figures will be expanding to include some of the biggest stars of the Marvel Comics universe!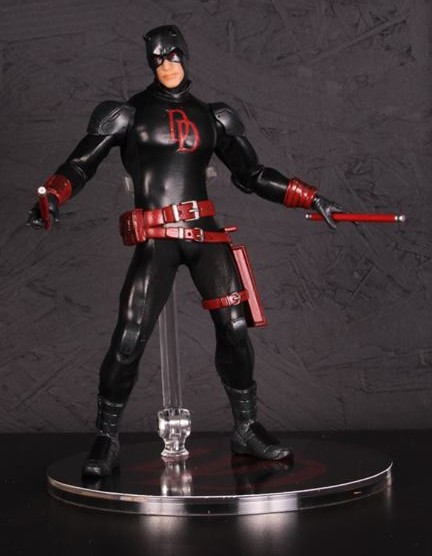 Basically, the concept of ONE:12 Collective is to bring the quality and style of 1/6 figures to the 1/12 scale. These figures are mixed-media, meaning that they're a combination of plastic and soft goods costumes.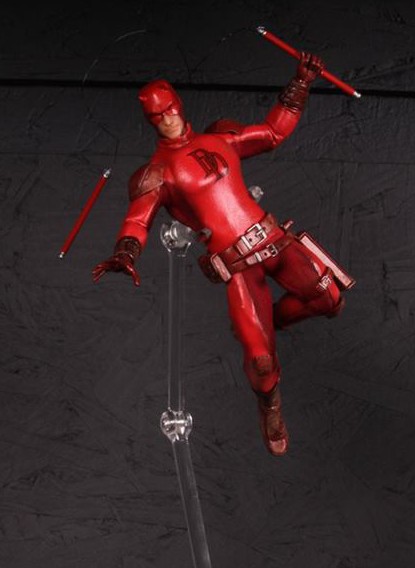 And yes, if 1/12 sounds familiar to you, it's because it's the same scale as the beloved Hasbro Marvel Legends 6″ figures line, meaning that any figures that we get in the Marvel ONE:12 Collective lineup will be 100% compatible (in size) with Marvel Legends action figures!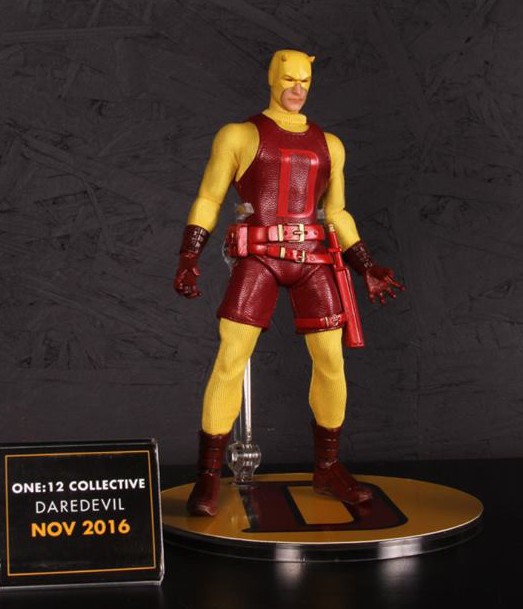 The seven figures revealed for the line today, which will also be shown at the New York Toy Fair 2016 next week, are as follows:
Classic Captain America — Shipping July 2016
Modern Captain America —  Shipping July 2016
Classic Punisher — Shipping October 2016
Modern Punisher — Shipping October 2016
Shadowland Daredevil (Black Daredevil) — Shipping November  2016
Modern Daredevil (Red Daredevil) — Shipping November 2016
First Appearance Daredevil (Yellow) — Shipping November 2016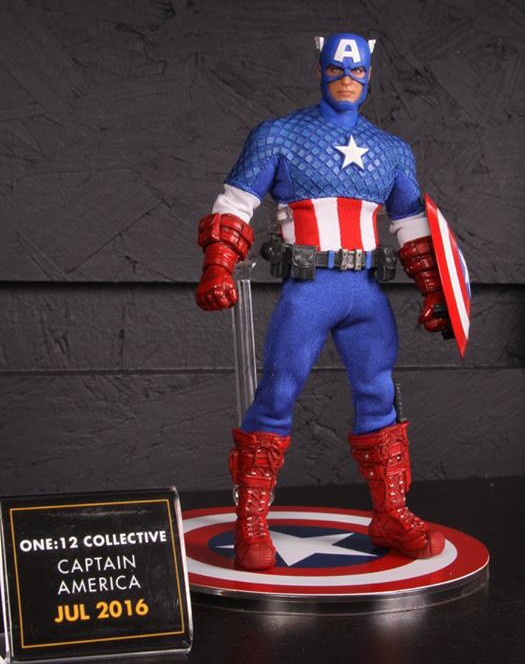 Each of the six inch figures will include a logo display stand, which includes a flexible pole for getting your figures into whatever dynamic poses you might imagine (similar to the poles included with most Bandai S.H. Figuarts figures–not a bad line to be compared to at all!).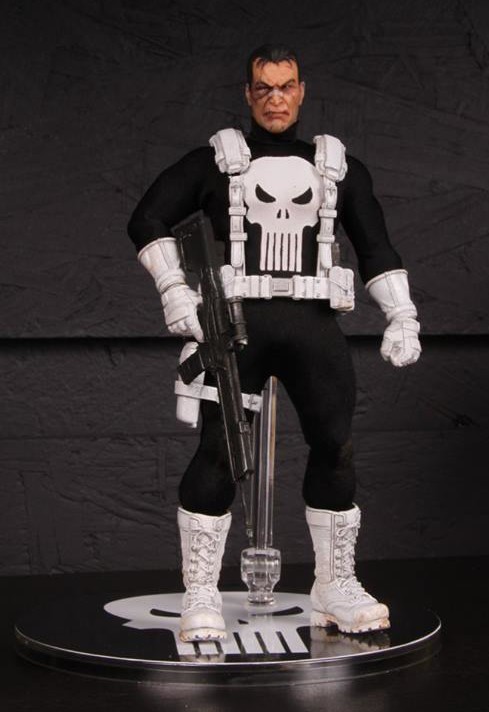 If I had to pick early favorites from these reveals, they would be the Black Costume Daredevil (from the classic "Shadowland" story) and the classic Punisher. Both of these figures look downright incredible, and far superior to any other 1/12 scale toy of these versions of the characters that we've seen before. I'm definitely excited to try this line out later this year!
Thus far, the non-Marvel ONE:12 Collective action figures that Mezco Toyz has released have cost $60-$75 each. With the Marvel license likely being an expensive one and these figures looking as impressive as they do, I'd be very surprised to see these Punisher, Captain America and Daredevil figures priced below the $69.99 mark, but we won't know anything for sure until the first figures (the two versions of Captain America) go up for order.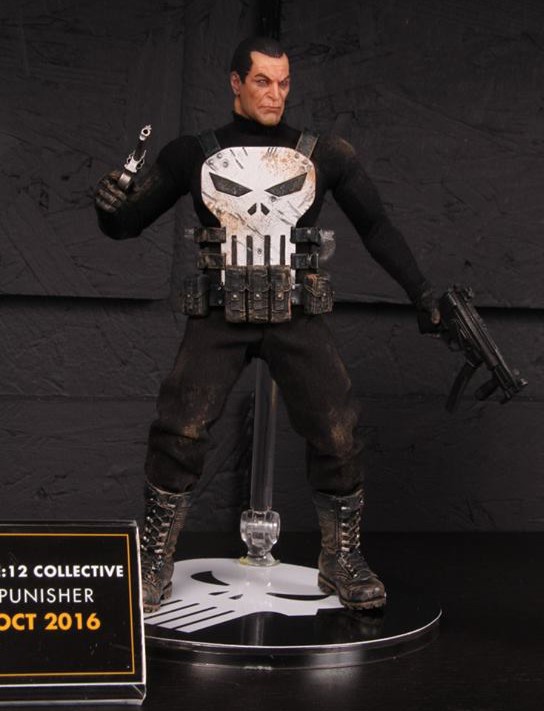 I'll post more updates on the Mezco ONE:12 Marvel figures as they go up for pre-order and new ones are announced, so be sure to follow the Marvel Toy News Twitter and Facebook Pages to have news and photos beamed to your favorite choice of social media.
What are your early feelings and impressions about the newest line of 6″ Marvel figures on the block? Are you making plans to add any (or all!) of these newly-revealed Mezco Toyz Marvel figures to your collections?